MLB Opening Week is here — and if you blinked this offseason, you missed a lot.
With some of the game's most recognizable faces in new places, it's time to reset the rankings for 2023. Will newcomer Xander Bogaerts, plus a full year from Juan Soto and the return of Fernando Tatis Jr., mean a parade for the San Diego Padres? What will Justin Verlander's move from the Houston Astros to the New York Mets mean for the defending World Series champs and his new team in Queens? Did the Los Angeles Dodgers make the right move by not breaking the bank this winter? Will Aaron Judge captain the New York Yankees to their first title in 14 years?
We asked our baseball experts to rank every team from 1 to 30 going into the new season for our first MLB Power Rankings of the year, while ESPN MLB writers Bradford Doolittle, Alden Gonzalez and David Schoenfield teamed up to provide a rundown of what the season could bring, along with Doolittle's win-loss projections and playoff odds for all 30 teams.
---
Projected record: 92-70 (78% playoff odds | 8.2% World Series odds)
What's changed most since we saw them last: In this day and age, you don't usually find a defending champ with a young rotation, but that's the case with these Astros. Over the past couple of years, Gerrit Cole, Zack Greinke and Justin Verlander have left via free agency. What's left are no rotation members who are at least 30. And yet this might be one of the most dynamic rotations in baseball, led by the filthy duo of Framber Valdez and Cristian Javier, with Hunter Brown looming as a potential ace. — Doolittle
The season will be a success if … The Astros become the first back-to-back World Series champions since the Yankees won three in a row from 1998 to 2000. Just as impressive would be a seventh consecutive trip to the American League Championship Series. — Schoenfield
Most likely 2023 award winner: Yordan Alvarez's age-25 season saw him post a 1.019 OPS and 37 home runs, good enough to finish third for the AL MVP. He might already be the game's best hitter; offense alone helped him reach 6.6 FanGraphs wins above replacement (fWAR) last season. If he contributes a little more on the defensive side, he should challenge the likes of Shohei Ohtani, Mike Trout and Aaron Judge for the trophy. — Gonzalez
One (realistic) bold prediction: Alvarez chases the Triple Crown and leads the American League with 48 home runs but finishes second to Josh Bell in RBIs and second to Wander Franco in batting average. — Schoenfield
---
Projected record: 93-69 (81% playoff odds | 8.7% World Series odds)
What's changed most since we saw them last: Once Fernando Tatis Jr. returns to the lineup next month — and with plenty to prove — the Padres will have a to-die-for top of the lineup consisting of offseason prize Xander Bogaerts, Juan Soto, Tatis and Manny Machado. It's an older group and pretty expensive, but, in terms of sheer star power, we've never seen anything quite like this in San Diego. — Doolittle
The season will be a success if … Downtown San Diego is packed with tens of thousands of Padres fans for a parade on Nov. 6. — Schoenfield
Most likely 2023 award winner: If you watched Soto's at-bats during the World Baseball Classic, you saw someone who was already locked in, clearly motivated to recover from a relatively down year that still saw him slash .242/.401/.452. Soto is not a .242 hitter. Not even close. And now that he has settled into a new environment, he'll prove, once again, that he is the best pure hitter on the planet and make a run at an MVP. — Gonzalez
One (realistic) bold prediction: Blake Snell has started slow and finished strong in both of his two seasons in San Diego, but this year he starts strong — and starts the All-Star Game in his hometown of Seattle. — Schoenfield
---
Projected record: 94-68 (85% playoff odds | 10.5% World Series odds)
What's changed most since we saw them last: In a winter that was more about shuffling than improving, the Braves have a new long-term catcher in Sean Murphy but lost franchise shortstop Dansby Swanson to the Cubs in free agency. After young infielders Vaughn Grissom and Braden Shewmake failed to win the job to replace Swanson in spring training, Atlanta will open the season with veteran Orlando Arcia at the spot after using him in a utility role the past couple of campaigns. — Doolittle
The season will be a success if … They win the NL East and make it back to the World Series. Last year's team was better than the 2021 team that won it all, which shows the unpredictability of the playoffs, but the Braves' chances of winning it all improve if they win the division title and avoid that wild-card series. — Schoenfield
Most likely 2023 award winner: There are so many options to choose from on this team, but let's go with Ronald Acuna Jr. getting back to being … Ronald Acuna Jr. His magical 2019 was followed by the COVID-19-shortened season, then a 2021 season cut short by a torn ACL and a 2022 season in which he clearly wasn't himself just yet. He's still just 25 years old, and the Braves say he's fully healthy now. At his best, Acuna is one of the most electric players in the sport — and a prime MVP candidate. — Gonzalez
One (realistic) bold prediction: There have been 65 30-30 seasons in MLB history. Fifteen of those came from center fielders. Only six of those guys hit .300. Four of those six won a Gold Glove — Willie Mays, Dale Murphy, Matt Kemp (!) and Jacoby Ellsbury. Michael Harris II becomes the fifth member of the 30/30/.300/CF/Gold Glove club. — Schoenfield
---
Projected record: 96-66 (88% playoff odds | 12.4% World Series odds)
What's changed most since we saw them last: The Yankees should have a younger look this season after seeing a number of 30-something players leave via free agency. All eyes in spring training have been on Anthony Volpe, who might take over at shortstop as soon as Opening Day after the Yankees announced he will start the season with the team. Eyes have been on free agent prize Carlos Rodon, as well, but not for a great reason: The Yankees' splashiest addition has had a balky elbow. If he's healthy, he'll team up with Gerrit Cole for a super one-two punch atop the New York rotation. — Doolittle
The season will be a success if … They win the World Series. Do we need to explain this? The Yankees haven't even been to a World Series since 2009. Bad luck, garbage can scandals, conspiracy theories, too many strikeouts, bad clutch hitting, not enough left-handed hitters, no heart, no Jeter, no Rivera, Aaron Boone can't manage his way out of a wet paper bag … whatever the excuse or reasons, Yankees fans have multitudes of them. It's time to raise the trophy. — Schoenfield
Most likely 2023 award winner: What Aaron Judge did last season — produce a .311/425/.686 slash line, draw 111 walks and still manage an AL-record 62 home runs — would be amazing in any era. It seems impossible in this one, given how difficult hitting has become. Judge has been an MVP contender every time he has played a full season, and there's no reason that wouldn't be the case again in 2023. — Gonzalez
One (realistic) bold prediction: Judge follows up his 62-homer season with … 47. And a bunch of other superlative statistics. He doesn't win the MVP Award, but he finishes third. — Schoenfield
---
Projected record: 91-71 (75% playoff odds | 6.5% World Series odds)
What's changed most since we saw them last: The Dodgers saw a mass exodus of veteran talent over the winter, a big-name group that ranged from a former MVP in Cody Bellinger to a possible future MVP in Trea Turner to a franchise icon in Justin Turner. This version of the Dodgers will look very different, but one thing that hasn't changed in Chavez Ravine: the expectation to win the World Series. — Doolittle
The season will be a success if … They win an NL West title and a World Series championship. The Dodgers won the NL West in nine of the past 10 seasons, and the one season they didn't win it, they still won 106 games. Yes, they have more holes than they've had in a long time, but the lineup still has Freddie Freeman, Mookie Betts, Will Smith and J.D. Martinez. The rotation still has Julio Urias, Clayton Kershaw, Dustin May, Tony Gonsolin (although he won't be ready for Opening Day) and Noah Syndergaard, plus two of the top pitching prospects in the game in Bobby Miller and Gavin Stone. So, yeah, this season will be a success if it follows the path of other recent seasons. — Schoenfield
Most likely 2023 award winner: Perhaps being ranked ninth on our 2023 top 100 will anger Betts enough that he'll go out and win another MVP. At 30 years old, he remains arguably the best all-around position player in the sport, capable of beating teams with his glove, arm, bat and feet. There might not be a more natural athlete around. If you don't believe us, just wait until you see him play second base this year. — Gonzalez
One (realistic) bold prediction: For all the talk about the Padres' big four hitters, let's go with this: Freeman, Betts, Smith and Martinez will produce more runs than Tatis, Soto, Machado and Bogaerts. We'll use batting runs above average from Baseball-Reference. Check back in October. — Schoenfield
---
Projected record: 90-72 (71% playoff odds | 5.6% World Series odds)
What's changed most since we saw them last: The payroll? The Mets have spared no expense in building a roster that is long on star power and looks pretty deep as well. Yet there is a major void that opened up late in spring training when Edwin Diaz, the top current reliever in baseball, injured his knee during a postgame celebration at the WBC. Ouch. A bright, bright spotlight will now shine on relievers David Robertson, Adam Ottavino, Brooks Raley and, perhaps most of all, manager Buck Showalter when the season begins. — Doolittle
The season will be a success if … Let's just say that owner Steve Cohen doesn't have any vacations to Hawaii planned for the first week of November. Remember to leave a couple of additional days for a ticker-tape parade, Steve! — Schoenfield
Most likely 2023 award winner: Max Scherzer and Justin Verlander are basically fused at the hip at this point, for obvious reasons — late in their careers, still pitching at the height of their powers, and now making up the best rotation tandem in the major leagues. Scherzer and Verlander boast six Cy Young Awards between them, including Verlander's from last season. They'll fall off at some point, but there have been scant signs of that thus far. Until they prove otherwise, they'll continue to vie for more Cy Youngs, including this season. — Gonzalez
One (realistic) bold prediction: With Diaz out, Robertson leads the team in saves. But David Bednar will be the closer when the Mets reach the postseason, after he comes over in a trade with the Pirates. — Schoenfield
---
Projected record: 89-73 (66% playoff odds | 4.7% World Series odds)
What's changed most since we saw them last: In the wake of a major knee injury suffered late in spring training by slugger Rhys Hoskins, there is some fancy navigating ahead for second-year manager Rob Thomson. The Phillies' position group didn't seem particularly deep to begin with, and the project of holding down the fort until Bryce Harper returns later this season is now made that much harder. Can Thomson juggle the challenge of hanging with the Mets and Braves while keeping his veterans from wearing down by the time Harper returns? — Doolittle
The season will be a success if … The Phillies can match last year's exciting playoff run. They'll need to hang in there until Harper returns, and they can't afford any injuries to the rotation, but let's see if last October's momentum carries over into 2023. — Schoenfield
Most likely 2023 award winner: As he nears his 30s, Trea Turner really seems to be coming into his own offensively, providing a speed-power combination that might be rivaled only by Betts. With Harper and Hoskins out, Turner, signed to an 11-year, $300 million contract this offseason, will need to step up at the top of the lineup. The bigger bases and the limited pickoffs might give him just enough of an extra boost to finish within the top three in MVP voting for the first time. — Gonzalez
One (realistic) bold prediction: Did you watch the World Baseball Classic? If you did, this prediction hardly qualifies as courageous. It's about as bold as wearing shorts and a T-shirt the first day the temperature turns 60 degrees: Trea Turner for National League MVP. — Schoenfield
---
Projected record: 93-69 (80% playoff odds | 8.5% World Series odds)
What's changed most since we saw them last: Ever since the Blue Jays rose back into the ranks of contenders in 2020, they've been trying to fill in the cracks to solidify a title-contending roster. This offseason saw the addition of Kevin Kiermaier and Daulton Varsho, along with the departure of Teoscar Hernandez, leaving Toronto with a team defense that could leap from average to elite. — Doolittle
The season will be a success if … They win the AL East … make it to the ALCS … and make it to the World Series for the first time since Joe Carter had his big moment in 1993. After back-to-back seasons of 91 and 92 wins, the Jays have the talent and the expectations to think bigger than merely making the playoffs as a wild card. That's the minimum. Their World Series dreams might depend on Jose Berrios bouncing back and Vladimir Guerrero Jr. coming closer to his 2021 numbers, but the 1-2 punch of Kevin Gausman and Alek Manoah could be the best in the AL and gives them World Series dreams. — Schoenfield
Most likely 2023 award winner: Manoah is only 25, and yet he's already one of the game's best pitchers. He made that big a leap in his second full season, ultimately finishing third in AL Cy Young voting in 2022. He'll only be better now that he's a year older and will be backed by a better outfield defense — especially since Manoah generated more weak contact than he did strikeouts last year. — Gonzalez
One (realistic) bold prediction: New outfielder Varsho goes 30-30, joining Shawn Green and Jose Cruz Jr. as the only Blue Jays to do it. Realistic after 27 home runs and 16 steals last year for Arizona? Look for Varsho's average and OBP to go up without the shift, giving him more opportunities to run. — Schoenfield
---
Projected record: 92-70 (81% playoff odds | 8.0% World Series odds)
What's changed most since we saw them last: The second half of last season was dominated by the farewell tours of Yadier Molina and Albert Pujols. Now, those two Redbirds legends have indeed said farewell and a new era in St. Louis baseball is at hand. Most of the faces are familiar, including Molina's replacement behind the plate, former Cub Willson Contreras. The big difference is that Cardinals fans will no longer be rooting against him. — Doolittle
The season will be a success if … They reach the World Series. The Cardinals seem content to win what has been a soft division in recent seasons, in addition to around 90 games. But they've also gone 1-9 in their past four playoff series, losing the wild-card series in 2020 and 2022, the wild-card game in 2021 and getting swept in the 2019 NLCS. Will they go any further in 2023? They do have some exciting prospects on the way, but if Paul Goldschmidt and Nolan Arenado slip from their high level of 2022, even the division title isn't a guarantee. — Schoenfield
Most likely 2023 award winner: Jordan Walker, the No. 14 prospect on Kiley McDaniel's Top 100, torched through spring training and showed he might be ready to handle major league pitching at the age of 20. The Cardinals have announced he will be on the Opening Day roster, now it is a matter of finding ways to get him in the lineup. Originally a third baseman who could transition to first, Walker has adjusted pretty well to the corner outfield, a necessity with Goldschmidt and Arenado on the roster. His power is off the charts. And we could see that translate to the big leagues soon enough to make a Rookie of the Year run. — Gonzalez
One (realistic) bold prediction: All aboard the Lars Nootbaar bandwagon! Nootbaar hits 30 home runs, makes the All-Star team and gets some down-ballot MVP votes. — Schoenfield
---

Projected record: 86-76 (49% playoff odds | 2.9% World Series odds)
What's changed most since we saw them last: With multiple additions — Kolten Wong to bolster the defense, Tommy LaStella to come off the bench and Teoscar Hernandez to anchor the lineup from the cleanup spot — the Mariners have a more balanced and dynamic group of hitters who, as a collective, should play better team defense as well. — Doolittle
The season will be a success if … The Mariners ended their long playoff drought last year and even tasted postseason victory with the wild-card win over Toronto. This year it means going … ahh, let's just say it: One step further would be nice, but two steps further and reaching the first World Series in franchise history is what this team believes it can achieve. And if you can reach the World Series … — Schoenfield
Most likely 2023 award winner: Last season, Julio Rodriguez cracked the Opening Day roster at the age of 21 and became a star almost immediately (we say "almost" because, if you'll remember, April was a struggle). Rodriguez wowed the fans of Seattle in the batter's box, on the bases and in the field, and his smile and his charisma made him a marketer's dream. What will Year 2 bring? It's fun to simply consider the possibilities. The reigning Rookie of the Year should elevate himself to MVP status. — Gonzalez
One (realistic) bold prediction: We could predict Luis Castillo to win the Cy Young Award or George Kirby to start the All-Star Game (which is in Seattle) or Logan Gilbert to win 20 games, but it's more fun to do something with Julio. Let's say he finishes second in the MVP voting (Ohtani goes chalk) and does so while hitting 40 home runs. He hit 27 over his final 99 games last year — a 41-homer pace over 150 games. Only 10 players age 22 or younger have hit 40 home runs in a season (Eddie Mathews did it twice). Three have done it since 2019: Vladimir Guerrero Jr., Fernando Tatis Jr. and Ronald Acuna Jr. And guess what? Julio's dad's name is … Julio Sr. So that makes him a Junior as well. — Schoenfield
---
Projected record: 89-73 (65% playoff odds | 4.8% World Series odds)
What's changed most since we saw them last: A team known for roster churn had relatively little of it over the winter, but the Rays did bid farewell to longtime center fielder Kiermaier in their ongoing bid to keep as many in-their-prime producers in key spots as possible. Beyond that, the hope is for better health from stalwarts like Brandon Lowe, Pete Fairbanks and Tyler Glasnow. — Doolittle
The season will be a success if … They return to the postseason for the fifth consecutive season. That might be a tough ask in the AL East and with the improved teams in the AL West, but the AL East has had three playoff teams each of the past two seasons. Going all the way? The lineup seems to lack that superstar linchpin, although maybe it gets there if Lowe hits again and Wander Franco improves. But the Rays hit .211 in their playoff loss to the Red Sox in 2021 and scored one run in two games in their wild-card loss to the Guardians in 2022. — Schoenfield
Most likely 2023 award winner: Shane McClanahan was the AL's best pitcher in the first half last year, posting a 1.71 ERA and 147 strikeouts in 110 2/3 innings. He faded down the stretch, then worked on his body over the offseason in hopes that that will never happen again. He should be a prime Cy Young contender in 2023. — Gonzalez
One (realistic) bold prediction: All the projection systems have Franco hitting .280-something — barely above the .277 mark from last season, when injuries affected his playing time and perhaps his production. Let's call for a breakout season and predict a batting title with a .321 average. — Schoenfield
---
Projected record: 91-71 (74% playoff odds | 6.9% World Series odds)
What's changed most since we saw them last: The youthful, scrapping Guardians you saw in last year's playoffs return largely intact, albeit a year older, wiser and perhaps more confident after 2022's surprising success. There's a new presence in the middle of the order, as switch-hitter Josh Bell signed as a free agent to help a lineup long on speed and contact ability crystallize into a more dynamic form. — Doolittle
The season will be a success if … The Guardians return every decent player from a 92-win team, and while not prohibitive favorites in the AL Central, they are certainly favored to win it again. That means they should absolutely have World Series aspirations. Whether they have enough power to get there is the big question. — Schoenfield
Most likely 2023 award winner: There might not be a more consistent all-around player in the sport than the criminally underrated Jose Ramirez, who has finished within the top six in AL MVP voting five of the past six years. He's a complete hitter, a superb defender and a dangerous base stealer without the flashy tools. He should once again be good for a batting average around .300, 20-plus home runs, 20-plus stolen bases, triple-digit RBIs and somewhere in the neighborhood of 7.0 fWAR. — Gonzalez
One (realistic) bold prediction: The Guardians kind of have an old-school lineup, especially if Andres Gimenez bats second (as he should) rather than Amed Rosario. That gives them two solid on-base guys without a ton of power at the top of the lineup, Ramirez batting third and Bell cleanup. Which means a ton of RBI opportunities for Bell. Put it this way: Cleveland's cleanup hitters were terrible last season (.693 OPS) and still drove in 95 runs. So Bell will lead the AL in RBIs. — Schoenfield
---
Projected record: 85-77 (49% playoff odds | 2.6% World Series odds)
What's changed most since we saw them last: The front office is different, with Matt Arnold taking over at general manager for David Stearns, who stepped down. You wouldn't know it by Milwaukee's offseason moves, which had a similar flavor to past hot stoves. That's not a bad thing. Meanwhile, some anticipated position players are pushing through, with Brice Turang likely taking over at second, Garrett Mitchell in center and prospects like Sal Frelick and Jackson Chourio not far away. — Doolittle
The season will be a success if … They can beat out the Cardinals for the NL Central title. The general consensus sees the Brewers taking a step back after missing the playoffs last year for the first time since 2017, but any team with Corbin Burnes and Brandon Woodruff fronting the rotation has a puncher's chance. If they can clinch the division, that's a huge win. — Schoenfield
Most likely 2023 award winner: Burnes seemingly had a bit of a dip in production coming off his Cy Young Award in 2021, but he topped 200 innings for the first time, led the NL in strikeouts and still fashioned a 2.94 ERA in 2022. The 28-year-old right-hander remains one of the sport's best pitchers. And if his home run rate comes back to normal, he'll make another run at a Cy Young. Perhaps he'll find some added fuel in his anger toward the Brewers' arbitration process. — Gonzalez
One (realistic) bold prediction: The Brewers lead the NL in home runs. Hey, they were second a year ago (albeit 34 behind the Braves). William Contreras joins Rowdy Tellez and Willy Adames in the 30-homer club. Less bold: Burnes takes home his second Cy Young Award. Power and starting pitching? Don't overlook the Brewers. — Schoenfield
---
Projected record: 85-77 (48% playoff odds | 2.6% World Series odds)
What's changed most since we saw them last: The Twins will have a rotation bolstered by the acquisition of Pablo Lopez and the return of Kenta Maeda. But perhaps the biggest change will be the identity of Minnesota's Gold Glove-caliber center fielder. At the start of the season, at least, it'll be trade acquisition Michael A. Taylor. Meanwhile, in another load management initiative, the Twins will make Byron Buxton the most athletic DH in the history of the game. — Doolittle
The season will be a success if … They win the AL Central AND beat the Yankees in a playoff series. That's right, we're skipping right past "win a playoff game" (the Twins have lost an unfathomable 18 in a row) and going straight to winning a series. — Schoenfield
Most likely 2023 award winner: Carlos Correa is here to stay, on the heels of a massive free agent contract — and a roller-coaster free agency — that will make him the face of the Twins for the next … well, six years at least. He's a feared hitter and a strong defender at a premium position who is still — amazingly — only 28 years old. And given the unique structure of his contract, he'll be extra motivated to put up MVP numbers. Correa has yet to finish within the top three in MVP voting. If he's healthy, that might change in 2023. — Gonzalez
One (realistic) bold prediction: Joe Ryan wins 17 games and finishes with a sub-3.00 ERA and in the top five of Cy Young voting. — Schoenfield
---
Projected record: 79-83 (18% playoff odds | 0.7% World Series odds)
What's changed most since we saw them last: The Angels' active roster to begin the season — before any injuries — looks deeper than in seasons past. There are more than enough quality arms for a six-man rotation. Additions to the position player group have given manager Phil Nevin more lineup flexibility and a better bench. The bullpen? Well, the rest of the roster looks good. — Doolittle
The season will be a success if … Ohtani finishes the season in an Angels uniform … and then starts the first game of a playoff series. — Schoenfield
Most likely 2023 award winner: We'll go with two here, because it's fitting: Ohtani and Trout — our No. 1- and No. 2-ranked players, respectively, heading into the 2023 season — both vying for the AL MVP. They boast nine top-two finishes for the AL MVP between them and look like the favorites to finish 1 and 2 this year, in whatever order. Ohtani is only getting better as a two-way player and could be in for a big year — perhaps his biggest yet — leading up to free agency. Trout is still only 31. And when healthy, he still looks like one of the greatest baseball players on the planet. — Gonzalez
One (realistic) bold prediction: Picking Ohtani to win the MVP isn't exactly as daring as, say, when the White Sox thought it was a good idea to wear shorts (that idea lasted three games). How about a Cy Young Award then? He finished fourth a year ago, and the issue is if he can pitch enough innings to merit stronger consideration. He pitched 166 last year — but that was only nine less than Verlander threw in winning it and one less than Burnes threw when he won in 2021. So, a few more deep starts or maybe an extra one or two — more likely if the Angels are in the playoff race — and he can get to 175 or 180 innings and pull it off. — Schoenfield
---
Projected record: 83-79 (37% playoff odds | 1.6% World Series odds)
What's changed most since we saw them last: Not much — except pretty much everything. The Rangers have a new brain trust with a Chris Young-led front office and a Hall of Fame-bound manager in Bruce Bochy, whose John Prine-sounding baritone will fit Texas like a weathered glove. And, also, there is an all-new rotation that the Rangers have purchased over the past year-plus, led by best-pitcher-on-the-planet-when-healthy Jacob deGrom. — Doolittle
The season will be a success if … They sneak into the playoffs, which they last made in 2016. It's a big jump from 68 wins to the postseason, especially in a league where five teams won 90 games a year ago and seven did so in 2021, but the Rangers are aiming for something more than just a .500 finish considering the way they have spent the past two offseasons. — Schoenfield
Most likely 2023 award winner: DeGrom's five-year, $185 million free agent contract stunned a lot of people in the industry, given both his age and injury history. But it underscored an important point: When healthy, nobody is better. DeGrom followed his run of back-to-back Cy Young Awards in 2018 and 2019 with a 2.05 ERA and 352 strikeouts in 224 1/3 innings. The problem, of course, is that those innings took place over the course of three seasons. If he avoids the injured list, deGrom will undoubtedly contend for another Cy Young. Let's hope that's the case. We just want to see him out there. — Gonzalez
One (realistic) bold prediction: Hmm, we already predicted Shohei Ohtani to win the AL Cy Young Award, and doubling up is not allowed, so we'll stay away from deGrom (probably a wise decision). Let's instead go with Corey Seager and Marcus Semien becoming the first middle-infield duo in MLB history with 35 home runs apiece. The only team with even two 30-homer middle infielders was … you'll never get it … don't even try to guess … the 2008 Marlins with Hanley Ramirez (33) and Dan Uggla (32). — Schoenfield
---
Projected record: 74-88 (7% playoff odds | 0.1% World Series odds)
What's changed most since we saw them last: The most significant difference between the Orioles on the first day of spring this year as opposed to last year is expectation. That'll happen when you jump from 52 wins in 2021 to 83 last season. The big question is whether expectations have outstripped the Orioles' rate of actual improvement. — Doolittle
The season will be a success if … It includes a trip to the postseason. Many are expecting the Orioles to take a step back after perhaps not doing enough to address pitching concerns, but if rookies Gunnar Henderson and Grayson Rodriguez match Adley Rutschman's 2022 star rookie turn, they could surprise. — Schoenfield
Most likely 2023 award winner: Henderson entered the season as the No. 1 prospect on Kiley McDaniel's rankings and stands as the odds-on favorite to win the AL Rookie of the Year Award. That shouldn't surprise anyone. Henderson, 21, is an above-average defender at third base who brings plus power and an advanced feel for the strike zone. And he gets better every year. — Gonzalez
One (realistic) bold prediction: Rutschman will start the All-Star Game. That's not the bold prediction. This is: He leads the AL in on-base percentage. Aaron Judge led last year with a .425 mark, but Rutschman had a .399 OBP in the second half. — Schoenfield
---
Projected record: 83-79 (34% playoff odds | 1.4% World Series odds)
What's changed most since we saw them last: The White Sox saw 2020 AL MVP Jose Abreu depart, and his absence leaves a production and leadership void that Chicago hopes to fill organically. Andrew Vaughn will get his first crack as an everyday first baseman, and power-hitting rookie Oscar Colas might end up as the regular in right. — Doolittle
The season will be a success if … They win the AL Central and do some damage in the playoffs. This team has the same strengths as the one that won 93 games two years ago. With better health, the expectations for this year's team should be just as high, especially with several potential bounce-back candidates in Lucas Giolito, Yasmani Grandal and Yoan Moncada. — Schoenfield
Most likely 2023 award winner: It took a historic season from Justin Verlander to prevent Dylan Cease from winning the AL Cy Young Award last year. His surface numbers (2.20 ERA and 227 strikeouts, albeit with 78 walks) were just as good as his peripheral ones (he ranked within the top 10% in the sport in hard-hit rate, expected batting average and expected slugging percentage). His age-27 season could be a big one. — Gonzalez
One (realistic) bold prediction: Vaughn ranked in the 90th percentile in hard-hit rate last year. His swing-and-miss rate was in the 74th percentile. He's entering his age-25 season and has two years of major league experience. The skills are here to make a leap. He needs to get the ball in the air more often and to improve his chase rate. I predict he does that and hits .275 with 30 home runs. — Schoenfield
---
Projected record: 78-84 (17% playoff odds | 0.5% World Series odds)
What's changed most since we saw them last: The middle infield is gone. The Red Sox lost Xander Bogaerts to free agency and Trevor Story to injury. The Red Sox's signing of Japanese outfielder Masataka Yoshida at least must look a lot more exciting to the hardened Boston fans after everyone watched him rake during the WBC. — Doolittle
The season will be a success if … They make the playoffs. That should be the goal every year for this franchise, but the reality is the Red Sox have yo-yoed back and forth for the past decade between postseason glory and last-place ignominy. In the past 10 full seasons, they have two World Series titles — and four last-place finishes. No other team operates like this. Throw in last place in 2020, and that's five basement finishes in 11 seasons. Many believe that's where the Sox are headed in 2023, but there's enough talent here to defy the experts of Red Sox Nation. — Schoenfield
Most likely 2023 award winner: Rafael Devers has never finished within the top 10 in MVP voting, and this should be the year that changes. He's the undisputed face of the franchise after signing a 10-year, $313.5 million extension. He is one of the sport's most well-rounded hitters, and he made some nice strides defensively last season. — Gonzalez
One (realistic) bold prediction: Yoshida proves the $90 million investment — one that many in the game questioned — worthwhile, at least in his first season, hitting .297 with a .385 OBP and scoring 100 runs. — Schoenfield
---
Projected record: 75-87 (12% playoff odds | 0.2% World Series odds)
What's changed most since we saw them last: The Cubs added veteran Jameson Taillon to work at the front of a deep rotation. Still, the most stark changes are on the position-player side. Chicago remade its lineup with a half-dozen free agent signings, with the most notable being premier shortstop Dansby Swanson and 2019 NL MVP Cody Bellinger, who will look to get his career back on track at Wrigley Field. — Doolittle
The season will be a success if … They get back over .500 and make a nice run at the playoffs while some of last season's younger players continue to grow — guys like Justin Steele, Christopher Morel, Hayden Wesneski and Javier Assad. Matt Mervis could displace Eric Hosmer at first base during the season as well. What the Cubs really need for the future, however, is a couple of impact hitters to develop, so top prospects Pete Crow-Armstrong, Kevin Alcantara and Brennen Davis will need to show they'll be pounding on the big league door for 2024. — Schoenfield
Most likely 2023 award winner: Bellinger is too talented and still too young to have really fallen off so much. At some point you have to trust the sample size, though, and 1,143 plate appearances — during which he slashed .203/.272/.376 in the three seasons that followed his MVP — is quite the substantive one. But we've seen some flashes of greatness from Bellinger in that stretch, and the 27-year-old center fielder should be better in a new environment and with more time removed from shoulder surgery. He's a prime candidate for NL Comeback Player of the Year. — Gonzalez
One (realistic) bold prediction: The Cubs stay in the race until the final week of the season with the up-the-middle defense playing a key role. Swanson and Nico Hoerner win Gold Gloves as the Cubs climb from 10th in the NL in runs allowed into the top five. — Schoenfield
---
Projected record: 78-84 (18% playoff odds | 0.4% World Series odds)
What's changed most since we saw them last: Arizona has the look of a club that is coming together fast, a process aided by a roster-balancing offseason deal that sent Daulton Varsho to Toronto in exchange for the D-backs' catcher of the present and future, Gabriel Moreno. With 23-year-old Alek Thomas patrolling center field and Corbin Carroll flanking him as a leading NL Rookie of the Year candidate, the skies over Phoenix are growing even brighter. — Doolittle
The season will be a success if … Just two years ago the Diamondbacks lost 110 games, including a remarkable 8-48 record in May and June, so the fact that we're already talking about them as a potential surprise playoff contender is a rapid improvement. It's probably a year too soon to view the D-backs as serious contenders when the top NL teams are so stacked, so let's say a .500 season with a young, exciting outfield leading the way is a reasonable goal. — Schoenfield
Most likely 2023 award winner: We could have easily gone with Zac Gallen for the NL Cy Young Award here given the strides he made in 2022, but Carroll is the favorite for the NL Rookie of the Year Award for obvious reasons. Carroll, 22, produced an .830 OPS in a 32-game major league sample last year — near the end of his first full season of professional baseball, mind you — and brings the type of all-around game that could make him the sport's best rookie in 2023. — Gonzalez
One (realistic) bold prediction: The Diamondbacks signed Carroll to an eight-year, $111 million extension ($134 million with the ninth-year option), so you know what they think about him. He's Kiley McDaniel's No. 2 overall prospect, so predicting him to win NL Rookie of the Year honors is an easy choice. But let's go with some big numbers as well: 20 home runs, 40 stolen bases and a .375 OBP. That could land him close to the top 10 of the MVP voting. — Schoenfield
---
Projected record: 80-82 (26% playoff odds | 0.8% World Series odds)
What's changed most since we saw them last: Some of the names are different. Michael Conforto, Sean Manaea and Ross Stripling are in. Carlos Rodon and Evan Longoria are out. But the same dynamic — depth, versatility, making every percentage play — remains in effect. It can work, but it's a bit of a letdown after the Giants were attached to such superstar names as Aaron Judge and Carlos Correa over the winter. — Doolittle
The season will be a success if … They win 90 games and make the playoffs. The Giants predictably fell off from their 107-win season in 2021, finishing .500. They lost Carlos Rodon and failed to land Judge or Correa. Mitch Haniger already has an oblique issue. Still, the Giants hope they can piece together a strong offense like they did in 2021 and Logan Webb leads a rotation that could be better than many expect (with rookie Kyle Harrison joining at some point). — Schoenfield
Most likely 2023 award winner: Webb elevated to another level last year, going 15-9 with a 2.90 ERA in nearly 200 innings while sporting the fourth-lowest home run rate in the majors. Only Framber Valdez generated more ground balls than the sinker-heavy Webb, whose steady effectiveness could place him in the Cy Young discussion in 2023. — Gonzalez
One (realistic) bold prediction: David Villar leads the Giants in home runs (27) and RBIs (85). — Schoenfield
---
Projected record: 81-81 (29% playoff odds | 1.1% World Series odds)
What's changed most since we saw them last: Little by little, the Marlins are inching toward respectability with a roster built around a deep and potentially dynamic rotation. That remains the case even after Miami dealt Pablo Lopez to acquire contact maestro Luis Arraez to hit atop a new-look lineup that will also include veteran Jean Segura. — Doolittle
The season will be a success if … They finish over .500. The Marlins haven't done that in a full season since 2009. — Schoenfield
Most likely 2023 award winner: Nobody faced more batters or compiled more innings last year, and yet very few prevented runs better than Sandy Alcantara, who led the majors with six complete games, fashioned a 2.28 ERA and won the NL Cy Young Award unanimously. Alcantara has gone from a reliable innings eater to existing on a different platform from his peers. The only thing that might prevent him from winning another Cy Young is the fact that he resides on a Marlins team that won't hit much and might not defend well, either. — Gonzalez
One (realistic) bold prediction: Three Marlins starting pitchers make the NL All-Star team. Alcantara is joined by Edward Cabrera and Jesus Luzardo. — Schoenfield
---

Projected record: 72-90 (5% playoff odds | 0.1% World Series odds)
The Royals have a new brain trust, with J.J. Picollo beginning his first full season as head of the front office and Matt Quatraro dropping some Rays-inspired wisdom in the dugout. Depth and versatility are the new buzzwords in Kansas City, but the problem of turning its top youngsters into big-time producers — Bobby Witt Jr., especially — remains. — Doolittle
The season will be a success if … They finish over .500. That would be a huge improvement from 65 wins. That feels like a long shot based on this roster and preseason projections, but it's time for some of the young Royals to get better. — Schoenfield
Most likely 2023 award winner: Brady Singer made a really nice jump last year, reducing his walks, compiling more innings and significantly lowering both his ERA (4.91 to 3.23) and his WHIP (1.55 to 1.14). He can make another leap in his age-26 season and vault into the Cy Young conversation. But he'll need to limit hard contact. — Gonzalez
One (realistic) bold prediction: Witt Jr. goes 50/30 — 50 stolen bases and 30 home runs. The only two players to do that: Eric Davis in 1987 and Barry Bonds in 1990. — Schoenfield
---
Projected record: 71-91 (4% playoff odds | 0.0% World Series odds)
What's changed most since we saw them last: The rebuilding Pirates added 105 years of human existence to form a new middle of the lineup consisting of Andrew McCutchen, Carlos Santana and Ji-Man Choi. As the NL MVP winner for the Pirates a decade ago, McCutchen, to quote "Field of Dreams," will remind Bucs fans of all that once was good, and it could be again. — Doolittle
The season will be a success if … Oneil Cruz highlight videos are hotter than the Carolina Reaper. Roansy Contreras makes 32 starts and finishes with an ERA under 3.50. Endy Rodriguez finishes the year in Pittsburgh while Termarr Johnson and Henry Davis finish it as two of the top 10 prospects in the game. Bryan Reynolds signs a long-term extension to remain with the Pirates. — Schoenfield
Most likely 2023 award winner: He's already one of the game's best defensive third basemen, up there with Nolan Arenado and Manny Machado. And the new rules should help him become even more of a force on the bases. Hayes, barely 26, added some muscle over the offseason that he hopes will translate to more power. If that element of his game emerges, he could make an MVP run in the not-too-distant future. — Gonzalez
One (realistic) bold prediction: Reynolds doesn't sign an extension and instead gets traded to the Dodgers for a package that includes slugging outfield prospect Andy Pages and pitcher Nick Nastrini. — Schoenfield
---
Projected record: 66-96 (1% playoff odds | 0.0% World Series odds) — Schoenfield
What's changed most since we saw them last: After last season's flop, new Tigers GM Scott Harris took a measured approach to the winter, focusing on stabilizing Detroit's young, injury-riddled rotation with the addition of Michael Lorenzen and the re-addition of Matthew Boyd. Beyond that, the focus in Detroit is on turning young major leaguers like Spencer Torkelson and Riley Greene into the stars the Tigers need them to become. — Doolittle
The season will be a success if … The Tigers can do better than last year's 66-96 record. Yes, that's a low bar, but the Tigers are entering Phase I of Rebuild II. — Schoenfield
Most likely 2023 award winner: The Tigers don't need Javier Baez to contend for an MVP. But they need him to be a lot better. In his first season of a six-year, $140 million contract, Baez struck out nearly 150 times and put up an on-base percentage below .300. His OPS, .671, was 112 points lower than his career mark heading into the year. Baez was still solid defensively, but the Tigers need him to be an anchor for their lineup. — Gonzalez
One (realistic) bold prediction: The Tigers' best hitter will not be hopeful sophomore stars Torkelson or Greene, but rookie DH/OF Kerry Carpenter, who hit .313 with 30 home runs in the minors last season. — Schoenfield
---

Projected record: 60-102 (0% playoff odds | 0.0% World Series odds)
What's changed most since we saw them last: Colorado's strategy of taking what the free agent market gave it was undermined by a gut-punch shoulder injury to arguably its best player, infielder Brendan Rodgers. There is at least an interesting apparent changing of the guard at shortstop, where two-way prospect Ezequiel Tovar looks ready to take over. — Doolittle
The season will be a success if … Let's turn this one over to Rockies owner Dick Monfort: "We have a lot of talent, a lot of good things are going to happen, and I think they are going to start happening this year, and I think we can play .500 ball," he said at an event in January. Good luck! — Schoenfield
Most likely 2023 award winner: Tovar, 21, is a skilled defender at shortstop who showed promising offensive signs while graduating to the major leagues last season. He brings solid bat-to-ball skills that will only be elevated (Get it?) while playing in Coors Field. It's no surprise Tovar enters 2023 as one of the front-runners for the NL Rookie of the Year Award. — Gonzalez
One (realistic) bold prediction: The Rockies finish with the worst record in the majors. But Kris Bryant wins the batting title! — Schoenfield
---
Projected record: 70-92 (3% playoff odds | 0.1% World Series odds)
What's changed most since we saw them last: The Reds appear to be biding their time with a lineup still anchored by future Hall of Famer Joey Votto and 2021 NL Rookie of the Year Jonathan India. Most eyes will be on the rotation anyway, where Cincinnati hopes Hunter Greene, Nick Lodolo and Graham Ashcraft can takes steps toward becoming an elite big three. — Doolittle
The season will be a success if … They lose fewer than 90 games. The Reds didn't do much to address a 100-loss team, and most of their impressive group of infield prospects will remain in the minors. The one they would love to see make an impact, at least in the second half, is Elly De La Cruz. He has just 47 games above A-ball, but Kiley McDaniel's No. 9 overall prospect has ridiculous tools and a huge ceiling if it comes together. — Schoenfield
Most likely 2023 award winner: A 6-foot-5 shortstop with 70-grade power, speed and arm strength, who slashed .945 in high A and Double-A last year? Let's hope De La Cruz comes up early enough to make a real run at the NL Rookie of the Year Award — mostly because it's going to be so much fun to watch him play. — Gonzalez
One (realistic) bold prediction: Hunter Greene leads the NL in strikeouts. Let's see. Corbin Burnes led last year with 243 and Zack Wheeler led in 2021 with 247, so we're talking 240-plus K's. Greene averaged 11.7 K's per nine in 125.2 innings last year, making 24 starts. If he can get to 175 innings and average 12.4 K's per nine, that's 241 strikeouts. — Schoenfield
---
Projected record: 64-98 (0% playoff odds | 0.0% World Series odds)
What's changed most since we saw them last: The A's added veterans Shintaro Fujinami and Drew Rucinski to stabilize a rotation that will work in front of what appears to be a serviceable bullpen. That's good because this group doesn't figure to score many runs. — Doolittle
The season will be a success if … The plumbing holds up? They draw a million fans? They score 600 runs? They hit higher than .216? Hey, the A's had a nice run from 2018 to 2021 with the fifth-most wins in the majors. It's going to take a couple more years — at least — to get back to that level. — Schoenfield
Most likely 2023 award winner: Ken Waldichuk, acquired in the August trade that sent Frankie Montas to the Yankees, maintained rookie eligibility for the 2023 season and could challenge for the award despite what seems like a deep field. Waldichuk, 25, is a left-hander with a funky delivery who brings advanced feel and command and what looks like a legitimate four-pitch mix. He won't blow you away with his radar-gun readings, but he's more polished than most rookies. — Gonzalez
One (realistic) bold prediction: Esteury Ruiz leads the majors with 70 stolen bases, the first player to reach that total since Jacoby Ellsbury in 2009. That's exciting, but the best news is it will mean he hits well enough to remain in the lineup on an everyday basis. — Schoenfield
---
Projected record: 64-98 (1% playoff odds | 0.0% World Series odds)
What's changed most since we saw them last: The rebuild continues in D.C., which should keep Nats fans focused on the most dynamic young players on the roster. That group includes catcher Keibert Ruiz, who has already signed on for the long haul with Washington; shortstop C.J. Abrams, whose speed could really be featured under the new set of MLB rules; and lefty starter MacKenzie Gore. — Doolittle
The season will be a success if … Some of the young players step up and prove themselves as foundation-type pieces for the next good Nationals team. MacKenzie Gore, Josiah Gray, Keibert Ruiz and CJ Abrams are the obvious four, but this extends down to the minor leagues, with Robert Hassell reaching the majors and high-end talents like James Wood, Elijah Green, Brady House and Cristhian Vaquero performing well. — Schoenfield
Most likely 2023 award winner: The likes of Gore, Abrams, Ruiz and Gray have exceeded their rookie eligibility, while Cade Cavalli was forced to undergo Tommy John surgery and Robert Hassell has barely played above A-ball, so there aren't any foreseeable Rookie of the Year picks on this roster. And there definitely aren't any Cy Young or MVP hopefuls. So let's go a little off the board here — Joey Meneses, a 30-year-old rookie last year, wins the Silver Slugger at DH. — Gonzalez
One (realistic) bold prediction: Meneses proves his late-season assault on opposing pitchers was no fluke and hits .285 with 30 home runs — but he ends the season with the Twins after a trade deadline deal. — Schoenfield
How the West will be won: Pathways to victory for Golden Knights, Stars in Game 6
Remember Game 3 of the Western Conference finals? And the questions that followed?
Were the Vegas Golden Knights really about to sweep the Dallas Stars? Or was it more likely the Golden Knights would close out the series at T-Mobile Arena in Game 5? What could the Stars do to avoid being swept? How could the Stars fare without Jamie Benn, and would Benn return at some point in the series? Or would next season be the earliest anyone would see the Stars captain take the ice?
But now, there's a different set of questions.
Are the Golden Knights in serious trouble — or is this temporary? How did the Stars hand the Golden Knights back-to-back losses for the first time since late March? Can the Stars force a Game 7? And if they do, are the Stars really about to come back from a 3-0 series deficit to reach the Stanley Cup Final?
Clearly, there are questions about what could happen Monday in Game 6 at American Airlines Arena in Dallas (8 p.m. ET, ESPN/ESPN+). That said, we've put together a guide featuring what to watch from each team, along with some questions of note from Ryan S. Clark and an in-depth statistical analysis from ESPN Stats & Information.
Subscribe to ESPN+ | Stream the NHL on ESPN
---
Monday, 8 p.m. ET | Watch live on ESPN+
Line: DAL -130 | O/U: 5.5
Clark's keys
At this point in the series, is it more about what's gone right for the Stars in the last two games, or more about what's gone wrong for the Golden Knights?
For those who want to get philosophical about it, look at the last five games this way: Mistakes cost the Stars a chance to win Game 1 in overtime. If Wyatt Johnston scores in overtime before Chandler Stephenson's winner, then, the series would be split after two games. Game 3 was a four-goal blowout, whereas the Stars changed their fortunes by winning their first overtime game of the series — and the playoffs as a whole — in Game 4. Of course, Game 5 was tied at 2-2 before Ty Dellandrea's two third-period goals forced a Game 6.
But what else could one expect in a conference finals in which three of the five games have gone to overtime? What occurred in Game 5 appears to have offered more insight into how this series has changed for both teams.
One of the problems facing the Stars was the inability to generate high-danger scoring chances in the first three games. It's why they finished with a total of 19 high-danger chances in 5-on-5 play before Game 4, per Natural Stat Trick. Since then, the Stars have accounted for 30 high-danger chances — 15 in each game — which has played a role in what has made them look even more formidable.
"I think we try to limit turnovers and I think that's something in the whole series has been a key point to play very well and play in their zone," Stars forward Jason Robertson said. "Avoid the neutral-zone turnovers and the 'hope' plays. I think for the majority of the game we did that very well — this game and last game. We gotta continue that in Game 6."
To Robertson's point, the Stars were charged with nine giveaways in Game 5. That was a bit of contrast compared to the Golden Knights, considering how much they struggled with their puck management. Through the first four games of the Western Conference finals, the Golden Knights were responsible for committing 33 giveaways. In Game 5 alone they had 24 giveaways, which is another reason why the Stars likely held a shot-share percentage of more than 60%.
"We had 24 giveaways. I'm not sure you're beating the Arizona Coyotes in January with 24 giveaways — no disrespect to Arizona," Golden Knights coach Bruce Cassidy said. "It's not the right way to play. Twenty-four giveaways. We're trying to go to the Stanley Cup Final against a desperate team. To me, that's the whole game right there. That falls under urgency obviously, right? You're not making the right decisions with the puck, you're not supporting it well, so it starts right there."
What does getting Jamie Benn back mean for the Stars?
Benn's return from a two-game suspension after his Game 3 cross-check against Golden Knights captain Mark Stone gives Stars coach Pete DeBoer another top-nine option. Being without Benn was not the only adjustment DeBoer and his coaching staff had to account for over the last two games. They've also been without Evgenii Dadonov, who has been out of the lineup with a lower-body injury since the early stages of Game 3.
Adding Benn to the lineup can be viewed in a number of different ways. The Stars are adding a player who scored 33 regular-season goals, at what looks like a bit of a pivot point following Game 5. Benn has scored three playoff goals, but there's a point to be made about how he scores those goals.
More than 50% of Benn's regular-season shots, along with 60% of his goals, came from those high-danger areas such as the low slot and net front, according to IcyData. It's possible that adding Benn and his ability to get those goals in those portions of the ice could prove beneficial, considering the Stars have found more success in consistently generating high-danger scoring chances over the last two games.
Now add what Benn could potentially provide to a team that just got three of its four goals in Game 5 from Luke Glendening and Dellandrea, while also factoring in what Robertson has done in scoring five of the Stars' 12 goals in the conference finals.
"We have a lot of belief in this room that we can beat anyone on any given night," Stars forward Max Domi said. "That being said, we've got to come ready to play. We do all the things we talk about, we execute the game plan to the best of our ability and we've been able to do that the last couple games."
What does Vegas need to do in order to close out the series?
It could start with finding ways to firmly gain control. Even though the Stars owned possession in Game 5, it's not the first time the Golden Knights have gone through that experience. All but one of their wins against the Edmonton Oilers in the second round ended with the Golden Knights having a short-share percentage of less than 50%. It reinforces the belief that the Golden Knights don't necessarily need puck control to win games. Like Cassidy said, it could be a matter of limiting their turnovers in Game 6 compared to Game 5.
"We mismanaged another puck and we were out of it there," Cassidy said. "Credit to them for how they created some of their offense tonight and caused some problems for us. At the end of the day, they scored goals in the third and we didn't."
Exactly how damaging were those turnovers? Look no further than a few of the Stars' goals. Miro Heiskanen forced the turnover that eventually led to Dellandrea scoring his first goal. Dellandrea's second goal was a byproduct of a turnover. Zach Whitecloud tried playing the puck off the boards behind the net, only to have Domi gather the puck and throw it on goal. That led to a loose puck at the net front that Dellandrea lifted over Adin Hill for a 4-2 lead.
Let's say the Golden Knights are able to limit turnovers and reduce the number of high-danger chances they've allowed. That still leaves them with the task of trying to find success against Stars goaltender Jake Oettinger in an elimination game. In the first round last year against the Calgary Flames, Oettinger showed what he's capable of achieving with his team's proverbial back to the wall. That continues to hold true this postseason, with Oettinger accruing a .948 save percentage in five career elimination games, which also includes what he did in Games 4 and 5 when he had a combined .940 save percentage to keep the Stars' season alive.
"There's no doubt in here," Golden Knights defenseman Alec Martinez said. "There's frustration, obviously. You want to close out a series. But, again, the Dallas Stars are a really good hockey team. This is that time of year that they're playing really well and like I said before, we've got to match their urgency and desperation."
What does Dallas need to do to force a Game 7?
Everything the Stars did in Games 4 and 5 provided a blueprint. Force the Golden Knights into committing the sort of turnovers that can be parlayed into high-danger chances. Continue to tap into the additional scoring options beyond Robertson. Plus, find a balance that allows Oettinger to harness his elimination game success while offering him support in the defensive zone.
Yet there could be one more item the Stars may add to that plan: Getting on the power play.
Several factors have contributed to how the Stars reached the Western Conference finals, and executing one of the NHL's strongest power plays is one of them. They finished the regular season fifth in the league, converting 25.0% of their chances, and have pushed that number to 32.0% in the postseason; that's good for fifth in the playoffs overall, and tops among the three teams that are still alive.
Despite scoring four goals, the Stars never went on the power play in Game 5. But if they can go on the extra-skater advantage in Game 6, it could give them another dimension toward pushing the series to Game 7 — especially when the Golden Knights' penalty kill has a 61.4% success rate that ranks 15th among the 16 playoff teams. But that rate comes with the caveat the Golden Knights have faced three of the top five power-play units in the postseason in the Winnipeg Jets, Oilers and Stars.
"It just shows you how fast things can change," Oettinger said. "We were down 3-0 yesterday, it seems like. Now, it's 3-2 and we're going home."
Ty Dellandrea notches 2 clutch goals for the Stars in the 3rd period
Ty Dellandrea gathers two goals in the third period as the Stars lead 4-2 vs. the Golden Knights in Game 5.
---
Notes from ESPN Stats & Information
Golden Knights
Vegas has scored 44 goals at 5-on-5, seven more than any other team this postseason (the Stars are second, with 37). The next 5-on-5 goal by the Golden Knights will pass the 2021 team for the most in a single postseason in franchise history.

The Golden Knights have outscored the Stars 6-4 in the first period this series, but Vegas still has the worst first-period goal differential in the playoffs at minus-4. This comes after they had the second-best first-period goal differential in the regular season, at plus-30 behind only the Boston Bruins at plus-31.
While the Golden Knights have nine different goal scorers in the series, Jack Eichel is not among them. While he doesn't have a goal, he has tallied four assists, all at even strength. Eichel does have the most shots on goal of any Golden Knights player in this series (17) and his 13 scoring chances created (eight scoring chance shot attempts plus five scoring chance assists) are tied with Jason Robertson for the most of any player in this series.

Eichel needs two points to become the third player in Golden Knights history to score 20 in a single postseason. The others were Reilly Smith, with 22 in 2018, and Jonathan Marchessault, with 21 in 2018.

William Karlsson, Marchessault and Chandler Stephenson each have eight goals this postseason, which are tied for the Golden Knights single postseason record with Marchessault in 2018 and Alex Tuch in 2020.

Goalie Adin Hill has played eight games this postseason on one day of rest between games, and has posted a save percentage of .933 in those games. During the entire regular season, Hill played five games with one day of rest, and posted a save percentage of .907 in those games.
---
Stars
The Stars have won each of their last three home games when facing elimination over the last two postseasons (won 3-2 in Game 4 of this series, won 2-1 in Game 7 of second round vs. the Seattle Kraken & 4-2 in Game 6 of 2022 first-round series against the Calgary Flames).

Dallas scored four goals at 5-on-5 in Game 5, which tied its single-game high this postseason with Games 1 and 5 of the second round. The Stars had scored a total of four goals at 5-on-5 in the previous four games of the series.

Robertson has scored five goals this series, which is only one fewer than the rest of Stars forwards have scored in this series (Ty Dellandrea's two goals in Game 5 are the only other Dallas forward with more than one goal in this series). Outside of his 11-shot performance in Game 4, Robertson has a total of eight shots in the other four games.

Robertson's next goal will give him the most in a semifinals/conference finals series in Dallas/Minnesota North Stars franchise history. He is currently tied with Bill Goldsworthy in the 1968 semifinals, Jamie Langenbrunner in the 1999 conference finals and Brett Hull in the 2000 conference finals.

Jamie Benn's return makes for a tough lineup decision for Dallas. The fourth line of Fredrik Olofsson–Radek Faksa–Luke Glendening combined for a goal (Glendening's 1-1 goal) and 10 shot attempts in Game 5. According to Stathletes, the Stars generated 1.07 expected goals at 5-on-5 when they were on the ice together in Game 5, the highest of any Stars forward unit.

Stars goalie Jake Oettinger is 4-1 with a .949 save percentage in his five career starts when facing elimination, in a virtual tie for the second-highest save percentage all-time when facing playoff elimination among goalies with at least five such starts. The only time Oettinger has allowed more than two goals in his five previous starts when facing elimination was when he gave up three on 67 shots in Game 7 of the 2022 first round against the Flames.
Memorial Day MLB standings check: Who are the biggest surprises, disappointments so far?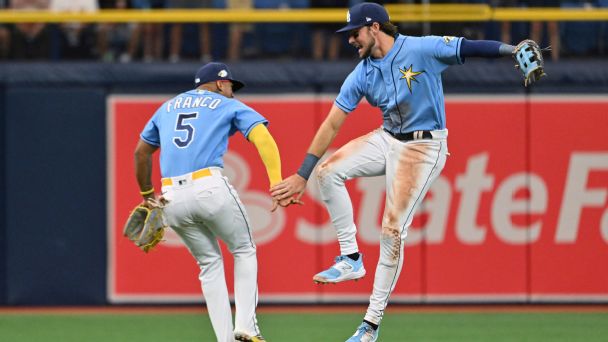 It's Memorial Day, MLB fans! And that means you are free to officially look at the MLB standings.
The saying goes, among baseball fans, that you should avoid checking the standings until Memorial Day, which puts us two months into the season. That gives teams time to play enough games to add meaning to what we're seeing happen in every division.
In theory, the small-sample-size blips should start regressing to the mean, and what you see at this point should start to reflect what you might see come October.
And while your team's position in the standings today might not guarantee it will end the season there, there is some truth to the concept: According to Elias Sports Bureau data, 58% of teams (90 of 155) that were in sole possession of first place on the morning of June 1 have gone on to win their division in the wild-card era (since 1995 and excluding 2020).
We asked ESPN MLB experts Bradford Doolittle, Joon Lee, Buster Olney and David Schoenfield to take a good look at the standings and weigh in on what stands out most to them so far.
What's the first thing that jumps out to you when you look at the standings?
Schoenfield: The Rays started off 13-0 or 20-3 or 29-7 or whatever stretch you want to use and yet the ORIOLES ARE RIGHT THERE. It's not like the Rays collapsed in May, either; they're over .500. The Orioles have simply been great as well — even though their rotation ERA ranks in the bottom third of the majors (the Rays are first). The bullpen has been terrific, the lineup has scored runs and has hit particularly well in big moments (close to .300 in high-leverage situations) and Adley Rutschman and Cedric Mullins have been two of the best players in the league.
Doolittle: It's hard not to notice that both Central divisions are pretty bad. Is this what the balanced schedule hath wrought? I think the Cardinals, Brewers and Twins are all capable of being good, and the Cubs, Guardians and White Sox could get there as well. But it's also possible that we get a sub-.500 division champ. I mean, as a group, the American League Central is a combined 32 games under .500 (35-67) against the other two AL divisions.
Olney: I've got two thoughts: First, it's apparent that one or two of the best teams in the AL is not going to make the playoffs because of the relative strength of the East. Because of the format, at least one and probably two of the AL East teams are not going to reach the postseason. And the other thing that jumps out is how many strong favorites from the preseason have struggled — the Padres, Cardinals, Phillies, Mets, even the Guardians.
Lee: The overall strength of the AL East cannot be overstated. Through much of the season so far, the last-place team in the division would have been in first place in the AL Central. Yankees outfielder Harrison Bader recently told me that the intensity of the division race forces him to lock in to a degree he's never felt before. There's also some bad blood brewing between some of the teams, especially the Yankees with both the Rays and the Blue Jays. Getting some old-school division tension is something that always excites me.
Of the six NL teams currently in the playoff field, how many will be there in October?
Schoenfield: The National League appears to have infinite playoff possibilities at the moment, and we could see three or even four teams with fewer than 90 wins make the postseason. The only two locks appear to be the Braves and Dodgers — even though the Dodgers currently have five starting pitchers on the injured list. After that, it's a logjam. The Cardinals have finally started playing well and have the position players and prospects to trade for pitching help if desired. The Mets, Phillies and Padres have all disappointed and aren't sure bets to turn things around. I'll go with three current teams — with either the Brewers or Diamondbacks joining the Braves and Dodgers (OK, the Diamondbacks).
Doolittle: Four. The Pirates will fade, and while I'm a big believer in Arizona, right now the Mets are teetering on the edge and the Phillies, Cardinals and Padres are all on the outside looking in. I have to think at least two of those teams will nudge their way in. And it could be three if the Cardinals continue their rebound and overtake Milwaukee, and the NL Central doesn't get a wild-card slot.
Olney: I'll say five, and agree with others that the Pirates are the most likely to drift back to the pack. The great unknown in the NL playoff race is what the Brewers will do at the deadline — we saw them move Josh Hader last summer, even while in first place, and if they follow the analytics, they should probably do the same thing this July with Corbin Burnes, Brandon Woodruff and Willy Adames, players who have peak value this summer. And if they did move them, that would help open the door for the Cardinals, who will still win the Central despite their awful start.
Lee: The Braves and Dodgers appear to be the only locks so far. After that, it might be just as effective to put the rest of the teams in a hat and pull them out at random. I'm typically of the belief that the strength of a roster usually wins out over the course of a long season, but the Mets, Phillies and Padres cannot escape the disappointment of the season so far given how much all three teams invested in their rosters. Of those three teams, I believe the most in the strength of the Padres, especially with some of the most talented players on that roster (*stares at Juan Soto*) underperforming, but then again, San Diego tops the majors in winning offseasons but falling short when the games are actually played.
Of the six AL teams currently in the playoff field, how many will be there in October?
Schoenfield: I'm going with … all six. Yuck. Boring. But the Rangers absolutely look like they are for real with the best offense so far in the majors and a rotation that has pitched well even without Jacob deGrom. The Astros have survived injuries and some terrible individual starts (Jose Abreu, Alex Bregman) and are still in a playoff spot — oh, and they have 10 games remaining against the A's. The Twins are the best of the awful AL Central, although they've allowed Detroit, Cleveland and Chicago to hang around. I suppose either or both of the Guardians and White Sox could figure things out and make a run, but I'll stick with the Twins. That leaves three teams in the AL East and I'm going with the Rays, Orioles and Yankees, which leaves the Blue Jays and Red Sox outside the postseason.
Doolittle: Six. The seedings might change, but I think we've got our field. There's a long way to go, obviously, but if you believe in the Rangers — and I do — then one of our preseason playoff favorites is going to lose its spot. Right now, it's Toronto, and while the Blue Jays have playoff talent, there are just more good teams than playoff slots in the AL. There are also far more flat-out terrible teams in the circuit than in the NL, which is relevant because in the AL, the middle class has been hollowed out. It is now mostly just haves and have-nots, which means wins flow to the haves and in turn that raises the bar to get into the bracket.
Olney: Seattle's rotation is absurdly great, and as we saw this week, the Mariners have an advantage that the East teams do not — playing a really bad team in their division and feasting. That's a chit that the Yankees or the Orioles would love to have. And I'm going to climb onto the bonkers bandwagon here and say that with Carlos Correa down and the Guardians starved for run production, the White Sox will wind up winning this division. Michael Kopech is the difference-maker.
Lee: There are two switches I could potentially see happening: the Mariners overtaking the Rangers and the Blue Jays passing the Orioles. We have yet to see Julio Rodriguez heat up, and there's no chance he plays this way the entire season. When you factor that in with the type of season Jarred Kelenic is having, it's easy to imagine this Mariners offense going to another level. With the Blue Jays, it's hard for me to imagine that this is just who Alek Manoah is now, especially given how strong he looked the past two seasons. If Manoah can just find a middle ground between his horrific start and his track record, Toronto will be able to combine a dynamic offense with a strong rotation.
Which team is the biggest disappointment?
Schoenfield: I thought the Padres were overhyped before the season, but nobody expected them to be mediocre AND just kind of uninteresting. Yes, the lack of lineup depth has been an issue, the catching situation has been a disaster and Joe Musgrove and Blake Snell haven't pitched well, but also the Big Four haven't exactly clicked and Manny Machado is now on the IL following a slow start. At least Soto is heating up and there's still plenty of talent and time to make a run — but nothing we've seen so far suggests the Padres are a playoff team (including their 1-5 record against the Dodgers).
Doolittle: The Padres. It's another lesson telling us that winning the offseason is just that — winning the offseason. All of that superstar talent in the lineup — Fernando Tatis Jr., Soto, Machado, Xander Bogaerts — and the offense has still been awful. They have time to get rolling, of course, but if they continue on this trajectory and have all that money on the books in the years to come … it's not going to be a good situation.
Olney: Well, I picked the Padres to win the World Series this year, so I cannot credibly pick any other team. San Diego is starting to remind me of the 2011 Red Sox, who looked like a monster team on paper after the signing of Carl Crawford and the trade for Adrian Gonzalez and wound up missing the playoffs. For a team with so many great players, they are wildly inconsistent.
Lee: It's hard to choose anyone other than San Diego. When a team trades for Soto at the deadline, then has Tatis Jr. return from PED suspension and signs Bogaerts, you'd expect its offense to set the world on fire and it just hasn't. As much as I appreciate Ha-Seong Kim, the fact that he's the team's leader in bWAR among position players through this point in the season shows how much the rest of the team has underperformed expectations.
Which team will finish the season with the most wins in MLB — and how many games will it win?
Schoenfield: I still think the AL East teams are going to beat up on each other. The Rays, for example, have played 21 of their 52 division games, so still have 33 to go. They do have such a great record already that 100 wins is definitely in the picture. The Rangers have blitzed through these first two months and have an impressive run differential and perhaps a Cy Young contender — Nathan Eovaldi, not deGrom. But I'll go with the Braves. The NL East doesn't look so tough with the Mets and Phillies scrambling, Michael Harris II and Austin Riley will step it up, and they'll get Max Fried back. I'll say 102 wins.
Doolittle: The Rays still seem like the best bet, even if they have moved a bit back toward the pack and have had some major pitching injuries. They have just been so consistent and are so deep and are strong across the board, ranking in the top five in hitting, pitching and defense alike. They look like a 105-to-110 win team and that's going to be hard for anyone else to beat.
Olney: The Rays started the season without Tyler Glasnow, and they got off to a record start. They lost Jeffrey Springs and then Drew Rasmussen, and they continued to win; their offense is so dynamic. As long as Wander Franco and Randy Arozarena continue to play well, the offense will be a force that should drive them through some of the inevitable dip in performance. They're on pace to win about 110 games, which is why I wrote last month that they'll go wire to wire — and I'll stick with that.
Lee: I'm going to go with the Rays — with the caveat that Wander Franco must stay healthy the entire season. Their rotation has definitely taken some hits with Jeffrey Spring and Drew Rasmussen on the injured list, but Shane McClanahan continues his reign as one of the game's best pitchers. But it's hard to overstate the impact of Franco on this lineup. The way opposing teams approach Tampa Bay's lineup has changed dramatically due to the star shortstop's presence in the middle of the lineup forcing them to pitch to everyone else around him — Randy Arozarena, Yandy Diaz, Brandon Lowe, Taylor Walls — completely differently.
Yanks' Germán says he'll probably use less rosin
NEW YORK — Yankees pitcher Domingo Germán said Sunday he probably will use less rosin on his hands when he returns from a 10-game suspension for using a foreign substance on the mound.
Germán was suspended by Major League Baseball on May 17 and will return to the Yankees' rotation for Monday's game in Seattle.
"You have to do something different because what I did before got me ejected from the game," he said through an interpreter. "Probably go back to previous years before where I used it way less."
Germán was disciplined after being ejected in the fourth inning of New York's 6-3 win in Toronto on May 16. He retired the first nine hitters before his hands were checked by first-base umpire D.J. Reyburn as Germán headed to the mound for the fourth inning.
After the game, crew chief James Hoye said Germán had "the stickiest hand I've ever felt."
Hoye's crew also examined Germán's hands during an April 15 start against Minnesota, when the right-hander retired his first 16 batters, but allowed him to stay in that game. Hoye had asked Germán to wash rosin off his hand and some had remained on his pinkie.
Germán said Sunday he has not gotten a direct explanation of what is the appropriate amount of rosin to use.
"As far as like a direct explanation on how much to use or not, I haven't gotten a better explanation from MLB or the umpires," he said. "To me, I have to keep using it, understand how much to use and keep a balance, but at the same time I've got to keep preparing myself to pitch and keep my routine in between starts to get me in the right shape for the next start and just keep using the rosin bag and try to keep executing pitches."
Germán was the fourth pitcher suspended since MLB began cracking down on foreign substances in June 2021 and the second this season. New York Mets pitcher Max Scherzer also served a 10-game suspension after being ejected April 19 in Los Angeles against the Dodgers.
In 2021, Seattle's Hector Santiago and Arizona's Caleb Smith served suspensions for sticky substances.
"He has to avoid that and that's us being more vigilant and check and make sure we're in a good spot," Yankees manager Aaron Boone said of Germán. "We should be fine, but I think that's the one thing about this: What is the line, there is no defined line, you can't have sticky [substances] on your hands. So he's got to be mindful of that."
German is 2-3 with a 3.75 ERA in nine starts this season. He is 28-24 with a 4.31 ERA in 101 career appearances (79 starts) since making his major league debut in 2017 with the Yankees.