Welcome to MLB Opening Day 2023!
After one of the most exciting preludes to a regular season in recent memory — from offseason chaos to players (and fans) learning baseball's new rules and enjoying faster-paced games to an epic World Baseball Classic — it's time to play ball.
What are we looking for as the season gets started? Our reporters give their pregame takes from the ballpark, plus we'll post lineups as they are announced and live updates throughout the day, including takeaways from each game as it concludes.
Season preview: How all 30 teams rank as baseball returns | Predictions
New rules: What you need to know |

Passan: Welcome to a new era
Jump to …
Live updates | Takeaways from completed games | Lineups and what to watch
---
Live updates: Opening Day sights, sounds and moments
---
Takeaways from every completed Opening Day game
Recap | Box score | Highlights
>
The last time we saw the Houston relievers, they were carving through opposing hitters in the postseason with cruel efficiency. On a night when the Astros celebrated their World Series championship at Minute Maid Park, the bullpen did not pick up where it left off. Yasmani Grandal homered off Rafael Montero to tie the game in the eighth and then Andrew Vaughn doubled in two runs off Ryan Pressly in the ninth. Indeed, with the rotation minus Justin Verlander, Dusty Baker needs another dominant year from his pen. He didn't get it in the opener. Dylan Cease, meanwhile, did pick up where he left off after finishing second in last year's Cy Young voting, striking out 10 and retiring 18 in a row at one point before ultimately getting a no-decision. — David Schoenfield
---
Recap | Box score | Highlights
We have our game of the day. Nineteen runs, 34 hits, multiple late-inning lead changes, Tyler O'Neill homering for the fourth consecutive Opening Day and a five-hit game from George Springer, including the game-tying blooper in the top of the ninth. More of this, thank you very much — even if it lasts 3 hours and 36 minutes. Not a great debut for the Cardinals bullpen as late-game relievers Andre Pallante, Jordan Hicks and Ryan Helsley all surrendered runs. Hicks even knocked catcher Willson Contreras out of the game when Contreras whiffed on catching one of Hicks' 103 mph(!) fastballs, and the ball hit him in the knee. Contreras will remember his first official game in a Cardinals uniform for all the wrong reasons. — David Schoenfield
---
Recap | Box score | Highlights
Oneil Cruz and Hunter Greene will be competing as division rivals for the next six years, so while the Pirates and Reds aren't exactly favored to make the playoffs, these two young stars are worth keeping an eye on because the spectacular may happen at any time. Round one in 2023 goes to Cruz, as he launched a 425-foot home run off a Greene 101-mph heater. Greene racked up the K's — eight in 3.1 innings — but the command he showed down the stretch in 2022 wasn't present, and it led to an early exit. He did, however, throw 44 pitches at 100-plus mph … which, well, velocity isn't everything. — David Schoenfield
Recap | Box score | Highlights
The Rangers are a popular pick to make a leap in the American League and while Jacob deGrom gathered plenty of headlines leading into Opening Day, new manager Bruce Bochy has to like what he saw from his offense. A solid approach produced 10 hits and six walks as a nine run fourth inning changed the dynamic of the game.
Perhaps it made fans forget deGrom's forgettable performance. He simply couldn't put guys away after the first inning as the Phillies pummeled him with opposite-field extra base hits — five of them in total — chasing him from the game after just 3.2 innings. He gave up five runs in his Rangers debut. Thankfully his offense picked him up. Texas is an intriguing team with a veteran, know-how-to do it manager. — Jesse Rogers
---
Recap | Box score | Highlights
Max Scherzer versus Sandy Alcantara was the must-see pitching matchup of the day, and while that didn't end up materializing, this game had a little bit of everything. Mets owner Steve Cohen hung out in right field with the Mets fan club 7 Line Army. Jeff McNeil was given a strike because Pete Alonso took too long to get back to first base. The Mets blew a 3-0 lead but rallied as Brandon Nimmo hit a go-ahead two-run double. In the absence of Edwin Diaz, David Robertson got the save. The biggest Mets news of the day, however, came before the game when Justin Verlander went on the IL — joining Diaz and Jose Quintana. Mets fans will enjoy the win and then start sweating Verlander's injury on Friday. — David Schoenfield
---
Recap | Box score | Highlights

We get our fourth shutout of the day as the Twins shut down the Royals on two hits, tying their team record for fewest hits allowed on Opening Day. New starter Pablo Lopez drew the start and tossed 5.1 innings with eight strikeouts, but the key takeaway is the Twins have a chance to have a really good bullpen. Caleb Thielbar, Jorge Lopez, Griffin Jax and Jhoan Duran combined for the final 3⅔ hitless innings with Duran and his 100 mph fastball finishing it off, so Duran does get ninth-inning duties over Lopez (who was an All-Star in that role for the Orioles last season). Also: Byron Buxton legs out a triple. Stay healthy, BB. — David Schoenfield
---
Recap | Box score | Highlights
One sequence from Shane McClanahan, facing Jonathan Schoop in the fifth inning: Changeup on the outside corner, swing and a miss; curveball low and in, taken for a ball, looked like a strike; another changeup that starts on the outside and darts left at the last moment like a Wiffleball, swing a miss; 97 mph four-seamer at the top of the zone, swing and a miss. Good night and good luck. Look, the Tigers aren't exactly the '98 Yankees, but McClanahan is one nasty lefty. He looked like the pitcher who dominated the first half last season and started the All-Star Game, throwing six scoreless innings and registering 16 swings and misses. He's an ace. — David Schoenfield
---
Recap | Box score | Highlights
Boston threw gasoline on the overreaction fears of fans with their performance on Thursday. Opening Day starter Corey Kluber looked like a mess, struggling to throw strikes and working deep into counts, going 3⅓ innings while walking four and allowing five runs on six hits. The Red Sox bullpen struggled to throw strikes too, as Zack Kelly walked two batters followed with Ryan Brasier allowing three runs on two walks in an inning.
While the Red Sox offense struggled in the first half of the game, they slowly chipped away at Baltimore's lead. After scoring a run to bring Boston within two, Masataka Yoshida came to the plate as the go-ahead run. Yoshida promptly grounded into what looked like a sure double play to end the game, but Orioles shortstop Jorge Mateo made a throwing error, bouncing a ball to first baseman Ryan Mountcastle that allowed Boston to come within one run. Baltimore held on, though, with Felix Bautista striking out Adam Duvall to end the game.
Boston ultimately could not keep up with the Orioles offensive output, which was led by star catcher Adley Rutschman, who had five hits and four RBIs with a homer, looking every bit the part of the player he became upon his callup last season.
Fans left Fenway Park by the top of the sixth inning, leaving large splotches of seats empty, an unusual Opening Day sight at Fenway Park since John Henry brought the team ahead of the 2002 season. — Joon Lee
---
Recap | Box score | Highlights
It was a brisk game at Wrigley Field in more than one sense of the word. It was a chilly 42 degrees at first pitch, and for fans worried about lingering in the cold, their first pitch-clock game zipped by in 2 hours, 21 minutes. Warning to scorecard keepers: Stay alert and forget bathroom breaks. There's no time. The Cubs took advantage of a rare erratic outing from Corbin Burnes, who walked three and struck just three. Highlighting the Cubs piecemeal offense was a three-hit game for Dansby Swanson in his Cubs debut, backing a sharp Marcus Stroman. Stroman would certainly prefer this day be remembered for his six shutout innings. Alas, he will go down in the history books as the first pitcher to be issued a pitch clock violation in a regular season game. It was a familiar day at Wrigley Field even as the game on the field felt, well, not exactly new. Let's say it felt tuned up. — Bradford Doolittle
---
Recap | Box score | Highlights
On the second pitch he saw as Yankees captain, Aaron Judge homered into Monument Park, 422 feet away. Rookie Anthony Volpe manned shortstop — at 21 the youngest Yankee to start on Opening Day since Derek Jeter — and, while he didn't get a hit, he kissed the "NY" on his jersey during the Bleacher Creatures roll call, then walked in his first plate appearance and stole his first base. Gerrit Cole set a Yankees Opening Day record with 11 strikeouts. The Bombers' bullpen threw three scoreless innings to preserve a shutout against the San Francisco Giants. It was chilly day in the Bronx, but pretty much a perfect afternoon for the home team. And the whole thing took a grand total of 2 hours and 33 minutes. — Matt Marrone
---
Recap | Box score | Highlights
No surprise here. A team that won 101 games last season beat a team that started a pitcher who led the majors in losses each of the past two seasons. The Braves knocked out Patrick Corbin in the top of the fourth inning after hitting him around for seven hits, three walks and four runs. It wasn't all happy news for the Braves, however, as Max Fried left the game in the fourth inning with left hamstring discomfort. The Braves are already starting the season with rookies Jared Shuster and Dylan Dodd in the rotation, so their starting pitching depth will be tested early on here if Fried misses any time. Bryce Elder probably gets the first call if Fried has to go on the IL, with Ian Anderson another option. — David Schoenfield
---
What to watch and lineups for remaining Opening Day games
The pitching matchup: Shohei Ohtani vs. Kyle Muller
The big storyline: As it was, as it is, as it shall be: Shohei Ohtani. He's not only the One Big Opening Day storyline, he's bound to be one big season-long storyline. This could be the beginning of the end to Ohtani's career as an Angel, and it starts on the mound — and in the batter's box — in the barren expanse of the Oakland Coliseum, nearly five years to the day after he made his first big league start on the same exact spot.
One obscure thing to impress your friends: Center fielder Cristian Pache, considered the best prospect in the trade that sent Matt Olson to the Braves, couldn't crack Oakland's Opening Day roster despite being out of options. He was traded Wednesday for Billy Sullivan, a Phillies reliever who had a 4.59 ERA in Double-A. "It was really hard to run out of time with a player that you feel is young and still has a huge future in this game," A's manager Mark Kotsay said. The A's, a franchise eternally waiting for something — a new home, a contending team, the next trade of a known quantity for a group of unknowns — finally found something that wasn't worth the wait. — Tim Keown
Angels lineup:
1. Taylor Ward (R) LF
2. Mike Trout (R) CF
3. Shohei Ohtani (L) P
4. Anthony Rendon (R) 3B
5. Hunter Renfroe (R) RF
6. Luis Rengifo (S) 2B
7. Brandon Drury (R) 1B
8. Gio Urshela (R) SS
9. Logan O'Hoppe (R) C
A's lineup:
1. Tony Kemp (L) 2B
2. Conner Capel (L) DH
3. Aledmys Diaz (R) SS
4. Seth Brown (L) LF
5. Jesus Aguilar (R) 1B
6. Ramon Laureano (R) RF
7. Jace Peterson (L) 3B
8. Shea Langeliers (R) C
9. Esteury Ruiz (R) CF
---
The pitching matchup: Zac Gallen vs. Julio Urias
The big storyline: Teams doled out free agent dollars in record fashion this offseason, but the Dodgers, among the most aggressive spenders these past few years, opted to mostly stand pat in order to create a path for their homegrown players. We've already seen that backfire in one respect, with Gavin Lux, primed to be the everyday shortstop, suffering a season-ending knee injury in spring training. Do they have enough to contend the way they have over the past decade? And can the D-backs — an underrated team that plays really good defense, runs the bases well, received solid contributions from key members of its rotation last season and has several young players ready to make an impact — give them a run?
One obscure thing to impress your friends: Keep your eyes on Miguel Vargas, the 23-year-old who will get his first opportunity to play every day in the major leagues. His hitting has never really been in question — the concern has been his defense. But the Dodgers believe he'll be a lot better defensively at second base than many outsiders expect, pointing to the work he put in during the offseason. They see him as a potential breakout star, somebody who will compete for the Rookie of the Year award. Just as important: He plays with high energy, runs the bases aggressively and should be lots of fun to watch. — Gonzalez
Diamondbacks lineup:
1. Kyle Lewis (R) DH
2. Ketel Marte (S) 2B
3. Lourdes Gurriel Jr. (R) LF
4. Christian Walker (R) 1B
5. Evan Longoria (R) 3B
6. Nick Ahmed (R) SS
7. Corbin Carroll (L) CF
8. Gabriel Moreno (R) C
9. Jake McCarthy (L) RF
Dodgers lineup:
1. Mookie Betts (R) RF
2. Freddie Freeman (L) 1B
3. Will Smith (R) C
4. Max Muncy (L) 3B
5. J.D. Martinez (R) DH
6. David Peralta (L) LF
7. Miguel Vargas (R) 2B
8. James Outman (L) CF
9. Miguel Rojas (R) SS
---

The pitching matchup: Shane Bieber vs. Luis Castillo
The big storyline: One of just two Opening Day games where both teams made the playoffs last year (Blue Jays-Cardinals is the other), this one showcases a terrific pitching matchup between Bieber and Castillo. That's fun, but all eyes will be on Julio Rodriguez, who enters the season as one of the must-watch players in the game after his stellar Rookie of the Year campaign. He ranked seventh on ESPN.com's list of the top 100 players in the game, an aggressive ranking, but symbolic of what the 22-year-old might achieve after hitting .284 with 28 home runs and 25 steals — with the charisma to match.
One obscure thing to impress your friends: The Mariners made the playoffs last year for the first time since 2001, but going back to 2007, they have the best Opening Day record in the majors at 13-3 (the Mets and Dodgers are 12-4). Much of that is thanks to Felix Hernandez, who started 11 Opening Day games and posted a 1.53 ERA. — Schoenfield
Guardians lineup:
1. Steven Kwan (L) LF
2. Amed Rosario (R) SS
3. Jose Ramirez (S) 3B
4. Josh Bell (S) DH
5. Josh Naylor (L) 1B
6. Andres Gimenez (L) 2B
7. Will Brennan (L) RF
8. Mike Zunino (R) C
9. Myles Straw (R) CF
Mariners lineup:
1. Julio Rodriguez (R) CF
2. Kolten Wong (L) 2B
3. Ty France (R) 1B
4. Teoscar Hernandez (R) RF
5. Cal Raleigh (S) C
6. Eugenio Suarez (R) 3B
7. Jarred Kelenic (L) LF
8. Tommy La Stella (L) DH
9. J.P. Crawford (L) SS
How the West will be won: Pathways to victory for Golden Knights, Stars in Game 6
Remember Game 3 of the Western Conference finals? And the questions that followed?
Were the Vegas Golden Knights really about to sweep the Dallas Stars? Or was it more likely the Golden Knights would close out the series at T-Mobile Arena in Game 5? What could the Stars do to avoid being swept? How could the Stars fare without Jamie Benn, and would Benn return at some point in the series? Or would next season be the earliest anyone would see the Stars captain take the ice?
But now, there's a different set of questions.
Are the Golden Knights in serious trouble — or is this temporary? How did the Stars hand the Golden Knights back-to-back losses for the first time since late March? Can the Stars force a Game 7? And if they do, are the Stars really about to come back from a 3-0 series deficit to reach the Stanley Cup Final?
Clearly, there are questions about what could happen Monday in Game 6 at American Airlines Arena in Dallas (8 p.m. ET, ESPN/ESPN+). That said, we've put together a guide featuring what to watch from each team, along with some questions of note from Ryan S. Clark and an in-depth statistical analysis from ESPN Stats & Information.
Subscribe to ESPN+ | Stream the NHL on ESPN
---
Monday, 8 p.m. ET | Watch live on ESPN+
Line: DAL -130 | O/U: 5.5
Clark's keys
At this point in the series, is it more about what's gone right for the Stars in the last two games, or more about what's gone wrong for the Golden Knights?
For those who want to get philosophical about it, look at the last five games this way: Mistakes cost the Stars a chance to win Game 1 in overtime. If Wyatt Johnston scores in overtime before Chandler Stephenson's winner, then, the series would be split after two games. Game 3 was a four-goal blowout, whereas the Stars changed their fortunes by winning their first overtime game of the series — and the playoffs as a whole — in Game 4. Of course, Game 5 was tied at 2-2 before Ty Dellandrea's two third-period goals forced a Game 6.
But what else could one expect in a conference finals in which three of the five games have gone to overtime? What occurred in Game 5 appears to have offered more insight into how this series has changed for both teams.
One of the problems facing the Stars was the inability to generate high-danger scoring chances in the first three games. It's why they finished with a total of 19 high-danger chances in 5-on-5 play before Game 4, per Natural Stat Trick. Since then, the Stars have accounted for 30 high-danger chances — 15 in each game — which has played a role in what has made them look even more formidable.
"I think we try to limit turnovers and I think that's something in the whole series has been a key point to play very well and play in their zone," Stars forward Jason Robertson said. "Avoid the neutral-zone turnovers and the 'hope' plays. I think for the majority of the game we did that very well — this game and last game. We gotta continue that in Game 6."
To Robertson's point, the Stars were charged with nine giveaways in Game 5. That was a bit of contrast compared to the Golden Knights, considering how much they struggled with their puck management. Through the first four games of the Western Conference finals, the Golden Knights were responsible for committing 33 giveaways. In Game 5 alone they had 24 giveaways, which is another reason why the Stars likely held a shot-share percentage of more than 60%.
"We had 24 giveaways. I'm not sure you're beating the Arizona Coyotes in January with 24 giveaways — no disrespect to Arizona," Golden Knights coach Bruce Cassidy said. "It's not the right way to play. Twenty-four giveaways. We're trying to go to the Stanley Cup Final against a desperate team. To me, that's the whole game right there. That falls under urgency obviously, right? You're not making the right decisions with the puck, you're not supporting it well, so it starts right there."
What does getting Jamie Benn back mean for the Stars?
Benn's return from a two-game suspension after his Game 3 cross-check against Golden Knights captain Mark Stone gives Stars coach Pete DeBoer another top-nine option. Being without Benn was not the only adjustment DeBoer and his coaching staff had to account for over the last two games. They've also been without Evgenii Dadonov, who has been out of the lineup with a lower-body injury since the early stages of Game 3.
Adding Benn to the lineup can be viewed in a number of different ways. The Stars are adding a player who scored 33 regular-season goals, at what looks like a bit of a pivot point following Game 5. Benn has scored three playoff goals, but there's a point to be made about how he scores those goals.
More than 50% of Benn's regular-season shots, along with 60% of his goals, came from those high-danger areas such as the low slot and net front, according to IcyData. It's possible that adding Benn and his ability to get those goals in those portions of the ice could prove beneficial, considering the Stars have found more success in consistently generating high-danger scoring chances over the last two games.
Now add what Benn could potentially provide to a team that just got three of its four goals in Game 5 from Luke Glendening and Dellandrea, while also factoring in what Robertson has done in scoring five of the Stars' 12 goals in the conference finals.
"We have a lot of belief in this room that we can beat anyone on any given night," Stars forward Max Domi said. "That being said, we've got to come ready to play. We do all the things we talk about, we execute the game plan to the best of our ability and we've been able to do that the last couple games."
What does Vegas need to do in order to close out the series?
It could start with finding ways to firmly gain control. Even though the Stars owned possession in Game 5, it's not the first time the Golden Knights have gone through that experience. All but one of their wins against the Edmonton Oilers in the second round ended with the Golden Knights having a short-share percentage of less than 50%. It reinforces the belief that the Golden Knights don't necessarily need puck control to win games. Like Cassidy said, it could be a matter of limiting their turnovers in Game 6 compared to Game 5.
"We mismanaged another puck and we were out of it there," Cassidy said. "Credit to them for how they created some of their offense tonight and caused some problems for us. At the end of the day, they scored goals in the third and we didn't."
Exactly how damaging were those turnovers? Look no further than a few of the Stars' goals. Miro Heiskanen forced the turnover that eventually led to Dellandrea scoring his first goal. Dellandrea's second goal was a byproduct of a turnover. Zach Whitecloud tried playing the puck off the boards behind the net, only to have Domi gather the puck and throw it on goal. That led to a loose puck at the net front that Dellandrea lifted over Adin Hill for a 4-2 lead.
Let's say the Golden Knights are able to limit turnovers and reduce the number of high-danger chances they've allowed. That still leaves them with the task of trying to find success against Stars goaltender Jake Oettinger in an elimination game. In the first round last year against the Calgary Flames, Oettinger showed what he's capable of achieving with his team's proverbial back to the wall. That continues to hold true this postseason, with Oettinger accruing a .948 save percentage in five career elimination games, which also includes what he did in Games 4 and 5 when he had a combined .940 save percentage to keep the Stars' season alive.
"There's no doubt in here," Golden Knights defenseman Alec Martinez said. "There's frustration, obviously. You want to close out a series. But, again, the Dallas Stars are a really good hockey team. This is that time of year that they're playing really well and like I said before, we've got to match their urgency and desperation."
What does Dallas need to do to force a Game 7?
Everything the Stars did in Games 4 and 5 provided a blueprint. Force the Golden Knights into committing the sort of turnovers that can be parlayed into high-danger chances. Continue to tap into the additional scoring options beyond Robertson. Plus, find a balance that allows Oettinger to harness his elimination game success while offering him support in the defensive zone.
Yet there could be one more item the Stars may add to that plan: Getting on the power play.
Several factors have contributed to how the Stars reached the Western Conference finals, and executing one of the NHL's strongest power plays is one of them. They finished the regular season fifth in the league, converting 25.0% of their chances, and have pushed that number to 32.0% in the postseason; that's good for fifth in the playoffs overall, and tops among the three teams that are still alive.
Despite scoring four goals, the Stars never went on the power play in Game 5. But if they can go on the extra-skater advantage in Game 6, it could give them another dimension toward pushing the series to Game 7 — especially when the Golden Knights' penalty kill has a 61.4% success rate that ranks 15th among the 16 playoff teams. But that rate comes with the caveat the Golden Knights have faced three of the top five power-play units in the postseason in the Winnipeg Jets, Oilers and Stars.
"It just shows you how fast things can change," Oettinger said. "We were down 3-0 yesterday, it seems like. Now, it's 3-2 and we're going home."
Ty Dellandrea notches 2 clutch goals for the Stars in the 3rd period
Ty Dellandrea gathers two goals in the third period as the Stars lead 4-2 vs. the Golden Knights in Game 5.
---
Notes from ESPN Stats & Information
Golden Knights
Vegas has scored 44 goals at 5-on-5, seven more than any other team this postseason (the Stars are second, with 37). The next 5-on-5 goal by the Golden Knights will pass the 2021 team for the most in a single postseason in franchise history.

The Golden Knights have outscored the Stars 6-4 in the first period this series, but Vegas still has the worst first-period goal differential in the playoffs at minus-4. This comes after they had the second-best first-period goal differential in the regular season, at plus-30 behind only the Boston Bruins at plus-31.
While the Golden Knights have nine different goal scorers in the series, Jack Eichel is not among them. While he doesn't have a goal, he has tallied four assists, all at even strength. Eichel does have the most shots on goal of any Golden Knights player in this series (17) and his 13 scoring chances created (eight scoring chance shot attempts plus five scoring chance assists) are tied with Jason Robertson for the most of any player in this series.

Eichel needs two points to become the third player in Golden Knights history to score 20 in a single postseason. The others were Reilly Smith, with 22 in 2018, and Jonathan Marchessault, with 21 in 2018.

William Karlsson, Marchessault and Chandler Stephenson each have eight goals this postseason, which are tied for the Golden Knights single postseason record with Marchessault in 2018 and Alex Tuch in 2020.

Goalie Adin Hill has played eight games this postseason on one day of rest between games, and has posted a save percentage of .933 in those games. During the entire regular season, Hill played five games with one day of rest, and posted a save percentage of .907 in those games.
---
Stars
The Stars have won each of their last three home games when facing elimination over the last two postseasons (won 3-2 in Game 4 of this series, won 2-1 in Game 7 of second round vs. the Seattle Kraken & 4-2 in Game 6 of 2022 first-round series against the Calgary Flames).

Dallas scored four goals at 5-on-5 in Game 5, which tied its single-game high this postseason with Games 1 and 5 of the second round. The Stars had scored a total of four goals at 5-on-5 in the previous four games of the series.

Robertson has scored five goals this series, which is only one fewer than the rest of Stars forwards have scored in this series (Ty Dellandrea's two goals in Game 5 are the only other Dallas forward with more than one goal in this series). Outside of his 11-shot performance in Game 4, Robertson has a total of eight shots in the other four games.

Robertson's next goal will give him the most in a semifinals/conference finals series in Dallas/Minnesota North Stars franchise history. He is currently tied with Bill Goldsworthy in the 1968 semifinals, Jamie Langenbrunner in the 1999 conference finals and Brett Hull in the 2000 conference finals.

Jamie Benn's return makes for a tough lineup decision for Dallas. The fourth line of Fredrik Olofsson–Radek Faksa–Luke Glendening combined for a goal (Glendening's 1-1 goal) and 10 shot attempts in Game 5. According to Stathletes, the Stars generated 1.07 expected goals at 5-on-5 when they were on the ice together in Game 5, the highest of any Stars forward unit.

Stars goalie Jake Oettinger is 4-1 with a .949 save percentage in his five career starts when facing elimination, in a virtual tie for the second-highest save percentage all-time when facing playoff elimination among goalies with at least five such starts. The only time Oettinger has allowed more than two goals in his five previous starts when facing elimination was when he gave up three on 67 shots in Game 7 of the 2022 first round against the Flames.
Memorial Day MLB standings check: Who are the biggest surprises, disappointments so far?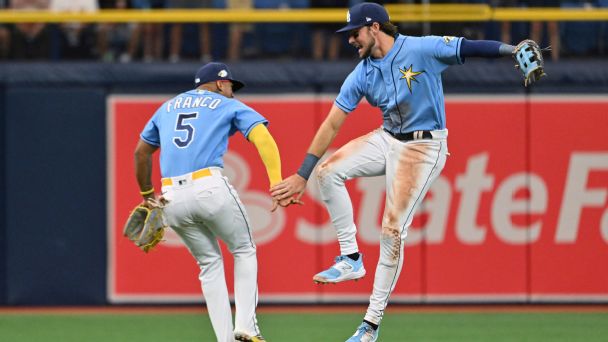 It's Memorial Day, MLB fans! And that means you are free to officially look at the MLB standings.
The saying goes, among baseball fans, that you should avoid checking the standings until Memorial Day, which puts us two months into the season. That gives teams time to play enough games to add meaning to what we're seeing happen in every division.
In theory, the small-sample-size blips should start regressing to the mean, and what you see at this point should start to reflect what you might see come October.
And while your team's position in the standings today might not guarantee it will end the season there, there is some truth to the concept: According to Elias Sports Bureau data, 58% of teams (90 of 155) that were in sole possession of first place on the morning of June 1 have gone on to win their division in the wild-card era (since 1995 and excluding 2020).
We asked ESPN MLB experts Bradford Doolittle, Joon Lee, Buster Olney and David Schoenfield to take a good look at the standings and weigh in on what stands out most to them so far.
What's the first thing that jumps out to you when you look at the standings?
Schoenfield: The Rays started off 13-0 or 20-3 or 29-7 or whatever stretch you want to use and yet the ORIOLES ARE RIGHT THERE. It's not like the Rays collapsed in May, either; they're over .500. The Orioles have simply been great as well — even though their rotation ERA ranks in the bottom third of the majors (the Rays are first). The bullpen has been terrific, the lineup has scored runs and has hit particularly well in big moments (close to .300 in high-leverage situations) and Adley Rutschman and Cedric Mullins have been two of the best players in the league.
Doolittle: It's hard not to notice that both Central divisions are pretty bad. Is this what the balanced schedule hath wrought? I think the Cardinals, Brewers and Twins are all capable of being good, and the Cubs, Guardians and White Sox could get there as well. But it's also possible that we get a sub-.500 division champ. I mean, as a group, the American League Central is a combined 32 games under .500 (35-67) against the other two AL divisions.
Olney: I've got two thoughts: First, it's apparent that one or two of the best teams in the AL is not going to make the playoffs because of the relative strength of the East. Because of the format, at least one and probably two of the AL East teams are not going to reach the postseason. And the other thing that jumps out is how many strong favorites from the preseason have struggled — the Padres, Cardinals, Phillies, Mets, even the Guardians.
Lee: The overall strength of the AL East cannot be overstated. Through much of the season so far, the last-place team in the division would have been in first place in the AL Central. Yankees outfielder Harrison Bader recently told me that the intensity of the division race forces him to lock in to a degree he's never felt before. There's also some bad blood brewing between some of the teams, especially the Yankees with both the Rays and the Blue Jays. Getting some old-school division tension is something that always excites me.
Of the six NL teams currently in the playoff field, how many will be there in October?
Schoenfield: The National League appears to have infinite playoff possibilities at the moment, and we could see three or even four teams with fewer than 90 wins make the postseason. The only two locks appear to be the Braves and Dodgers — even though the Dodgers currently have five starting pitchers on the injured list. After that, it's a logjam. The Cardinals have finally started playing well and have the position players and prospects to trade for pitching help if desired. The Mets, Phillies and Padres have all disappointed and aren't sure bets to turn things around. I'll go with three current teams — with either the Brewers or Diamondbacks joining the Braves and Dodgers (OK, the Diamondbacks).
Doolittle: Four. The Pirates will fade, and while I'm a big believer in Arizona, right now the Mets are teetering on the edge and the Phillies, Cardinals and Padres are all on the outside looking in. I have to think at least two of those teams will nudge their way in. And it could be three if the Cardinals continue their rebound and overtake Milwaukee, and the NL Central doesn't get a wild-card slot.
Olney: I'll say five, and agree with others that the Pirates are the most likely to drift back to the pack. The great unknown in the NL playoff race is what the Brewers will do at the deadline — we saw them move Josh Hader last summer, even while in first place, and if they follow the analytics, they should probably do the same thing this July with Corbin Burnes, Brandon Woodruff and Willy Adames, players who have peak value this summer. And if they did move them, that would help open the door for the Cardinals, who will still win the Central despite their awful start.
Lee: The Braves and Dodgers appear to be the only locks so far. After that, it might be just as effective to put the rest of the teams in a hat and pull them out at random. I'm typically of the belief that the strength of a roster usually wins out over the course of a long season, but the Mets, Phillies and Padres cannot escape the disappointment of the season so far given how much all three teams invested in their rosters. Of those three teams, I believe the most in the strength of the Padres, especially with some of the most talented players on that roster (*stares at Juan Soto*) underperforming, but then again, San Diego tops the majors in winning offseasons but falling short when the games are actually played.
Of the six AL teams currently in the playoff field, how many will be there in October?
Schoenfield: I'm going with … all six. Yuck. Boring. But the Rangers absolutely look like they are for real with the best offense so far in the majors and a rotation that has pitched well even without Jacob deGrom. The Astros have survived injuries and some terrible individual starts (Jose Abreu, Alex Bregman) and are still in a playoff spot — oh, and they have 10 games remaining against the A's. The Twins are the best of the awful AL Central, although they've allowed Detroit, Cleveland and Chicago to hang around. I suppose either or both of the Guardians and White Sox could figure things out and make a run, but I'll stick with the Twins. That leaves three teams in the AL East and I'm going with the Rays, Orioles and Yankees, which leaves the Blue Jays and Red Sox outside the postseason.
Doolittle: Six. The seedings might change, but I think we've got our field. There's a long way to go, obviously, but if you believe in the Rangers — and I do — then one of our preseason playoff favorites is going to lose its spot. Right now, it's Toronto, and while the Blue Jays have playoff talent, there are just more good teams than playoff slots in the AL. There are also far more flat-out terrible teams in the circuit than in the NL, which is relevant because in the AL, the middle class has been hollowed out. It is now mostly just haves and have-nots, which means wins flow to the haves and in turn that raises the bar to get into the bracket.
Olney: Seattle's rotation is absurdly great, and as we saw this week, the Mariners have an advantage that the East teams do not — playing a really bad team in their division and feasting. That's a chit that the Yankees or the Orioles would love to have. And I'm going to climb onto the bonkers bandwagon here and say that with Carlos Correa down and the Guardians starved for run production, the White Sox will wind up winning this division. Michael Kopech is the difference-maker.
Lee: There are two switches I could potentially see happening: the Mariners overtaking the Rangers and the Blue Jays passing the Orioles. We have yet to see Julio Rodriguez heat up, and there's no chance he plays this way the entire season. When you factor that in with the type of season Jarred Kelenic is having, it's easy to imagine this Mariners offense going to another level. With the Blue Jays, it's hard for me to imagine that this is just who Alek Manoah is now, especially given how strong he looked the past two seasons. If Manoah can just find a middle ground between his horrific start and his track record, Toronto will be able to combine a dynamic offense with a strong rotation.
Which team is the biggest disappointment?
Schoenfield: I thought the Padres were overhyped before the season, but nobody expected them to be mediocre AND just kind of uninteresting. Yes, the lack of lineup depth has been an issue, the catching situation has been a disaster and Joe Musgrove and Blake Snell haven't pitched well, but also the Big Four haven't exactly clicked and Manny Machado is now on the IL following a slow start. At least Soto is heating up and there's still plenty of talent and time to make a run — but nothing we've seen so far suggests the Padres are a playoff team (including their 1-5 record against the Dodgers).
Doolittle: The Padres. It's another lesson telling us that winning the offseason is just that — winning the offseason. All of that superstar talent in the lineup — Fernando Tatis Jr., Soto, Machado, Xander Bogaerts — and the offense has still been awful. They have time to get rolling, of course, but if they continue on this trajectory and have all that money on the books in the years to come … it's not going to be a good situation.
Olney: Well, I picked the Padres to win the World Series this year, so I cannot credibly pick any other team. San Diego is starting to remind me of the 2011 Red Sox, who looked like a monster team on paper after the signing of Carl Crawford and the trade for Adrian Gonzalez and wound up missing the playoffs. For a team with so many great players, they are wildly inconsistent.
Lee: It's hard to choose anyone other than San Diego. When a team trades for Soto at the deadline, then has Tatis Jr. return from PED suspension and signs Bogaerts, you'd expect its offense to set the world on fire and it just hasn't. As much as I appreciate Ha-Seong Kim, the fact that he's the team's leader in bWAR among position players through this point in the season shows how much the rest of the team has underperformed expectations.
Which team will finish the season with the most wins in MLB — and how many games will it win?
Schoenfield: I still think the AL East teams are going to beat up on each other. The Rays, for example, have played 21 of their 52 division games, so still have 33 to go. They do have such a great record already that 100 wins is definitely in the picture. The Rangers have blitzed through these first two months and have an impressive run differential and perhaps a Cy Young contender — Nathan Eovaldi, not deGrom. But I'll go with the Braves. The NL East doesn't look so tough with the Mets and Phillies scrambling, Michael Harris II and Austin Riley will step it up, and they'll get Max Fried back. I'll say 102 wins.
Doolittle: The Rays still seem like the best bet, even if they have moved a bit back toward the pack and have had some major pitching injuries. They have just been so consistent and are so deep and are strong across the board, ranking in the top five in hitting, pitching and defense alike. They look like a 105-to-110 win team and that's going to be hard for anyone else to beat.
Olney: The Rays started the season without Tyler Glasnow, and they got off to a record start. They lost Jeffrey Springs and then Drew Rasmussen, and they continued to win; their offense is so dynamic. As long as Wander Franco and Randy Arozarena continue to play well, the offense will be a force that should drive them through some of the inevitable dip in performance. They're on pace to win about 110 games, which is why I wrote last month that they'll go wire to wire — and I'll stick with that.
Lee: I'm going to go with the Rays — with the caveat that Wander Franco must stay healthy the entire season. Their rotation has definitely taken some hits with Jeffrey Spring and Drew Rasmussen on the injured list, but Shane McClanahan continues his reign as one of the game's best pitchers. But it's hard to overstate the impact of Franco on this lineup. The way opposing teams approach Tampa Bay's lineup has changed dramatically due to the star shortstop's presence in the middle of the lineup forcing them to pitch to everyone else around him — Randy Arozarena, Yandy Diaz, Brandon Lowe, Taylor Walls — completely differently.
Yanks' Germán says he'll probably use less rosin
NEW YORK — Yankees pitcher Domingo Germán said Sunday he probably will use less rosin on his hands when he returns from a 10-game suspension for using a foreign substance on the mound.
Germán was suspended by Major League Baseball on May 17 and will return to the Yankees' rotation for Monday's game in Seattle.
"You have to do something different because what I did before got me ejected from the game," he said through an interpreter. "Probably go back to previous years before where I used it way less."
Germán was disciplined after being ejected in the fourth inning of New York's 6-3 win in Toronto on May 16. He retired the first nine hitters before his hands were checked by first-base umpire D.J. Reyburn as Germán headed to the mound for the fourth inning.
After the game, crew chief James Hoye said Germán had "the stickiest hand I've ever felt."
Hoye's crew also examined Germán's hands during an April 15 start against Minnesota, when the right-hander retired his first 16 batters, but allowed him to stay in that game. Hoye had asked Germán to wash rosin off his hand and some had remained on his pinkie.
Germán said Sunday he has not gotten a direct explanation of what is the appropriate amount of rosin to use.
"As far as like a direct explanation on how much to use or not, I haven't gotten a better explanation from MLB or the umpires," he said. "To me, I have to keep using it, understand how much to use and keep a balance, but at the same time I've got to keep preparing myself to pitch and keep my routine in between starts to get me in the right shape for the next start and just keep using the rosin bag and try to keep executing pitches."
Germán was the fourth pitcher suspended since MLB began cracking down on foreign substances in June 2021 and the second this season. New York Mets pitcher Max Scherzer also served a 10-game suspension after being ejected April 19 in Los Angeles against the Dodgers.
In 2021, Seattle's Hector Santiago and Arizona's Caleb Smith served suspensions for sticky substances.
"He has to avoid that and that's us being more vigilant and check and make sure we're in a good spot," Yankees manager Aaron Boone said of Germán. "We should be fine, but I think that's the one thing about this: What is the line, there is no defined line, you can't have sticky [substances] on your hands. So he's got to be mindful of that."
German is 2-3 with a 3.75 ERA in nine starts this season. He is 28-24 with a 4.31 ERA in 101 career appearances (79 starts) since making his major league debut in 2017 with the Yankees.