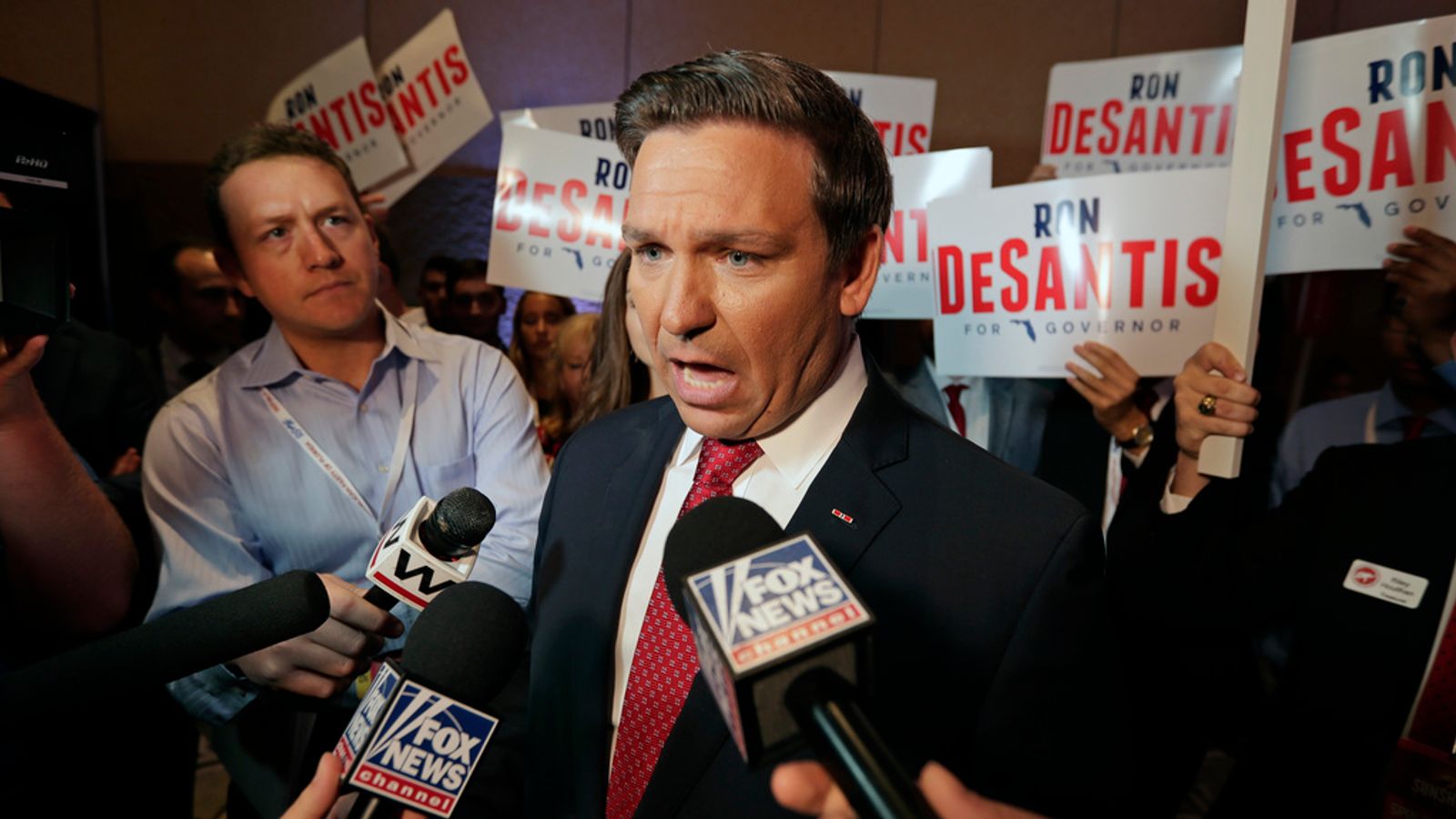 Florida Governor Ron DeSantis enters presidential race with a glitch-filled Twitter chat with Elon Musk
Ron DeSantis has launched his 2024 presidential campaign with a Twitter announcement plagued by technical glitches.
He filed a declaration of candidacy with the US federal electoral commission on Wednesday and then announced his move in an online chat with Twitter chief executive Elon Musk.
But the audio stream crashed repeatedly, making it almost impossible for most followers to hear the 44-year-old Florida governor most of the time.
He said: "American decline is not inevitable – it is a choice.
"And we should choose a new direction – a path that will lead to American revitalisation.
"I am running for president of the United States to lead our great American comeback."
Mr DeSantis becomes the latest in a crowded Republican contest to decide whether the party will move on from Donald Trump in 2024 as it aims to retake the White House from Democrat Joe Biden.
Those already in the GOP field include Trump, former United Nations ambassador Nikki Haley, South Carolina senator Tim Scott, entrepreneur Vivek Ramaswamy and former Arkansas governor Asa Hutchinson.
Read more:
Ron DeSantis as American president is exciting for some, but frightening for others
The controversial Florida governor taking on Mickey Mouse and Donald Trump
Former vice president Mike Pence is also expected to announce his candidacy in the coming weeks.
Trump is leading in early polls but Mr DeSantis has generated some interest among Republican primary voters by presenting himself as a younger and more electable version of the 76-year-old former president.
In a chat with Mr Musk that lasted for more than an hour, Mr DeSantis did not mention Trump, but said: "Buckle up when I get in there, because the status quo is not acceptable".
However, those trying to listen to his announcement had to battle being kicked off the feed, hearing microphone feedback, hold music and other issues.
Mr Musk blamed the popularity of the event and "straining" servers, adding: "You can tell by the mistakes that it's real."
But Mr DeSantis's rivals were less generous, with Mark Harris, lead strategist for Ms Haley's campaign, saying: "Failed soft launch? Check. Failed announcement? Double check.
"We look forward to Ron DeSantis's failed campaign."
Trump adviser Chris LaCivita added: "This is a disaster – not surprising."
Click to subscribe to the Sky News Daily wherever you get your podcasts
Hours before Mr DeSantis announced his candidacy, Trump said on social media: "He desperately needs a personality transplant and, to the best of my knowledge, they are not medically available yet."
Under Mr DeSantis's watch, Florida has passed numerous so-called anti-woke laws, such as the heavily-criticised "don't say gay" bill and a ban on teaching critical race theory.
He signed a law allowing Florida residents to carry concealed firearms without a permit, backed measures that weaken press freedom, and took control of a college he said was indoctrinating students with leftist ideas.
The Sunshine State has also been given new restrictions on abortion with a ban on terminations after six weeks – before most women even realise they are pregnant.
Mr DeSantis also removed an elected prosecutor who had vowed not to charge people under the abortion restrictions or doctors who provide gender-affirming care.
New York issues air quality alert as smoke from Canadian wildfires shrouds landmarks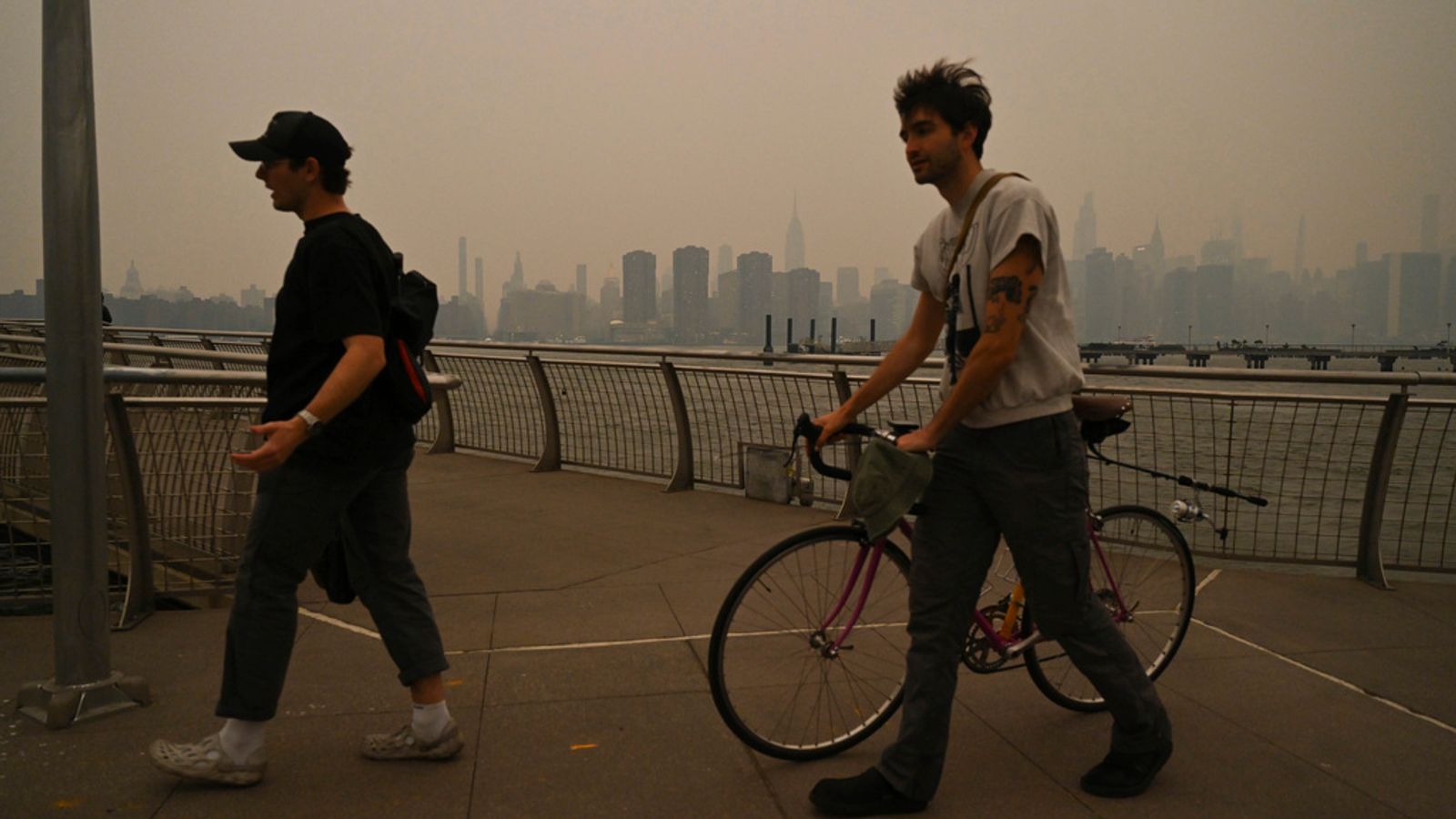 People in New York are being warned to limit outdoor activity as smoke from Canadian wildfires drifts across many areas of the northeastern US.
Air quality in the state is now "unhealthy", according to the Environment Protection Agency, and a murky haze has descended over landmarks such as the Statue of Liberty and Times Square.
Unusually early and intense wildfires in Canada's Quebec province are to blame – more than 150 forest fires were burning on Tuesday – and over 100,000 people have been forced to evacuate.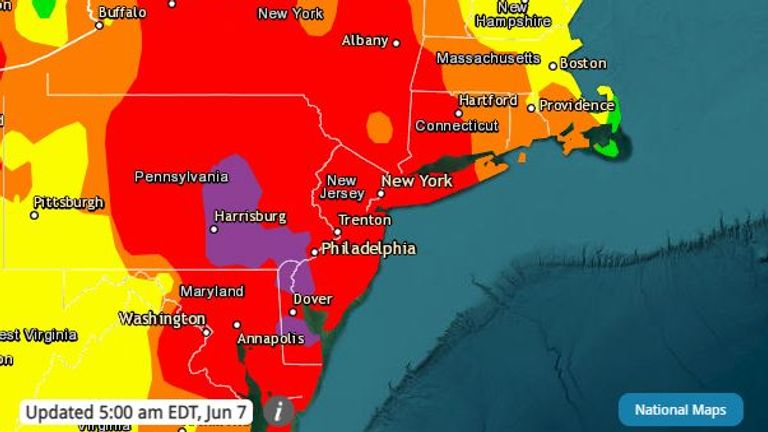 Lightning is said to have started many of the fires.
US authorities said residents with heart or lung disease, older people and children should keep outdoor activities short, and that others should reduce the amount they're active or exercising.
New York state, New Jersey, Pennsylvania and the Washington DC area are among the states with an "unhealthy" fine particulate matter reading (PM 2.5).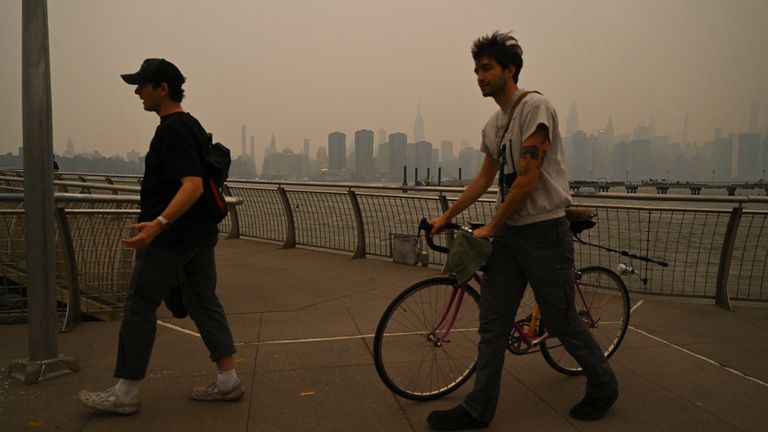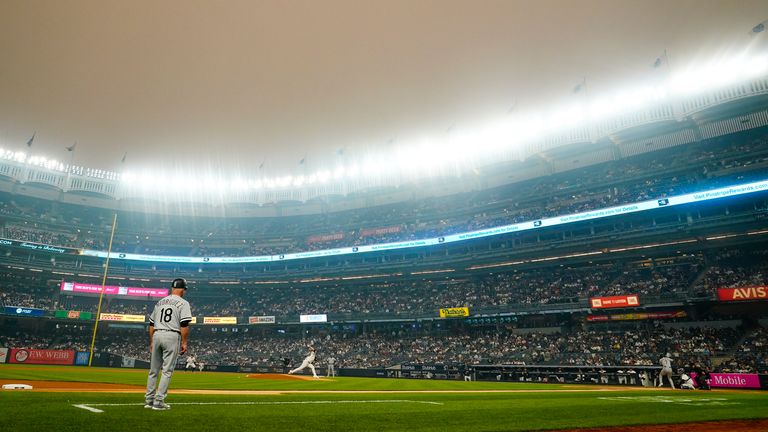 Toronto, Canada's biggest city, also warned residents about the air quality and tourists at the CN Tower were met with a murky orange vista rather than clear early-summer skies.
An eerie haze also hung over the New York Yankees' game against Chicago White Sox on Tuesday night.
There was an even starker air warning in Canadian capital Ottawa, where officials ranked it category 10+, indicating "very high risk".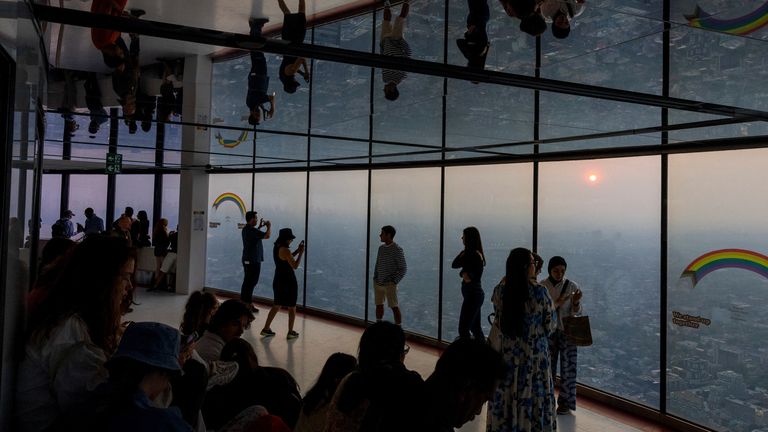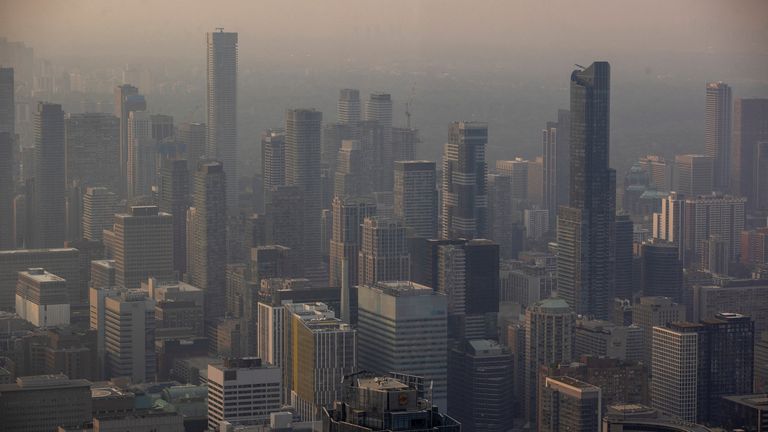 Wildfires are common in Canada's west, but this year the east has seen significant fires – and more than 110 are said to be out of control.
Some 3.3 million hectares have already burned – about 13 times the 10-year average – and more than 120,000 people have been forced to leave home.
Chibougamau, a remote Quebec town of about 7,500, was the latest to be evacuated late on Tuesday.
What's the risk from the pollution?
Fine particulate matter, known as PM 2.5, is about 30 times smaller than the width of a human hair and can be blown long distances.
It can cause throat and lung irritation and worsen conditions such as asthma or heart disease. The particles can also disturb the eyes and nose.
Children can be particularly sensitive as their lungs are still developing and they breathe in more air per unit of body weight. Older people can also struggle more than others.
Where does PM 2.5 pollution come from?
Primarily from vehicle exhausts, but also any other operations that burn fuels such as coal or wood – including forest or grass fires.
How can you reduce the risk?
Try to avoid outdoor exercise or exertion. Consider wearing a N95-rated face mask to reduce your exposure if you have to go outside.
Keep windows, doors and fireplace shut and run any air-con units on a recirculation setting. An air purifier in the home could also help people who are especially vulnerable.
"We're following all of this from hour to hour, obviously," said Quebec Premier FranCois Legault.
"If we look at the situation in Quebec as a whole, there are several places where it is still worrying."
Click to subscribe to ClimateCast with Tom Heap wherever you get your podcasts
He said the Abitibi-Temiscamingue region in the northwest of the province Quebec was a particular concern.
The US, Mexico, France and South Africa are among those who have sent firefighters to help – but no rain is immediately forecast meaning the fires are likely to be tougher to extinguish.
Man armed with four handguns kills two after high school graduation ceremony in Virginia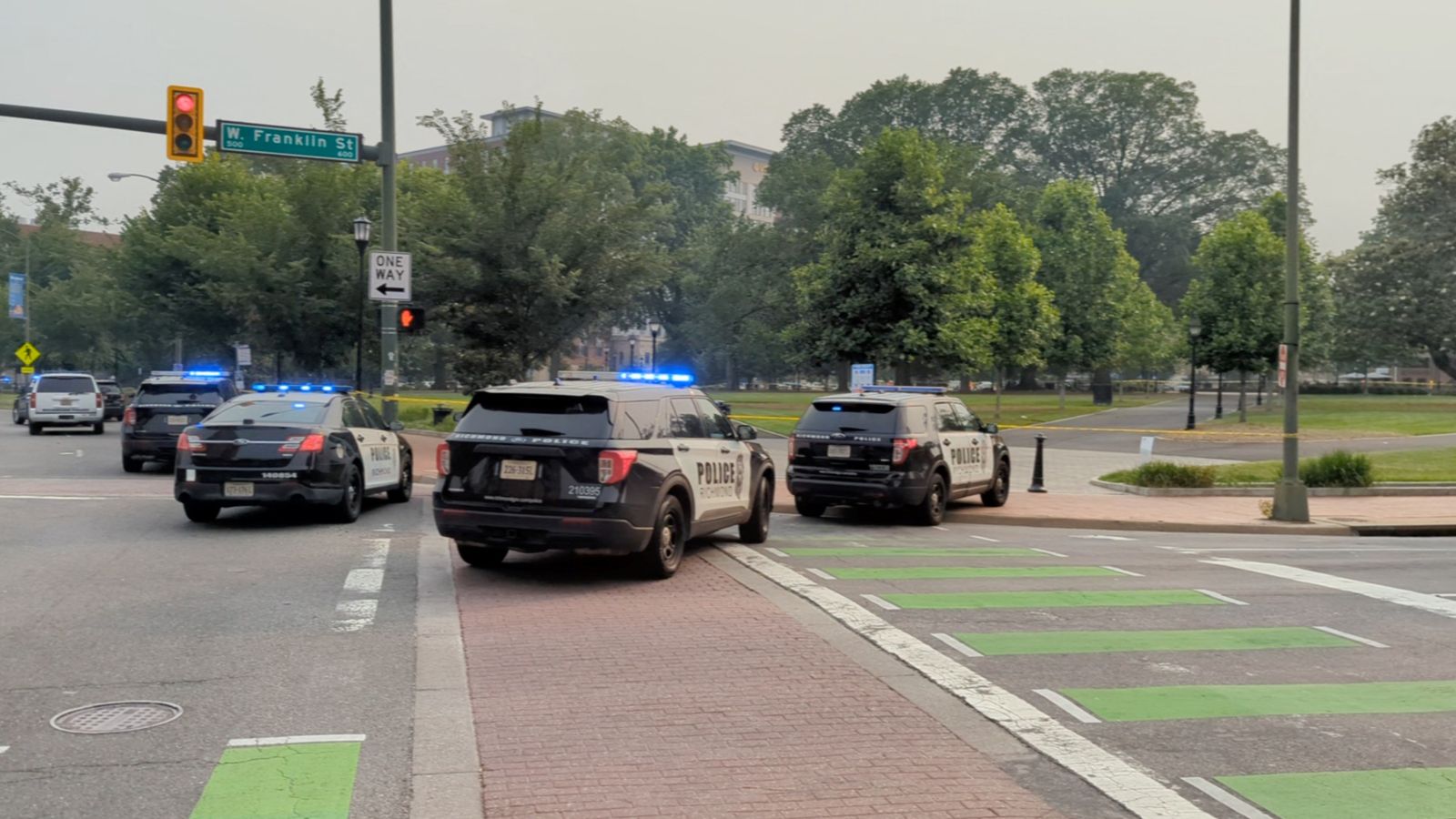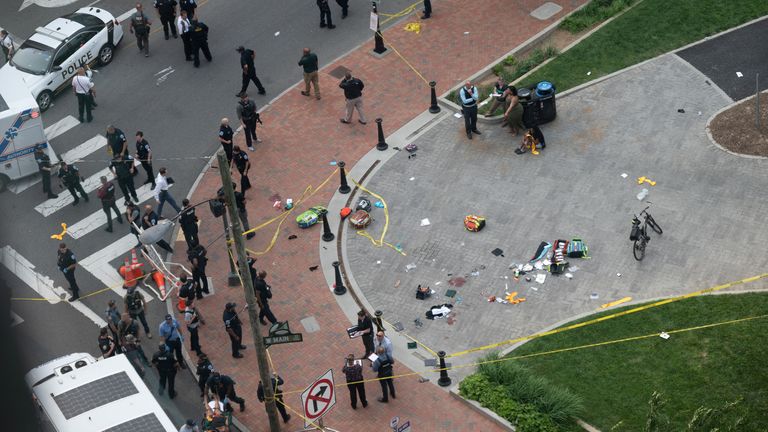 A man armed with four handguns killed two people and wounded five others by firing into a crowd outside a high school graduation ceremony in Virginia, causing hundreds to flee in panic, police said.
A 19-year-old man, who is believed to know one of the victims, was arrested in Richmond shortly after the incident outside the Huguenot High School's commencement ceremony on the campus of Virginia Commonwealth University.
The suspect is expected to be charged with two counts of second-degree murder in addition to other offences, interim Richmond Police Chief Rick Edwards told a news conference.
He called the shooter's behaviour "disgusting and cowardly", since his dispute appeared to be with just one person.
"When you have a crowd like this, innocent people are going to be caught up in the mayhem, and that's what happened today," Mr Edwards said.
"Obviously, this should have been a safe space… It's just incredibly tragic that someone decided to bring a gun to this incident and rain terror on our community."
The mass shooting was the 279th to take place in the US in the first 157 days of 2023, according to the Gun Violence Archive. It defines a shooting as a mass shooting when four or more people are shot or killed in a single incident, not including the shooter.
Among those killed was an 18-year-old male student who had just graduated and a 36-year-old man, Mr Edwards said.
He did not confirm a local TV report saying the victims were father and son.
A 31-year-old man suffered life-threatening injuries and four other males aged 14, 32, 55 and 58 were expected to survive, he added.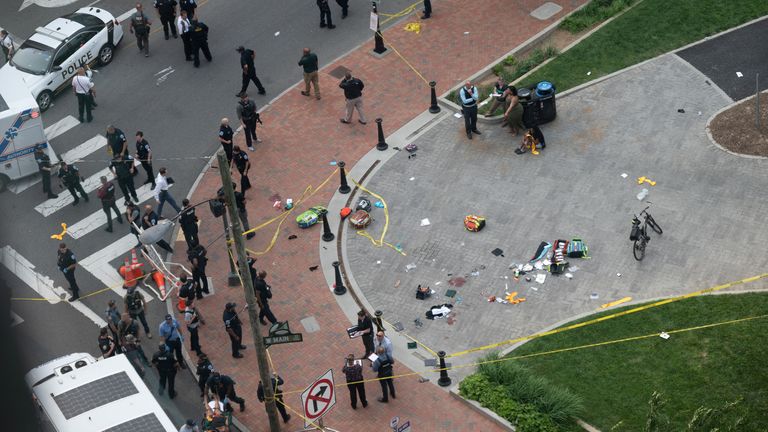 Read more:
One dead and six injured after attack at Chicago memorial
Four killed in shooting in New Mexico
Winnie The Pooh characters used in US school district's mass shootings safety book
Nine-year-old injured in chaos
Mr Edwards said a nine-year-old girl was struck by a car in the ensuing chaos and several other people were injured in falls or suffered from anxiety.
The suspect fled the scene on foot and was captured in possession of four handguns, three of which may have been fired, Mr Edwards said.
The school district said a different graduation scheduled for later on Tuesday was cancelled "out of an abundance of caution" and schools would be closed on Wednesday.
Prince Harry's admitted drug use cited in push to release his US visa records by conservative think tank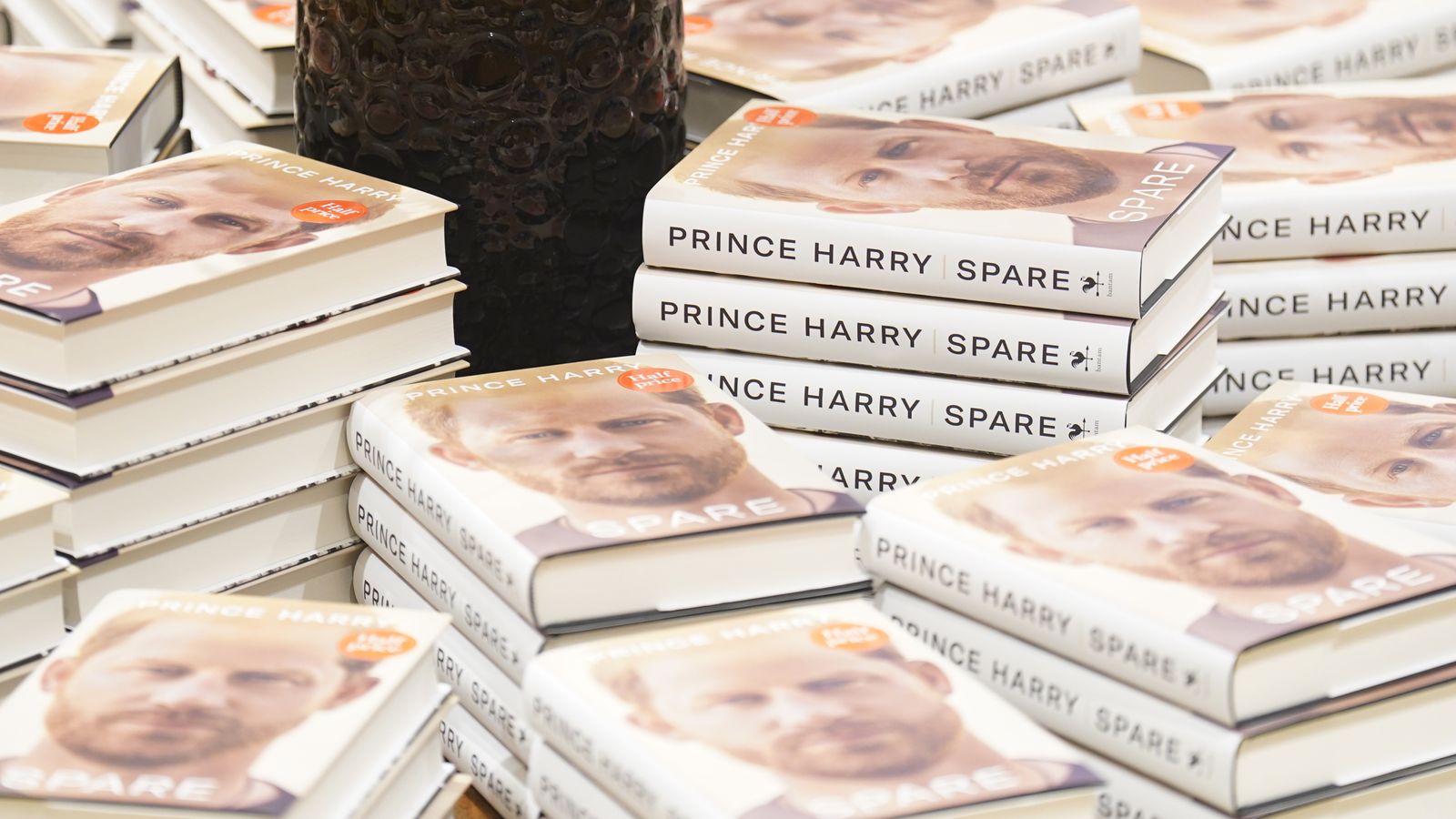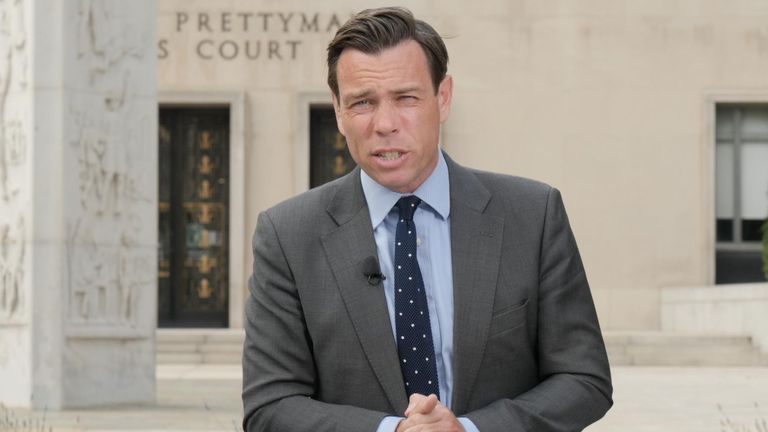 Prince Harry's past drug use detailed in his explosive memoir should lead to the release of his immigration paperwork, an American conservative think tank has argued in a Washington court.
The Heritage Foundation appealed to US District Judge Carl Nichols for a quicker response to a records request the US government has so far deemed private.
Mr Nichols told the foundation and the Department of Homeland Security to work on the speed of the response and said he would rule if they could not reach an agreement on their own.
The Duke of Sussex moved to Southern California with his wife Meghan Markle and their young family in 2020 after they left royal life.
Read more:
Prince Harry's US court case could land him in very hot water with the authorities
In his memoir Spare he detailed his past drug use, saying he took cocaine several times starting around age 17 in order "to be different".
He also admitted using cannabis and magic mushrooms.
The US routinely asks about drug use on its visa applications.
This has led to travel headaches for several celebrities including chef Nigella Lawson and singers Amy Winehouse and Pete Doherty.
Acknowledgement of past drug use does not necessarily bar people from entering or staying in the country.
Read more about Harry's UK case:
Prince Harry blames tabloids for casting him as a 'thicko' and a 'playboy'
The key people named in Harry's witness statement
Which articles have been brought up?
Why is Prince Harry's US visa under scrutiny?

Request denied because group lacks Harry's permission
The Heritage Foundation sent a public information request to the Department of Homeland Security asking for Prince Harry's immigration records.
They argue there is "intense public interest" in whether the prince got special treatment during his application process.
The conservative think tank also linked those questions to wider immigration issues in the US such as those surrounding the southern border with Mexico.
The request has largely been denied since the group does not have Prince Harry's permission to get the private information.
"A person's visa status is confidential," said John Bardo, an attorney for the Department of Homeland Security.
The agency's policy allows the release of information about issues of public interest, but the agency argued media coverage of how Harry's drug use connects to his visa status in the US has not been widespread among mainstream American publications.
Click to subscribe to the Sky News Daily wherever you get your podcasts
'This is about accountability and transparency'
"This case is all about the enforcement of US Immigration Law and certainly Prince Harry is one of the most high profile figures, one of the most well-known figures in the world right now including here in the United States," Dr Nile Gardiner from the Heritage Foundation told Sky News's US correspondent Mark Stone.
"But at the end of the day, this is about accountability and transparency and openness on the part of the US administration, with regard to an immigration application by a high-profile individual.
"There is a US public interest in this. But without a doubt, I think that a key factor here has been Prince Harry's memoir Spare and his revelations about his own drug use; he's put it all out there.
"Let's see whether that exactly matches what he put on his immigration application. Because if it doesn't, that's perjury, that's a criminal offence, actually, and everyone should be held to account before the law. No one should be treated any differently."