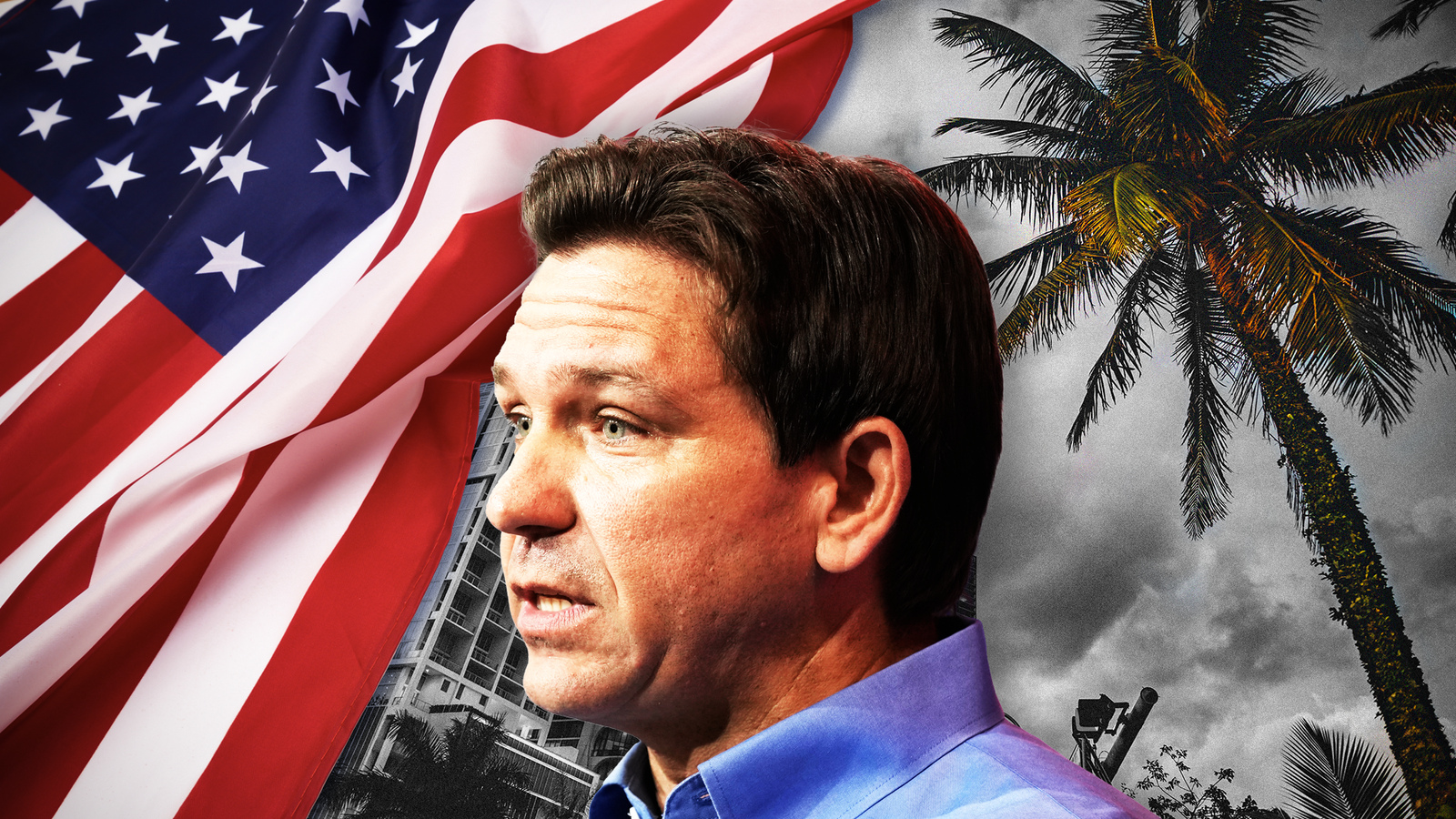 The controversial Florida governor taking on Mickey Mouse and Donald Trump – five things to know about Ron DeSantis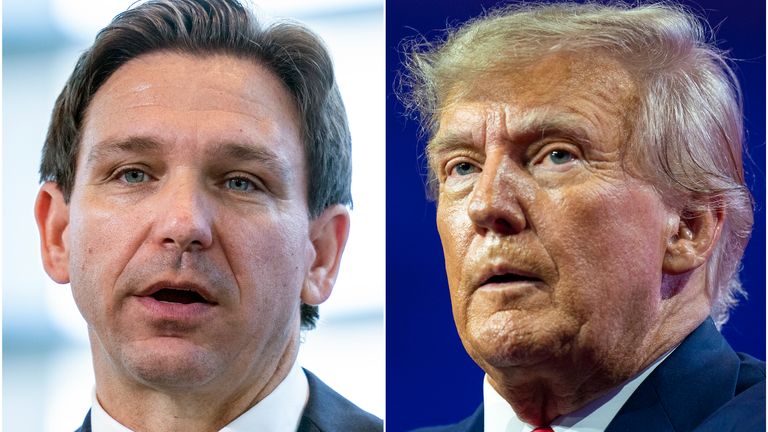 From a little league baseball star to the Republican Party's culture warrior-in-chief, the rise of Ron DeSantis is impossible to ignore. Now, showdowns with Disneyland and Donald Trump loom on the horizon.
He has now entered the race to be the next US president, filing a declaration of candidacy with the federal electoral commission on Wednesday.
Under his watch, Florida has become a hotbed for so-called anti-woke laws such as the heavily-criticised "Don't Say Gay" bill and a ban on teaching critical race theory.
The Sunshine State has also introduced restrictions on abortion following the Supreme Court's decision to strike down Roe v Wade, enacting a ban on abortion after six weeks.
With DeSantis set to face off against Trump in the contest to be the Republican nominee, Sky News takes a look at five things you might not know about the politician who was once stationed at the notorious Guantanamo Bay detention camp.
He's descended from Italian immigrants
DeSantis, 44, is Italian-American – in fact, all eight of his great-grandparents were born in Italy.
His mother's grandfather was known as Antonio Rogers in America, but back in Italy he was Antonio Ruggiero – he changed his name after entering the US.
When it comes to immigration policy as governor, DeSantis has taken a hardline approach and has repeatedly and publicly clashed with President Biden.
Perhaps his most high-profile immigration decision was the state paying for 50 mostly Venezuelan immigrants to be flown from Texas to Martha's Vineyard in Massachusetts to, he claimed, highlight the crisis at the southern border.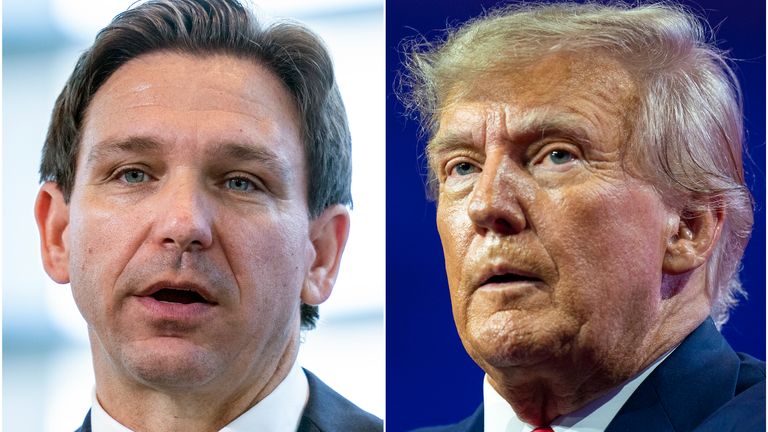 He was a talented baseball player before joining the Navy
DeSantis was part of the Dunedin team in Florida that made it to the Little League World Series in 1991 – a version of Major League Baseball's World Series for children aged 10 to 12 years old.
He then went on to captain the Yale University varsity team where he played as an outfielder and led the team in batting average.
Any designs on turning pro were shelved, however, when he attended Harvard Law School and went on to join the US military as a navy lawyer.
While his service records were redacted upon release to the public, it is known that he worked with detainees at Guantanamo Bay.
One detainee has since alleged that DeSantis was present while he was restrained and force-fed.
DeSantis denied authorising force-feedings of prisoners who were on hunger strike – something he said he did not have the authority to do – in a recent interview with Piers Morgan.
In 2018 he reflected on his time at Guantanamo Bay, saying: "Everything at that time was legal in nature, one way or another."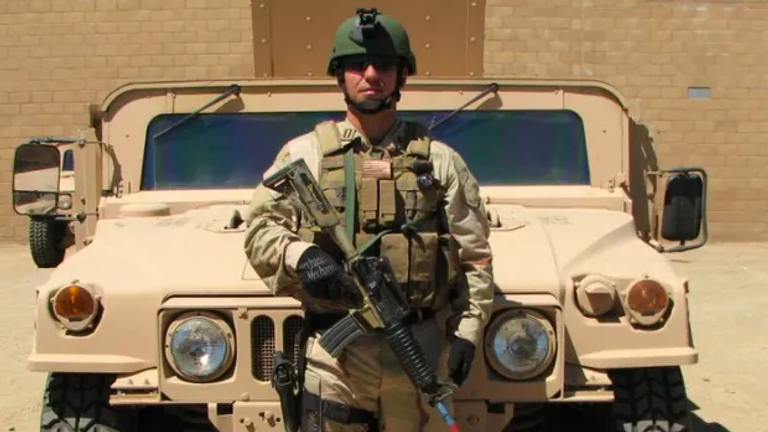 Read more:
DeSantis to visit Britain as part of trade mission
'Ron DeSanctimonious': Trump rubbishes Floridian rival
He signed a 'No Climate Tax Pledge'
It might be the biggest challenge of our time, but when it comes to climate change DeSantis has been inconsistent.
In 2013, shortly after he became a member of the US House of Representatives, DeSantis signed a pledge to "oppose legislation relating to climate change that includes a net increase in government revenue".
Fast forward eight years and the now-governor of Florida unveiled a plan for the state to start addressing the effects of rising global temperatures, beefing up things such as coastal defences.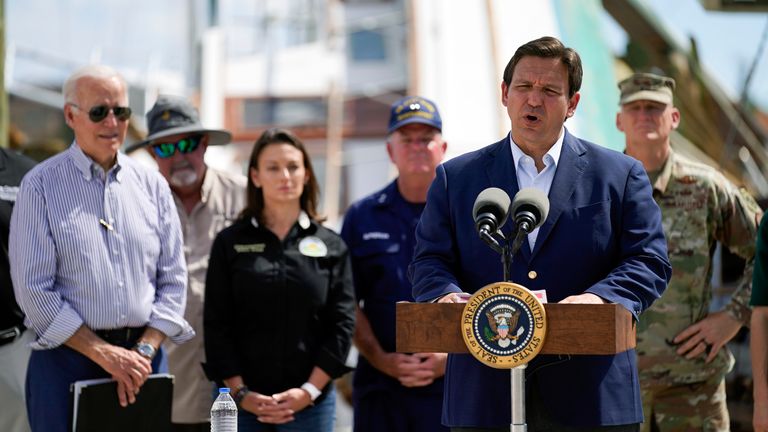 Discussing the plan, he said: "What I've found is when people start talking about things like global warming, they typically use that as a pretext to do a bunch of left-wing things that they would want to do anyways.
"And so we're not doing any left-wing stuff."
And while he has assigned large amounts of cash towards dealing with the effects of rising temperatures, some point out that he is not doing enough to tackle the root cause: human-caused climate change.
He's in a feud… with Disney
On 26 September, 2009, DeSantis married his wife, former newsreader Casey Black, at Disney's Grand Floridian resort. Now Disney World is suing the Florida governor (for reasons unconnected to his wedding).
The feud has been going on for more than a year after Disney, in the face of significant pressure, publicly opposed the state's "Don't Say Gay" bill concerning discussion of sexuality and gender identity in classrooms.
DeSantis said Disney, which is one of his state's biggest employers and its single biggest taxpayer, was a purveyor of "woke" ideology that shows inappropriate material to children.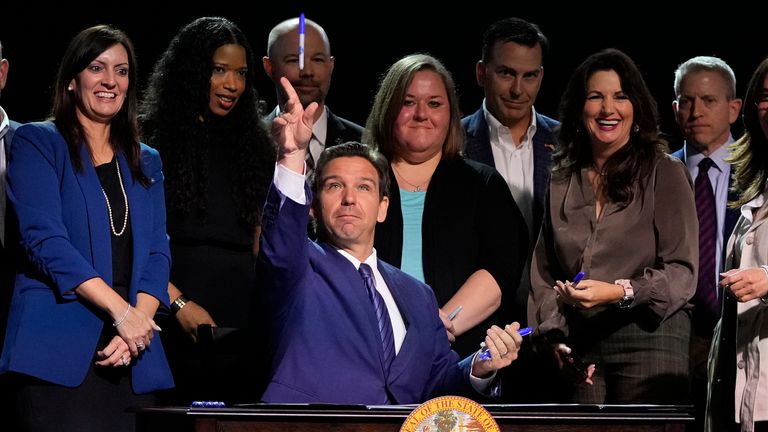 As punishment for its opposition to the bill, DeSantis took over Disney World's self-governing district that it used to run its Florida theme park, through legislation passed by lawmakers and appointed a new board of supervisors.
Disney is now suing DeSantis, claiming that he waged a "targeted campaign of government retaliation" and that the company's free speech rights were violated.
He's famed for stoking culture wars – and his 'anti-woke' agenda is having an impact
DeSantis's crusade against all things "woke" has included banning public colleges from using federal or state funding on diversity programs as well as curtailing education about critical race theory, a way of thinking about US history through the lens of racism.
He chose to sign the funding bill into law at New College of Florida, a small, traditionally-progressive school in Sarasota.
A small group of protestors gathered outside the signing ceremony. DeSantis, as well as most of the speakers at the event, ridiculed them.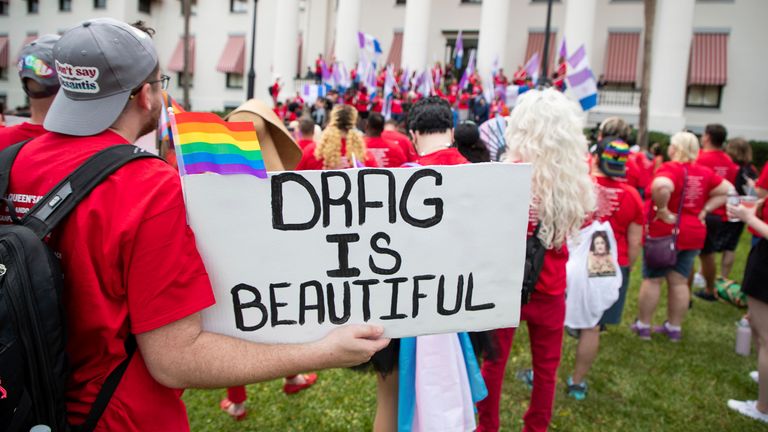 "You know, I saw some of the protestors out there. I was a little disappointed. I was hoping for more," DeSantis said with a smile as his supporters clapped.
In May, the NAACP civil rights organisation issued a travel advisory for Florida over what it said was DeSantis's "aggressive attempts to erase black history and to restrict diversity, equity and inclusion programs".
Dr Bernice King, daughter of celebrated civil rights leader Martin Luther King Jr, said her father would be "deeply concerned" about the "harmful, discriminatory legislation in Florida".
The governor also signed a bill that will bar trans people from using public facilities that align with their gender identities and another that will restrict "adult" performances in front of minors. He said the latter measure was intended to limit drag performances.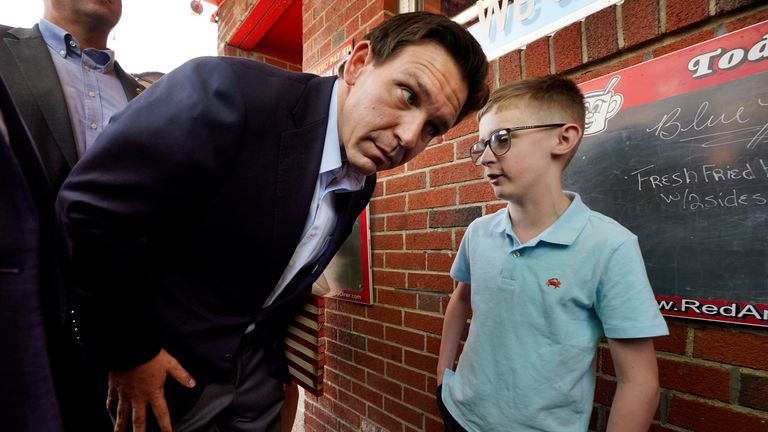 But… does he have a chance at the White House?
It's often said that the path to the US presidency runs through Florida (due to the state's hefty weighting in the electoral college). But will it run directly from Florida to Washington DC in November 2024?
Recent polling has DeSantis consistently trailing former President Trump, with some indication that the gap is growing.
This is despite Trump's various legal problems, including a jury in a civil case finding him liable for sexually abusing a woman in a department store changing room in the 1990s.
In one recent poll by the Harvard CAPS/Harris firm, Trump leads DeSantis 65% to 35% in a hypothetical primary matchup.
"DeSantis is announcing in a much more difficult environment than a few months ago but most voters believe he can still mount a serious challenge to…Trump," Mark Penn, the co-director of the poll, told The Hill.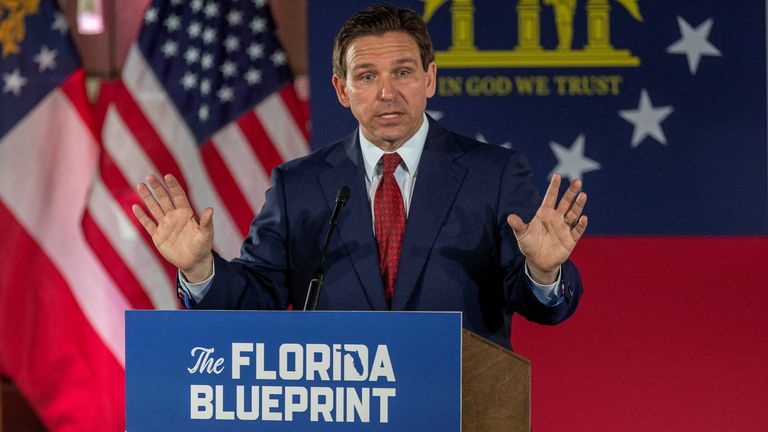 DeSantis reportedly told top donors that only he, Trump and President Biden are "credible" candidates to be commander-in-chief.
"And I think of those three, two have a chance to get elected president – Biden and me, based on all the data in the swing states, which is not great for the former president and probably insurmountable because people aren't going to change their view of him," DeSantis said, according to the New York Times.
New York issues air quality alert as smoke from Canadian wildfires shrouds landmarks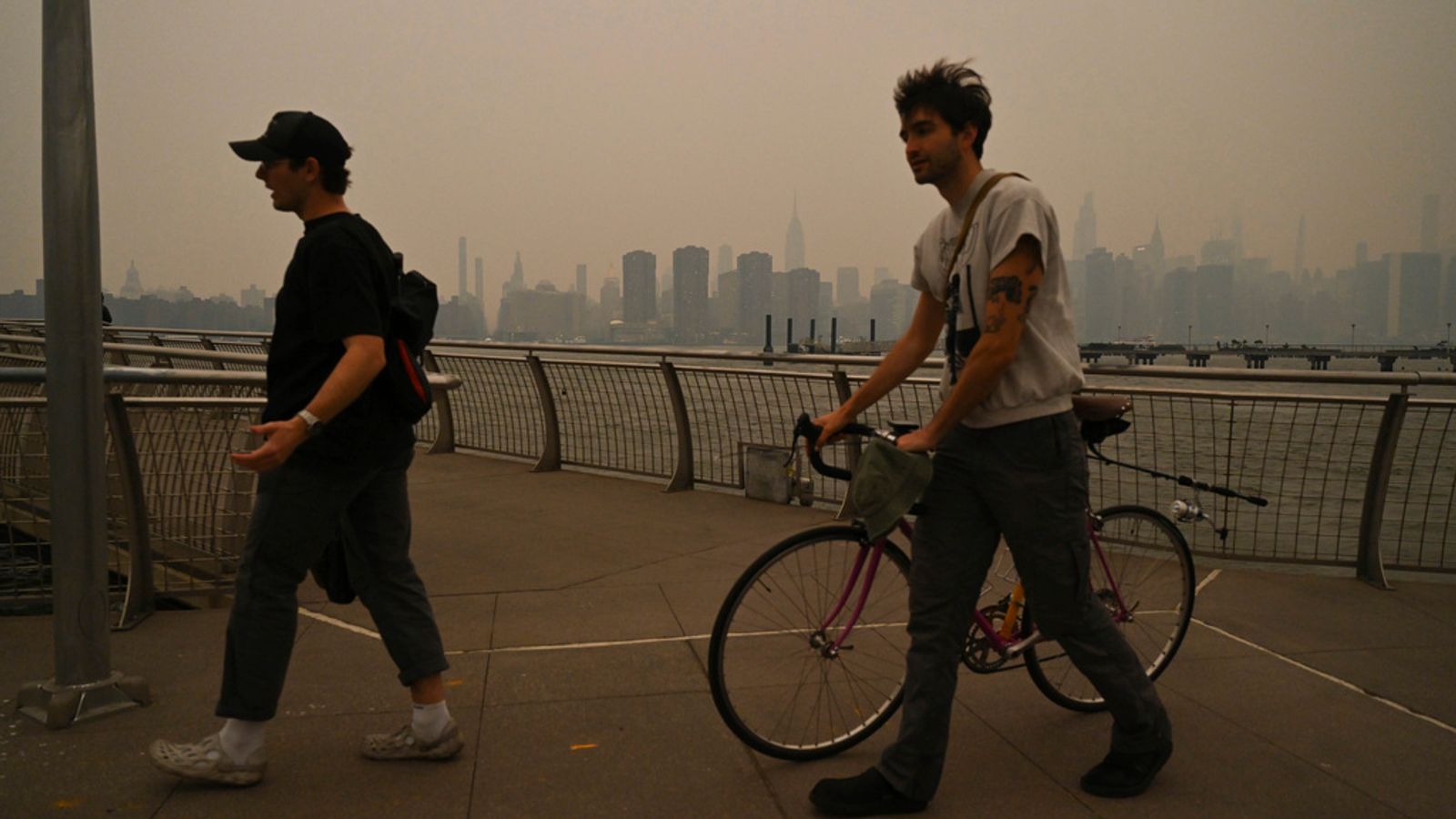 People in New York are being warned to limit outdoor activity as smoke from Canadian wildfires drifts across many areas of the northeastern US.
Air quality in the state is now "unhealthy", according to the Environment Protection Agency, and a murky haze has descended over landmarks such as the Statue of Liberty and Times Square.
Unusually early and intense wildfires in Canada's Quebec province are to blame – more than 150 forest fires were burning on Tuesday – and over 100,000 people have been forced to evacuate.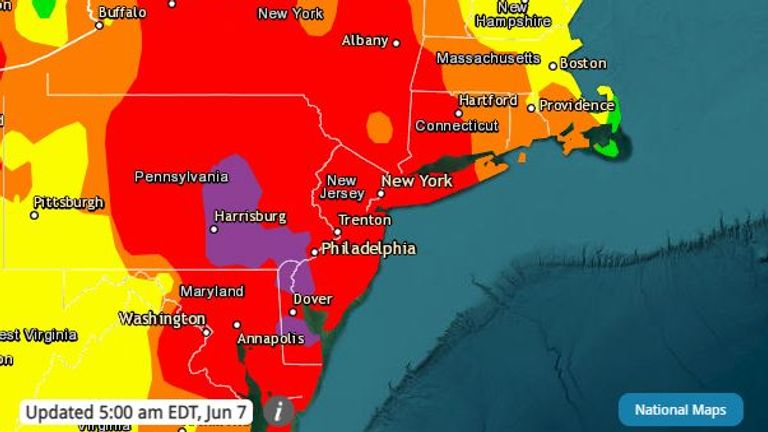 Lightning is said to have started many of the fires.
US authorities said residents with heart or lung disease, older people and children should keep outdoor activities short, and that others should reduce the amount they're active or exercising.
New York state, New Jersey, Pennsylvania and the Washington DC area are among the states with an "unhealthy" fine particulate matter reading (PM 2.5).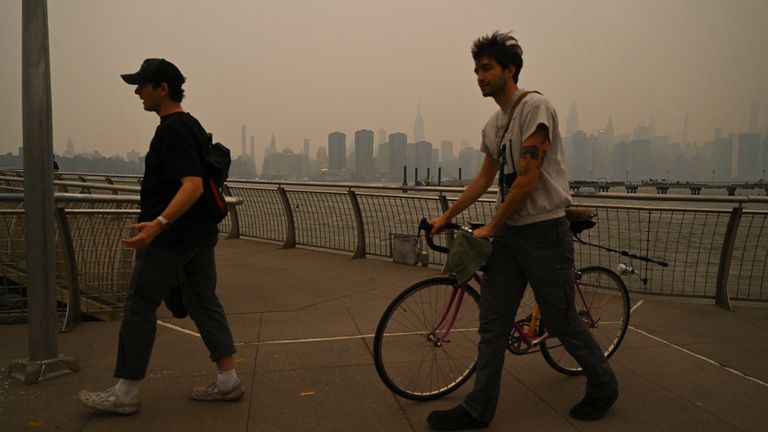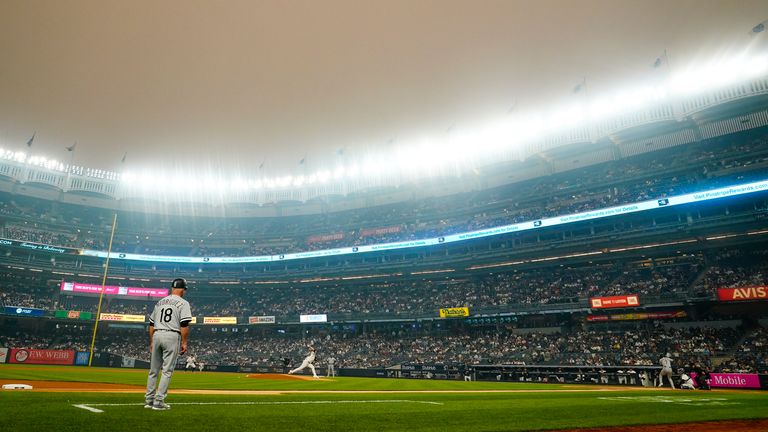 Toronto, Canada's biggest city, also warned residents about the air quality and tourists at the CN Tower were met with a murky orange vista rather than clear early-summer skies.
An eerie haze also hung over the New York Yankees' game against Chicago White Sox on Tuesday night.
There was an even starker air warning in Canadian capital Ottawa, where officials ranked it category 10+, indicating "very high risk".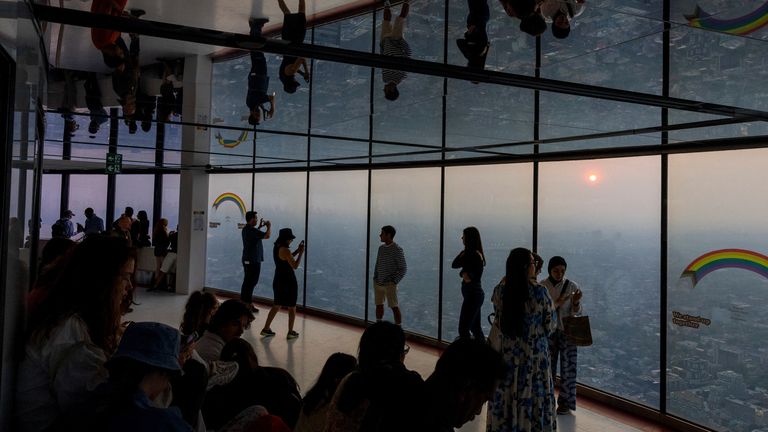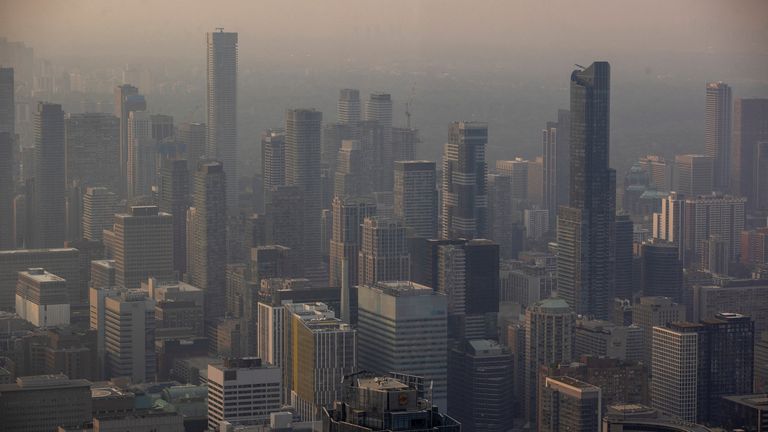 Wildfires are common in Canada's west, but this year the east has seen significant fires – and more than 110 are said to be out of control.
Some 3.3 million hectares have already burned – about 13 times the 10-year average – and more than 120,000 people have been forced to leave home.
Chibougamau, a remote Quebec town of about 7,500, was the latest to be evacuated late on Tuesday.
What's the risk from the pollution?
Fine particulate matter, known as PM 2.5, is about 30 times smaller than the width of a human hair and can be blown long distances.
It can cause throat and lung irritation and worsen conditions such as asthma or heart disease. The particles can also disturb the eyes and nose.
Children can be particularly sensitive as their lungs are still developing and they breathe in more air per unit of body weight. Older people can also struggle more than others.
Where does PM 2.5 pollution come from?
Primarily from vehicle exhausts, but also any other operations that burn fuels such as coal or wood – including forest or grass fires.
How can you reduce the risk?
Try to avoid outdoor exercise or exertion. Consider wearing a N95-rated face mask to reduce your exposure if you have to go outside.
Keep windows, doors and fireplace shut and run any air-con units on a recirculation setting. An air purifier in the home could also help people who are especially vulnerable.
"We're following all of this from hour to hour, obviously," said Quebec Premier FranCois Legault.
"If we look at the situation in Quebec as a whole, there are several places where it is still worrying."
Click to subscribe to ClimateCast with Tom Heap wherever you get your podcasts
He said the Abitibi-Temiscamingue region in the northwest of the province Quebec was a particular concern.
The US, Mexico, France and South Africa are among those who have sent firefighters to help – but no rain is immediately forecast meaning the fires are likely to be tougher to extinguish.
Man armed with four handguns kills two after high school graduation ceremony in Virginia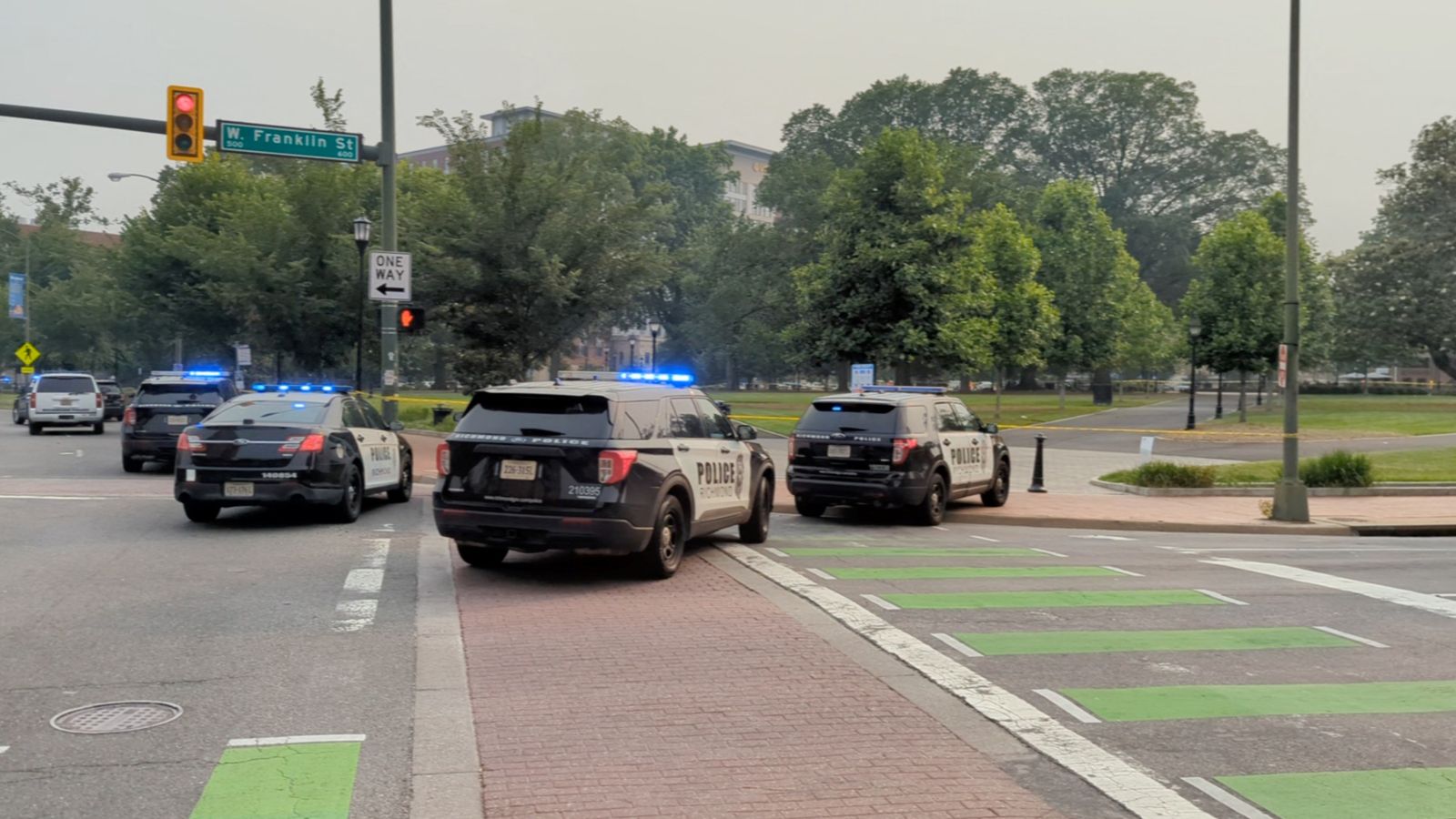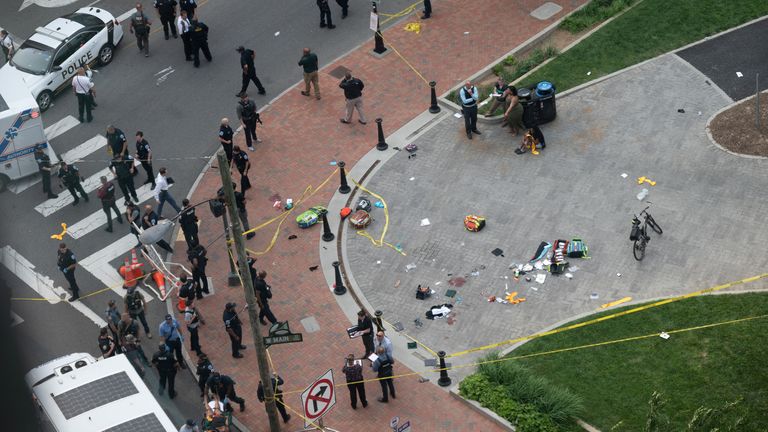 A man armed with four handguns killed two people and wounded five others by firing into a crowd outside a high school graduation ceremony in Virginia, causing hundreds to flee in panic, police said.
A 19-year-old man, who is believed to know one of the victims, was arrested in Richmond shortly after the incident outside the Huguenot High School's commencement ceremony on the campus of Virginia Commonwealth University.
The suspect is expected to be charged with two counts of second-degree murder in addition to other offences, interim Richmond Police Chief Rick Edwards told a news conference.
He called the shooter's behaviour "disgusting and cowardly", since his dispute appeared to be with just one person.
"When you have a crowd like this, innocent people are going to be caught up in the mayhem, and that's what happened today," Mr Edwards said.
"Obviously, this should have been a safe space… It's just incredibly tragic that someone decided to bring a gun to this incident and rain terror on our community."
The mass shooting was the 279th to take place in the US in the first 157 days of 2023, according to the Gun Violence Archive. It defines a shooting as a mass shooting when four or more people are shot or killed in a single incident, not including the shooter.
Among those killed was an 18-year-old male student who had just graduated and a 36-year-old man, Mr Edwards said.
He did not confirm a local TV report saying the victims were father and son.
A 31-year-old man suffered life-threatening injuries and four other males aged 14, 32, 55 and 58 were expected to survive, he added.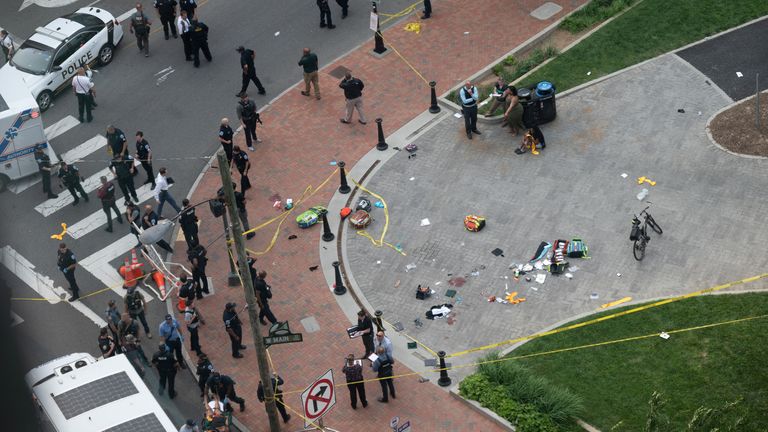 Read more:
One dead and six injured after attack at Chicago memorial
Four killed in shooting in New Mexico
Winnie The Pooh characters used in US school district's mass shootings safety book
Nine-year-old injured in chaos
Mr Edwards said a nine-year-old girl was struck by a car in the ensuing chaos and several other people were injured in falls or suffered from anxiety.
The suspect fled the scene on foot and was captured in possession of four handguns, three of which may have been fired, Mr Edwards said.
The school district said a different graduation scheduled for later on Tuesday was cancelled "out of an abundance of caution" and schools would be closed on Wednesday.
Prince Harry's admitted drug use cited in push to release his US visa records by conservative think tank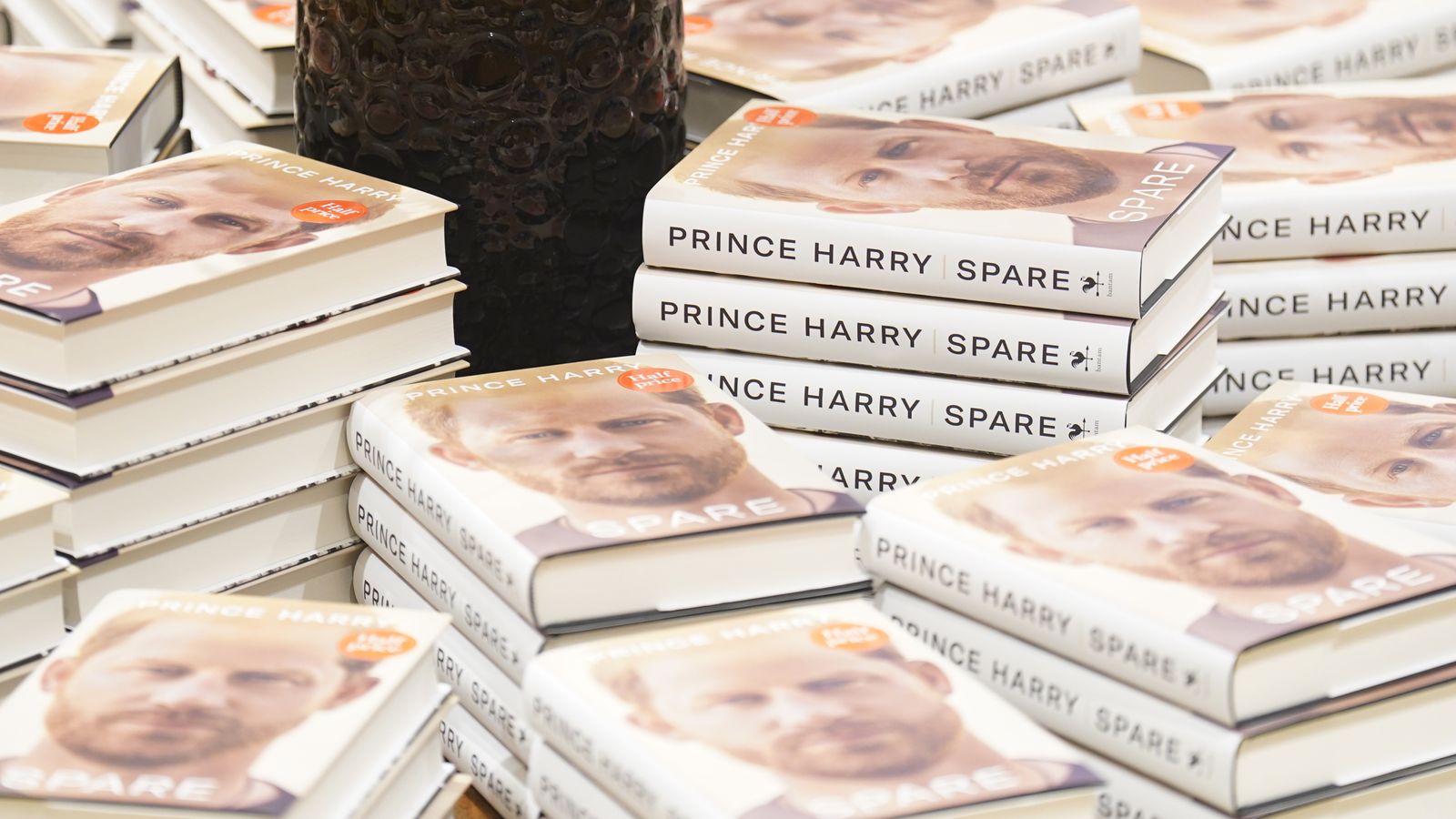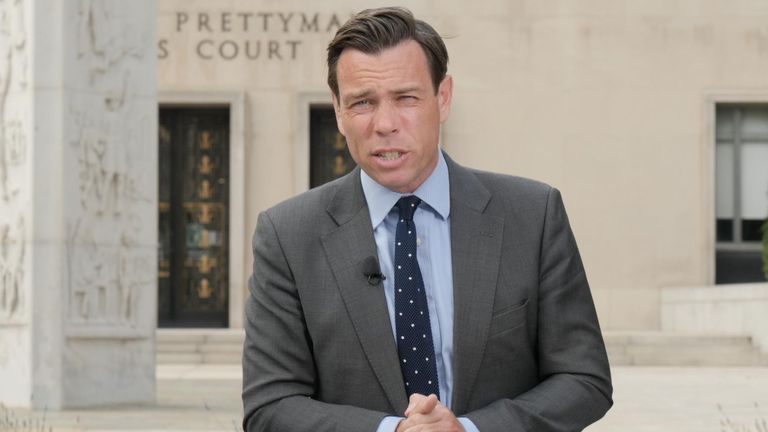 Prince Harry's past drug use detailed in his explosive memoir should lead to the release of his immigration paperwork, an American conservative think tank has argued in a Washington court.
The Heritage Foundation appealed to US District Judge Carl Nichols for a quicker response to a records request the US government has so far deemed private.
Mr Nichols told the foundation and the Department of Homeland Security to work on the speed of the response and said he would rule if they could not reach an agreement on their own.
The Duke of Sussex moved to Southern California with his wife Meghan Markle and their young family in 2020 after they left royal life.
Read more:
Prince Harry's US court case could land him in very hot water with the authorities
In his memoir Spare he detailed his past drug use, saying he took cocaine several times starting around age 17 in order "to be different".
He also admitted using cannabis and magic mushrooms.
The US routinely asks about drug use on its visa applications.
This has led to travel headaches for several celebrities including chef Nigella Lawson and singers Amy Winehouse and Pete Doherty.
Acknowledgement of past drug use does not necessarily bar people from entering or staying in the country.
Read more about Harry's UK case:
Prince Harry blames tabloids for casting him as a 'thicko' and a 'playboy'
The key people named in Harry's witness statement
Which articles have been brought up?
Why is Prince Harry's US visa under scrutiny?

Request denied because group lacks Harry's permission
The Heritage Foundation sent a public information request to the Department of Homeland Security asking for Prince Harry's immigration records.
They argue there is "intense public interest" in whether the prince got special treatment during his application process.
The conservative think tank also linked those questions to wider immigration issues in the US such as those surrounding the southern border with Mexico.
The request has largely been denied since the group does not have Prince Harry's permission to get the private information.
"A person's visa status is confidential," said John Bardo, an attorney for the Department of Homeland Security.
The agency's policy allows the release of information about issues of public interest, but the agency argued media coverage of how Harry's drug use connects to his visa status in the US has not been widespread among mainstream American publications.
Click to subscribe to the Sky News Daily wherever you get your podcasts
'This is about accountability and transparency'
"This case is all about the enforcement of US Immigration Law and certainly Prince Harry is one of the most high profile figures, one of the most well-known figures in the world right now including here in the United States," Dr Nile Gardiner from the Heritage Foundation told Sky News's US correspondent Mark Stone.
"But at the end of the day, this is about accountability and transparency and openness on the part of the US administration, with regard to an immigration application by a high-profile individual.
"There is a US public interest in this. But without a doubt, I think that a key factor here has been Prince Harry's memoir Spare and his revelations about his own drug use; he's put it all out there.
"Let's see whether that exactly matches what he put on his immigration application. Because if it doesn't, that's perjury, that's a criminal offence, actually, and everyone should be held to account before the law. No one should be treated any differently."