THE BRONX – A 6-year-old girl was found dead inside a Bronx apartment building Friday morning, the NYPD said.
Police responded to a 911 call just before 4 a.m. inside the Forest Houses at 730 East 165 St. in the Morrisania section.
According to police, they found the girl, identified as Jalayah Eason, unconscious and unresponsive, with bruising and trauma to her wrists and torso. 
EMS transported her to NYC Health & Hospitals/Lincoln, where she was pronounced dead, police said.
The Medical Examiner will determine her exact cause of death. 
There have been no arrests and police are still investigating.

Prince Harry: Watch reconstructions of key moments as duke tells court he would 'feel some injustice' if hacking claims rejected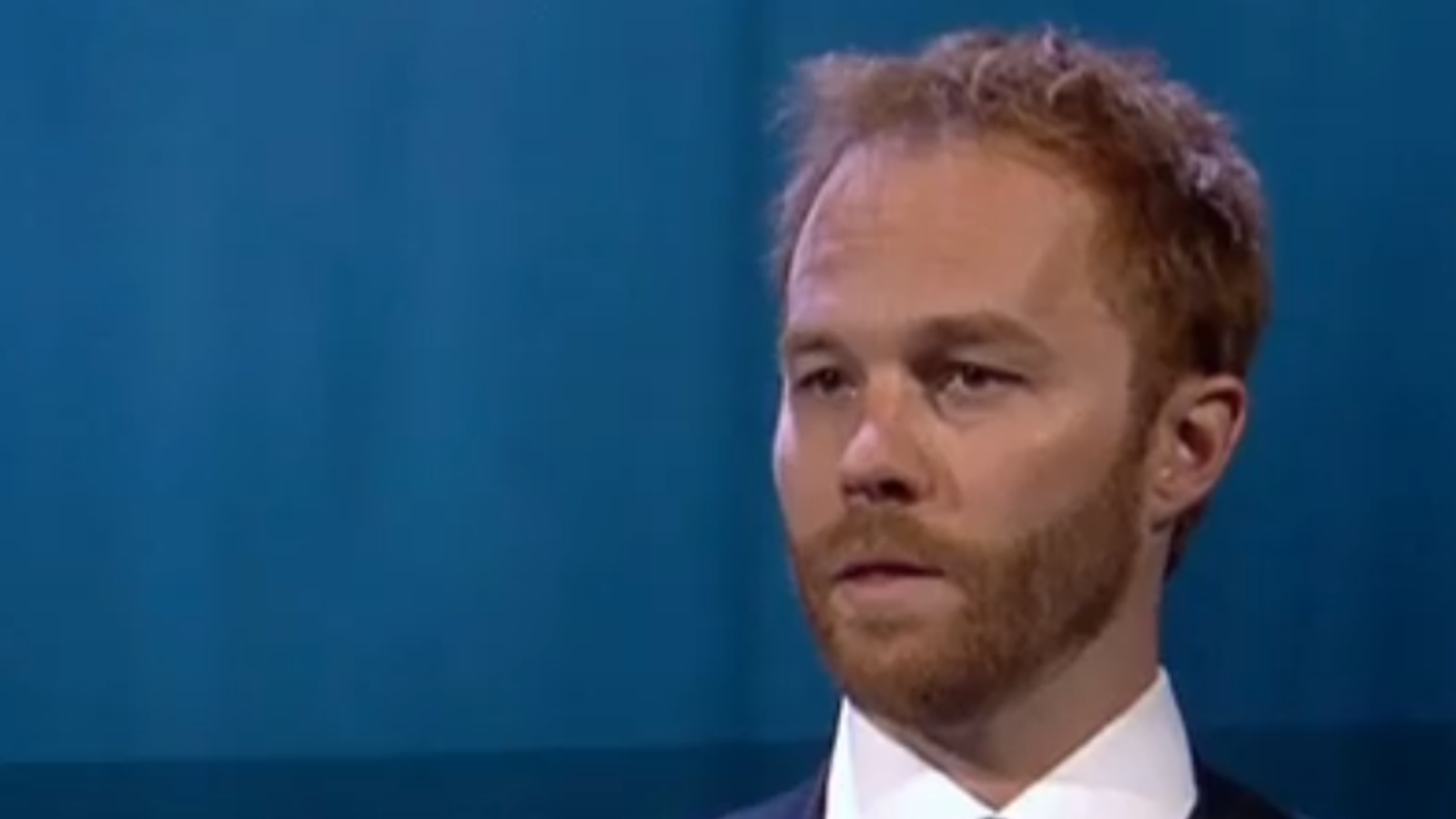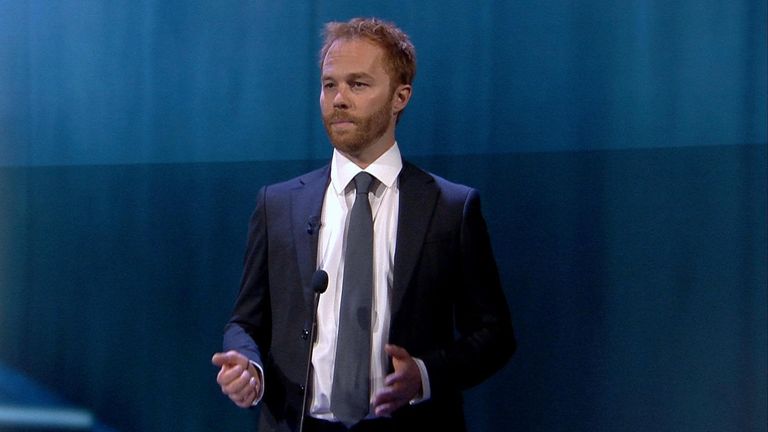 Prince Harry has said he would "feel some injustice" if his phone hacking claims against the publisher of the Daily Mirror were rejected as he finished giving his evidence at the High Court.
As part of a special programme, Sky News transcribed what was said by the Duke of Sussex and recreated his court appearance with an actor.
Here are five key moments from Harry's second day in court.
Harry would feel 'some injustice' if phone hacking claims dismissed
Prince Harry said he would "feel some injustice" if his phone hacking claims were dismissed.
He said he believed there was phone hacking "at an industrial scale" across at least three newspapers at the time.
"To have a decision against me and any other people who come behind me with their claims, given that Mirror Group Newspapers have admitted hacking and they have given out I believe over £1bn in settlements, yes I would feel some injustice if it wasn't accepted."
As it happened: Prince Harry's second day in court
'I would feel some injustice'

'Difference between public interest and what interests the public'
Cross-examining the duke, Mirror Group Newspapers (MGN) lawyer Andrew Green KC, asked Harry if he thought there was public interest in whether he received preferential treatment when he was a cadet at Sandhurst.
The prince replied: "No, I don't."
The lawyer showed the court another article about Harry's drug taking, adding: "I think you were suggesting it was not a public interest story."
"I didn't say that," Harry said. "I said there was a difference between public interest and what interests the public. I don't believe it affects the well-being of society."
'Difference between public interest and what the public are interested in'

Harry says he did not know it was voicemail hacking at the time
Asked by Mr Green if he would know what voicemail had been left on his phone and would know if that information had been picked up, Harry said at the time he did not know it was voicemail hacking.
He added: "It seemed suspicious that [News of the World journalist] Clive Goodman wrote the story that he did, and that it was connected, no one really knew at the time."
Mr Green suggested Harry must have known the articles were a result from hacking after the journalist went to prison.
"I believe the understanding in the palace is that this was probably a one-off, and I believe it was described as a one-off as well."
'It was described as a one-off'

'Hooray Harry'
Mr Green asked about an article headlined "Hooray Harry's dumped" about his breakup with Chelsy Davy, which the duke said was "hurtful to say the least" and that "such a private moment was turned into a bit of a laugh".
The barrister said "Hooray" had been used to describe the royal in previous stories and "was not celebrating the demise of your relationship".
The duke replied: "Again, my lord, if it had been used before, me as the subject or victim of this, to see that word used in this term is hurtful."
'Such a private moment was turned into a bit of a laugh'

'They stalked and harassed us for well over a decade'
Two paparazzi photographers "stalked and harassed us" – Prince Harry and his brother – "for well over a decade", the prince said.
He said they proved to be "an enormous security issue, always turning up before we got there" and it does not surprise him journalists were relying on paparazzi as a source.
Asked how they knew where he would be, he said he and his security team suspected "consistent unlawful activity".
'They stalked and harassed us for well over a decade'

How Prince Harry left visibly emotional by day of tense exchanges and questions about ex-girlfriends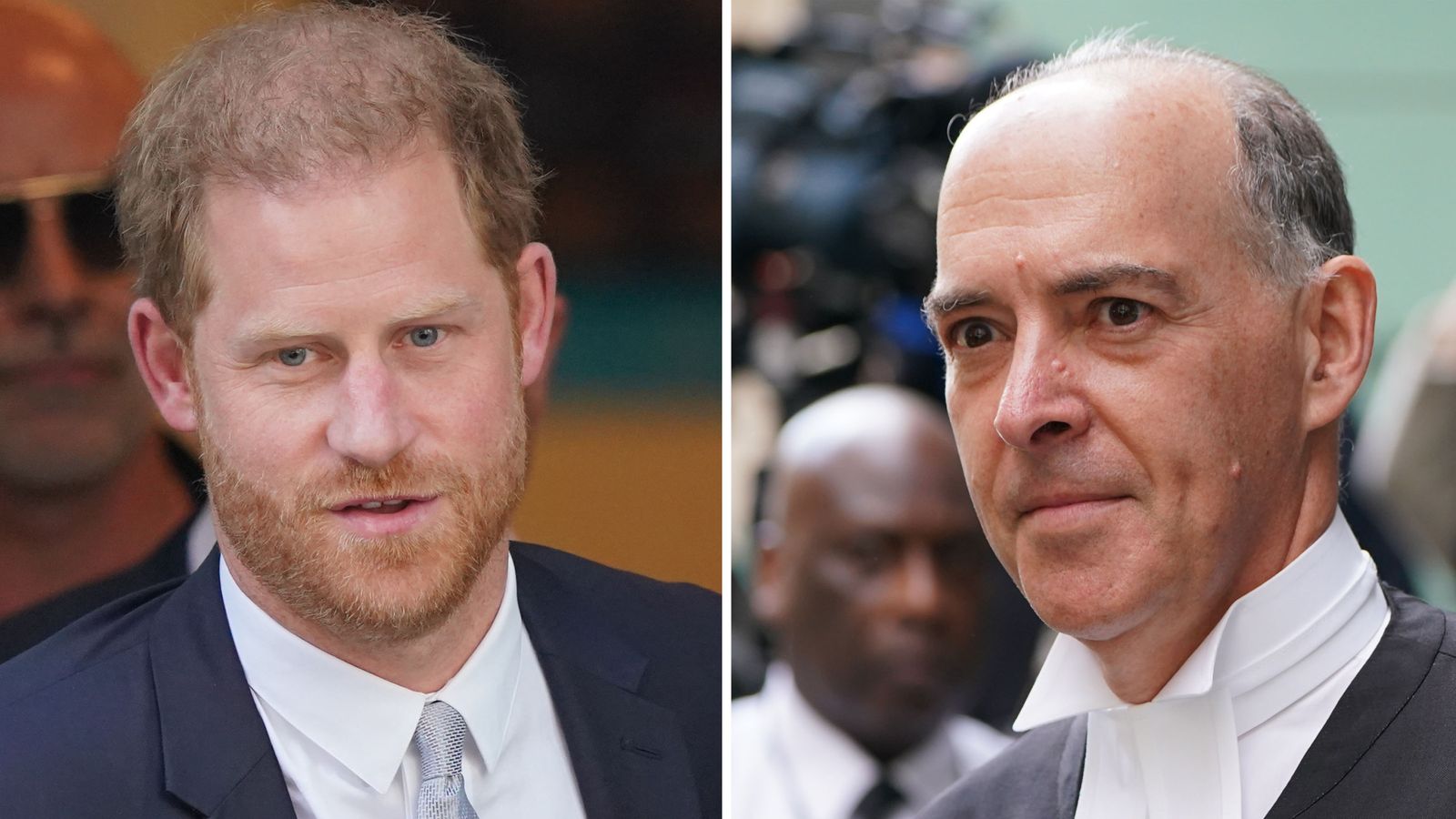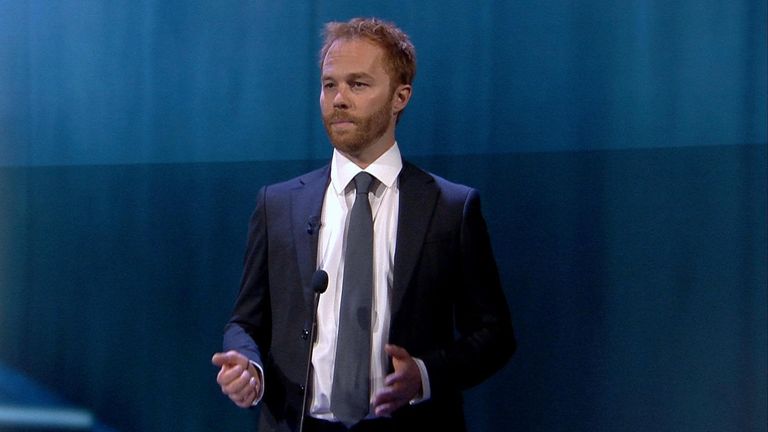 Wednesday's proceedings in Prince Harry's court battle against the Daily Mirror publisher were spiky from the start.
Conscious he had just half a day left to question and ultimately attempt to undermine the Duke of Sussex, the paper's barrister, Andrew Green KC (King's Counsel), got straight to business – there was no time for pleasantries.
His first words were: "Prince Harry, we are now on the 22nd article."
The prince interjected: "Good morning, Mr Green".
The pair went on to spar for several hours, it was polite but prickly.
Harry in court – as it happened
British royalty versus the highest echelons of the British legal system – Mr Green is a KC, a position to which senior barristers recognised for their excellence are appointed.
This was the King's son versus a King's Counsel, part two.
The duke also said "good morning" to those of us waiting outside court 15 and looked relaxed as he walked in.
If he was jet-lagged from his daughter's second birthday party followed by a flight from the US West Coast, he hid it well.
'I would feel some injustice'

He puffed out his cheeks as he entered the witness box on Wednesday. Clearly this experience has been draining, but he was quick to smile to familiar faces in the room.
The duke, like everyone else in the room, bowed when the judge, Mr Justice Fancourt, entered. It is courtroom protocol.
Mirror lawyer exasperated
Speaking directly to the judge is not. It resulted in an exasperated Mr Green, representing Mirror Group Newspapers (MGN), saying: "Could I ask the questions?"
He would later go on to say: "Can I just repeat what I said to you yesterday. This isn't about you asking me questions, this is about me asking you questions."
Mr Green took a more combative approach on Wednesday, but Harry was also more assertive. In a tense exchange, the KC asked the royal: "Can you accept lack of phone data suggests you were not hacked by any MGN journalist?"
The prince shook his head and defiantly replied: "Absolutely not".
Mr Green was quick to follow up: "If the court finds that you were not hacked by MGN, would you be relieved or disappointed?"
Harry said phone hacking was "on an industrial scale across three of the papers at the time" and that he "would feel an injustice, if it wasn't accepted".
Mr Green's follow-up was: "So you want to have been phone hacked?" Harry's response was solemn: "Nobody wants to be phone-hacked, my lord."
Prince Harry leaves High Court

'Realm of speculation'
Repeatedly over the past two days, Mr Green has declared: "We are in the realm of speculation."
Harry was always quick to counter – on one occasion saying: "Well no, I don't believe my girlfriend would have given the Mirror Group her number".
He later told the court, when answering questions from his own barrister: "For my whole life, the press misled me, covered up the wrongdoing, and sitting here in court knowing that the defence has the evidence in front of them and for Mr Green to suggest I'm speculating… I'm not sure what to say about that."
No one enjoys talking about their ex. Prince Harry was grilled on his relationship with his, Chelsy Davy, for many hours.
Details of a visit to a strip club which led to a row between the couple was pored over. Prince Harry said Ms Davy "now has her own family and this process is as distressing for her as it is for me".
What was Harry asked on day two?

Harry appeared weary
By coming to the witness box, Harry has had to go through each of the 33 articles one by one – you could see on his face that he found it emotionally draining.
He looked weary discussing his past relationships.
He told the court: "It was distressing going through this process and I would say more distressing sitting here having to go through it all again."
He looked pained when saying another former girlfriend, Caroline Flack, "was no longer with us".
Prince Harry court case evidence explained

On multiple occasions, Mr Green asked Harry whose mobile phone was hacked for each of the 33 stories this case focused on.
Harry replied: "I'm not sure as the evidence has been destroyed."
He went on to say "there was an industrial scale of destruction of evidence" by MGN.
Seven gruelling hours
It's an allegation that is strongly denied by the publishers. He then described the "abuse, intrusion and hate" directed at himself and his wife, Meghan, more recently.
After seven gruelling hours of cross-examination by Mr Green, Harry's lawyer David Sherborne asked his client how he felt.
He'd been in the witness box for a day and a half, giving evidence in open court, in front of the world's media, on his personal life.
Harry paused. "It's a lot", he said, with an uncomfortable smile and a flushed face.
His voice cracked when he answered the judge's follow-up question.
The prince then left the witness box, but not the courtroom. He was eager to listen to the evidence of the next witness – Jane Kerr, former royal editor at the Mirror.
Read more:
Ex-Mirror royal journalist denies 'closing her eyes' to alleged unlawful activities
Who is Jane Kerr? Former Mirror royal editor giving evidence
Duke was calm on day one
Harry took a seat next to his solicitors. He puffed out his cheeks, clearly drained, and briefly puts his hands on his face.
It was now his barrister David Sherborne's turn to question a witness for the Mirror.
Kerr's byline is on 10 out of the 33 articles being considered by the court.
His cross-examination of Kerr had a spicy start, saying: "You didn't want to come to court today, did you?"
She replied: "No, I didn't." He stated the "court ordered you to come".
Sherborne said the reporter commissioned private investigators on 900 different occasions while working on the Mirror's newsdesk. She insisted this was a regular part of her duties on the newspaper.
Sherborne's questioning of the former royal editor was robust.
At one point, Mr Green stood up to object to his line of questioning and described it as "an ambush". The judge said it was "not an ambush".
Ms Kerr will continue giving evidence on Thursday.
Click to subscribe to the Sky News Daily wherever you get your podcasts
While we have finished hearing from Prince Harry directly, there's still more than a fortnight of this trial to run.
The judge will then decide, on the balance of probabilities, on an outcome.
As it's a civil case – that could be financial, known as damages. But for Prince Harry, it's clear – this wasn't about money.
Skin cancer: Smartphone camera lens technology to be used to diagnose thousands of patients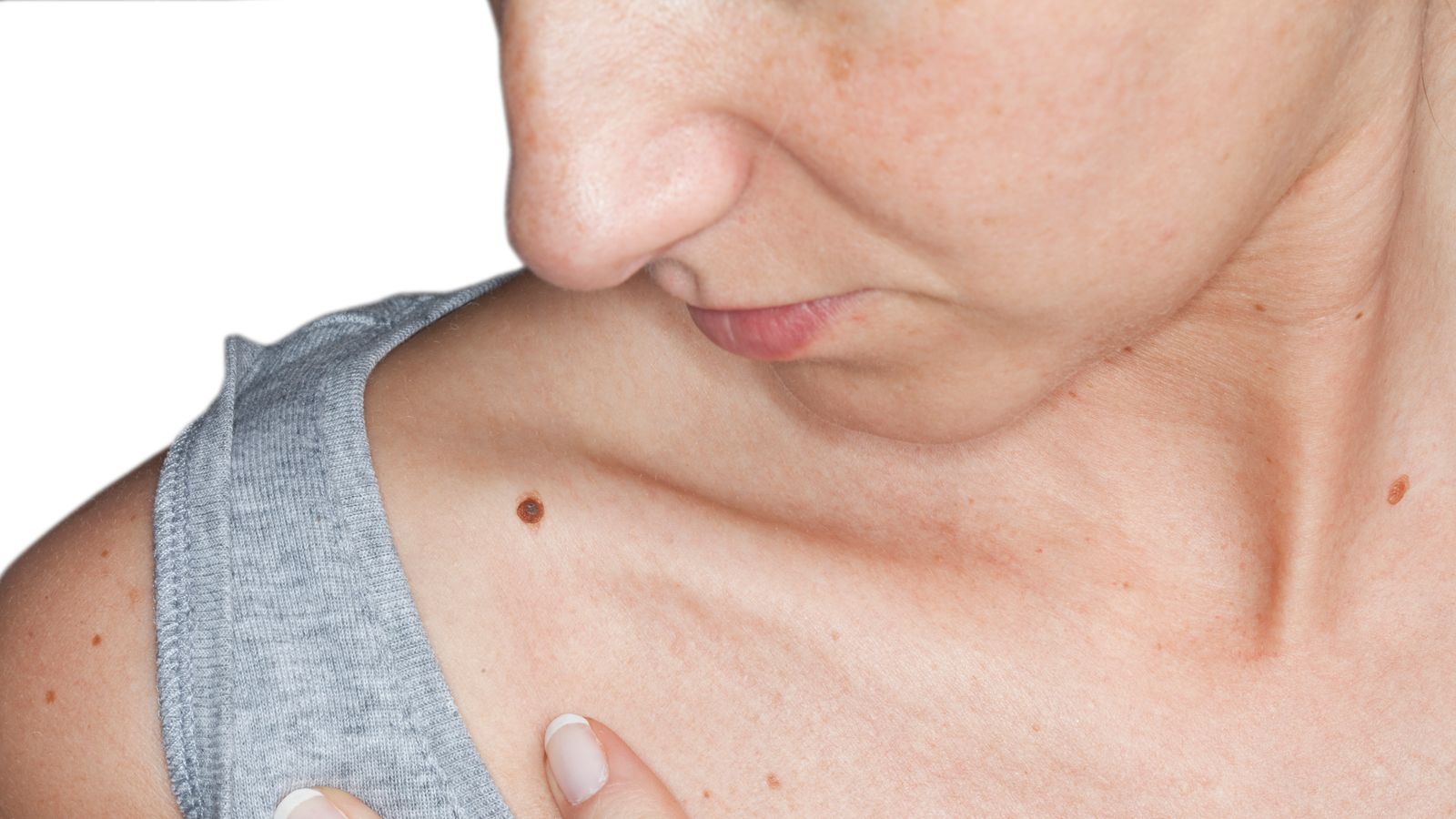 Tens of thousands of skin cancer patients could be diagnosed faster thanks to a new smartphone camera lens.
The lens – which is the size of a 50p – can attach to a smartphone and take detailed images of moles or skin legions.
Dubbed "teledermatology" by NHS officials, the service is to be rolled out across all areas of England by July with hopes that specialist doctors like dermatologists can double the number of patients they can assess in a day.
Last year around 600,000 people were referred for skin cancer checks, while 56,000 skin cancer patients received treatment.
The device was shown to have helped avoid about 10,000 unneeded face-to-face appointments during an earlier testing phase, NHS officials said.
Read more:
Calls for sunscreen to be VAT-free as charity warns about link between poverty and skin cancer
Multi-cancer blood test could 'help save thousands of lives'
Dame Esther Rantzen says she has stage four cancer
The technology may also enable GPs in rural areas to help their patients be reviewed faster.
Dr Tom While, a GP from Somerset, said: "It's a fantastic service and an asset to rural general practice, and hard to imagine working without it."
It comes as a new poll, conducted by Censuswide on 2,000 British adults on behalf of King Edward VII's Hospital, found that 22% do not wear sun cream.
The NHS is also trialling artificial intelligence (AI) tools to assess the presence of skin cancer.
Signs of skin cancer to spot
Skin cancer can be diagnosed as non-melanoma and melanoma, the latter of which is more serious, according to the NHS.
The first sign of non-melanoma is usually the appearance of a lump or discoloured patch of skin that slowly grows.
In most cases, these cancerous lumps are red and firm and sometimes turn into ulcers.
One of the main signs of melanoma is a new mole or change in an existing mole.
A mole with an uneven shape, mix of colours, change shape over time or just very large moles may be melanomas.
The technology, called Deep Ensemble for the Recognition of Malignancy (Derm), is currently being used alongside the assessment of doctors to see if it comes to the same conclusions.
NHS chief executive Amanda Pritchard said that "championing the use of digital technology" is "key" in reducing wait times and huge pressures on the health service.