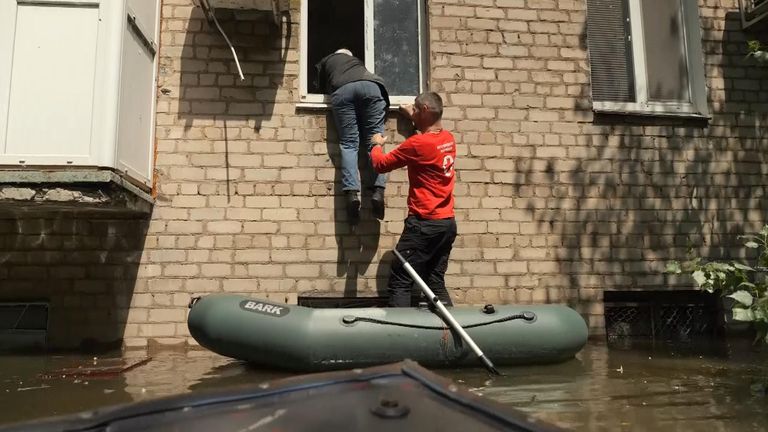 There was a steady stream of boat landings throughout the day in Kherson city in southern Ukraine as the rescue efforts were ramped up to reach those stranded by floodwaters.
The water levels rose about 11 feet in about 24 hours according to emergency services, with some areas reaching a depth of 17 feet.
It meant those who had stayed in their homes overnight awoke to find themselves stranded the day after the destruction of the enormous Nova Kakhovka dam in southern Ukraine.
The Ukrainian president said the priority was evacuating those trapped in their homes and providing fresh drinking water to an area where they predict there are going to be serious supply challenges in the very near future.
We watched as a flotilla of rescue boats serviced by police, troops and eager volunteers searched the newly flooded streets of Kherson.
Amphibious vehicles like the Ukrainian-made Sherp were brought in with its huge, specialised inflatable wheels to try to help in the rescue attempts.
It turned out to be of less use than small rubber dinghies which have been forced to manoeuvre their way through broken electrical lines, submerged trees and trailing branches to try to reach trapped residents.
"Turn around, it'll be easier," volunteer Mykola urged one of the pensioners he was rescuing from the third floor of an apartment block.
Putin reacts to dam collapse – follow Ukraine war live updates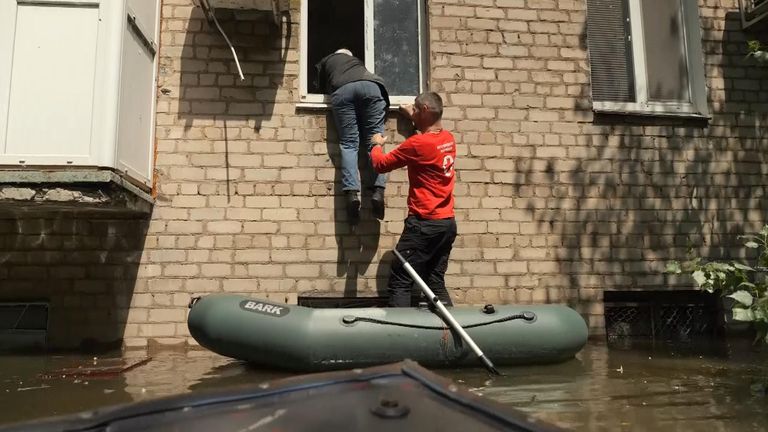 The two floors downstairs are now utterly submerged. "I can't go inside my home at all," one resident shouted to our boat, "The water is way over our heads in there now".
Mykola tells us there are still a lot of people stranded after believing the waters wouldn't rise so high.
The predictions are the levels are likely to go up a few inches more before they hope they will start to recede – but it could take a week for them to go down entirely.
Until then it is going to be difficult to assess the long-term impact of this catastrophic dam burst – which the Russian authorities are continuing to deny responsibility for.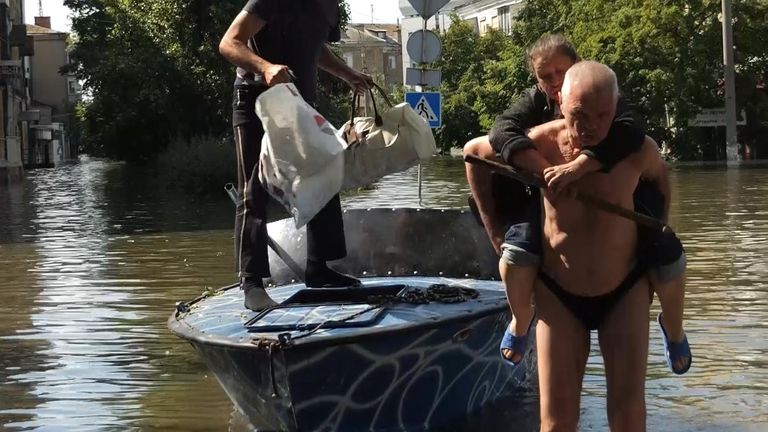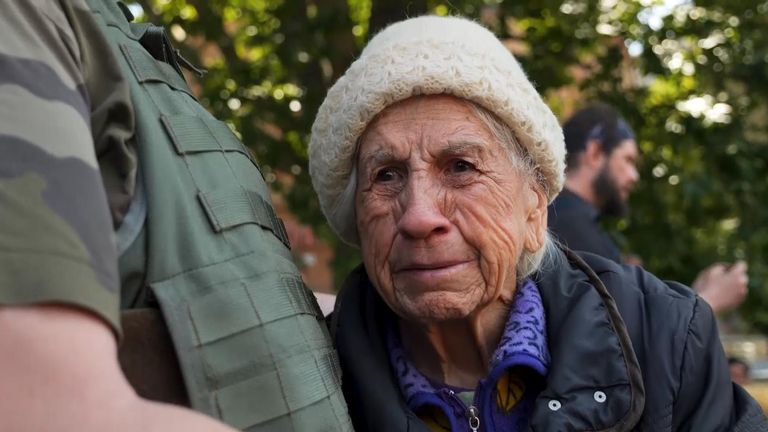 But Vladimir Putin's enemies are in no mood to listen to his protestations with the United Nations, America and European countries all lining up to blame him.
The US admitted it did not have any firm evidence but Western officials seem to be basing their assumptions on the fact the dam has been largely under the control of Russian forces since the beginning of the war.
Read more:
Analysis: Putin's dam attack is a dangerous escalation
Five environmental impacts of Ukraine dam collapse
Before-and-after images of devastation after dam destroyed
Putin loyalists, however, are still blaming the Ukrainians as the Russian leader announced he too would be launching a criminal investigation to discover exactly what happened.
There are several witnesses saying that the Russians have been continuing to attack those trying to flee the territory they control on the other side of the flooded Dnipro River.
Two boats carrying old people and family members landed in Kherson saying they'd fled Russian troops from the east bank. They went on to say the Russians had also looted their summer homes and been bombing the beaches.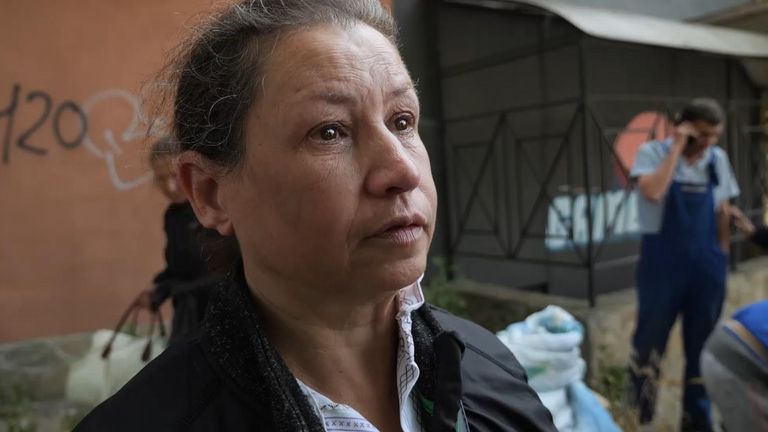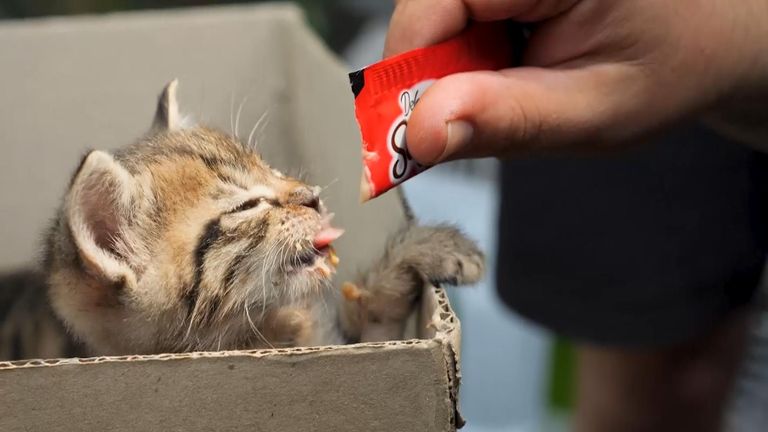 Olga wept with relief as she told us: "The current was so powerful, we barely made it."
She was hugged and consoled by her friends as they all sat round the few bags of possessions they'd managed to take with them.
"When we were in Dachi, all our boats had been sunk and the Russians were looting our summer houses and taking our boat engines. They were taking everything. Our guys just managed to save our two boats."
She's overwhelmed with emotion as reaching dry land. But the challenges in this area are likely to mount in the coming days and weeks when the full scale of the disaster is finally known.
Somalia truck bombing kills 15 people and wounds 40 others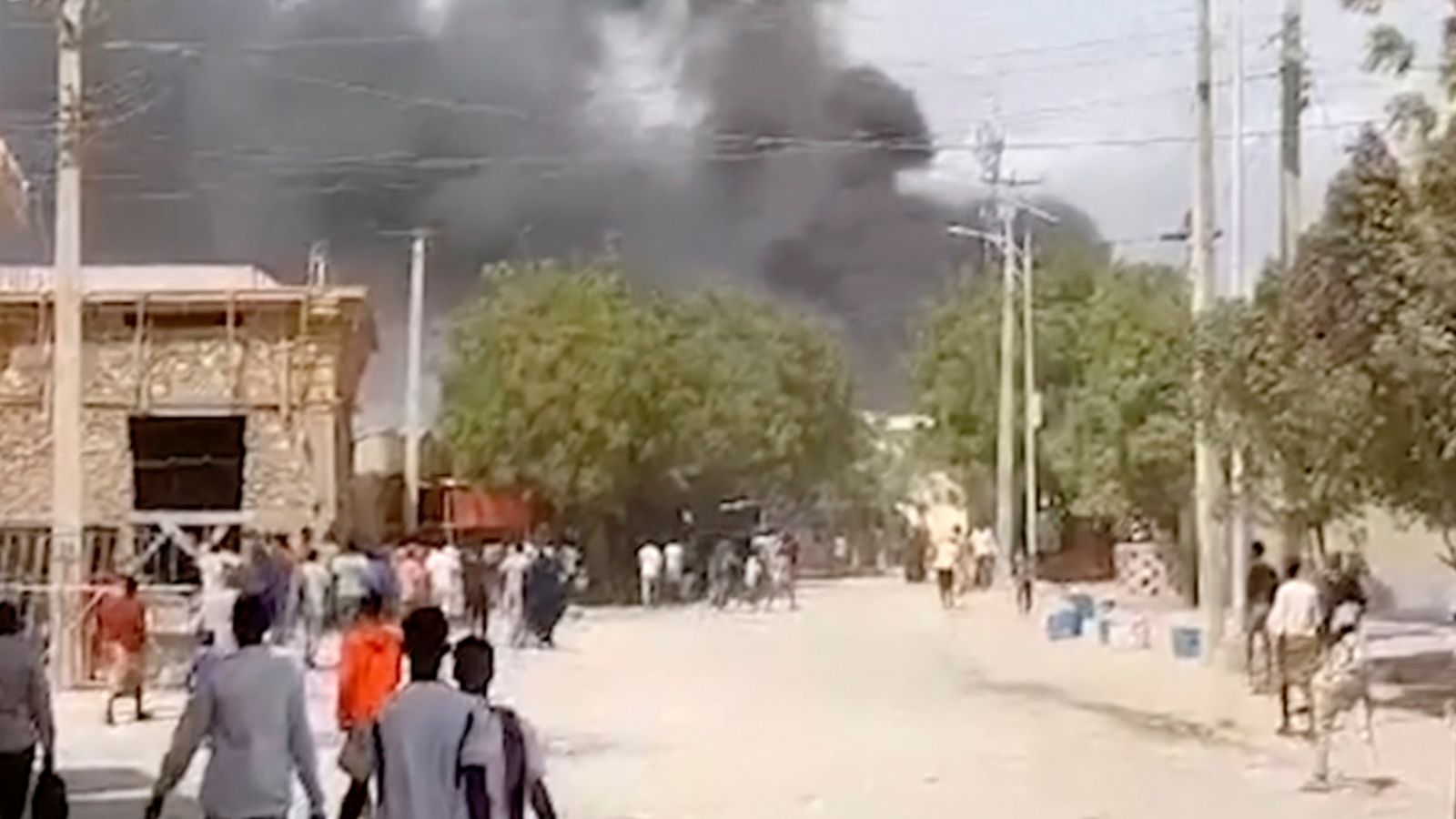 A bombing at a checkpoint in Somalia has killed at least 15 people and wounded 40 others, authorities have said.
Images on social media showed a damaged truck cab on fire and black smoke billowing from the scene in the central city of Beledweyne.
No one has immediately claimed responsibility, including Al Shabaab, which often carries out attacks and controls parts of Somalia.
Police officer Ahmed Aden said the dead included five police officers who fired on the truck in a failed attempt to stop it from ramming into the nearby checkpoint.
Shops nearby were reduced to rubble, with reports of people missing beneath the debris.
It was a truck loaded with explosive devices that forcefully passed through the government-manned checkpoint, and a pick-up vehicle belonging to security personnel was chasing it when it exploded," said witness Abdikadir Arba, who said he was about 200 metres away and was one of the first responders.
Abdifatah Mohamed Yusuf, director-general of the Hirshabelle Ministry of Humanitarian and Disaster Management, confirmed the deaths.
"Twenty of the wounded have been admitted to Beledweyne hospitals, while another 20 are in critical condition, prompting a request for their airlift to Mogadishu for advanced medical treatment," he said.
Read more on Sky News:
Somalia is fighting a battle on all fronts
At least 20 killed in hotel attack
Locust swarms risk food crisis
Hirshabelle is a state that includes Beledweyne. It has been the centre of the Somali government's latest military offensive against extremists from Al Shabaab.
Click to subscribe to the Sky News Daily wherever you get your podcasts
Al Shabaab has been battling Somalia's central government for more than a decade, aiming to establish its rule based on strict interpretation of Islamic sharia law.
Fugitive on run for more than 30 years laughs as he's finally caught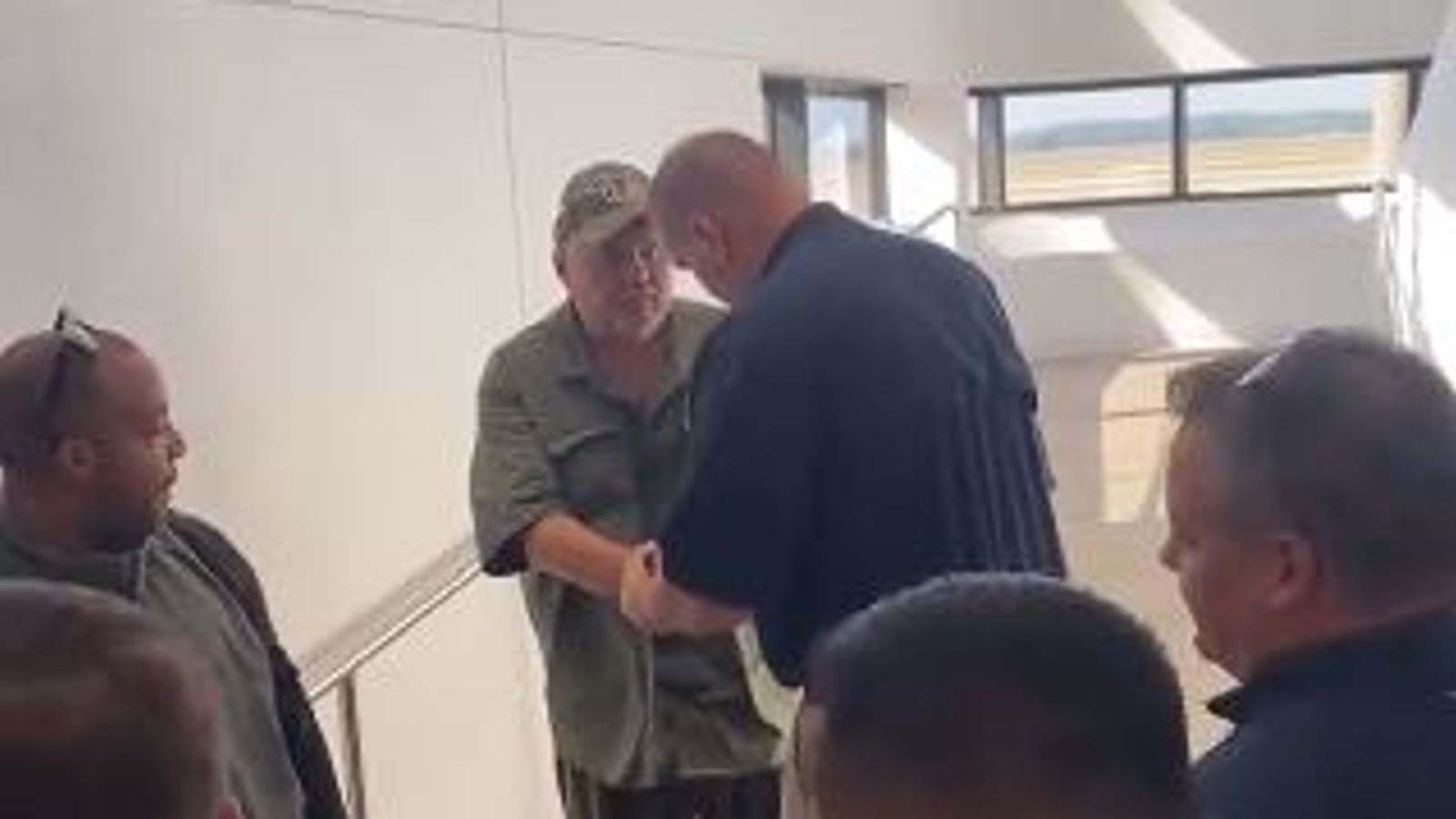 A fugitive convicted of attempted murder who evaded police for more than 30 years has been caught.
Greg Lawson, who had been on the run for 32 years, laughed and asked officers "how are you doing?" as he was handcuffed in Huatulco, Mexico.
Lawson, 63, fled Louisiana, in the US, just before a jury found him guilty of shooting a man called Seth Garlington in 1991 – sparking an FBI manhunt in May that year.
In a video shared by FBI News Orelans on X, formerly known as Twitter, Lawson is seen wearing a short-sleeve shirt and camouflage cap.
With police officers in escort, he patted someone on the shoulder while laughing, before another officer turned to handcuff him.
Douglas Williams Jr, the agent in charge of FBI New Orleans, said the capture would not have been possible without the help of authorities in Mexico.
"We want to thank our partners and the public in this case, who never gave up hope that justice could be served for Mr Lawson's victim," he said.
"There is no doubt that Mr Lawson might still be in the wind if our partners in Mexico had not been willing to deal with this so swiftly."
The FBI said they had always suspected Lawson was hiding out in Mexico, but a "tip" they received earlier this month appeared to confirm their theory.
Read more:
Murderer who escaped prison by 'crab-walking' up wall caught
Man fleeing Venezuela faces goodbye to pet squirrel after 3,000-mile journey
He was arrested on Tuesday, 19 September, and was taken into custody back in Louisiana.
According to a local Louisiana news channel, KTBS, Lawson had a "fistfight" with Mr Garlington in a car park at a petrol station.
Court documents, they added, claim Lawson forced Mr Garlington's vehicle off the motorway, with Lawson then firing shots.
When the jury came back from deliberation to confirm the guilty verdict, Lawson had already run away.
The FBI had offered a $10,000 (£8,200) reward for his capture.
Sweden: Chunk of motorway collapses in landslide – leaving three in hospital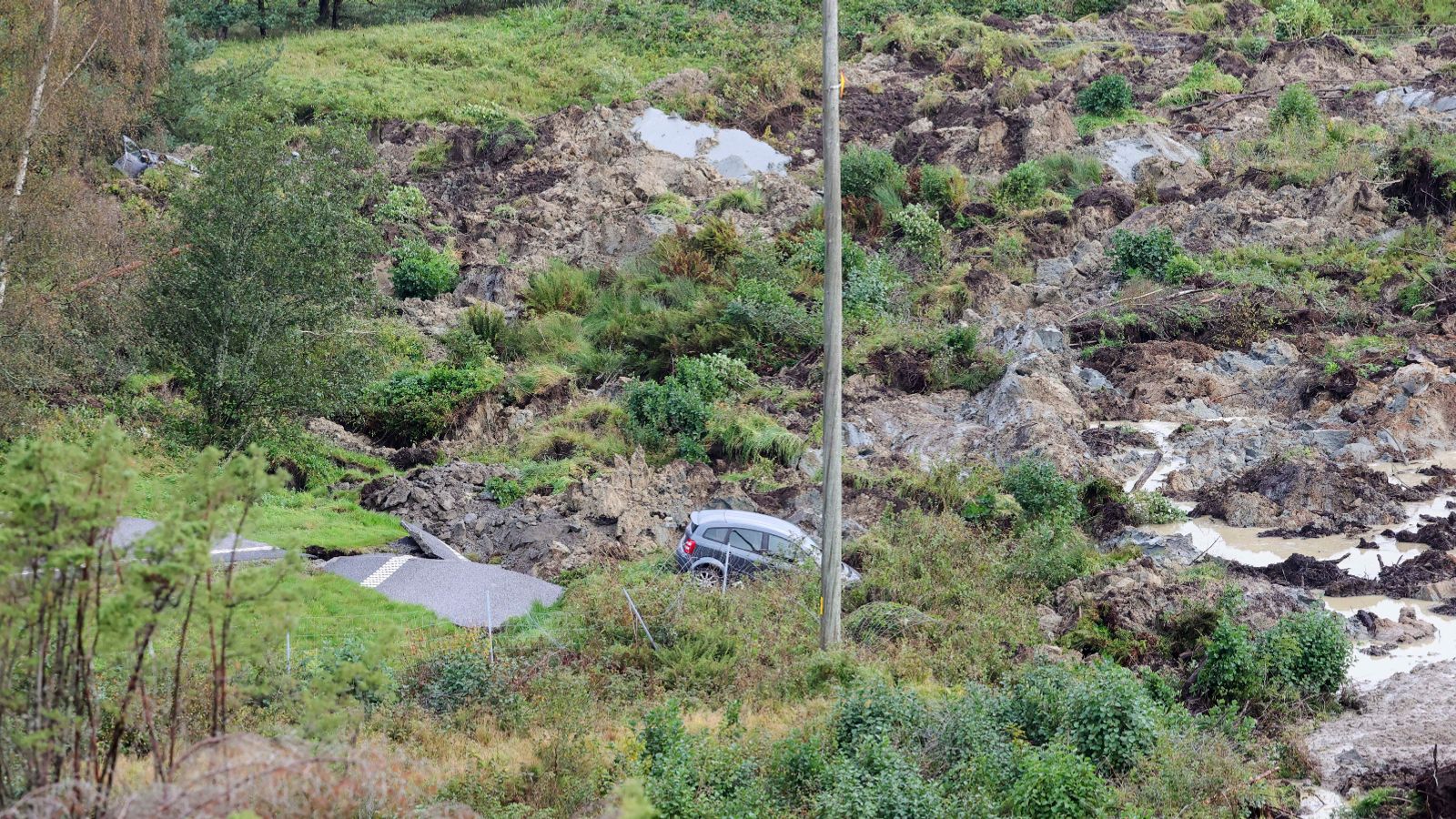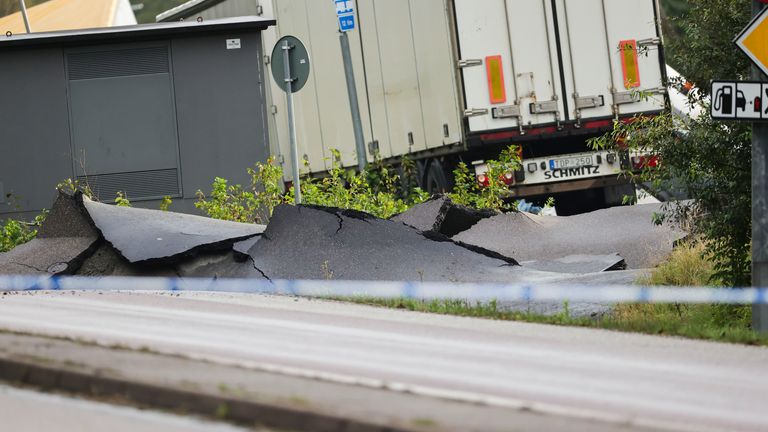 Three people have been taken to hospital after a large chunk of a motorway in Sweden collapsed in a landslide early on Saturday morning.
Police said at least four cars and a bus skidded off the E6 motorway – connecting Gothenburg in Sweden to Norway's capital Oslo – near the small town of Stenungsund.
Several buildings were also damaged, including a Burger King restaurant.
The landslide has affected a total area of around 700 x 200 metres, which is roughly equivalent of 21 football pitches.
"The hardest hit parts of the landslide area measure around 150 x 100 metres," the Gothenburg Rescue Services added in a statement.
"A number of people have been helped out of vehicles in the slide area with the help of fire personnel and a helicopter."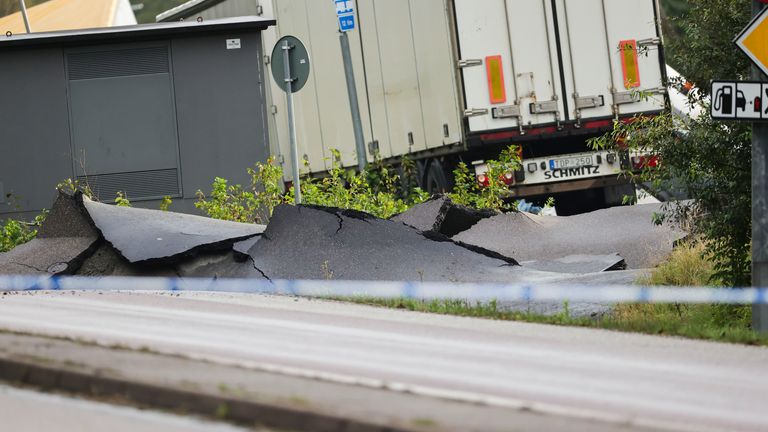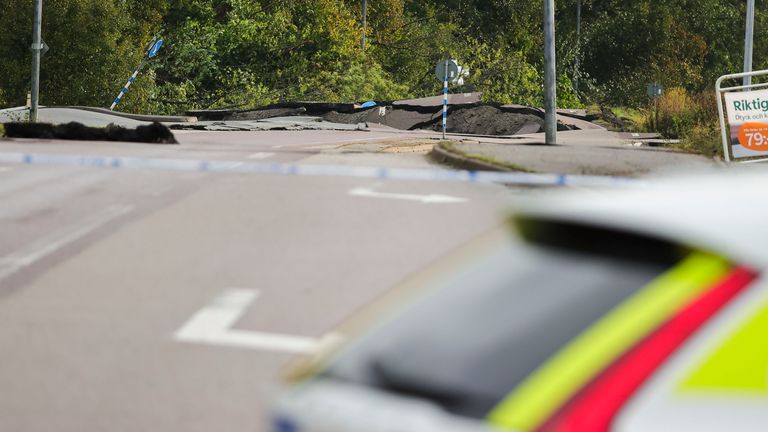 Rescue services say further landslides cannot be ruled out.
Police say nobody is suspected of a crime, but an investigation has been launched into whether a construction site nearby caused the landslide.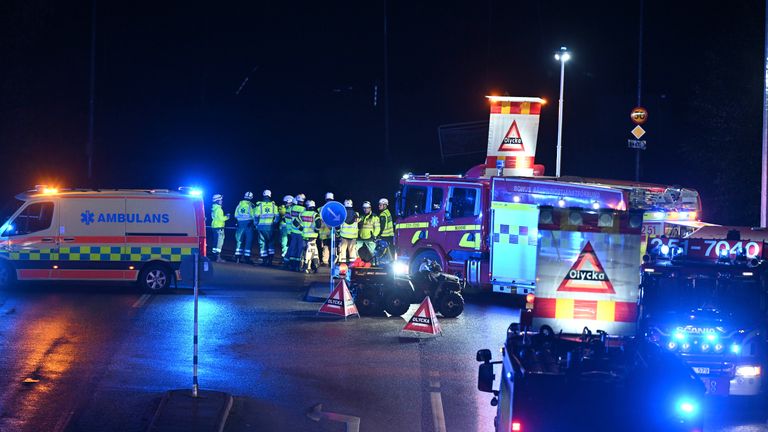 There has also been heavy rainfall in the area over the past few days.
Swedish news agency TT reported several cars and one truck had fallen into cracks caused by the landslide, while rescue services told public broadcaster SVT all people have been helped out.
Specially trained dogs were on the scene to ensure no people had been overlooked among the debris.