The Boston Red Sox fired chief baseball officer Chaim Bloom on Thursday after four up-and-down seasons that included a pair of last-place finishes and a 2023 almost certain to end without a playoff berth.
Bloom, 40, joined the Red Sox following their firing of general manager Dave Dombrowski in September 2019, a year after they won their fourth World Series in 15 years. He brought small-market success with Tampa Bay as the antithesis to the swashbuckling Dombrowski: methodical, patient and ready to rebuild a farm system while still succeeding in the major leagues.
But within months of arriving, with ownership stressing financial flexibility, Bloom traded star outfielder Mookie Betts to the Los Angeles Dodgers. The move hung over his tenure as Boston sandwiched last-place finishes around a 2021 in which it took Houston to six games in the ALCS. The Red Sox, on the cusp of wild-card contention as recently as last week, have lost six of their past seven.
The firing surprised multiple officials in the organization, who believed that despite the lack of big league success, the Red Sox's future — with a much-improved farm system and significant room to spend — is on the upswing. In a statement, owner John Henry said Bloom "set the stage for the future," but that wasn't enough to save his job.
"While parting ways is not taken lightly, today signals a new direction for our club," Henry said. "Our organization has significant expectations on the field and while Chaim's efforts in revitalizing our baseball infrastructure have helped set the stage for the future, we will today begin a search for new leadership. Everyone who knows Chaim has a deep appreciation and respect for the kind of person he is. His time with us will always be marked by his professionalism, integrity and an unwavering respect for our club and its legacy."
MLB postseason tracker: Playoff races heating up, who can clinch next and games to watch
There's only a week left in the 2023 MLB regular season, and a few teams are already looking toward October.
Earlier this month, the Atlanta Braves became the first team to clinch a postseason berth, following it up by securing the NL East title. The Los Angeles Dodgers joined them by clinching the NL West. Soon after, the Baltimore Orioles and Tampa Bay Rays, still battling it out for the AL East title, both secured their spots in October. Meanwhile, clubs such as the Seattle Mariners, Philadelphia Phillies and Chicago Cubs, are battling it out for the remaining wild-card spots.
Even beyond division races, there are many storylines to watch as the regular season comes to an end and October begins.
Where do the current playoff matches stand? What games should you be paying attention to today? And what does the playoff schedule look like? We have everything you need to know as the regular season winds down.
Key links: Full MLB standings | Wild-card standings | NL madness?
---
Who is in?
Atlanta Braves
With a win over Pittsburgh on Sept. 10, the Braves became the first team to punch a ticket to this year's playoffs — their sixth straight postseason berth. Atlanta followed it up by clinching the NL East crown with a victory in Philadelphia on Wednesday.
Los Angeles Dodgers
The Dodgers secured their 10th NL West crown in the past 11 seasons with a victory over the Mariners last week, making L.A. the second team to punch its ticket to this postseason.
Baltimore Orioles
The Orioles secured a playoff berth with a walk-off win in the 11th inning against the Rays. After splitting a series win against the Guardians, they're in the driver's seat for an AL East title.
Tampa Bay Rays
Unless the Rays can catch the Orioles for the East crown, they will host the wild card series as the No. 4 seed.
Milwaukee Brewers
The Brewers clinched a playoff spot with a blowout win over the Marlins and is now counting down to securing the NL Central crown as well.
Minnesota Twins
The Minnesota Twins clinched the AL Central title with a win over the Angels on Friday night.
---
Who's next?
Philadelphia Phillies
While the other remaining wild-card battles are likely to come down to the season's final days, the Phillies have emerged with a firm grasp on the NL's first spot, which puts them in position to open the postseason at home.
---
What are this October's MLB playoff matchups as it stands now?
American League
Wild-card round: (6) Astros at (3) Twins*, (5) Blue Jays at (4) Rays*
ALDS: Twins/Astros vs. (2) Rangers, Rays/Blue Jays vs. (1) Orioles*
National League
Wild-card round: (6) Cubs at (3) Brewers*, (5) D-backs at (4) Phillies
NLDS: Brewers/Cubs vs. (2) Dodgers*, Phillies/D-backs vs. (1) Braves*
* — clinched playoff spot
---
Breaking down the AL race
Despite spending much of the season atop the AL East, the Rays find themselves the top wild-card team in the American League after the Orioles took sole possession of first place in the division in late July. The Toronto Blue Jays, meanwhile, are locked in a close battle for the final wild-card spots.
The Texas Rangers, like the Rays, led the division for more than 100 days this season but now finds themselves in a tight battle for the AL West title. The Mariners and Houston Astros are right behind them, fighting the Blue Jays for those wild card spots. The Minnesota Twins will be the AL Central's sole representative in October.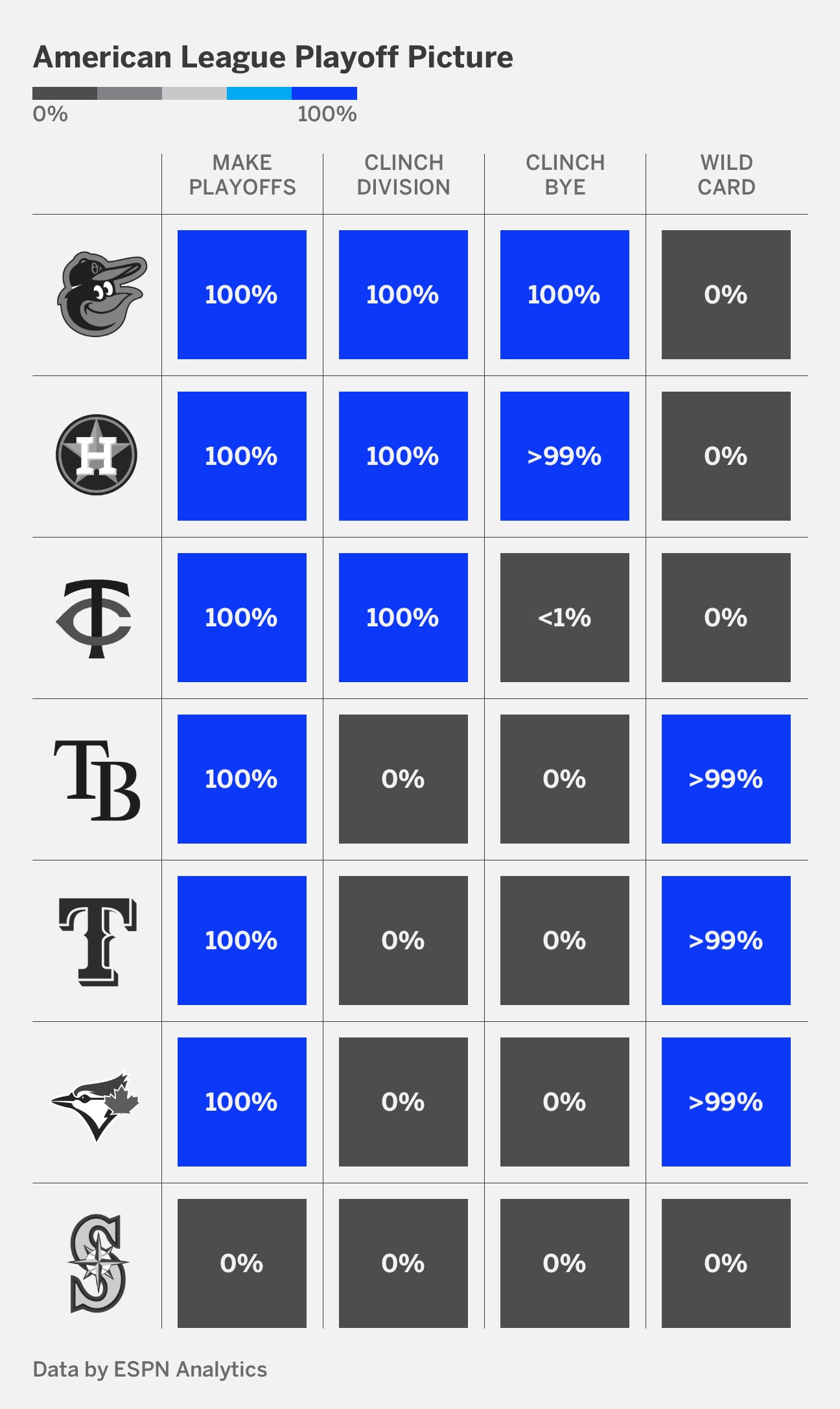 And what about when these teams get to the playoffs? Here's what their chances are for every round: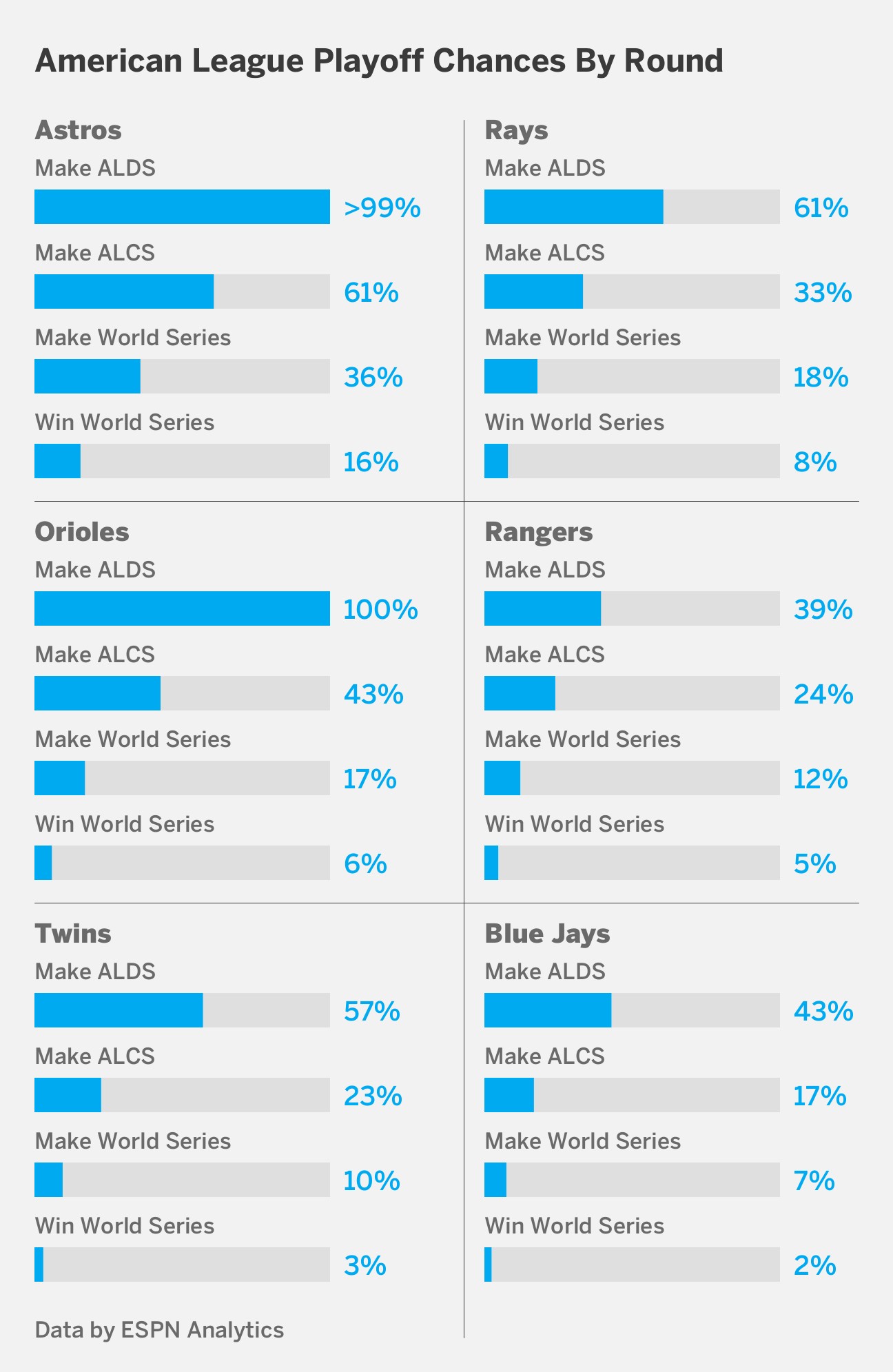 ---
Breaking down the NL race
The divisional races in the National League aren't quite as close as the ones in the AL, with the NL East and West locked up already. The Milwaukee Brewers have long held first place in the NL Central, too.
Now, the wild-card race is where it gets exciting. While the Phillies have a strong hold on the first wild-card spot, four teams — the Chicago Cubs, Arizona Diamondbacks, Cincinnati Reds and Miami Marlins — are within a few games of each other for the final spots. Miami and Cincinnati are the big surprises, as neither team was thought to be a playoff contender entering the season.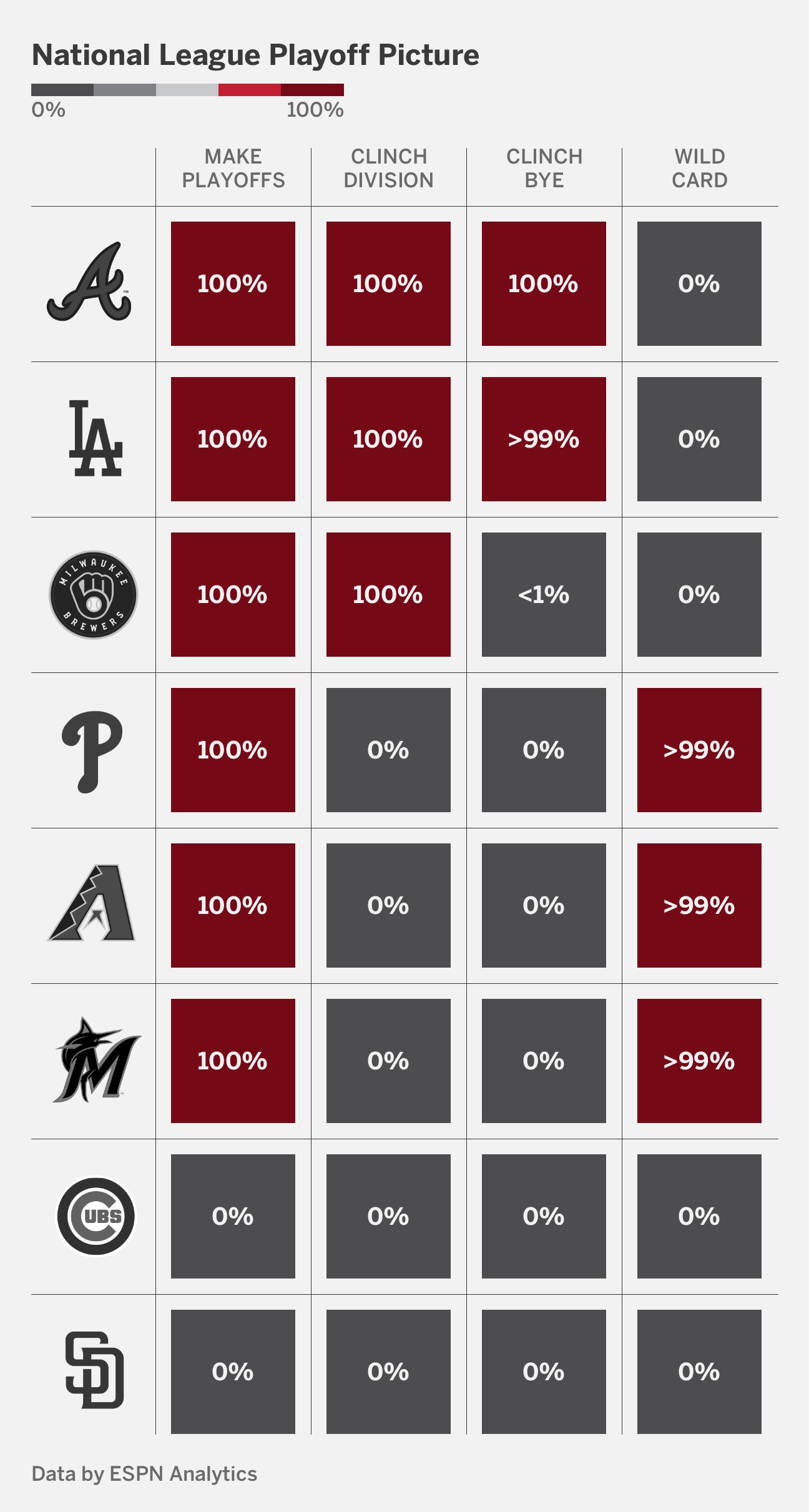 And what about when these teams get to the playoffs? Here's what their chances are for every round: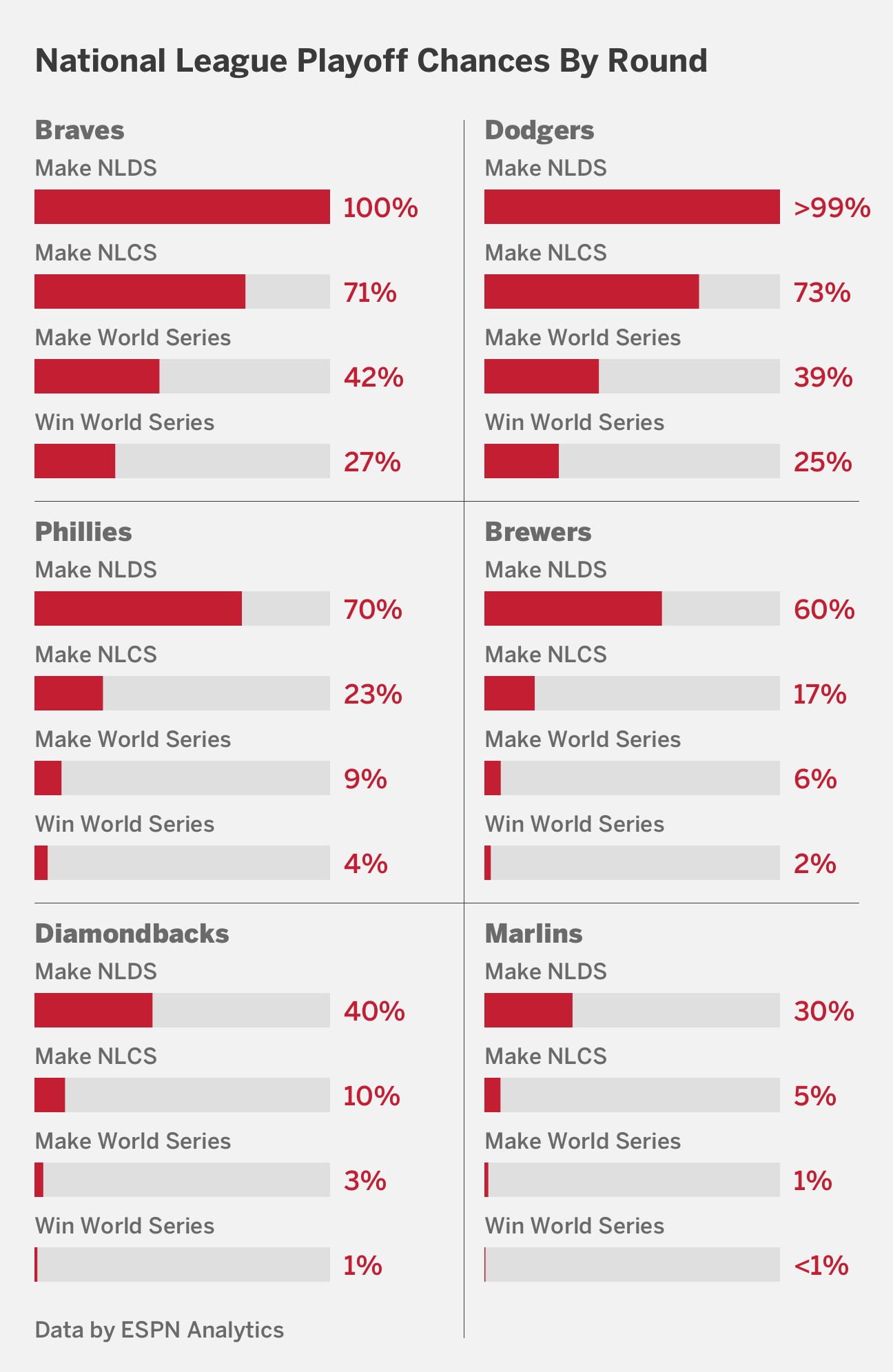 ---
Game of the day
Need something to watch today? Here's the baseball game with the biggest playoff implications: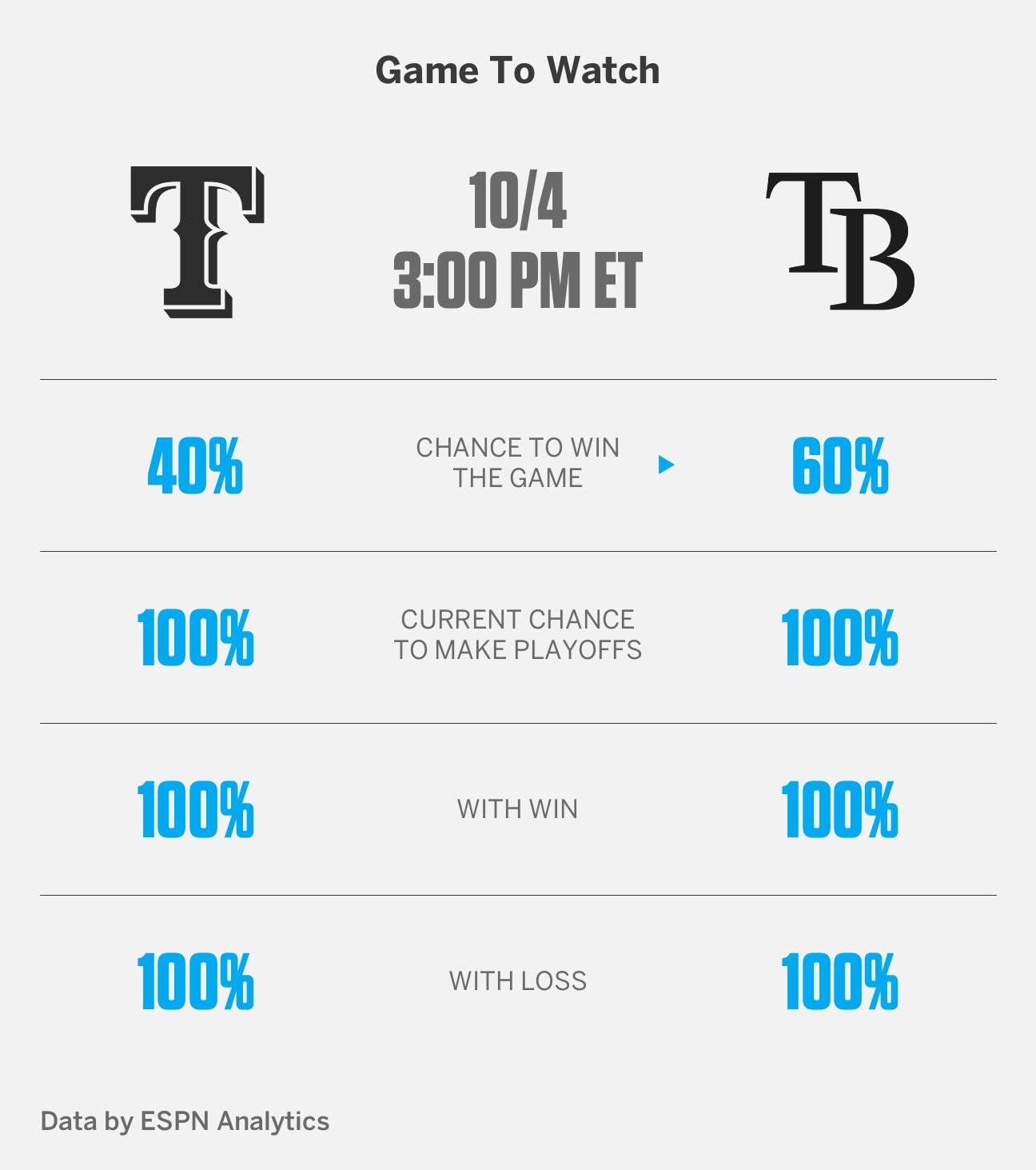 ---
Playoff schedule
Wild-card series
Best of three, all games at better seed's stadium
Game 1: Tuesday, Oct. 3
Game 2: Wednesday, Oct. 4
Game 3: Thursday, Oct. 5*
Division series
Best of five
ALDS
Game 1: Saturday, Oct. 7
Game 2: Sunday, Oct. 8
Game 3: Tuesday Oct. 10
Game 4: Wednesday, Oct. 11*
Game 5: Friday, Oct. 13*
NLDS
Game 1: Saturday, Oct. 7
Game 2: Monday, Oct. 9
Game 3: Wednesday, Oct. 11
Game 4: Thursday, Oct. 12*
Game 5: Saturday, Oct. 14*
League championship series
Best of seven
ALCS
Game 1: Sunday, Oct. 15
Game 2: Monday, Oct. 16
Game 3: Wednesday, Oct. 18
Game 4: Thursday, Oct. 19
Game 5: Friday, Oct. 20*
Game 6: Sunday, Oct. 22*
Game 7: Monday, Oct. 23*
NLCS
Game 1: Monday, Oct. 16
Game 2: Tuesday, Oct. 17
Game 3: Thursday, Oct. 19
Game 4: Friday, Oct. 20
Game 5: Saturday, Oct. 21*
Game 6: Monday, Oct. 23*
Game 7: Tuesday, Oct. 24*
World Series
Best of seven
Game 1: Friday, Oct. 27
Game 2: Saturday, Oct. 28
Game 3: Monday, Oct. 30
Game 4: Tuesday, Oct. 31
Game 5: Wednesday, Nov. 1*
Game 6: Friday, Nov. 3*
Game 7: Saturday, Nov. 4*
* If necessary
Vintage Verlander helps Astros pad wild-card lead
SEATTLE — In a season where he said nothing has come easy, Justin Verlander picked the right moment to once again look like the ace he's been for most of his career.
Perfect timing for Verlander. Perfect timing for the Houston Astros.
Verlander took a shutout into the ninth inning, allowing just three hits and worked out of the one jam he faced, and the Astros created some cushion in the American League playoff chase with a 5-1 win over the Seattle Mariners on Monday night.
Verlander put together a vintage performance befitting his status as one of the top right-handers in the game for most of his career. He was on the verge of his first complete game since 2019 when he no-hit Toronto, but manager Dusty Baker pulled Verlander after Josh Rojas led off the ninth inning with a double.
Nevertheless, Verlander did his part with an effort Houston needed after being swept at home over the weekend by Kansas City. The Astros extended their lead to 1½ games over Seattle for the final wild card in the American League. Houston also remained 2½ behind Texas in the AL West.
"This is just one of those years where nothing has been easy," Verlander said. "Maybe catch the right timing here and this can be the start of something, hopefully."
Rojas' double snapped Verlander's string of 16 straight batters retired, but the Astros were well on their way to the needed victory before the string was broken. Verlander (12-8) struck out eight, walked one and threw 96 pitches.
"I was obviously kind of running on fumes a little bit, so appreciate the chance to go out there and get a [complete game shutout]," Verlander said. "It didn't work out, but that's all right."
It was his 56th career game allowing no more than one earned run over eight-plus innings, which ties Cliff Lee for the fourth most such outings over the last 20 seasons behind only Félix Hernández (71), Clayton Kershaw (63) and Roy Halladay (57).
Seattle lost its fourth straight, the seventh in 10 games. The Mariners also fell four games behind Texas in the division.
"All these losses suck right now, but there's nothing we can do about them," Seattle shortstop J.P. Crawford said. "Got to keep our heads up and look at the positive side and get ready for tomorrow."
Houston didn't need much offense but managed one big two-out rally against Seattle starter Luis Castillo (14-8) that scored three runs in the second inning. The Astros added on with long solo home runs from Yordan Alvarez and Kyle Tucker for additional cushion. Alvarez's homer was his 30th of the season and came leading off the third inning. Tucker's homer leading off the sixth gave him 110 RBIs, most in the AL.
Making his first start against Seattle since last year's AL Division Series, Verlander faced traffic on the bases only once. Seattle loaded the bases with one out in the third inning on singles by Dominic Canzone and Rojas and a walk to Crawford. But Verlander got Julio Rodriguez out in front of a curveball and Seattle's young All-Star grounded into a double play to end the threat.
"If it turns into a double play, great, which it did, which was huge," Verlander said. "But one of the best hitters in baseball in that situation you're trying to get him out and not let the inning cascade and get away from you."
Verlander didn't allow another base runner until Rojas got him in the ninth. Rojas scored on Rodriguez's sacrifice fly, ending the shutout.
The Mariners had won 10 straight games started by Castillo, but he suffered his first loss since July 14. Castillo threw six innings, allowing for eight hits and five runs, and struck out eight.
"I thought Luis Castillo's stuff was as good as we've seen it all year," Seattle manager Scott Servais said. "Unfortunately, he made a couple of mistakes in the middle of the plate with the fastball in the second inning there."
Castillo was one strike away from getting out of the inning, but Mauricio Dubón lined a 2-2 fastball into center field for a hit to score José Abreu. Martín Maldonado and Jose Altuve each followed for an RBI single and, in the span of six pitches, a scoreless game became a 3-0 Houston lead.
"That was big to put a crooked number up there and finally have a lead," Baker said.
Verlander made his 38th career start against Seattle and it was the third time he pitched at least seven shutout innings against the Mariners. Verlander's eight strikeouts were the second most he's had in a game this season.
Verlander won his 256th career game, tying him with Andy Pettitte for 42nd all-time.
Information from The Associated Press was used in this report.
'Tired of losing,' Webb says Cy Young not priority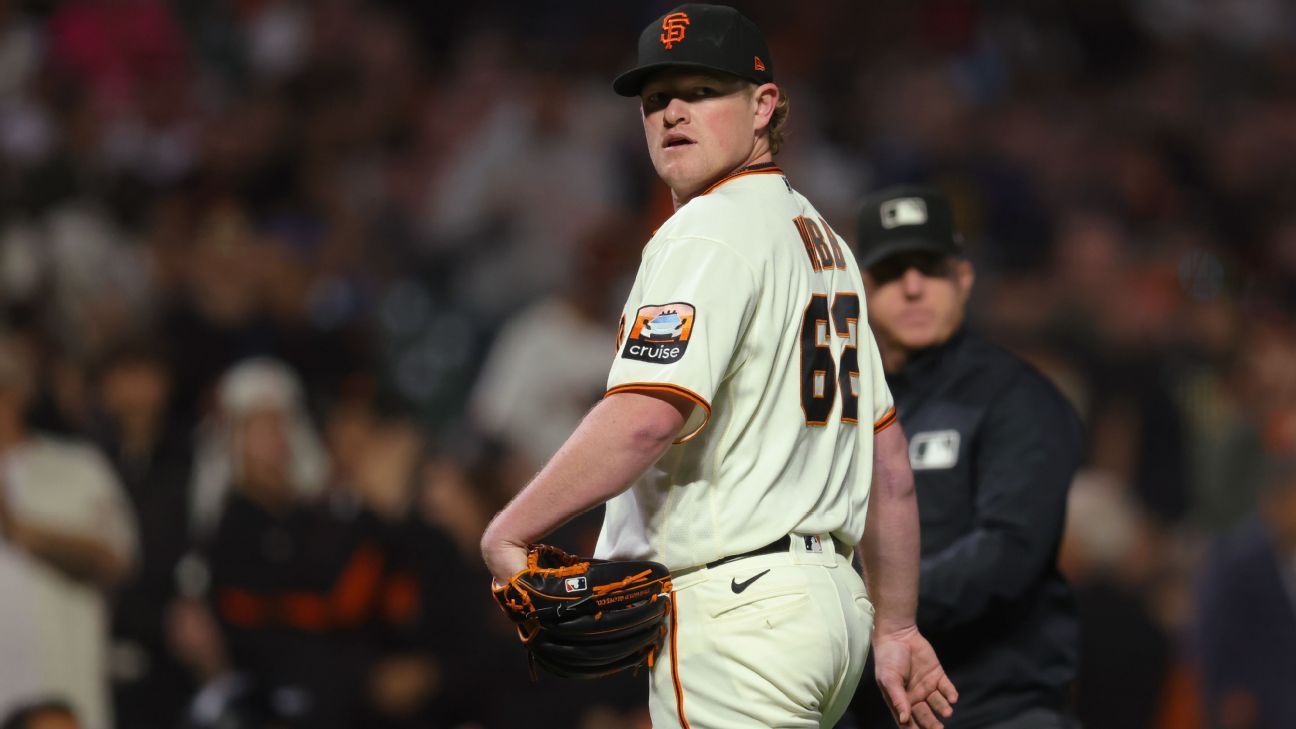 SAN FRANCISCO — Blake Snell tossed six shutout innings in his latest terrific start for the San Diego Padres as he makes a final push for the National League Cy Young Award — but Giants ace Logan Webb will probably get some votes too, especially after what he did Monday night in a matchup of teams clinging to slim playoff hopes.
Webb pitched his second complete game this season, and pinch hitter Michael Conforto delivered a two-run single in the eighth inning to lift San Francisco over the Padres 2-1.
The game marked Webb's 24th quality start this season — tops in the majors, according to the Giants. Webb, whose first career complete game was a shutout of the Colorado Rockies on July 9, also leads the big leagues with 216 innings pitched.
"This is a pretty significant statement game when you're going up against another Cy Young Award candidate," San Francisco manager Gabe Kapler said of Webb. "He was totally efficient, totally in control. Never lost his delivery, never lost his stuff. There wasn't a hint of struggle the entire game."
Snell lowered his major-league-best ERA to 2.25.
Webb (11-13) had seven strikeouts and allowed nine hits on 110 pitches for the Giants (78-79), who moved within 4½ games of the final postseason spot in the NL. They have five games remaining.
"To be honest, winning is more important," Webb said when asked about the Cy Young Award. "If we don't do that, then it's kind of a waste. That's my goal. I'm tired of losing. It's not enjoyable. It's not fun. We have to make some big changes in here to create that winning culture that we want to show up every single year and try to win the whole thing."
San Diego (77-80) is 5½ games back of the Arizona Diamondbacks and Chicago Cubs, who are tied for the last two of three NL wild cards. One more loss by the Padres or one more win for the Diamondbacks and Cubs would eliminate San Diego.
After the Padres got runners to second and third with one out in the ninth, Giants first baseman LaMonte Wade Jr. fielded Ji Man Choi's grounder and threw home to get a sliding Juan Soto. Webb then got pinch hitter Jurickson Profar to ground out to end it.
The Giants couldn't get much going against Snell — who won the American League Cy Young Award in 2018 with the Tampa Bay Rays — but came through against the Padres' bullpen.
"It's kind of hard to go pitch for pitch with [Snell]," Webb said. "He's going to win the Cy Young. He's the best pitcher in baseball. It's always a pleasure watching him."
Wade began the comeback with a one-out walk against Robert Suarez (4-3) in the eighth. After Marco Luciano doubled and pinch hitter Joc Pederson was intentionally walked, Choi fielded Patrick Bailey's grounder to first and threw home for the forceout.
Conforto, signed in the offseason to add some spark to San Francisco's lineup, then laced a 1-1 fastball down the third-base line to drive in Wade and Luciano as the crowd of 28,559 at Oracle Park roared.
"It was a lightning jolt of energy that we felt in the dugout," said Webb, who has had fewer than three runs of support in 22 of 33 starts.
Snell gave up four hits and walked two in what might be his last start of the regular season. Set to become a free agent this fall, he pitched with runners on base in every inning. He also had six strikeouts to raise his season total to 233, second most in the majors behind the Atlanta Braves' Spencer Strider (274).
It also marked the 23rd consecutive game in which Snell has given up three earned runs or fewer, the longest streak in Padres history.
Manny Machado drove in San Diego's only run with a bloop single in the first. Xander Bogaerts, Fernando Tatis Jr. and Brett Sullivan each had two hits.
The Associated Press contributed to this report.