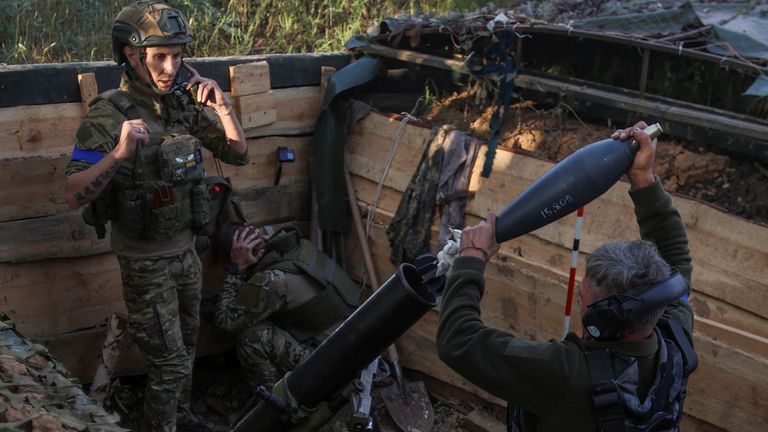 Ukraine's counteroffensive is now into its fourth month. Kyiv's forces, bolstered by Western tanks and weapons, are putting pressure on Russian positions but have yet to achieve a major breakthrough.
But all across Ukraine, there is a sense that things could change very quickly. A section of defences could collapse, and fortunes could turn.
Sky News spoke to military expert Sean Bell about the different parts of the frontline and how each could be a flashpoint, from crossing the Dnipro in the west to the push to liberate Bakhmut in the east.
We've zeroed in on five locations and ask, is this where the war could be decided?
Can Ukraine break through in Zaporizhzhia?
The southern battle-zone in the Zaporizhzhia region is perhaps the most talked about part of the war at the moment.
Bell says this so-called land bridge between Crimea and the Donbas is "the least hard place" for Ukrainians to liberate the most territory.
Ukrainian forces are slowly but steadily pushing south but are coming up against defensive emplacements that Russia has spent months building.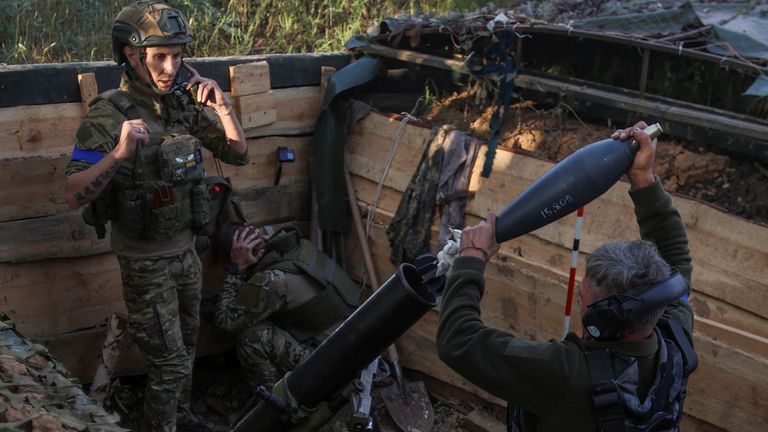 The Surovikin line, named after a Russian general, extends through the area, a triple layer of defences comprising an anti-tank ditch, dragons' teeth obstacles and then defensive positions in trenches.
If Ukrainian forces are able to pierce through in Zaporizhzhia and reach the coast of the Sea of Azov – or at least get close enough to hit the remaining territory with artillery – it would effectively cut Russian forces in half.
"If they can break through all those defences then suddenly there could be a rout of Russian forces in that land bridge," Bell says.
There has been evidence so far during the counteroffensive that Ukraine has been keeping much of its Western tanks and best-trained troops in reserve, waiting for a breakthrough somewhere along the line.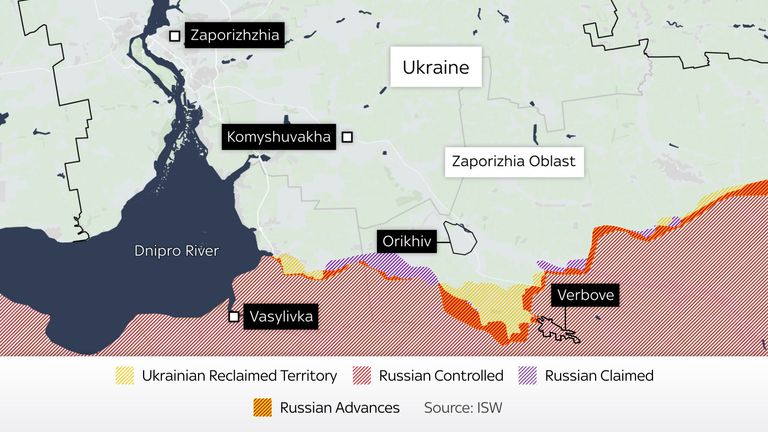 Now, it seems, some of these tanks are being sent in to fight in the battle for Zaporizhzhia.
"You are never sure what will be the chink that will break the dam, you will never know until the crack emerges and the floodgates open.
"The question is whether the Ukrainians then have the stamina and the morale and the equipment to take advantage of it."
Encircling a ruined city – and pinning down Russian forces
The city held out for so long. Waves and waves of Russian soldiers – many of them conscripts and former prisoners – were sent against Ukrainian defences and again and again Bakhmut held.
It was a controversial decision to keep defending the city, and there were many in the West who argued it was a mistake, but in the end it allowed Ukraine to inflict huge casualties on Russia and allow Kyiv time to get hold of Western tanks.
Russian forces, in particular Wagner Group mercenaries who are no longer involved, took the city at great cost.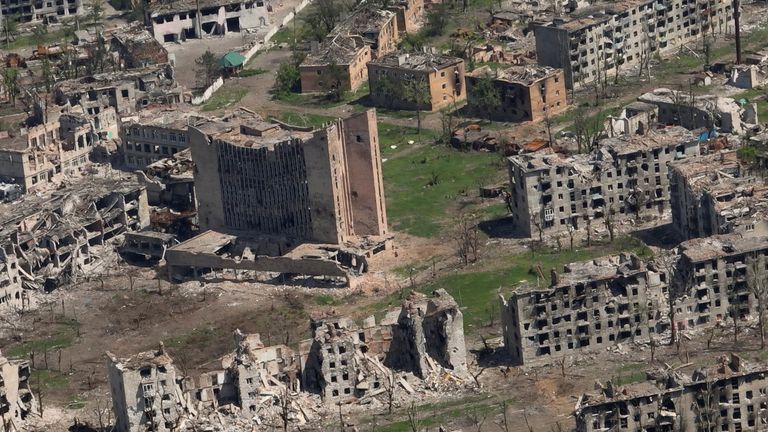 Bakhmut does not exist as a city in the way it did before. Months of constant shelling by Russian forces have raised it to the ground.
It has little strategic value, but as a propaganda piece it is huge for Vladimir Putin.
Now, Ukraine is gaining ground around it. Could Bakhmut be liberated?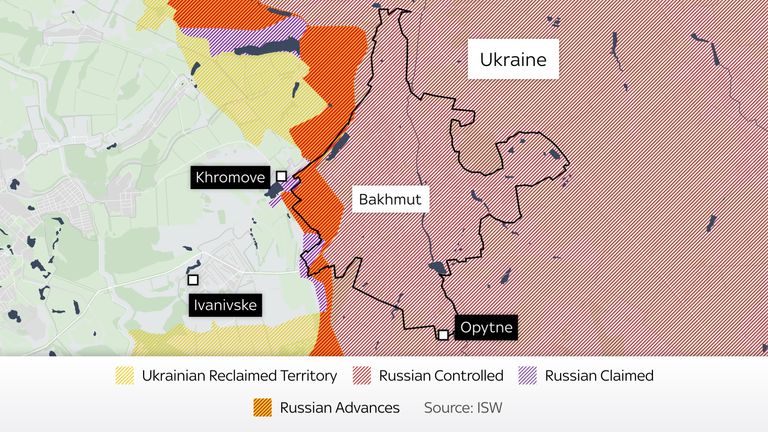 Bell says: "Bakhmut is one of those iconic places and Russia made a big thing of taking it, lost tens of thousands of lives taking it and will not want to lose it again.
"Most of the reports are the Ukrainian progress rather than Russian, but it doesn't feel like there's any momentum at the moment.
"Ukrainian pressure there is all designed to fix Russian forces in place."
Is Russia pushing back in Kharkiv?
One of the main efforts of Russian forces – apart from holding back Ukrainian advances – is trying to take territory in the northeast, near Kharkiv.
Ukraine had great success in that arena last year, carrying out stunning advances around Kharkiv city.
Not only did they buy valuable breathing space for the 'Hero City', they liberated swathes of territory, including Kupyansk and Izium.
Now Russian troops are seeking to reverse some of those gains.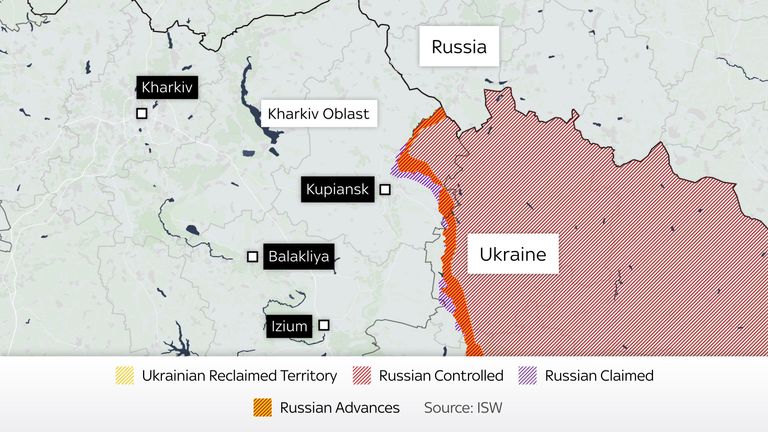 "The lines of communication there are very short for the Russian forces," Bell says.
This is because of how close things are to the Russian border. Unlike in other parts of Ukraine, it's much easier for Russia to resupply and communicate with its troops in the Kharkiv region.
In recent weeks they have claimed to have made advances, and fighting has been fierce and bloody.
Bell adds: "Russia has not been effective at conducting offensive operations since the start of the war – and that was when they had mercenary support with the Wagner Group.
"So it's no great surprise that the Russian military are struggling to make progress."
Crossing the Dnipro while Russia is busy elsewhere
One of the least talked about areas of the frontline is the River Dnipro, near the city of Kherson.
When Ukrainian forces swept through the region and liberated the city last year, the water became the new boundary between them and Russian forces.
This, Bell says, is why Russia blew up the Nova Kakhovka dam in June this year, sending torrents of water over the landscape.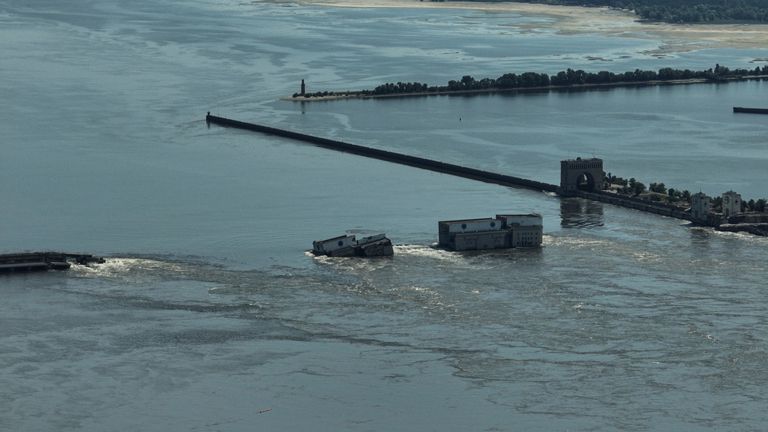 "By blowing the Kakhovka dam that basically said 'right Ukraine you are not going to be able to cross the Dnipro and we are going to leave it relatively unprotected'."
That may have been true a few months ago, but the land is starting to dry out, presenting an opportunity for Ukraine.
"It's a lot more accessible now and almost certainly isn't the Russians' main focus," Bell says.
"It leaves them vulnerable down that flank."
There are even reports that Ukraine has managed to land troops on the other side of the Dnipro.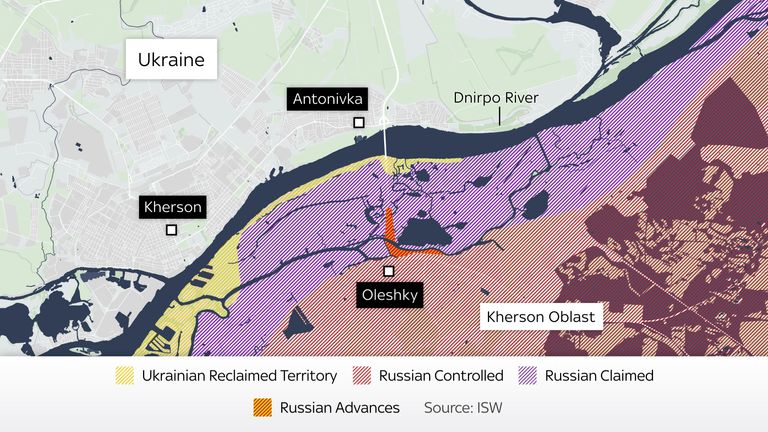 But while that is progress for Kyiv, it's not the same as establishing a beachhead from which they can deploy tanks and heavy weapons.
Bell compared it to D-Day, when the Allies managed to establish control over a chunk of French beach in June 1944 and held it until they could get armour on the ground and push outwards.
But he added that the more Ukraine puts pressure on Russian forces there, the more Kremlin commanders will have to reckon with a difficult choice: weaken their forces elsewhere to shore up the Dnipro, or risk a breakthrough across the water…
Drones, explosives and raids on Crimea
While it's not on the frontline, Ukraine has certainly brought the war to Crimea in recent months.
Wave after wave of maritime drones are harassing Russian ships in the area, the Kerch Bridge has been hit multiple times and Ukrainian special forces have reportedly struck on the peninsula itself.
Crimea is home to Vladimir Putin's prized Black Sea Fleet and is of huge strategic value due to its location on the Black Sea.
It has been in Russian hands since it was annexed in 2014 but Volodymyr Zelenskyy has vowed to return it to Ukraine.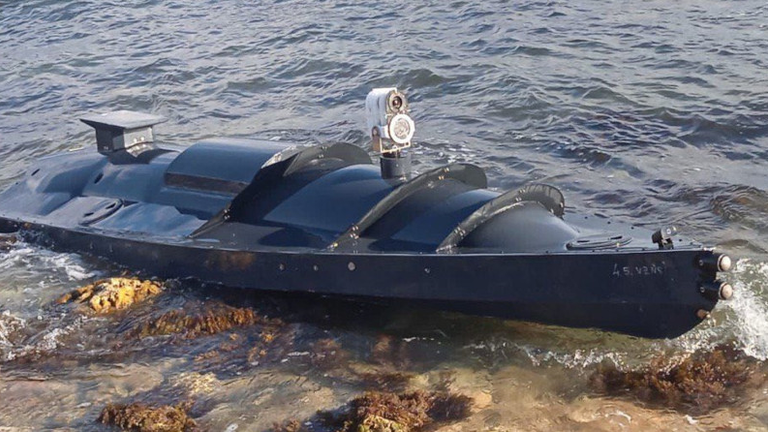 Still, it's very heavily fortified and will be very difficult to capture by force. Indeed, in the Second World War the Axis forces led by Nazi Germany lost 30,000 men in pursuit of Crimea.
So why is Ukraine attacking it? Because putting aside the prospect of seizing the territory, it helps their forces elsewhere.
Bell says "Ukraine has made clear its intent to take it, and what that does is it forces Russia to keep forces back to protect it."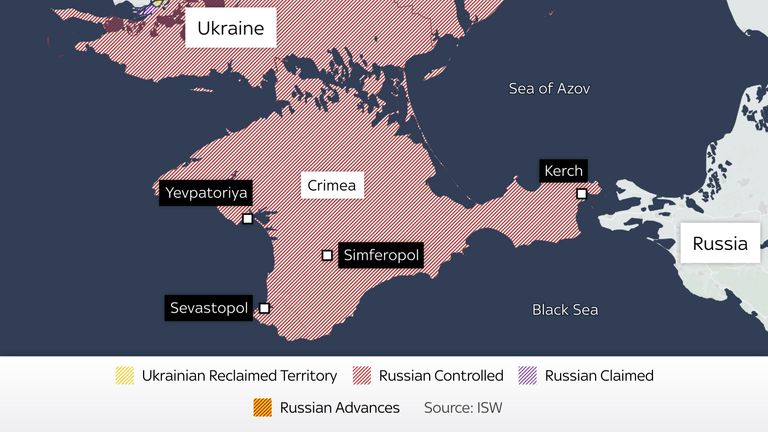 Russia might have 150,000 soldiers in Ukraine, but if it puts them all on the frontline then there is no one to defend Crimea if Kyiv's forces make a breakthrough.
"The more that Ukraine threatens Crimea, the more Russia has to protect it and take its forces away from the frontline."
Viktor Sokolov: Top Russian admiral appears in video call – after Ukraine claimed he was killed in missile strike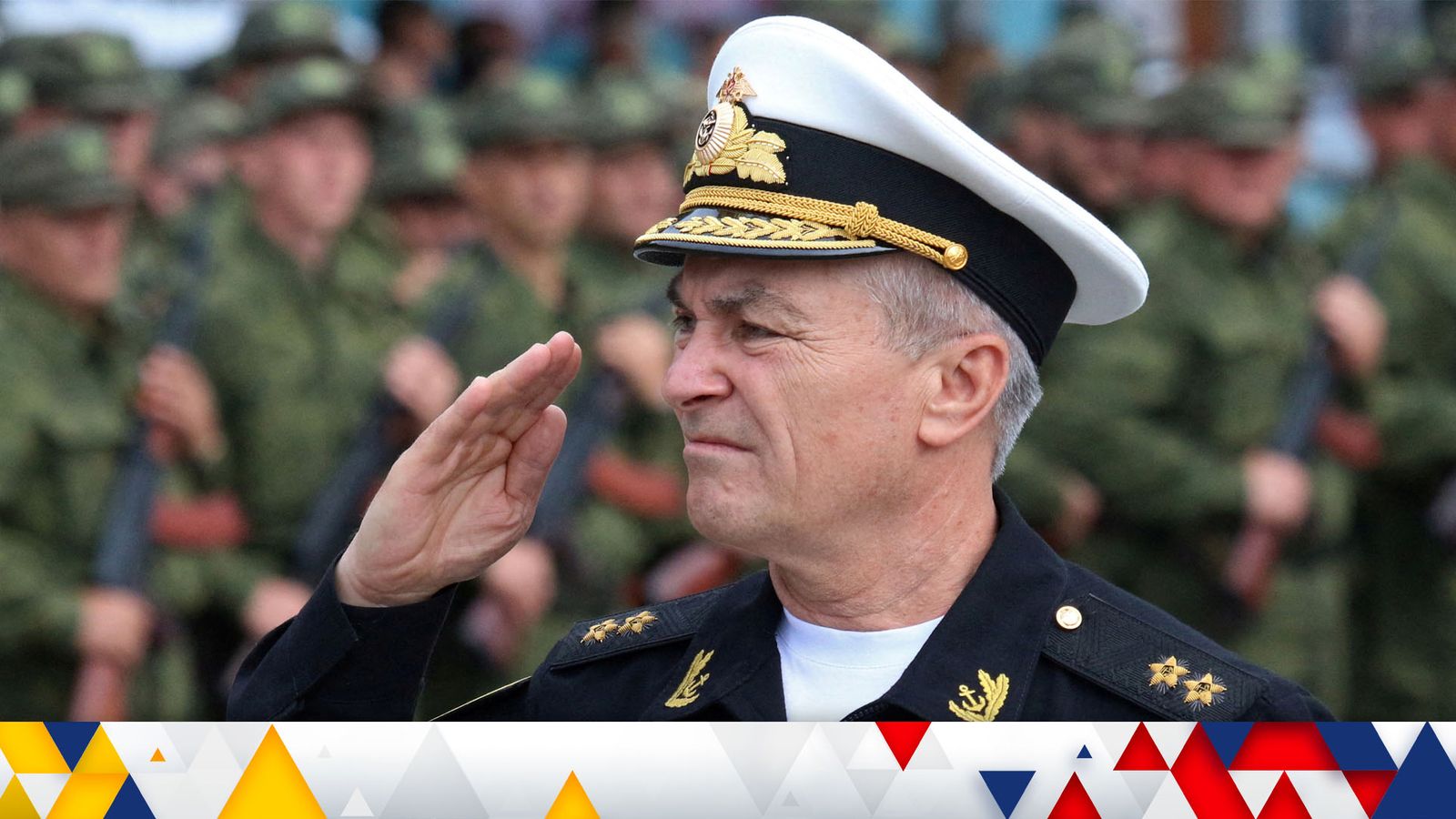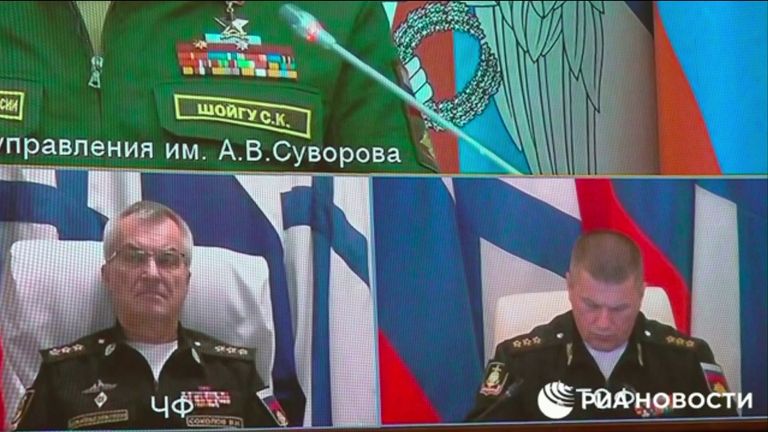 A top Russian admiral has appeared in a video call – a day after Ukrainian special forces claimed he had been killed in a missile strike.
Admiral Viktor Sokolov – the commander of Russia's Black Sea Fleet and one of Russia's most senior naval officers – was reportedly killed in last week's strike on the naval port of Sevastopol, according to Ukrainian officials.
The Russian Defence Ministry did not immediately respond when asked by news agencies to confirm or deny if Mr Sokolov had been killed.
However, the ministry released a video on Tuesday appearing to show Mr Sokolov attending a conference with other top Russian military officials via video link.
Mr Sokolov was not seen speaking in the footage of the conference – led by Russia's defence minister Sergei Shoigu.
It is not clear when the footage was filmed, though Russia's defence ministry claimed the meeting took place on Tuesday.
Ukraine war latest: Russia attacks area bordering NATO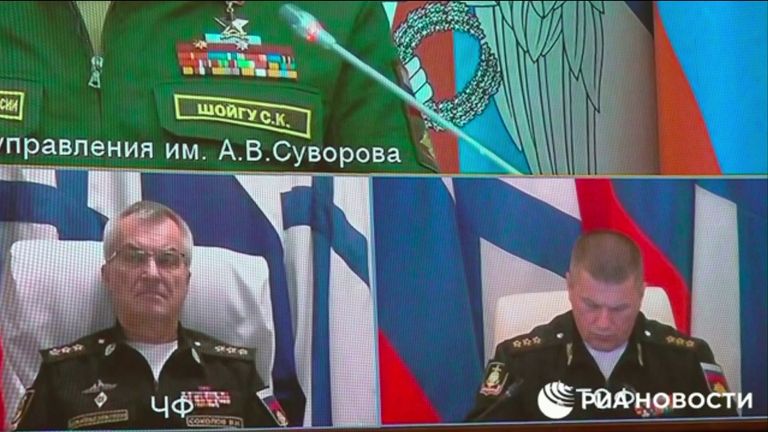 Ukraine special forces said on Telegram: "Since the Russians were urgently forced to publish a response with Sokolov allegedly alive, our units are clarifying the information."
In the video, Mr Shoigu said more than 17,000 Ukrainian soldiers had been killed in September and that more than 2,700 weapons, including seven American Bradley fighting vehicles, had been destroyed.
Both Russia and Ukraine have at times exaggerated enemy losses in the war, while also saying little about their own losses.
Michael Clarke: It is possible Admiral Sokolov lives – but Russia needs to produce more convincing evidence
Sky News' defence and security analyst Professor Michael Clarke says: "We've looked at the video, it's not very clear and it jumps around quite a lot.
"We've located the person on the video who looks most like Sokolov, and it may be him, but it's not a completely clear match.
"It could be Sokolov, looking at previous photographs of him. On the other hand, there's still no proof that this video is really current.
"There's a lot of evidence that Sokolov was in the building that was hit on Friday by a couple of Storm Shadow missiles.
"So it is possible that Sokolov lives. But I think the Russians would have to produce more convincing evidence than this if they want to be taken seriously on this particular issue.
"And it's odd that producing a rather vague video and saying he's here somewhere and leaving it to news organisations like us to try to work out who it might be is less than clear in the message they were trying to send."
On Monday, Ukraine's special forces claimed they had killed Mr Sokolov and 33 other officers in last week's missile attack on the headquarters of Russia's Black Sea Fleet in Sevastopol.
"After the strike on the headquarters of the Russian Black Sea Fleet, 34 officers died, including the commander of the Russian Black Sea Fleet," Ukraine's special forces said on the Telegram messaging app.
Read more:
US delivery of long-range missiles could prove pivotal
What does North Korea want from Vladimir Putin and Russia?
"Another 105 occupiers were wounded. The headquarters building cannot be restored."
Kremlin spokesman Dmitry Peskov declined to comment on Ukraine's claim that it had killed Mr Sokolov, instead referring reporters to the defence ministry.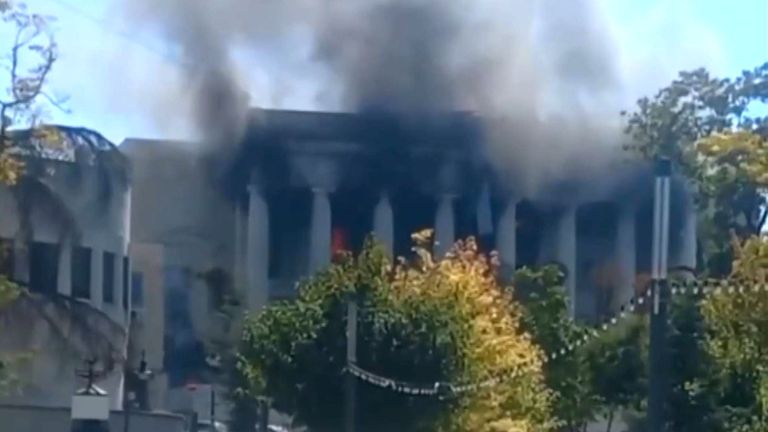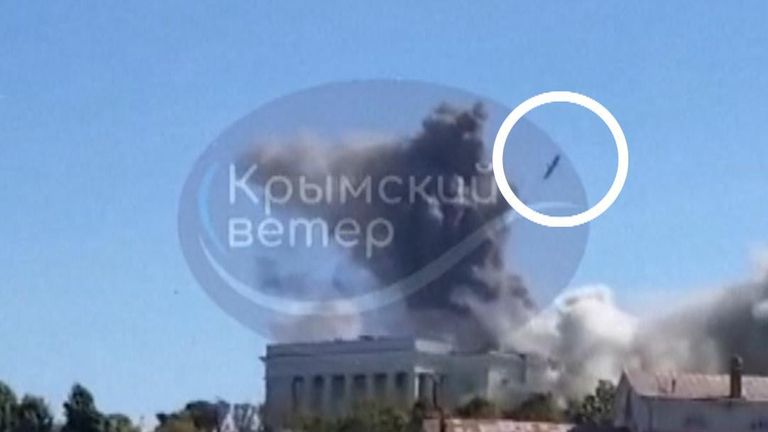 In a statement after the attack, the Russian defence ministry said one serviceman was missing, revising an earlier statement that the man had been killed.
Moscow-installed authorities in Sevastopol also said they were taking extra measures to address Ukraine's increased attacks on Crimea.
The attack came after an earlier strike on Sevastopol, in which a Russian submarine and warship were damaged.
A Ukrainian and a Western source said that British Storm Shadow cruise missiles were deployed in the attack on the port of Crimea, which Russia annexed in 2014.
Alexei Navalny: Russian opposition leader loses appeal against extra 19-year prison sentence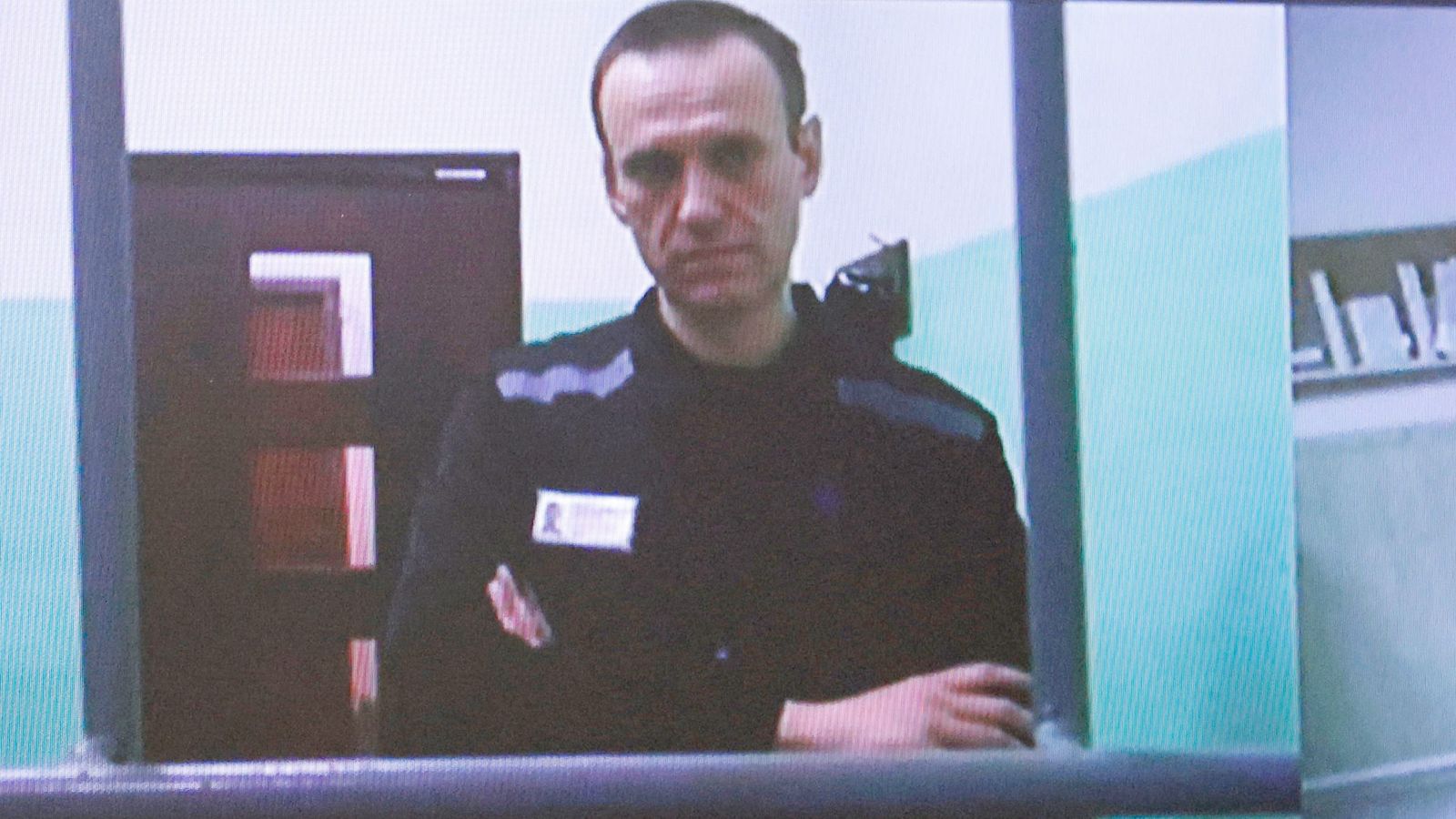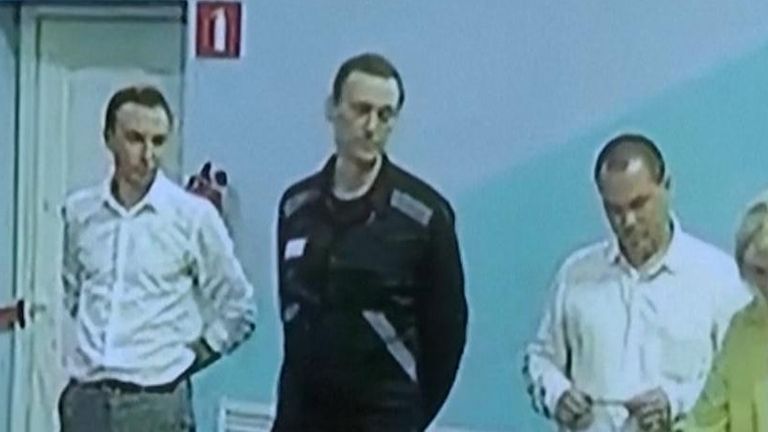 Russian opposition leader Alexei Navalny has lost his appeal against a 19-year sentence added to his existing jail term.
It was imposed in August after he was convicted on six charges related to alleged extremist activity – which he denied.
The appeal was rejected by a judge in Moscow, with Mr Navalny – wearing a black prison uniform – joining by video link from prison.
Media were not allowed to witness proceedings apart from the reading of the verdict.
The 19-year sentence was imposed on top of 11 and a half years that he was already serving after being convicted of fraud and other charges.
Mr Navalny has said all the charges are politically motivated and an attempt to silence his criticism of President Vladimir Putin's repressive regime and the war in Ukraine.
His political movement has been outlawed and declared "extremist", with its main players either being jailed or fleeing Russia.
President Putin makes a point of never referring to Mr Navalny by name as part of an attempt by authorities to portray him as irrelevant.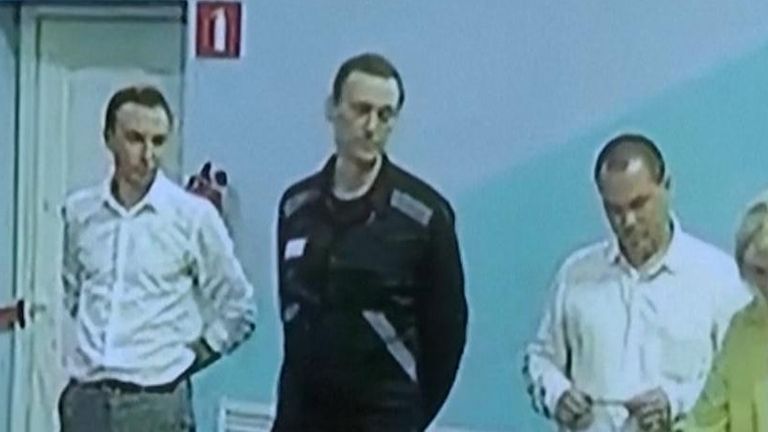 The 47-year-old politician returned to the country voluntarily in 2021 after nearly dying when he was poisoned with a nerve agent in a suspected Russian plot.
He was immediately arrested when he landed and is imprisoned in Melekhovo, about 145 miles (235 km) east of Moscow.
Read more:
Who is the man some hope will overthrow Putin?
Mr Navalny said in the summer that he had been forced to listen to the same speech by President Putin for more than 100 days in a row.
A TV technician who worked for Mr Navalny, sentenced at the same trial in August, also had his appeal against an eight-year sentence rejected on Tuesday.
Daniel Kholodny shouted "Alexei, see you!" just before the video feed of the hearing ended, with Mr Navalny waving his hand in response.
Body of migrant found on Sangatte beach near Calais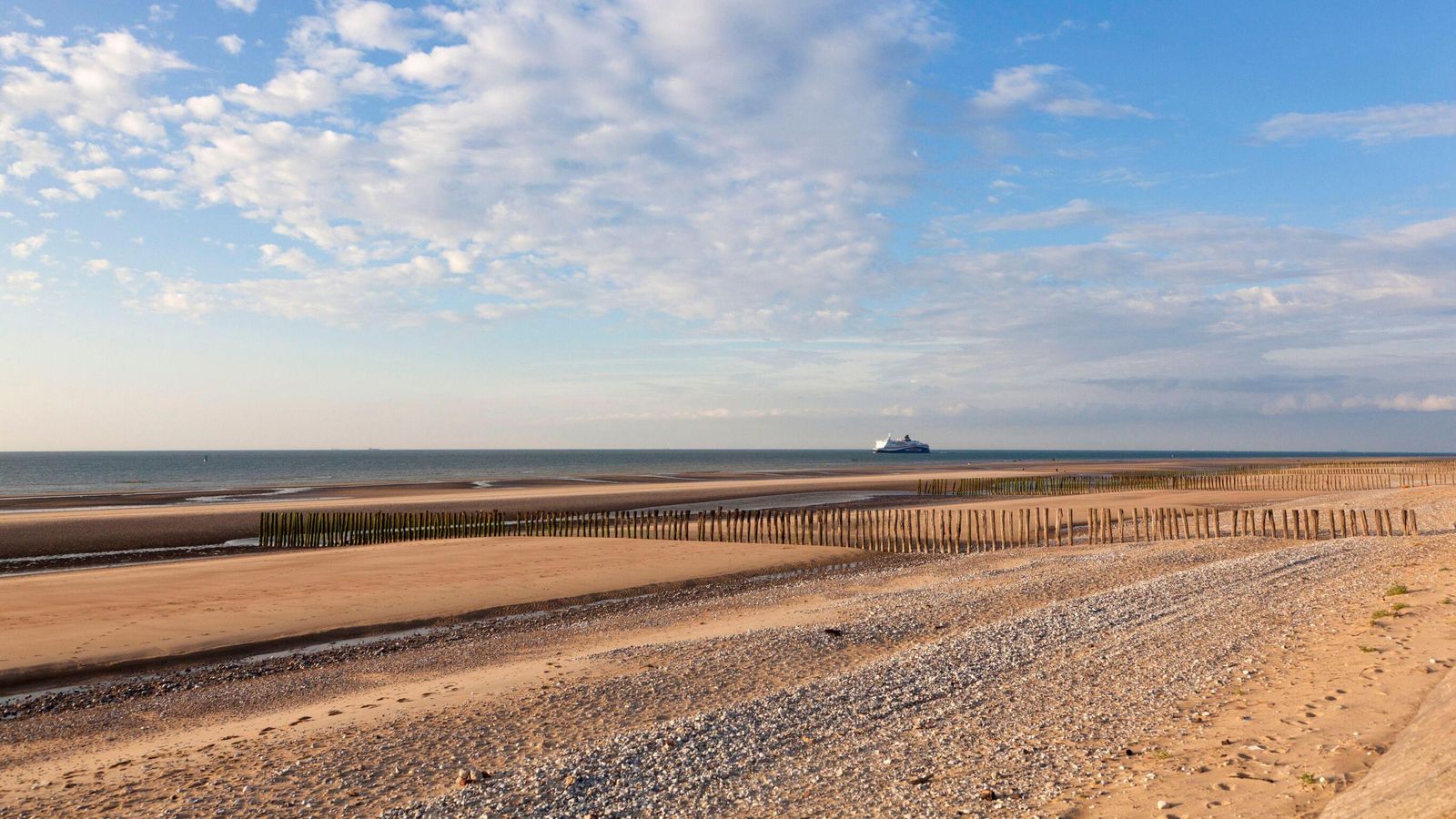 A body of a migrant was found this morning on Sangatte beach near Calais.
The authorities confirmed she was a 24-year-old Eritrean woman.
In August, at least six people died and dozens more were rescued after a migrant boat crossing the English Channel capsized.
The incident took place off Sangatte in northern France.
A vigil was held in the port town of Folkestone for the victims as participants called for "safe routes" and "enough deaths".
This breaking news story is being updated and more details will be published shortly.
Please refresh the page for the fullest version.
You can receive breaking news alerts on a smartphone or tablet via the Sky News app. You can also follow @SkyNews on X or subscribe to our YouTube channel to keep up with the latest news.