As unbeatens keep rolling, devastating Jordan Travis injury gives 2023 its first major plot twist

We've spent 12 weeks waiting for a genuine plot twist in the 2023 season, and Saturday it arrived in devastating fashion.
There were no upsets, of course. Throughout this season, we've seen the favorites hold serve again and again, as Michigan, Washington and Texas did Saturday, narrowly escaping on the road to keep playoff hopes alive, and we've watched Goliath slay every David to cross his path, as Georgia, Ohio State, Oregon and Alabama did this week, too.
The season to this point has been one long wait for someone at the top of the rankings to break serve. We've seen a few minor blips, but with just one Saturday remaining in the regular season, it's been a little like listening to a jam band's encore, where every time we think we've hit a crescendo, we double back to the same beat we've been hearing for the past 45 minutes and you're thinking, "Doesn't Dave Matthews have a family to go home to?"
But Week 12 delivered one seismic shift to the playoff picture, when Florida State QB Jordan Travis, playing the final home game of his brilliant career, went down with a gruesome leg injury.
What that means for FSU's hopes next week against Florida, in the ACC title game against Louisville, or in the eyes of the committee remain unclear. The Seminoles won Saturday, 58-13 behind backup QB Tate Rodemaker, but the final score was little more than a footnote, because Travis' injury looms over everything.
The common refrain among Seminoles fans has been that an undefeated Power 5 champion cannot be left out of the playoff. But that was before the Travis injury.
The problem now for FSU is not simply that it has lost its leader, the beating heart of the program, but that its neighbors in the committee's top 10 have ceded no ground, and Travis' leg will be as much a part of the committee's conversations as Alabama's resurgence or Oregon's dominance.
Indeed, Saturday offered the committee no easy outs.
On Rocky Top, Tennessee pulled out all the stops in hopes of a win over No. 1 Georgia, putting Peyton Manning and Dolly Parton center stage. It didn't matter. Carson Beck threw for three touchdowns, Brock Bowers had six catches in the first half alone, and the drama was non-existent. Credit to Bowers, however. For all he's accomplished in his spectacular career to date, upstaging Dolly marks a new high-water mark.
Dolly Parton joins Peyton Manning at Georgia-Tennessee game
Dolly Parton sings a song off her new album "Rockstar" at the Georgia vs. Tennessee game.
Michael Penix Jr. played arguably the worst game of his tenure at Washington, and it wasn't enough to stop the Huskies' march toward an undefeated season. Penix completed just 13 passes, but seven of them went to Rome Odunze, who accounted for 106 yards and two touchdowns.
Texas seemed intent on bumbling away its Big 12 title hopes against Iowa State. It had two touchdowns called back by penalties, fumbled at the Iowa State 9, and coughed up a 66-yard touchdown to an uncovered Easton Dean in the fourth quarter. And none of it mattered. The Longhorns won 26-16.
Michigan recorded its 1,000th all-time win while Jim Harbaugh watched from his secret underground bunker while wearing an eye patch and petting a cat (we assume).
Bo Nix threw six touchdowns before halftime for Oregon, and Alabama won easily, too, though Ty Simpson's early celebration of a touchdown may have caused Nick Saban's head to melt like he'd just witnessed the opening of the arc of the covenant.
Alabama QB drops the ball before crossing the goal line
Ty Simpson breaks free for the longest run by an Alabama QB in over 20 seasons, but drops the ball just short of the goal line.
It's fitting, perhaps, that Iowa clinched its spot in the Big Ten title game with a 15-13 win, too, because this season has felt like 12 opportunities for fireworks at the top of the rankings that all ended in punts.
At this point, it'd be easy to feel desperate for anything that approached real drama, real chaos, a true shake-up to the status quo.
And yet, the closest thing we got Saturday was perhaps the one thing no one wanted to see.
There's still a chance for chaos in the next two weeks, of course. History suggests we're bound to see it eventually. And when it comes, it'll be a bit less thrilling because one of the nation's best players won't be a part of it.
---
Jeff Brohm's incredible homecoming
A few things folks in Louisville know without any doubt: Bourbon is delicious, horses are raised to race, and Papa John's cinnamon pull-apart is an underrated addition to any pizza order.
Add this one to the list: Jeff Brohm knows how to coach some football.
When Scott Satterfield bolted after last season, the call among Louisville fans was loud, persistent and unwavering: Bring Brohm home. The demands for the Cardinals to hire their former quarterback and hometown hero were so ubiquitous that, during Brohm's introductory news conference, athletic director Josh Heird all but said he'd had no choice in the matter.
On Saturday, Brohm repaid fans for that support by punching the Cardinals' ticket to the ACC championship game, keeping the Louisville's long shot hopes for a playoff berth alive, and, to top things off, won them a shiny bronzed pair of boots.
Louisville clinches spot in ACC title game with win over Miami
Louisville holds on late for a 38-31 win over Miami, clinching a spot in the ACC title game.
Louisville downed Miami 38-31 on Saturday behind three touchdown passes from Jack Plummer, securing a chance to play Florida State for the ACC title. The Cardinals did it with their top two offensive weapons — Jawhar Jordan and Jamari Thrash — battling nagging injuries. Louisville won by inverting the playbook that had served them so well all season, in yet another example of Brohm's offensive brilliance.
With Jordan limited to just nine carries, Louisville still ran for 162 yards and two touchdowns against a stout Miami front.
With Thrash held to just one catch, the Cards turned to their tight ends — a unit that had just 17 catches all season — to the tune of nine catches for 110 yards and a touchdown.
Fourteen different players had an offensive touch, including a TD grab from offensive lineman Trevonte Sylvester, and just a week after No. 4 Florida State struggled to a 27-20 win against Miami in which it mustered just 322 yards of offense, Louisville hung 38 points and 470 yards on the Canes.
The win earned Louisville possession of the Schnellenberger Trophy — a bronzed pair of the former Cards and Canes coach's boots, given this year for the first time. They're bound to look exceptional in the trophy case.
More importantly, the victory punched Louisville's first ticket to the ACC's title game, where it will face FSU with an opportunity to, at long last, make a genuine national statement.
This, of course, has been Louisville's blessing and curse in 2023. The Cardinals won the schedule lottery, missing FSU, Clemson and North Carolina in the regular season and providing a smoother path to this point. On the other hand, the light schedule — No. 84 nationally, according to ESPN — has meant there are still ample critics who believe Louisville is a paper tiger. Add in a loss to woeful Pitt, and the Cardinals have largely played the role of playoff footnote, despite the now 10-1 record. Never mind that Louisville now has five wins over bowl-eligible Power 5 foes, matching Alabama and Florida State for the most in the country.
It's a fool's errand to figure out the logistics of Louisville's playoff path at this point. There is a path, to be sure, but it's quite fuzzy right now.
So instead, enjoy a nice victory cigar — or, in Schnellenberger's honor, a victory pipe — to celebrate this historic win. And when the next set of playoff rankings arrives Tuesday, we can start wondering how much more history these Cardinals can write.
---
Down go the Dukes
Appalachian State channeled its inner Alexander Hamilton and thwarted James Madison on Saturday 26-23 in overtime, ending the Dukes' magical 10-0 start to the season.
The Mountaineers led throughout, but JMU receiver Elijah Sarratt made a ridiculous catch at the goal line with 57 seconds to play to pull the Dukes to within two, then tied it with an even more impressive reception on a 2-point try.
Jordan McCloud makes two clutch plays to even score for JMU
Jordan McCloud finds Elijah Sarratt for a TD, then the two connect again to convert on the two-point conversion.
The conversion sent the game to overtime, where JMU scored first, connecting on a 25-yard field goal.
App State answered, however, with a Joey Aguilar pass to Kaedin Robinson, who spun near the goal line, narrowly getting the ball into the end zone for the win.
James Madison falls to 10-1 on the season, its first loss in more than a calendar year. Several Virginia politicians, however, will be filing suit to overturn the loss in court unless the Sun Belt decides it didn't really count.
---
Aggies have Freeze's number
It began with a home loss to UMass.
This is not the way any good story begins. The amount of truly amazing things that would have to follow for the story to end well is essentially incalculable.
But that's what makes New Mexico State's season so utterly, wonderfully, unbelievably thrilling. It started with a home loss to UMass, and now is unquestionably the best season the program has had in more than 60 years, and it reached its crescendo Saturday with a dominant 31-10 win over Auburn at Jordan-Hare Stadium.
The Aggies were a 25.5-point underdog Saturday. They won by three touchdowns.
The last time that happened in an FBS game was just last year. The victor in that game, too, was New Mexico State over Liberty. The losing coach, too, was Hugh Freeze.
Saturday's win was emphatic. Diego Pavia threw for three touchdowns. The Aggies rushed for 213 yards. The defense held Auburn to just 213 yards of total offense. It's the biggest moment for the state of New Mexico since the final season of "Better Call Saul."
According to ESPN Stats and Information, it's the biggest upset of an SEC team since South Alabama beat Mississippi State in 2016, but the point spread only reflects how little the general public seems to appreciate how good this New Mexico State team is. The Aggies have now won seven straight games and are 15-4 in their past 19. Jerry Kill has made his case not just as a coach of the year candidate, but arguably for a Nobel Prize. Prior to his arrival, New Mexico State's most impactful moment in the past half-century involved having its luggage stolen off the team bus in Gainesville, Florida. Now, they're set to play in the Conference USA championship game against Liberty. Kill has now won seven games in back-to-back years at New Mexico State. The program had won seven games in a season just twice in the prior 54 seasons.
Long story short, the takeaway from all this is simple: UMass is better than Auburn.
---
The rumors of Chip Kelly's demise may have been a tad premature.
Just days after rumblings of his imminent firing, Kelly led his Bruins to an emphatic 38-20 win over USC in what may have been Caleb Williams' last college game.
UCLA athletics director Martin Jarmond denied the rumors that Kelly's job was in trouble, but the win certainly helps solidify his position as the Bruins prepare for a move to the Big Ten next season.
Saturday's loss marked the regular-season finale for USC, and with it, likely the final appearance for Williams, the reigning Heisman winner. Williams threw for 384 yards, but he was upstaged by UCLA's Ethan Garbers, who returned from an injury to throw three TD passes against the maligned Trojans defense. USC has now allowed 34 points or more in eight straight games, the longest streak by a Power 5 defense since Kansas in 2021.
Lincoln Riley has now lost five of his past six and is 5-7 in his last 12 against Power 5 opposition. Three of those five wins have come by a combined 10 points.
In other words, the bigger story coming out of Saturday's action isn't where UCLA goes from here, but how the once-heralded Riley begins to rebuild USC without his superstar QB amid so many lingering questions.
For comparison, he's now 18-8 in 26 games at USC. Lane Kiffin was 19-7 in his first 26 while dealing with NCAA sanctions.
So, perhaps Riley gets things turned around with a new defensive approach in 2024. Or perhaps USC should move one of its HR folks over to an office at the charter terminal at LAX.
---
Hartman scorches Wake
For five years, Sam Hartman called Wake Forest home, setting school records for touchdowns, passing yards, completions and ribs removed.
On Saturday, he faced his old team, and he showed absolutely no mercy. Hartman led Notre Dame to a 45-7 win over Wake, throwing for 277 yards and four touchdowns in the process.
In Hartman's absence, Wake has been unable to find any success at the quarterback position. Michael Kern became the third different QB to start for the Deacons this season, completing just 11 of 20 passes for 81 yards. Wake has just two passing touchdowns in its past seven games — six of them losses.
Hartman, meanwhile, passed Graham Harrell for fourth all-time in FBS passing yards and passed Colt Brennan, Rakeem Cato and Baker Mayfield to move into sole possession of fourth in passing touchdowns. And he's done it all in only 16 years as a college player.
---
Wolves run wild
In just a little more than 10 minutes of game action at the end of the third quarter and start of the fourth, Arkansas State accomplished the following:
Recovered a fumble and returned it for a touchdown

Kicked a 58-yard field goal

Intercepted a pass and returned it 87 yards for a touchdown

Intercepted another pass and returned it for a 50-yard touchdown

Saved Butch Jones' job, got bowl-eligible, were awarded the 2023 champions of life trophy
Texas State Bobcats vs. Arkansas State Red Wolves: Full Highlights
Texas State Bobcats vs. Arkansas State Red Wolves: Full Highlights
The Red Wolves whooped Texas State 77-31, scoring three times on defense, while the offense added touchdowns of 41, 42 and 57 yards.
In fact, Arkansas State ran just 57 plays in the game, meaning the Red Wolves averaged 1.35 points per play.
Arkansas State is bowl-eligible for the first time since 2019, and its six wins are more than the Red Wolves managed in their past two seasons combined.
Arkansas State is the fourth team this season to score at least 77 — joining, among others, Texas State! — but is the first to do it vs. an FBS opponent since SMU hung 77 on Houston in Week 10 of last season, and is just the 11th team to do it in the playoff era.
---
Michigan survives a scare
It has been a wild week in Ann Arbor. Jim Harbaugh declared Michigan to be "America's Team," which, honestly, is only a bit more disingenuous than the Cowboys using that moniker.
The school then abandoned its quest to absolve Harbaugh of any wrongdoing in the sign-stealing scandal, accepting the Big Ten's three-game suspension, which began last week. An NCAA investigation continues, however, so we can expect that to be wrapped up some time around summer 2036. Then on Friday, the school fired linebackers coach Chris Partridge reportedly for obstructing the investigation and possibly destroying potential evidence.
The week concluded with Michigan surviving a scare from Maryland, defying the Terps' late comeback and coming away with a 31-24 win.
That Michigan managed just 291 yards of offense, or that J.J. McCarthy looked frazzled at times in the pocket, or that the ground game that dominated Penn State mustered just 3.3 yards per carry all might seem like cause for concern ahead of The Game next week, but this is Michigan, and Harbaugh's boys don't worry about little things like offensive struggles.
After all, are we all naïve enough to assume Harbaugh spent five games this season just twiddling his thumbs while suspended? No, he spent only two of them thumb-twiddling and that was just to prove that no one on the planet could twiddle better than him. The rest of the time, he's been secretly plotting against Ohio State, sewing a Ryan Day voodoo doll (and a nice set of mittens) and scheming up the perfect game plan to take down the Buckeyes for the third straight year.
---
Aggies win without Fisher
Jaylen Henderson racked up 287 yards of offense and two touchdowns to lead Texas A&M to a 38-10 win over Abilene Christian in the team's first game after Jimbo Fisher was fired.
Moose Muhammad III might have taken a slight jab at Fisher during pregame warmups, when he appeared wearing sleeves — something he was supposedly once benched for doing under Fisher. The move apparently worked well, because he finished the game with four catches for 104 yards and a touchdown.
BREAKING NEWS: Texas A&M WR Moose Muhammad has sleeves on. pic.twitter.com/1lNQgVJawX

— 𝕋𝕣𝕒𝕧𝕚𝕤 𝕃. 𝔹𝕣𝕠𝕨𝕟 (@Travis_L_Brown) November 18, 2023
It was a strong start for the post-Fisher era at A&M, and if the school's top boosters were all smart enough to wager $77 million on Abilene Christian +40.5, then pretty much all the Aggies' problems have been solved.
---
Checking receipts
The bad news for Colorado? After Friday's horrid 56-14 loss to Washington State, the Buffs' bowl hopes are over.
The good news? Deion Sanders is going to have so many receipts after the way this season has ended, he's going to need to buy a new wallet.
After a 3-0 start to the season that made Colorado the talk of the college football world, things have unraveled faster than an F1 race in Las Vegas, with the Buffaloes dropping seven of eight, demoting their offensive coordinator and revoking DJ Khaled's sideline pass because he refused to jump in on the O-line for a few series in hopes of finding anyone who could keep Shedeur Sanders upright.
Perhaps the lasting lessons of this Colorado story is that you can't build a team overnight. Or maybe it's that you shouldn't jump to conclusions three weeks into a season. Or maybe it's that any truly good story requires a little steak with its sizzle. The important thing is that none of us learn any of these lessons and when Coach Prime has the Buffs at 3-0 again next season, we completely buy in all over again.
---
Heisman Five
It's still too soon to suggest we have a clear-cut Heisman favorite, but Week 12 gave us a leader in the clubhouse for the 2023 Reverse Heisman, because you'll be hard pressed to find a play this ugly that doesn't include the term "Butt Fumble." So, congrats to Colorado's Gavin Kuld, who had a batted ball, a reception and an interception all on the same play. We'll see you in — um, wherever the Reverse Heisman ceremony is held. Newark, New Jersey, we assume.
Colorado QB catches his own pass and then throws disastrous INT
Colorado backup QB Gavin Kuld catches his own deflected pass and then throws an interception trying to make a play.
As for the guys still battling for an invite to New York …
1. LSU QB Jayden Daniels
Daniels put up 509 yards and eight touchdowns in a blowout win over Georgia State on Saturday, and frankly it's getting to a point where, regardless of LSU's three losses, there's simply no argument against Daniels' magic. It's also worth noting that Daniels has a 91.7 Total QBR in the three games the Tigers lost.
LSU's Jayden Daniels dominates with 8 total TDs, 500+ yards
Jayden Daniels leads LSU to a dominant home showing with six passing touchdowns, two scores on the ground, and 509 total yards.
2. Ohio State WR Marvin Harrison Jr.
Harrison had just three catches for 30 yards in the win over Minnesota, but he did haul in a TD for the seventh straight game. Besides, who could blame Harrison for saving his best for next week?
According to the experts in Las Vegas, Nix is the favorite to take home the hardware. He did nothing to discourage that perception Saturday, utterly demolishing Arizona State Sun Devils to the tune of 404 yards and six touchdowns. Nix's numbers are off the charts, but it's also worth noting he's faced just one defense ranked in the top 40 (by SP+), while Arizona State marked the seventh he's faced from the bottom half of the rankings.
4. Washington QB Michael Penix Jr.
Penix didn't deal well with the elements — or Oregon State's defense — on Saturday, but he did enough to pull out another win for Washington. He completed just 13 of 28 passes for 162 yards and two touchdowns, but he also had two critical runs to keep drives alive, including one for a score.
5. Florida State QB Jordan Travis
Odds are, this is the last week we'll be able to have Travis here. His injury against North Alabama was gruesome, and the implications will be felt for weeks to come. But more than anything, it's such a brutal end to one of the genuinely great college football success stories. Three years ago, Travis was on the verge of walking away from the game after being dismissed again and again by coaches. But he resurrected his career — and Florida State's program, too. He won't win the Heisman, and FSU's odds of winning a national title took a big hit, too. But it's still fair to say there won't be many Seminoles in the program's rich history more beloved for what he's done on and off the field than Travis.
---
Quick hits
Iowa clinched a berth in the Big Ten title game in perfect Iowa fashion, edging Illinois 15-13 on a 30-yard Kaleb Johnson run with 4:43 to play. It was Iowa's fifth win of the season in which it scored 20 points or less. No other Power 5 team has more than two. Iowa remains the Pete Davidson of College Football: Strange, endearing, riddled with issues and inexplicably successful. We're mere weeks from Brian Ferentz dating a Kardashian.
NC State entered Saturday as the only Power 5 team with seven wins to remain unranked by the College Football Playoff committee. That should change next week.
The Wolfpack beat Virginia Tech 35-28 behind four touchdowns from Brennan Armstrong, and NC State has won eight games for the fourth straight season. The only other Power 5 teams to do that? Georgia, Alabama and Notre Dame. (Clemson can join them with one more win this season.)
Playing without a slew of starters and possibly using several random guys they found waiting for a table at Red Iguana, Utah's quest to cover for their injuries finally came to a screeching halt against red-hot Arizona. The Utes have fought valiantly against unyielding attrition this season, but a week after what felt like a last-stand loss to Washington, they had no answers for the Wildcats. Noah Fifita threw for 253 yards and two touchdowns, and Arizona rolled to its eight win of the season, 42-18. A win against rival Arizona State next week would get Arizona just its second nine-win campaign since 1998.
Will Howard accounted for three touchdowns as Kansas State won the Sunflower Showdown 31-27. Devin Neal had three rushing TDs for Kansas, but the loss likely dooms any hope of the Jayhawks finishing a season in the top 25 for the first time since 2007. On the other hand, Kansas basketball beat Manhattan last week, so overall the Jayhawks got a split with teams from Manhattan.
Last week, Arkansas was embarrassed on the field by Auburn 48-10 and off the field when reports emerged that players had watched "Polar Express" during halftime of the game. Obviously, head coach Sam Pittman was livid because it's simply not appropriate to start watching Christmas movies before Thanksgiving. But Saturday, the Hogs rebounded nicely, torching FIU 44-20 behind three touchdowns from KJ Jefferson. Pittman was so pleased with the performance, he allowed a postgame viewing of "Fred Claus."
SMU narrowly edged Memphis 38-34 behind three touchdowns from QB Preston Stone, including this 43-yard bomb on fourth down in the first quarter.
Preston Stone throws 43-yard touchdown pass vs. Memphis
Preston Stone throws 43-yard touchdown pass vs. Memphis
LJ Johnson Jr. added 115 yards and a touchdown on the ground, and the Mustangs move to 7-0 in conference play. A win next week against Navy would assure SMU a trip to the AAC title game in its final season in the conference.
The Mustangs will play either Tulane or UTSA, both of whom won in Week 12 and remain undefeated in the league. The two face off in the regular-season finale next week.
Northwestern is officially bowl eligible after topping Purdue 23-15. The win follows the announcement earlier this week that David Braun would have the interim tag removed from his title (a process that involves a lot of Wite-Out and some of those Mr. Clean magic erasers) and become the team's full-time head coach. The six wins are two more than Northwestern had in Pat Fitzgerald's final two seasons there, and the latest results marked the school's first back-to-back wins since November 2020.

Penn State parted ways with offensive coordinator Mike Yurcich after last week's frustrating loss to Michigan, but the team paid a proper tribute Saturday by throwing for just 88 yards in a 27-6 win over Rutgers. Fun fact: There have been 13 wins by Power 5 teams this season when throwing for 90 yards or less. Seven of them are from Big Ten teams. It's no wonder the league is getting more than $1 billion a year.
---
Under-the-radar play of the week
Last week, Wofford escaped winless The Citadel to earn its first win of the season. Saturday, it got win No. 2 in much more impressive style.
The Terriers handed 9-1 Furman its first conference loss, 19-13, thanks in large part to a 64-yard fumble return by Maximus Pulley.
Wofford's scoop-and-score TD highlights upset win over Furman
Maximus Pulley returns a fumble 64 yards to the house for Wofford in a win over FCS No. 2 Furman
It was a big moment for Pulley, who we assume, based on his name, had not enjoyed that type of success since winning the 1994 World's Strongest Man competition.
---
Under-the-radar game of the week
Week 12 had five bowl bowls — i.e. games in which the winner earned bowl eligibility — and none was more entertaining than Texas Tech's 24-23 win over UCF.
The Red Raiders fell behind 14-0, roared back to take a 24-17 lead, then saw John Rhys Plumlee hit Javon Baker for a 71-yard touchdown that might've tied it up, if not for a missed PAT.
But the game was sealed by Texas Tech's offense, which ran the final 5:30 off the clock on an 11-play drive in which just one snap went for more than seven yards.
The Red Raiders are now bowl eligible alongside South Alabama (who beat Marshall 28-0), Georgia Tech (who beat Syracuse 31-22) and Boise State (who beat Utah State 45-10).
Wisconsin also is bowl eligible in Luke Fickell's first season with the Badgers, while Matt Rhule will need an upset over Iowa next week to get to six wins in his first year at Nebraska, after falling 24-17 in overtime Saturday. The Huskers have lost their past three, all by one possession. Nebraska is now 7-24 in one-possession games since 2019.
College Football Playoff first look: Previewing Michigan-Alabama and Washington-Texas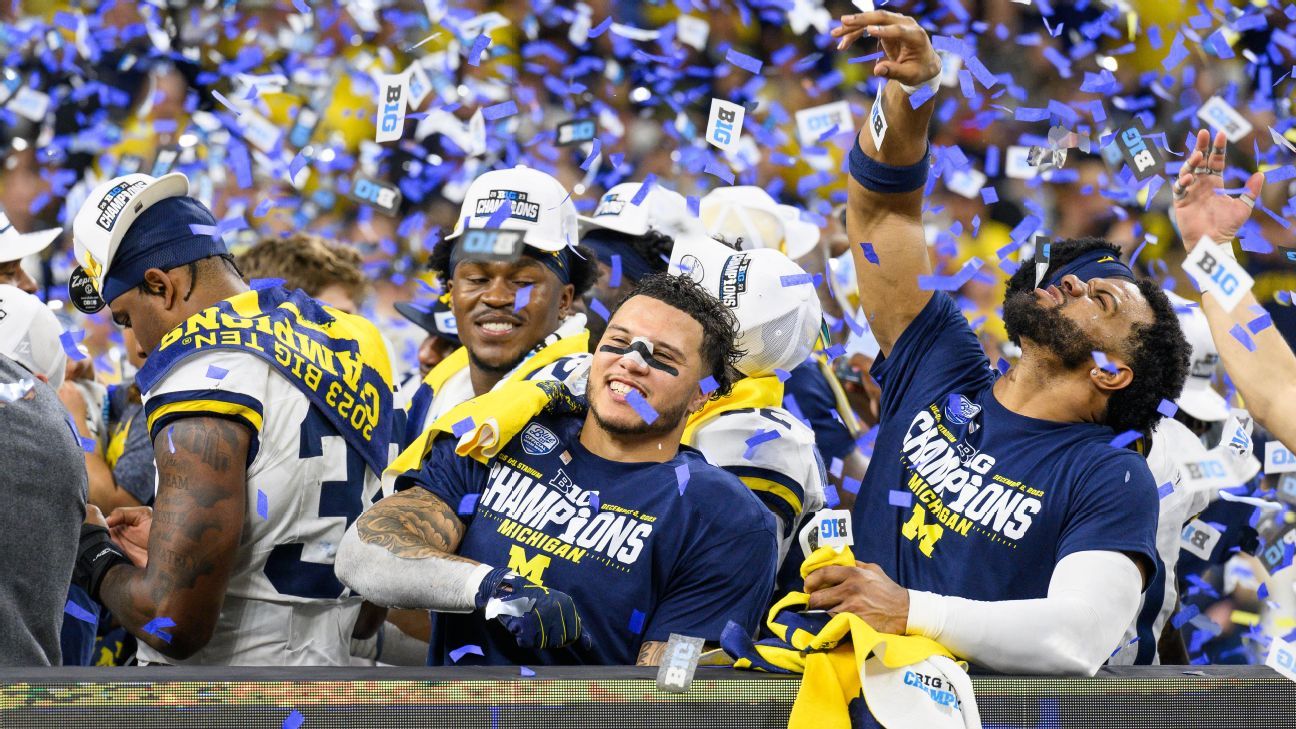 The final four-team College Football Playoff field is set, with the selection committee having to make the toughest decision it had ever faced.
We knew going in that history would be made and that at least one team and its fan base would be left with some serious gripes. Would an unbeaten Power 5 champion be left out for the first time? Would the SEC be shunned? Would the No. 1 team going into the conference championship games fall out?
In the end, Big Ten champion Michigan was awarded the No. 1 seed and will face No. 4 Alabama of the SEC. In the other semifinal, Pac-12 champ Washington, the No. 2 seed, will face No. 3 Texas of the Big 12.
Here's our first look at the four-team field, including key players, X factors and what each team has to do to win it all.
---
No. 1 Michigan vs. No. 4 Alabama
CFP Semifinal at the Rose Bowl Game presented by Prudential
When: Monday, Jan. 1, 5 p.m., ET
Where: Rose Bowl (Pasadena, California)
How to watch: ESPN and ESPN App
Key player: RB Blake Corum
Corum tied Michigan's career rushing touchdown record in the Big Ten championship game with his 55th TD. He has carried the load for the Wolverines the past few seasons and the offense has gone through him. He led all FBS running backs with 24 touchdowns and had his third 1,000-yard season. When Corum is productive, it opens up the rest of Michigan's offense and creates an easier path for the passing game. Corum is a team leader as well, and his two touchdowns against Ohio State put Michigan over the top and propelled the Wolverines toward the playoff.
X-factor: CB Mike Sainristil
Sainristil doesn't get a lot of the attention, but he has been a leader on Michigan's defense. He came up with two forced fumbles in the Big Ten championship game against Iowa and was integral in stopping the Hawkeyes offense. He had 30 total tackles on the season and four interceptions along with six pass breakups. He started his career at receiver before making the switch to corner, and over the past two seasons has built himself into a potential NFL draft pick on defense.
How Michigan wins: The offense performs at its peak
The offense hasn't been at its best the past few weeks, but has done enough to stay undefeated. In the postgame press conference after the Big Ten title game, Jim Harbaugh said the team will have to clean up some things up in pass protection and the run game in order to have success in the playoff. The defense has been outstanding all season, but against the teams that Michigan will face in the playoff, the Wolverines will have to put up more points. That means Corum putting up big numbers and quarterback J.J. McCarthy complementing the run game with the passing attack we saw early in the season. — Tom VanHaaren
Key player: QB Jalen Milroe
Since his benching against South Florida in Week 3, Jalen Milroe has been one of the most dynamic players in college football. He has accounted for 28 touchdowns and turned the ball over just five times in leading the Crimson Tide to 11 straight wins. His ability to scramble for big gains and buy time in the pocket make him extremely difficult to defend for any defense, but he also has a big arm and has repeatedly connected with his receivers on deep throws. Georgia coach Kirby Smart compared the 6-foot-2, 220-pound Milroe to Lamar Jackson last week because of his acceleration in the open field and arm strength to push the ball down the field. Alabama coach Nick Saban said the Crimson Tide wouldn't be in this position had Milroe not responded to his benching the way he did and continued to improve and "be our point guard." Milroe's decision-making has gotten significantly better as the season has progressed, and he said a lot of that is because he's played with more freedom and confidence since Saban told him unequivocally that it was his job.
X factor: OLB Dallas Turner
Turner has been Alabama's biggest disruptor on defense. The junior is the Tide's best pass-rusher and can change the complexion of a game with a big sack or a tackle for loss that kills an opposing offense's drive. Turner leads Alabama with 14.5 tackles for loss, 9 sacks and 13 quarterback hurries. Championship teams need a big-play defender who can cause the opposing offense to get out of its rhythm. The 6-4, 252-pound Turner is that player for the Crimson Tide.
How Alabama wins: By hanging around and being there at the end
Alabama has been one of the more resilient teams in the country. The Tide trailed five times in the second half in SEC games this season and rallied to win. In other words, they know how to win close games, and the more they've played, the more confident they've become in being able to finish games. Alabama's offense isn't necessarily built to get into high-scoring showdowns and having to come back from big deficits. But if the Tide are in the game in the fourth quarter, that's their comfort zone. They don't get rattled, and Milroe has delivered in pressure-packed situations. — Chris Low
---
No. 2 Washington vs. No. 3 Texas
CFP Semifinal at the Allstate Sugar Bowl
When: Monday, Jan. 1, 8:45 p.m. ET
Where: Caesars Superdome (New Orleans)
How to watch: ESPN and ESPN App
Key player: WR Rome Odunze
Even as quarterback Michael Penix Jr. generated Heisman Trophy consideration, Odunze has always been the Huskies' best player. Whenever the team has needed a big play, Odunze has gotten the call. It happened, most notably, in the final minutes against Oregon in the regular season, when he hauled in the game-winning touchdown. And then, again, in the Apple Cup when he took an end around to pick up a monumental first down on fourth-and-1 from the Huskies' 29-yard line. Odunze finished the regular season No. 4 in the country in receiving yards (1,326), No. 6 in receiving touchdowns (13) and is sure to be one of the first receivers off the board in the upcoming NFL draft.
X factor: RB Dillon Johnson
As teams devoted more effort to stopping the Huskies' prolific passing offense as the season went along, Johnson became a more valuable asset. He rushed for 615 of his 961 regular-season yards over the last five games with seven touchdowns in that span. The Mississippi State transfer ran 28 times for 152 yards and two scores to help take down the Ducks on Friday night and should be a key factor in this game.
How Washington wins: Penix finds his early-season form
At the halfway point of the season, Michael Penix Jr. was the clear Heisman front-runner. He had the numbers. He passed the eye test. There wasn't anything, it seemed, that could slow him down. But as the season went along, something felt off. He was still good enough to lead the Huskies to a 12-0 mark and ranked No. 2 in passing yards (3,899), but his accuracy regressed and the big plays weren't as plentiful. When he's at his best, though, Washington can beat anyone, as evidenced by the Huskies' 34-31 win over the Ducks on Friday, when Penix threw for 319 yards and a score. — Kyle Bonagura
Key player: DL T'Vondre Sweat
Sweat came back for a super senior year to try to help Texas complete its turnaround. It's fair to say that decision has been a massive success, as Sweat became a force in the interior as the Big 12 defensive player of the year and helped the Longhorns win the conference championship. At 6-4 and 362 pounds, Sweat is literally a massive piece of the Texas defense. But as big as he is, he's so quick and agile that he wreaks havoc even on passing plays, despite having just two sacks on the season, because he draws so much attention that it frees up other players, including 6-1, 308-pound Byron Murphy II, who plays next to Sweat and was the league's defensive lineman of the year. In the conference championship, Sweat even added a touchdown reception and a Heisman pose. The man contains multitudes.
X factor: TE Ja'Tavion Sanders
With the addition of Adonai Mitchell as a receiving threat opposite Xavier Worthy, Sanders has seen a dip in his production, with a few nagging injuries also a factor. Last season, he caught 54 passes for 613 yards and 5 TDs; this year he settled for 31 catches, 502 yards and one score in the regular season. But at 6-4, 243, Sanders is a nightmare matchup for linebackers and a big target for quarterback Quinn Ewers. He can be a key outlet, particularly near the goal line, where Texas has struggled for most of the season, ranking 104th nationally in red zone offense. Sanders averaged 4.2 catches per game last year, down to 2.6 this year. Entering the Big 12 championship game, he'd caught five passes in a game only twice this year, and both times he went over 100 yards, including 114 yards against Alabama. But against Oklahoma State on Saturday, he had a season-high eight catches for 105 yards and a touchdown. Sanders could be the cure for the Longhorns' woes in the end zone if they keep him going, particularly with Worthy's ankle injury suffered against OSU adding concern.
How Texas wins: The offensive line protects Quinn Ewers
The Longhorns have the heft along both lines to match up with pretty much anyone, but with Jonathon Brooks, who had 1,138 yards in 10 games, lost for the season, they'll have to find a back to make the running game a factor. But it will take a strong performance from quarterback Quinn Ewers and the passing game to key the Texas attack. If the offensive line can protect Ewers and keep him upright, the Longhorns have the speed to make big plays on the outside and the offense has shown the potential to deliver when it's needed most. — Dave Wilson
Michigan, Washington, Texas, Alabama reach CFP
Michigan, Washington, Texas and Alabama have been selected by the College Football Playoff committee to vie for the national championship.
That means Florida State (No. 5) and Georgia (No. 6), two teams with compelling arguments for playoff inclusion, are instead on the outside looking in.
The Wolverines and Huskies as undefeated conference champions were considered virtual shoo-ins to make the CFP. Michigan is in the playoff for the third straight year. Washington, on the other hand, has been in the CFP only once before, losing in the semifinals in the 2016 season.
The path to the playoff was a bit murkier for Texas and Alabama.
Texas is back in the running for the national championship after booking its first trip to the playoff. Led by quarterback Quinn Ewers, the Longhorns went 12-1 and won the Big 12 championship in their first appearance in the conference title game. Texas' lone loss came at the hand of Oklahoma in the Red River rivalry game. Both schools will head to the SEC after this season, but the Longhorns already got an SEC boost this year. Texas notched perhaps the biggest win of the college football season by going on the road in September and beating Alabama in Tuscaloosa.
Alabama proved that one big win can sometimes make up for one early loss. The Crimson Tide are in the playoff a day after ending Georgia's 29-game, 728-day winning streak with a 27-24 victory in the SEC championship game. Nick Saban's squad faced challenges atypical for Alabama, losing at home to Texas in the second game of the season and otherwise scuffling through the early part of the schedule. Part of the issue was uncertainty at quarterback. Jalen Milroe started and finished the season as the team's top QB, but both Ty Simpson and Tyler Buchner were given chances to take control of the position in Tommy Rees' first year as Alabama's offensive coordinator. Bama will now have a chance to win its fourth College Football Playoff national championship in the final year of the four-team format.
Alabama's win Saturday ended Georgia's pursuit of a third straight national championship. The Bulldogs had won 29 straight games, but Saturday's ill-timed loss to Alabama in the SEC title game left Georgia on the outside looking in. As a result, the Bulldogs become the first No. 1 team in the penultimate CFP rankings to fall out of the top four after losing in Championship Week.
Florida State won its conference championship game after an undefeated regular season, but becomes the first unbeaten Power 5 champ to miss out on the CFP, a decision that rankled ACC commissioner Jim Phillips.
"It's unfathomable that Florida State, an undefeated Power Five conference champion, was left out of the College Football Playoff," Phillips said in a statement Sunday. "Their exclusion calls into question the selection process and whether the Committee's own guidelines were followed, including the significant importance of being an undefeated Power Five conference champion. My heart breaks for the talented FSU student-athletes and coaches and their passionate and loyal fans. Florida State deserved better. College football deserved better."
The committee seemed to focus on how competitive the Seminoles would be in the playoff without quarterback Jordan Travis, who suffered a season-ending leg injury in mid-November. FSU started backup Tate Rodemaker in its regular-season finale victory over Florida, but a concussion kept him out of the ACC title game. That forced coach Mike Norvell to go with freshman Brock Glenn on Saturday, a win over Louisville in which the Noles' defense led the way.
Washington will play Texas in the Allstate Sugar Bowl, while Michigan will face Alabama in the Rose Bowl Game Presented by Prudential. Both semifinal games will be played on New Year's Day and aired on ESPN.
The CFP National Championship Presented by AT&T will be played Monday, Jan. 8 on ESPN.
Houston tasks Fritz to lead Big 12 turnaround
Houston has hired Tulane's Willie Fritz to be the Cougars' next football coach, the school announced Sunday.
Fritz led Tulane to one of the best stretches in school history, as the Green Wave have reached a bowl game in five of the past six seasons and have gone 23-4 the past two years. Prior to his arrival, Tulane went to one bowl game from 2003 to 2015.
"No one in the country has been better at leading and developing student-athletes than Willie Fritz," Houston athletic director Chris Pezman said in a statement. "Over his more than three-decades of head coaching experience, he has guided several football programs to historic success."
Offensive coordinator Slade Nagle is set to serve as Tulane's interim coach, sources told ESPN.
Fritz led Tulane to the American Athletic Conference title last year, and the Green Wave lost to SMU in the title game Saturday. His signature win at Tulane came in the Cotton Bowl after the 2022 season, a scintillating 46-45 victory over quarterback Caleb Williams and USC.
Fritz will replace Dana Holgorsen, who was fired after three losing seasons in five years. Holgorsen finished with a 31-28 record and is due a $14.8 million buyout, which is subject to mitigation.
Fritz said in a statement that he was "humbled and honored" for the opportunity to coach at Houston.
"There is no ceiling for success, with the incredible fan support, excellent facilities, talented young men and a collective desire to compete for championships," Fritz said. "We will build a program that all Coogs can be proud of, and I cannot wait to see the results."
Fritz has extensive experience coaching in Texas, as he worked at Sam Houston State in three separate stints, as well as in the high school ranks and as a junior college coach at Blinn.
He has been a head coach since 1993 and has experienced success at every level. That includes two juco national titles at Blinn and postseason appearances at Central Missouri, Sam Houston State, Georgia Southern and Tulane.
Houston is facing a steep climb after posting a 2-7 Big 12 record in its first season in the conference, with one win coming improbably in the final seconds against West Virginia. The Cougars lost to crosstown rival Rice and dropped the final three games of the season against Cincinnati, Oklahoma State and UCF.
Fritz's debut will come against UNLV in 2024 before a Week 2 road game at new SEC member Oklahoma.