For better or worse, professional athletes increasingly grow influential platforms.
Within this wide-ranging realm public utterances in interviews or posts on personal platforms are made about the oft turbulent rides in their chosen sports; to push global or emerging brands, support causes, deliver messages and establish profiles they can leverage post careers.
While the role model debate within sport is somewhat vexed, athletes certainly covet revered positions and, therefore, what they say matters for the weight and reach it carries.
One such recent example involves All Blacks halfback and Chiefs captain Brad Weber. After delivering the usual post-match analysis following the Chiefs win over the Brumbies in Hamilton last month, Weber requested to send a message of a very different kind.
Love is love 🌈 💜

You are so awesome @brad_weber9.

Credit: @skysportnz #SuperRugbyTT pic.twitter.com/EMvEU0Rj9M

— Super Rugby (@SuperRugbyNZ) May 23, 2021
"Just a big shout out to my cousin and her lovely girlfriend. They're getting married today down at Hawke's Bay. I'm sorry I couldn't be there," Weber said after his side's 40-19 win. "Thank you for teaching me and a lot of people that love is love, no matter the shape, or form, that comes."
That touching tribute continues the theme of Weber supporting the LGBTQI community after he spoke out against Israel Folau's divisive religious rhetoric in 2018.
"Kinda sick of us players staying quiet on some of this stuff. I can't stand that I have to play this game that I love with people, like Folau, who say what he's saying," Weber Tweeted at the time. "My cousin and her partner, and my Aunty and her partner are some of the most kind, caring & loving people I have ever had the pleasure of knowing. To think that I play against someone that says they'll go to Hell for being gay disgusts me."
As someone who has seen the torrid times family members have endured in coming to terms with their sexuality, this subject is clearly close to Weber's heart.
"I've seen my cousin battle with having to come out and tell everyone she is gay," Weber explains to ESPN from Sydney this week.
"It doesn't sit well with everybody but I could see how genuine she was. I only knew her as my cousin, someone I loved, not different to anyone. Seeing her with her partner it's been nothing but genuine. It's not a choice; that's the way she is and the way she was born so that's been pretty inspiring.
"I've got an auntie who is gay as well. She was married to a man beforehand. Coming from a very Catholic family it was hard for her to come out. She's been with her female partner now for over 25 years, she is very happy and her partner is very much a part of the family.
"For me it's hearing stories about people basically saying if being gay was a choice then they would choose not to be, but it's just the way they are. When you hear stuff like that it's sad. I believe everyone should have a fair crack at living their lives and being who they are and if that's being gay, there's absolutely nothing wrong with that, we should treat them like anyone else in my opinion."
Sections of society have evolved in regards to accepting the LGBTQI community — gay marriage was legalised in New Zealand in 2013, with Australia following suit four years later — yet in many ways that's just a start. And while it's now common for companies to swing in behind pride month, embracing diversity should be year-round.
"We've still got a long way to go with acceptance," Weber notes. "Having pride month is really cool – it's great to see everyone express themselves but it goes deeper than that there needs to be a change in our language. Particularly when I was growing up gay derogatory terms were so common and I was just as bad."
Males in the sporting scene can be as guilty as anyone when it comes to casually throwing such terms around. This is undoubtedly partly to blame for the absence of the first openly gay All Black, despite the team's 137-year existence.
"It's hard to get change but if you start with the language then stuff starts becoming a bit more accepted. If you're using those terms so broadly and easily it's the people that are struggling with their sexuality that it pushes further and further down rather than making them feel welcome to come out, especially in elite sport. I'd love for people to feel comfortable enough to be themselves in elite sport," Weber says.
"I can only imagine how scary coming out would be. If you make those people feel like it's no dramas that's the end goal, but it starts at school. Kids need to realise that this sort of language isn't the way anymore."
Weber, through the Chiefs charity partner The WaterBoy, is involved with programs that aim to educate school-aged kids about language that can affect people, as well as getting under privileged children playing sport.
"It's great to see organisations like that making a difference."
Above all else, though, Weber has ultimately come to appreciate the profound impact his position of influence can have.
For all professional athletes, that's a great place to start.
"I didn't for a long time but I'm now very aware, especially when I'm getting messages from random people about how much of a difference that can make.
"It's a little bit scary as much as it is good. So long as we use our voice for good because it can go the other way too."
Bautista (AL), Williams (NL) named top relievers
NEW YORK — Baltimore's Félix Bautista was a unanimous winner of the Mariano Rivera American League Reliever of the Year Award and Milwaukee's Devin Williams won the Trevor Hoffman National League honor on Wednesday.
Bautista, a 28-year-old right-hander, was 8-2 with a 1.48 ERA and 33 saves in 39 chances for the AL East champion Orioles. He made his final appearance on Aug. 25 and had Tommy John surgery on Oct. 9, which likely will cause him to miss the 2024 season.
Williams, a 29-year-old right-hander, was 8-3 with a 1.53 ERA and 36 saves in 40 opportunities for the NL Central champion Brewers. Williams also won the award in 2020 and joined former teammate Josh Hader, Edwin Díaz, Liam Hendriks, Kenley Jansen and Craig Kimbrel as the only multiple winners of the honor, known as the Delivery Man of the Year Award from 2005-13.
Rivera and Hoffman were among the six voters, joined by fellow Hall of Famers Dennis Eckersley and Rollie Fingers along with John Franco and Billy Wagner. Balloting was based on the regular season and used a system in which the first choice got five points, the second three and the third one.
Cleveland's Emmanuel Clase was second in the AL after winning last year and Toronto's Jordan Romano was third.
Pittsburgh's David Bednar was second in the NL and San Diego's Josh Hader third.
Sources: Severino to crosstown Mets for $13M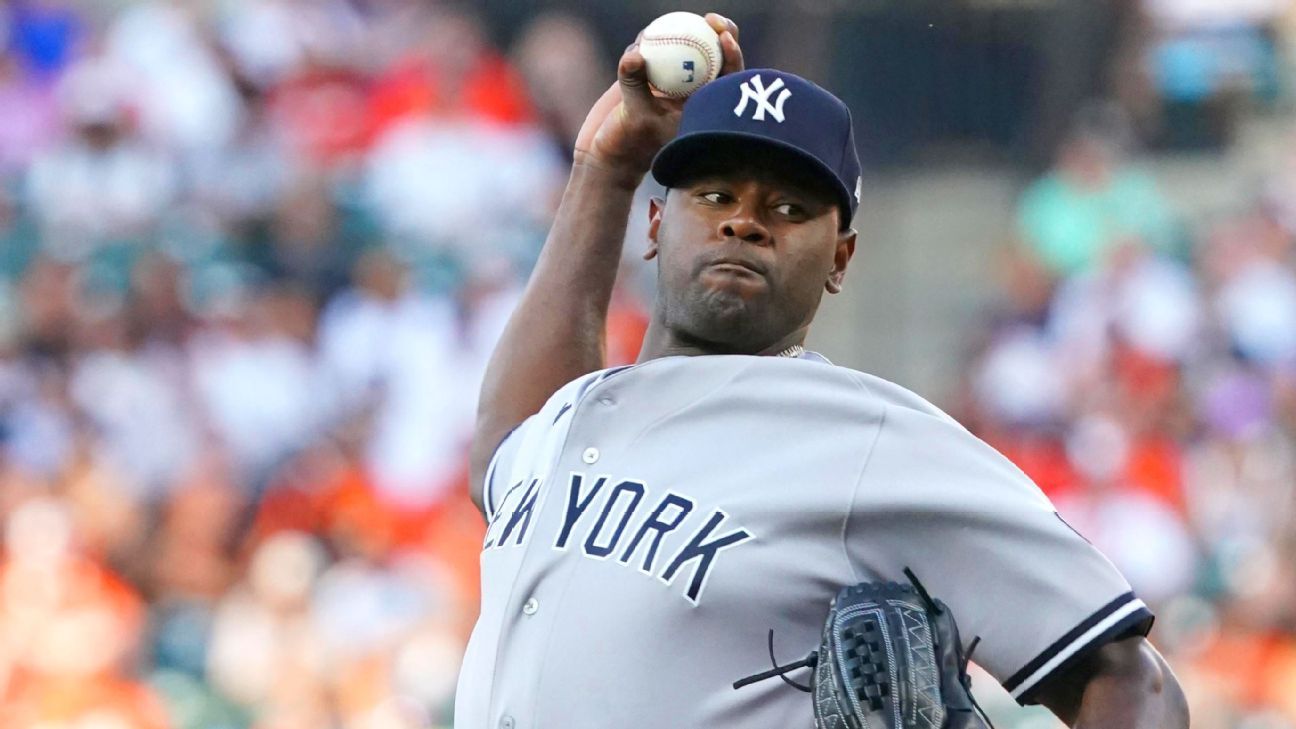 Right-hander Luis Severino and the New York Mets are finalizing a one-year, $13 million contract, sources familiar with the deal told ESPN's Jeff Passan on Wednesday.
Severino, 29, will join the Mets and a rotation in significant need of help after spending his eight-year career with the New York Yankees.
He struggled this season with a 6.65 ERA, but posted a 3.39 ERA in 638 innings over his previous seven seasons. If Severino thrives, he'll hit free agency again next year, and he can earn up to $2 million in performance bonuses from the Mets.
Utah St. QB to skip final season for SEAL training
LOGAN, Utah — Utah State quarterback Levi Williams will not return for his senior season in 2024, intending to apply for Navy SEAL training following the Aggies' upcoming bowl game.
Williams revealed in a radio interview with a Salt Lake City radio station on Monday he intends to skip his final year of collegiate eligibility with the goal of becoming a SEAL officer in 2025.
"I just want to be in a spot where I can protect this great country where we get to play football with the freedom to do that," Williams told KSL 97.5 FM. "I think this is the best country in the world, so I'd like to keep it that way and protect it as long as I can."
The junior quarterback plans to take a SEAL qualifying fitness test after the season. It is a rigorous test that features a 500-yard swim, maximum push-ups, pull-ups, and curl-ups done in separate two-minute intervals, and a 1.5-mile run. The individual time for either the swim or the run cannot exceed 12 ½ minutes.
Williams said he embraces the challenge and is eager to follow in the footsteps of parents and grandparents who served in the military before him. Being a SEAL specifically appeals to him because of the chance to be in a team-oriented environment.
"What I love about their ethos and their motto is that no one guy is better than the other," Williams said. "It takes all of them to complete a mission."
Williams spent three seasons with Wyoming before entering the transfer portal following the 2021 season. He joined Utah State and has appeared in 16 games for the Aggies over two seasons.
The seldom-used Williams began the season as Utah State's third-string quarterback but made his first start since 2021 in the Aggies' regular season finale against New Mexico. He played mostly on special teams during the season, but injuries to Cooper Legas and McCae Hillstead forced Aggies coach Blake Anderson to turn to the former Wyoming transfer to run the offense.
Williams tallied 351 all-purpose yards to help Utah State edge the Lobos 44-41 in double overtime. He accounted for five touchdowns — culminating in a game-winning 13-yard run after retrieving a snap that went behind him — to help the Aggies become bowl eligible for a third consecutive season.