For better or worse, professional athletes increasingly grow influential platforms.
Within this wide-ranging realm public utterances in interviews or posts on personal platforms are made about the oft turbulent rides in their chosen sports; to push global or emerging brands, support causes, deliver messages and establish profiles they can leverage post careers.
While the role model debate within sport is somewhat vexed, athletes certainly covet revered positions and, therefore, what they say matters for the weight and reach it carries.
One such recent example involves All Blacks halfback and Chiefs captain Brad Weber. After delivering the usual post-match analysis following the Chiefs win over the Brumbies in Hamilton last month, Weber requested to send a message of a very different kind.
Love is love 🌈 💜

You are so awesome @brad_weber9.

Credit: @skysportnz #SuperRugbyTT pic.twitter.com/EMvEU0Rj9M

— Super Rugby (@SuperRugbyNZ) May 23, 2021
"Just a big shout out to my cousin and her lovely girlfriend. They're getting married today down at Hawke's Bay. I'm sorry I couldn't be there," Weber said after his side's 40-19 win. "Thank you for teaching me and a lot of people that love is love, no matter the shape, or form, that comes."
That touching tribute continues the theme of Weber supporting the LGBTQI community after he spoke out against Israel Folau's divisive religious rhetoric in 2018.
"Kinda sick of us players staying quiet on some of this stuff. I can't stand that I have to play this game that I love with people, like Folau, who say what he's saying," Weber Tweeted at the time. "My cousin and her partner, and my Aunty and her partner are some of the most kind, caring & loving people I have ever had the pleasure of knowing. To think that I play against someone that says they'll go to Hell for being gay disgusts me."
As someone who has seen the torrid times family members have endured in coming to terms with their sexuality, this subject is clearly close to Weber's heart.
"I've seen my cousin battle with having to come out and tell everyone she is gay," Weber explains to ESPN from Sydney this week.
"It doesn't sit well with everybody but I could see how genuine she was. I only knew her as my cousin, someone I loved, not different to anyone. Seeing her with her partner it's been nothing but genuine. It's not a choice; that's the way she is and the way she was born so that's been pretty inspiring.
"I've got an auntie who is gay as well. She was married to a man beforehand. Coming from a very Catholic family it was hard for her to come out. She's been with her female partner now for over 25 years, she is very happy and her partner is very much a part of the family.
"For me it's hearing stories about people basically saying if being gay was a choice then they would choose not to be, but it's just the way they are. When you hear stuff like that it's sad. I believe everyone should have a fair crack at living their lives and being who they are and if that's being gay, there's absolutely nothing wrong with that, we should treat them like anyone else in my opinion."
Sections of society have evolved in regards to accepting the LGBTQI community — gay marriage was legalised in New Zealand in 2013, with Australia following suit four years later — yet in many ways that's just a start. And while it's now common for companies to swing in behind pride month, embracing diversity should be year-round.
"We've still got a long way to go with acceptance," Weber notes. "Having pride month is really cool – it's great to see everyone express themselves but it goes deeper than that there needs to be a change in our language. Particularly when I was growing up gay derogatory terms were so common and I was just as bad."
Males in the sporting scene can be as guilty as anyone when it comes to casually throwing such terms around. This is undoubtedly partly to blame for the absence of the first openly gay All Black, despite the team's 137-year existence.
"It's hard to get change but if you start with the language then stuff starts becoming a bit more accepted. If you're using those terms so broadly and easily it's the people that are struggling with their sexuality that it pushes further and further down rather than making them feel welcome to come out, especially in elite sport. I'd love for people to feel comfortable enough to be themselves in elite sport," Weber says.
"I can only imagine how scary coming out would be. If you make those people feel like it's no dramas that's the end goal, but it starts at school. Kids need to realise that this sort of language isn't the way anymore."
Weber, through the Chiefs charity partner The WaterBoy, is involved with programs that aim to educate school-aged kids about language that can affect people, as well as getting under privileged children playing sport.
"It's great to see organisations like that making a difference."
Above all else, though, Weber has ultimately come to appreciate the profound impact his position of influence can have.
For all professional athletes, that's a great place to start.
"I didn't for a long time but I'm now very aware, especially when I'm getting messages from random people about how much of a difference that can make.
"It's a little bit scary as much as it is good. So long as we use our voice for good because it can go the other way too."
SMU-UCF moves to Wed. in 2nd hurricane delay
UCF's home game against SMU in Orlando, Florida, has changed dates for a second time because of the damage caused by Hurricane Ian this week. The Knights will now host the Mustangs on Wednesday (7 p.m. ET, ESPN2), the schools announced.
The game had originally been pushed back from Saturday to Sunday because of the threat of the impending storm, but the flooding and general havoc caused by the hurricane that swept across Florida on Wednesday led to the contest being moved again.
Both schools had a bye on the weekend of Oct. 8, allowing for their American Athletic Conference opener to be pushed back.
At least nine people have been confirmed dead in the United States as a result of the hurricane — a number that is almost certain to increase as officials confirm more deaths and search for people. More than 2 million people in Florida have lost power this week.
UCF enters the game 3-1 after defeating Georgia Tech on Saturday. SMU comes in at 2-2 after back-to-back losses at Maryland and to TCU at home.
Information from The Associated Press was used in this report.
The biggest regular-season series in a decade? Why Mets-Braves showdown could shake up October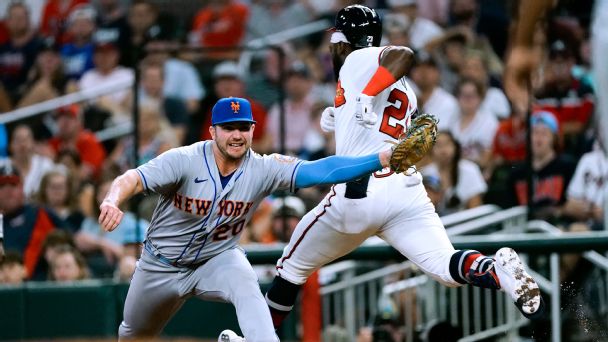 The fact that there is a division title hanging in the balance as the New York Mets and Atlanta Braves meet this weekend might come as a surprise for anyone who was watching the National League East standings earlier this season. What was once a 10.5-game lead for New York in early June and still as large as seven games on Aug. 10 has turned into a down-to-the-wire battle, with both teams chasing 100 wins in one of the best division races of the wild-card era.
But while Mets fans are likely a tad stressed by this stretch run, their star first baseman begs to differ.
"This is fun — this is really, really fun, being in a race like this," Pete Alonso said Tuesday after a Mets loss and Braves win briefly tied the teams for first place.
Luckily for baseball fans, the two teams square off for one final series this weekend in Atlanta that will start with New York a game up in the standings. Due to the unknown aftereffects of Hurricane Ian, the exact schedule could change, but an improved forecast makes it seem more likely they'll play all three games this weekend.
Rain delayed or not, the series sets up as the biggest of the 2022 regular season, about as big as you can get in this new 12-team postseason world — and, arguably, the most important regular-season series since at least 2012 (more on that in a minute).
Watch: Mets-Braves on Sunday Night Baseball, 7 ET
Yes, both teams have clinched playoff spots, but given the ramifications of winning the division and receiving a first-round bye compared to having to use your best starters out of the gate in a best-of-three wild-card series — where anything can happen — both teams desperately want to win the division, and which one does will shape the shape the entire MLB postseason.
"The hope is to have a good series against New York this weekend," Braves outfielder Ronald Acuña Jr. said Tuesday. "The division is on the line."
One advantage for the Mets: They lead the season series 9-7, so they need to win only one of the three games to clinch the season series, which would give them the tiebreaker edge and the division title if the two teams finish with the same record (tiebreaker games have sadly been eliminated). Both teams have their rotations lined up, with Chris Bassitt, Jacob deGrom and Max Scherzer scheduled to face Max Fried, Kyle Wright and Charlie Morton, although the Braves will be without Rookie of the Year candidate Spencer Strider, who is on the injured list with a strained oblique. The Mets have also are calling up their top prospect, catcher Francisco Alvarez for the series.
Outside of eliminating the risk of having your season end three days into the playoffs, the biggest key in avoiding the wild-card series is what it does to your rotation for the next round — especially since there are fewer off days in this year's postseason after the schedule was condensed because of the lockout. The best-of-five division series, for example, will be played over a potential six days rather than seven.
Here's how the Braves playoff rotation lines up if they don't win the division:
Friday, Oct. 7, WC Game 1: Max Fried
Saturday, Oct. 8, WC Game 2: Kyle Wright
Sunday, Oct. 9, WC Game 3: Charlie Morton
Then if they advance, in the division series:
Tuesday, Oct. 11, NLDS Game 1: Bryce Elder/Jake Odorizzi or Morton
Wednesday, Oct. 12, NLDS Game 2: Fried
Friday, Oct: 14, NLDS Game 3: Wright
Saturday, Oct. 15, NLDS Game 4: Morton or Elder/Odorizzi
Sunday, Oct. 16, NLDS Game 5: Game 1 starter
Now, the Braves are holding out hope that Strider can return in the postseason, although given the nature of oblique injuries, that feels a little ambitious for at least the first couple of rounds. But you can see the impact: If you have to play in the wild-card series, and are fortunate enough to move on, you're going to end up using your No. 3 or 4 starter twice in the division series if it goes the distance. That's an even bigger deal for Atlanta if Strider is sidelined and it's the rookie Elder or the struggling veteran Odorizzi making that extra start instead of Fried.
The Mets have a deep rotation as well, but they would certainly prefer deGrom lined up to start twice in the division series:
Friday, Oct. 7, WC Game 1: Jacob deGrom
Saturday, Oct. 8, WC Game 2: Max Scherzer
Sunday, Oct. 9, WC Game 3: Chris Bassitt
Then in the division series:
Tuesday, Oct. 11, NLDS Game 1: Taijuan Walker/Carlos Carrasco or Bassitt
Wednesday, Oct. 12, NLDS Game 2: deGrom
Friday, Oct: 14, NLDS Game 3: Scherzer
Saturday, Oct. 15, NLDS Game 4: Bassitt or Walker/Carrasco
Sunday, Oct. 16, NLDS Game 5: Game 1 starter
The one caveat here is it's possible the Game 2 starter could come back and start Game 5 on three days of rest. That's rarely done these days, however, and even last postseason when Morton broke his leg in Game 1 of the World Series the Braves elected to give starts to Tucker Davidson and Dylan Lee rather than pitch anybody on short rest.
Playing in the Wild Card Series isn't necessarily a sentence to an early exit. The Nationals won when it was a single game in 2019 — in which they used both Scherzer and Stephen Strasburg — and ended up going all the way. (It did help that the NLCS was a four-game sweep, giving their staff a few extra days of rest heading into the World Series.)
But there's another incentive to avoiding the wild-card series: which side of the bracket the division runner-up will end up in. The division winner will be the No. 2 seed in the National League and play the St. Louis Cardinals or the third wild-card team (most likely the Philadelphia Phillies or Milwaukee Brewers) in the NLDS. The division runner-up gets the No. 4 seed, would have to play the San Diego Padres (the likely No. 5 seed) in the wild-card round — and then the 107-win (and counting) Los Angeles Dodgers in the NLDS, having just used their top two starters to get there in the first place.
Winning the division also delays starting the clock on the fatigue factor for your pitching staff. While you will hear some mention that the days off between the end of the regular season and the start of the division series can hurt a team — this year, that would be five days — there is no evidence that's the case. But giving at least your top two starters one fewer start and some extra days off? That sounds like a very good thing in today's max-effort pitching world.
Look at what happened to the Dodgers last season: They lost that epic NL West race to the San Francisco Giants and started Scherzer in the wild-card game, which meant he couldn't start again until Game 3 of the NLDS against San Francisco. With the Dodgers down 2-1 in the series, Walker Buehler started Game 4 on short rest and then they used Julio Urias and Scherzer in relief in Game 5.
You can debate some of Dave Roberts' choices there, but after starting Game 2 of the NLCS against the Braves (two days after his relief appearance) and lasting just 4⅓ innings in a game the Dodgers lost, Scherzer came up with a dead arm and was unable to start Game 6 of the series — which Buehler started again on short rest and pitched poorly as the Dodgers lost and went home.
Bottom line: The less scrambling you have to do with your staff, the better — and, again, this year's schedule makes it more difficult to do what the Dodgers tried to do last year anyway, which was use their three healthy starters and bullpen their way through the fourth spot in the rotation (or use somebody on short rest).
Which team would benefit more from the bye week, allowing some extra rest for their pitchers? I'd probably say the Mets, given the health issues deGrom and Scherzer have had this season. Plus, deGrom is coming off his worst start since 2019 with the lowly A's tagging him for five runs in four innings. This is an extremely small sample, but note his ERAs this season:
4 days of rest: 4.15 (three starts)
5 days of rest: 3.52 (four starts)
6+ days of rest: 1.00 (three starts)
Scherzer has good ERAs at all three levels, but check out his OPS and strikeout-to-walk ratio:
4 days of rest: .602 OPS, 4.36 SO-to-BB
5 days of rest: .533 OPS, 8.33 SO-to-BB
6+ days of rest: .460 OPS, 33.0 SO-to-BB
Seems like getting them a little extra rest could be a big deal in how far the Mets go.
So we're set up for a big series. Now back to my statement of the biggest regular-season series in a decade. I went back to the start of the wild-card game era in 2012 and checked out the tightest division races each full season (no, wild-card races don't count) and the records heading into the final series those teams played against each other. Here are the closest comparisons.
2022 NL East
New York: 98-58
Atlanta: 97-59
Date: Sept. 30-Oct. 2
2021 NL West
San Francisco: 85-49
Los Angeles: 85-49
Date: Sept. 3-5
An epic race, but the final matchup came early in September — the two didn't play each other in their final 25 games.
2018 NL Central
Chicago: 83-59
Milwaukee: 82-62
Date: Sept. 10-12
This was the season we ended with two division ties, as the Dodgers and Rockies both finished 91-71 in the NL West. The Brewers won their final eight games (including the tiebreaker) to finally catch the Cubs, but the two clubs last played Sept. 10-12.
2016 AL East
Boston: 85-64
Baltimore: 82-67
Date: Sept. 19-22
The Red Sox were three up on the Orioles when they started a four-game series on Sept. 19. The Red Sox took all four to essentially wrap up the division.
2015 NL Central
St. Louis: 98-58
Pittsburgh: 95-61
Date: Sept. 28-30
St. Louis and Pittsburgh did meet in the next-to-last series of the season. The Cardinals won the first game and then after a rainout they split a doubleheader, clinching the division for St. Louis.
2014 AL Central
Detroit: 84-68
Kansas City: 83-69
Date: Sept. 19-21
The Tigers took the first two games of a three-game series and held on to win the division by one game.
2013 NL Central
Pittsburgh: 81-58
St. Louis: 80-60
Date: Sept. 6-8
The Cardinals swept a three-game series and never relinquished the lead, winning the division by three games.
2012 AL West
Texas: 93-66
Oakland: 91-68
Date: Oct. 1-3
Finally, a series to rival this Mets-Braves matchup — although the two clubs weren't quite as strong. They met in Oakland for the final series of the season and the A's took all three games to capture the division.
So there you have it. This Mets-Braves series tracks as the important regular-season series since at least 2012 — and since these teams are better than the A's and Rangers, it feels even bigger than that one, even if both teams have another series to finish the season.
There are big names and big stars slated to pitch. It involves two of the top franchises in the sport. The implications also go beyond just New York and Atlanta — like, to Los Angeles, where the Dodgers probably aren't too anxious to face deGrom and Scherzer in a best-of-five series. Alonso is ready. I can't wait to see how Acuna and Austin Riley and Michael Harris II perform in these big moments. This is baseball at its regular-season best.
Toronto out and Detroit in? Teams most likely to rise and fall in the playoff race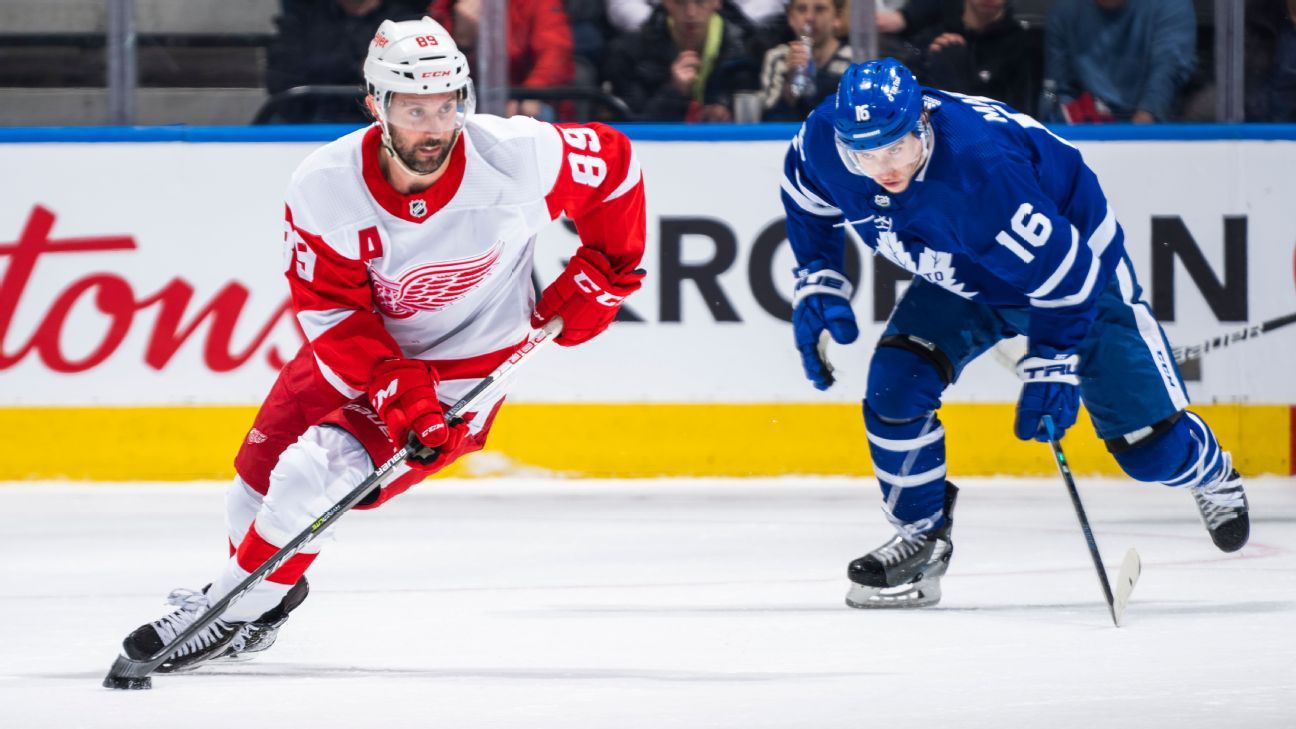 In hockey, it's hard to go from the outhouse to the penthouse, because playoff contenders refuse to move out.
Of the 16 teams that made the 2022 Stanley Cup playoffs, 12 of them were in the midst of multiyear postseason appearance streaks. If you include the COVID-19 bubble qualification series in 2020 — when the NHL allowed 24 teams to advance to the postseason — the Pittsburgh Penguins haven't missed the playoffs since the 2005-06 season, when Sidney Crosby was a rookie. The Washington Capitals and Nashville Predators have eight-season streaks. The Boston Bruins and Toronto Maple Leafs have qualified in six straight seasons.
The Colorado Avalanche (5), Tampa Bay Lightning (5), Carolina Hurricanes (4), St. Louis Blues (4), Edmonton Oilers (3), Florida Panthers (3) and Minnesota Wild (3) all have streaks going. The only postseason newbies last year: the Calgary Flames, Dallas Stars, Los Angeles Kings and New York Rangers. And the Stars played for the Stanley Cup in 2020!
Meanwhile, take a look at the 10 worst teams at the end of the 2019-20 season. Only two have qualified for the Stanley Cup playoffs since then: the Montreal Canadiens, who emerged from the all-Canadian North Division to play for the Cup in 2021 before spiraling into a rebuild; and the Kings, who made the playoffs last season for the first time since 2017-18.
Yet every year, there's hope — that one of the "sure things" falls down the standings to open up a playoff spot for an upstart. That one of the lottery teams is suddenly ahead of schedule on its rebuild and surprises with a playoff berth.
Here's a look at the most likely candidates to miss the playoffs — and the most likely to leap into those open spots — in each division for the 2022-23 season.
How to watch the 2022-23 NHL season on ESPN networks — including 103 exclusive games and the out-of-market package (over 1,050 games)