Dual international Lote Tuqiri knows better than most what winning the right to host the Rugby World Cup would mean for Australian rugby.
Having been enticed over to the 15-player game in the lead-up to the tournament, the former Wallabies winger was blown away by the scale of rugby's showpiece in 2003 and the atmosphere that stretched from one side of the country to the other.
With Australia at this stage one of only two bidders for 2027 — the USA Rugby announced its candidature on Thursday [ET] — Tuqiri is hopeful the tournament will return Down Under once more and rugby can get itself "back on the map" across Australia, but also double-down in areas where the game is showing signs of growth at grassroots level.
"It was awesome, it was awesome. I remember travelling down to Sydney for the opening game against Argentina, because we were based in Coffs Harbour, I wasn't even in the squad, I was sitting in the stands with the boys which was a little bit disappointing. But to be a part of that first game, even in that way, gave me an idea of the support behind not only us but the World Cup in general," Tuqiri told ESPN.
"Then to go to Adelaide when we played Namibia, I know it was a bit of a lopsided scoreline, but just nationally and how much the country embraced the Rugby World Cup; I remember even sitting back in the hotel room just watching other games and how much buzz and the atmosphere, the travelling fans and our ex-pat fans here, it created within the stadiums.
"I think it was the quarterfinal between Wales and England, it was amazing, I was riding every moment that was going on with Wales hopefully beating England, but they ended up going within a whisker of beating them.
"The Fijians, you saw a player in Rupeni Caucaunibuca come of age and show his wares to the world. It was a time that was great for Australian rugby and I'm hoping that with this bid that can be created [again].
"If we can get this 2027 World Cup to Australia hopefully we can get rugby back on the map; it's a tough market in Australia and this would get people talking about rugby again. And that lead-up time to 2027 Rugby World Cup, hopefully in Australia, the interest will just keep building and building. And hopefully this one can be better than that 2003 edition."
While Rugby Australia wants to take games all over the country, it's likely that if the bid is successful, some of the bigger games would be taken to rugby heartland, specifically Brisbane and Sydney.
Perth is expected to come into consideration to potentially host the final, given its friendlier global timezone, so too the presence of Western Force financier Andrew Forrest and the growing rugby community across Western Australia.
It may be that Optus Stadium and Stadium Australia end up vying with each other to host the tournament finale, if the bid is successful, while the MCG could also be an option despite it not providing the best viewing experience for rectangular-field sports.
But a successful bid could be invaluable exposure for one of the fastest growing regions in Australia in western Sydney, which is currently involved in a civil war, of sorts, within the wider Sydney rugby community.
A group of Shute Shield clubs want to mandate participation guidelines on the number of teams each club must field, so too demands on financial turnover, in what could see the likes of West Harbour, Western Sydney Two Blues and Penrith being forced into a merger or, at the very worst, fold altogether.
Having played for West Harbour during his time in Sydney with NSW Waratahs, Tuqiri recognises the value those clubs bring to the game and the level of talent that exists across the region. He says winning the right to host the 2027 tournament could help encourage some of those kids to persist with the game into their senior years, a home World Cup perhaps enough to steer some away from the clutches of rugby league.
"I don't know if rugby overlooks it, but we definitely need to embrace that Western Sydney corridor or whatever you call it, there's certainly a lot of talent in and around there," Tuqiri told ESPN. "I know from a playing point of view, and playing for West Harbour, and out even further towards Penrith and Parramatta, there is a lot of talent that play both codes and there is a big islander community out there, and I think that can be embraced a little bit better leading into the 2027 World Cup in Australia, if we get it.
"Given the fact Bankwest Stadium is out there, and Stadium Australia, there'll be games out there, so leading up to it, hopefully, if we do get it again, I think that is an area that we can concentrate a helluva lot more on.
"The Two Blues, Penrith and other places, hopefully people can go out there and appreciate the good rugby that is played out there rather than just going out there for the [famous] Emu burgers! People know that it is one of the fastest growing areas in the country; I think we can't let sleeping dogs lie there, so to speak."
A Fijian-Australian, Tuqiri loved what he saw out of the Wallabies camp last year as new coach Dave Rennie made team culture a focus of his first season in charge.
The Wallabies now boast a strong Polynesian contingent across the squad and Rennie is keen to embrace the various cultural backgrounds of his playing group; though some players proved better singers than others.
Rugby Australia is keen to have a strong Pacific flavour as part of its World Cup bid, too.
"I think what Dave Rennie is doing is great, but in saying that you can't knock the rusted on element [of the Wallabies] as well," Tuqiri said. "But seeing the boys singing Fijian hymns was pretty cool, the boys getting around and doing the Samoan hand-clapping [Fa'ataupati dance], getting pumped up for the game and doing some chants around that.
"And I love the fact they sung the national anthem in one of the First Nations languages. They're probably leading the way on that [in Australian sport], so they've got to be patted on the back for that and that can keep going. To attract that element and people from different cultural backgrounds you've got to embrace them and that's what rugby is definitely doing. And it's certainly a way forward for rugby in Australia, and I think it's working."
You can show your support for Australia's bid by registering your name here
Wild-card series: Day 1 takeaways and analysis, keys to Game 2

It. Is. On. Eight teams were in action as the first day of the 2023 MLB playoffs began with the best-of-three wild-card round.
The Game 1 action in the American League ended with the visiting Texas Rangers defeating the Tampa Bay Rays and the Minnesota Twins ending their 18-game postseason losing streak at home with a win over the Toronto Blue Jays. The National League took center stage in the evening, with the Arizona Diamondbacks upsetting the Milwaukee Brewers and the Philadelphia Phillies beating the Miami Marlins.
We've got you covered with takeaways, live updates and analysis from the Day 1 games, as well as one thing to know for each Game 2.
Key links: Everything you need to know | Bracket | Picks | Watch on ESPN, ABC
Jump to:
Takeaways | Live updates

Takeaways
Philadelphia Phillies 4, Miami Marlins 1: On paper, the Marlins-Phillies was the biggest mismatch of the four wild-card series and that's how Game 1 played out, with Zack Wheeler taking a shutout into the seventh and the Phillies knocking around Jesus Luzardo (five of their eight hits off him in his four innings of work were 104 mph or higher). It wasn't quite an easy win for the Phillies, however, as the Marlins scratched across a run in the seventh thanks to a couple of infield singles and had the go-ahead run at the plate. Jose Alvarado came on and threw a from-another-planet 94-mph cutter to Yuli Gurriel to strike him out and end that threat. The Marlins had the tying run at the plate in the eighth but Jeff Hoffman came on and induced Jorge Soler to ground out. If Philadelphia's bullpen keeps this up — and it's deeper and better than last year's pen — the Phillies have a chance to do more than just beat the Marlins. — David Schoenfield
One thing to know for Game 2: Last postseason, the Phillies rode the one-two punch of Wheeler and Aaron Nola deep into October. Wheeler did his part in Game 1 on Tuesday night, but Nola hasn't been the same pitcher as he was a year ago, with a regular-season ERA rising to 4.46 in 2023 from 3.25 last season. Whether Nola can find that playoff touch again will play a big part in determining how far the Phillies go this month.
---
Arizona Diamondbacks 6, Milwaukee Brewers 3: For all the pre-series talk about Arizona's speed, the Diamondbacks flashed the real winning postseason formula by mashing three homers over two innings off Milwaukee ace Corbin Burnes. The spree began with a 440-foot bomb by probable NL Rookie of the Year Corbin Carroll, who stole 59 bases during the season but has plenty of muscle, too.
For the Brewers, the lament of Game 1 is one of missed opportunities. Twice they loaded the bases without scoring, including with no outs in the fifth. After Brice Turang struck out, Tyrone Taylor lashed what looked like a go-ahead single to left but Evan Longoria, who turns 38 on Saturday and was no sure bet to start this game, made a lunging, leaping, tumbling snag which he turned into a threat-killing double play. Before the game, Longoria said, "A lot of these games are going to come down to one or two big moments. We have to be ready and be prepared for those." He was ready and Arizona is up 1-0 with Zac Gallen and Merrill Kelly lined up the next two days.
If the Brewers don't win some of those big moments in Game 2, where they'll have Freddy Peralta take the mound, they might never see Kelly. — Bradford Doolittle
One thing to know for Game 2: Taking the opener on the road is always nice, but in the D-backs' case, winning Game 1 sets them up especially well for a potential series upset. Now Arizona hands the ball to ace Gallen in Game 2, with Kelly waiting, if needed, in Game 3, against a Brewers team that is without injured Brandon Woodruff.
---
Minnesota Twins 3, Toronto Blue Jays 1: The streak is over! The streak is over! This is not an exaggeration: The Twins' 18-game postseason losing streak, dating back to 2004, was an unfathomable stretch of misery. Now that it's ended and that burden eliminated, maybe the Twins can surprise in a wide-open AL bracket. Especially if Royce Lewis keeps hitting like this. The rookie was Minnesota's best hitter but hadn't played since Sept. 19 because of a hamstring injury. All he did was hit two home runs and drive in three runs against tough Kevin Gausman. Gausman challenged him with a 3-2 four-seamer in the first inning rather than his best pitch, a splitter, and Lewis crushed it for a two-run home run — just like he crushed four-seamers in the regular season. Feels like a bad pitch selection there from Gausman. Indeed, with Sonny Gray going in Game 2 against a Toronto lineup that just doesn't scare you (Cavan Biggio hitting fifth?), the Twins might actually win their first postseason series since the 2002 ALDS. — Schoenfield
One thing to know for Game 2: Minnesota was rocking after the Twins finally ended their postseason losing streak in Game 1. Now they'll try to clinch a spot in the ALDS against a familiar face in Game 2. Toronto starter Jose Berrios spent the first six years of his career in Minnesota before being dealt to the Blue Jays at the 2021 trade deadline. Berrios faces a tough task in his return to Target Field, with All-Star Gray set to take the mound for the Twins.
---
Texas Rangers 4, Tampa Bay Rays 0: The Max Scherzer acquisition got all the headlines at the trade deadline, but it's a good thing Rangers general manager Chris Young traded for a second starting pitcher. Jordan Montgomery had a dominating performance against a high-powered Tampa Bay offense, tossing seven scoreless innings in the Rangers' 4-0 victory. He has now allowed two runs in 34 innings in his past five starts and is looking like a postseason ace — even if an unusual one, since he's not a big strikeout pitcher.
The other impressive performance: Rookie left fielder Evan Carter went 2-for-2 with two doubles and two walks (although Yandy Diaz should have made the play on one of the doubles). Carter is just 21 and didn't make his MLB debut until Sept. 8, but he already looks like a star at the plate — he had a 1.058 OPS in his 23 regular-season games. Oh, and he hits ninth in the Rangers' lineup. Yes, it's a very good lineup.
The Rays played an awful game with four errors. Kevin Cash questionably left Tyler Glasnow in the game to start the sixth inning and Glasnow walked the first two batters, allowing the Rangers to put the game away with two more runs. — Schoenfield
One thing to know for Game 2: After winning 99 games in the regular season, the Rays will be putting their fate in the hands of Zach Eflin — who came to Tampa Bay as the highest-paid free agent signing in franchise history last offseason. Eflin was at his best at the Trop this year, going 11-4 with a 3.30 ERA and 10.4 strikeouts per nine innings, compared to 5-4 with a 3.77 ERA and 8.0 K/9 on the road.

Live updates
Lewis' 2 HRs put 'win' in Twins; slide ends at 18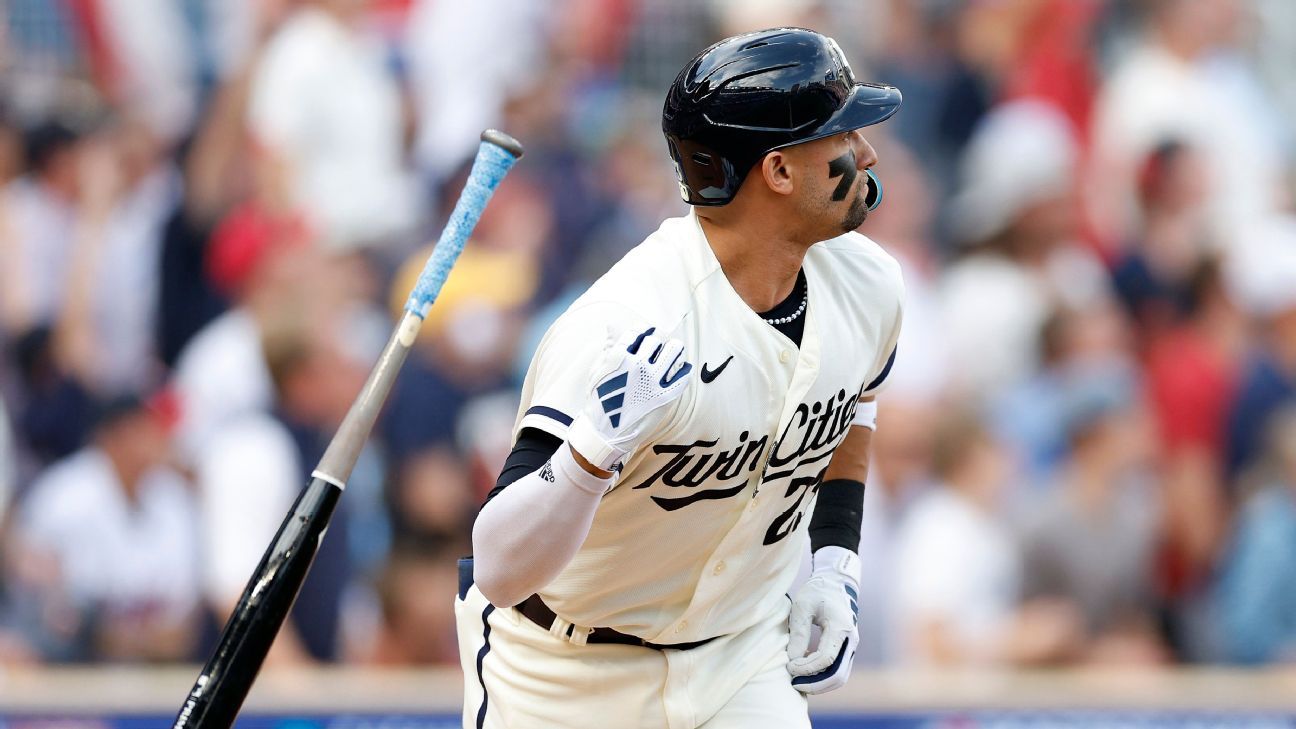 MINNEAPOLIS — Royce Lewis smashed Minnesota's 18-game postseason losing streak into the seats, homering in each of his first two at-bats to carry the Twins to a 3-1 victory over the Toronto Blue Jays in the opener of their AL Wild Card Series on Tuesday.
Lewis hit a two-run shot off Kevin Gausman in the first inning and a leadoff drive in the third, sending the home dugout and the sellout Target Field crowd into a frenzy.
"It means a lot, and it means a lot that the fans encouraged us," Lewis told ESPN during his on-field interview. "They had that energy for us. They brought it, and we brought it for them."
The bigger celebration occurred a few hours later when Jhoan Duran pitched a hitless ninth to close the first victory in the playoffs for the Twins since Oct. 5, 2004. They had the longest postseason losing streak in major North American professional sports. It was the first home win for the Twins in the playoffs since Game 1 of the ALCS in 2002 at the Metrodome.
Lewis was a 3-year-old then. He's the type of big-time player — with five grand slams in 70 career games — that could lead the Twins on an actual postseason run instead of just hanging a division title banner and leaving the party after three or four days.
Returning from a left hamstring strain that kept him out for the last two weeks, Lewis became the third player in MLB history to hit home runs in each of his first two career postseason plate appearances, following Evan Longoria for the Tampa Bay Rays in 2008 and Gary Gaetti for the Twins in 1987.
Pablo Lopez also delivered a strong playoff debut for Minnesota, permitting one run and five hits in 5 2/3 innings. He wore a Johan Santana jersey to the ballpark, a nod to not only his Venezuelan boyhood hero but the last Twins pitcher to win a postseason game.
Gausman's day for the Blue Jays was more bumpy, finishing four innings with three hits and three walks. The right-hander frequently asked for a new ball early in his outing and had trouble at one point with the wireless PitchCom device that is used to prevent sign stealing. Gausman had only one start shorter than this in 2023, when he logged 3 1/3 innings on May 4.
The teams will meet again Wednesday afternoon in Game 2 of the best-of-3 series (4:30 p.m., ESPN). Game 3 would be Thursday, with the entire series in Minnesota under MLB's postseason format.
The Blue Jays finally got on the board when Kevin Kiermaier's two-out single drove in Bo Bichette in the sixth, but they left nine runners on base.
The Blue Jays carried their own October angst into this series, having not won a postseason game since the 2016 ALCS. They took two-game sweeps as wild cards in 2020 and 2022, and Bichette and Vladimir Guerrero Jr. — two franchise cornerstones and the celebrated sons of former major leaguers — have not yet won a postseason game.
Glove work
López and his four relievers got plenty of defensive help. Michael A. Taylor made a diving catch of a sharp line drive to center by Alejandro Kirk in the second and a leaping grab at the wall to take an extra-base hit away from a fuming Matt Chapman in the sixth. Max Kepler crashed against the same padding to catch Guerrero's long fly ball in the fourth.
The most vital play of all was later in that inning, when Kiermaier's two-out roller eluded third baseman Jorge Polanco as Bichette rounded for home with two outs. Carlos Correa backed him up from shortstop and threw a strike to the plate to get Bichette and end the inning.
Swing-and-miss
The Gausman-López matchup marked the first time that the top two strikeout pitchers during the regular season in one league faced each other in the playoffs since Justin Verlander and CC Sabathia in Game 1 of the Tigers-Yankees ALDS in 2011.
Up next
Blue Jays: RHP Jose Berrios (11-12, 3.65 ERA) will start Game 2 against the team he pitched 5½ seasons for until a trade to Toronto on July 30, 2021. He made postseason starts for the Twins in 2019 and 2020. "I love pitching in this ballpark because the dugout is so close, so I look like I throw 100," Berríos said.
Twins: RHP Sonny Gray (8-8, 2.79 ERA) will take the mound Wednesday for the first postseason start for the 11-year veteran since 2017 in Game 4 of the ALDS for the Yankees.
The Associated Press contributed to this report.
Buffs star Hunter likely to miss next two games
Colorado two-way star Travis Hunter will likely miss the team's next two games as he continues to recover from a lacerated liver, coach Deion Sanders said Tuesday.
"Let's say two or three [weeks]," said Sanders, when asked about Hunter's recovery. "It would be my dream and desire for him to stay out until after the bye week."
The Buffaloes (3-2, 0-2 Pac-12) play at Arizona State on Saturday and host Stanford next week before they will have a week off before traveling to UCLA on Oct. 28.
"Travis is doing well," Sanders said. "He was out of practice today coaching his butt off. He's one of the best coaches we have."
Hunter suffered the injury during Colorado's win against Colorado State on Sept. 16. With him unavailable, the Buffaloes have lost their past two games, to Oregon (42-6) and USC (48-41).
In 10 quarters prior to the injury, Hunter, whom Sanders has called the team's best player on both sides of the ball, had 16 receptions for 233 yards on offense and an interception, two pass breakups and nine tackles on defense.
Colorado was also without Sanders' son, safety Shilo Sanders, against USC on Saturday, but his return is expected to come sooner, the coach said.