WhatsApp has launched its first global marketing campaign in reaction to a public backlash against a privacy policy announcement.
The messaging platform says the campaign is designed to reiterate its "commitment to privacy".
It comes after months of uncertainty around the Facebook-owned app after its updated privacy policy sparked confusion and concern among some users over possible increased data sharing.
WhatsApp boss Will Cathcart admitted the incident had in part led to the creation of a marketing campaign around the platform.
But he also said it was a chance for the company to make its case for using encryption.
"The idea is we're going to communicate to people the benefits of privacy and encryption directly," he said.
"What we're really trying to do here is take end-to-end encryption, which is an abstract term, and help translate it to people.
"We view this as underscoring our commitment to privacy and encryption at a time which we think is particularly relevant because there continue to be attacks on it in some parts of the world, so we think it's particularly important that consumers understand what it is and what's at stake."
Home Secretary Priti Patel has previously criticised Facebook's plans to expand the end-to-end encryption already in use on WhatsApp to the messaging sections of its other apps: Instagram and Facebook Messenger.
She has claimed it places children at risk and offers a hiding place for abusers and other criminals.
Mr Cathcart acknowledged that some people would still have questions about the system, but argued that those who criticise encryption often did so without also "connecting it to all the benefits" it can provide.
"It's a really critical tool for people like journalists, activists, whistleblowers – we think people get that, but we believe it is a really critical tool beyond that – it's for everyone," he said.
"It keeps people safe from hacking. It protects people from fraud, it protects people from identity theft."
The campaign, which will include online, radio, TV and digital outdoor advertising, also comes as the platform faces new pressure from other encrypted messaging services, with many switching away from WhatsApp in the wake of the policy update confusion.
Christmas rail strikes to go ahead as union rejects offer from operators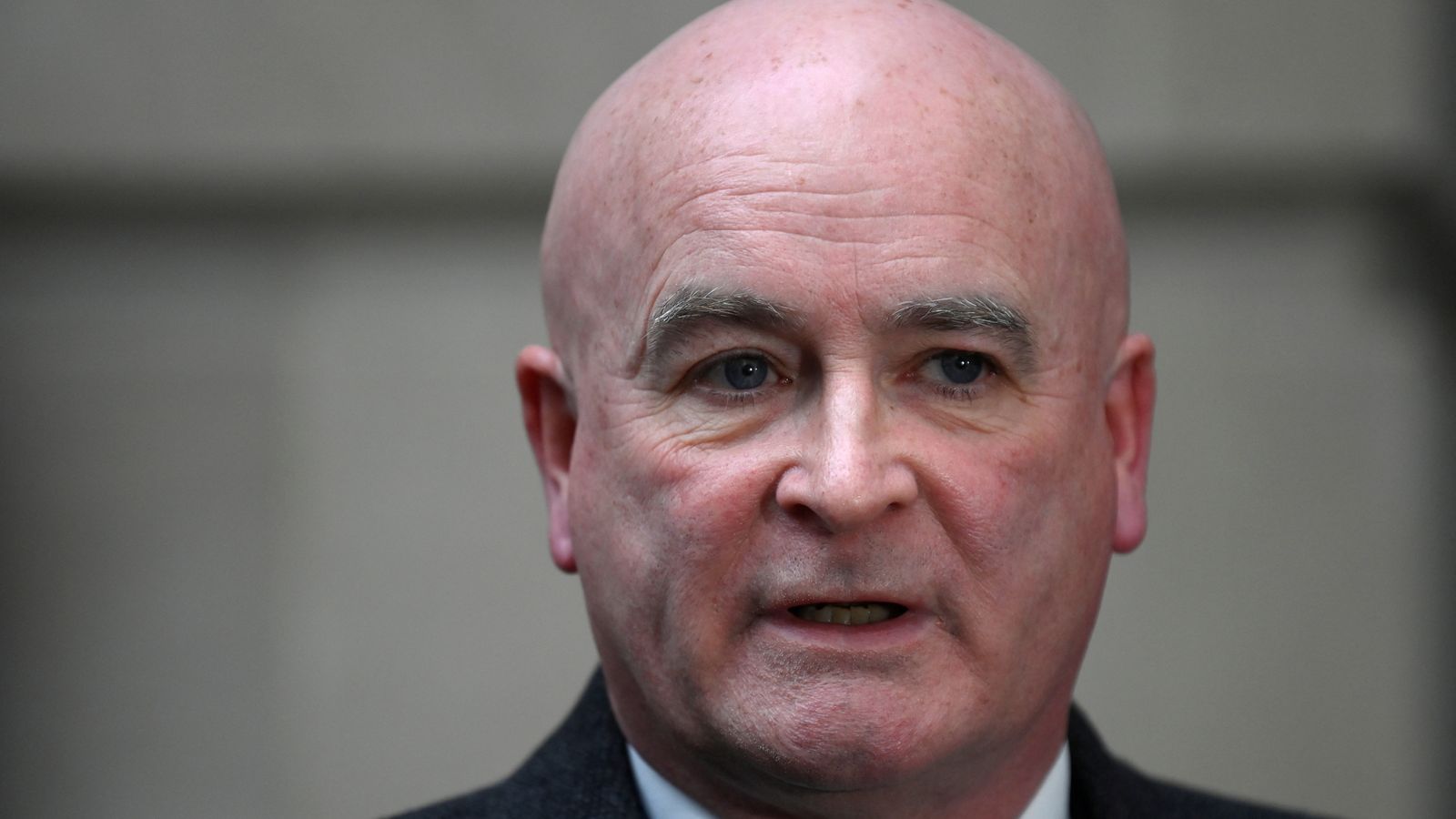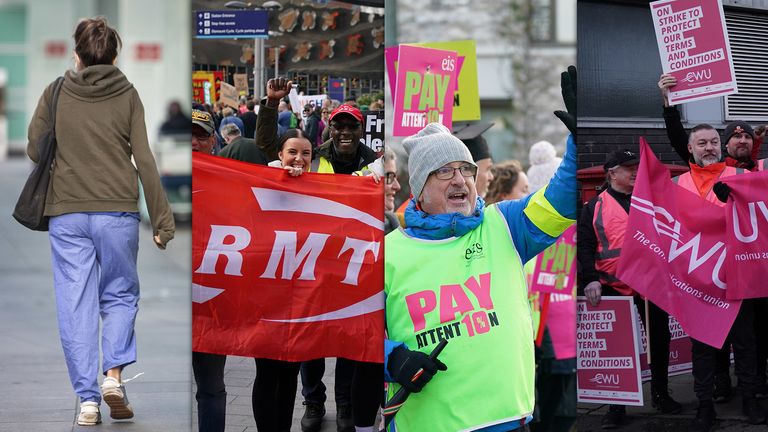 The RMT has rejected an offer from train operators aimed at preventing strikes over the Christmas period, the union has announced.
The Rail Delivery Group (RDG) said its proposed framework would have supported pay increases of up to 8%, covering 2022 and 2023 pay awards, while delivering much-needed reforms.
But the RMT, led by secretary general Mick Lynch, has turned it down.
The union said: "The RDG is offering 4% in 2022 and 2023 which is conditional on RMT members accepting vast changes to working practices, huge job losses, Driver Only Operated (DOO) trains on all companies and the closure of all ticket offices."
Mr Lynch added: "We have rejected this offer as it does not meet any of our criteria for securing a settlement on long term job security, a decent pay rise and protecting working conditions.
"The RDG and Department for Transport (DfT), who sets their mandate, both knew this offer would not be acceptable to RMT members.
"If this plan was implemented, it would not only mean the loss of thousands of jobs but the use of unsafe practices such as DOO and would leave our railways chronically understaffed."
RMT has demanded an urgent meeting with RDG on Monday morning in the hope of trying to resolve the dispute, the union posted on Twitter.
In a statement posted on the RMT website, Mr Lynch said the talks would aim to secure "a negotiated settlement on job security, working conditions and pay."
It means rail strikes planned during December and early January are still scheduled to go ahead, with commuters facing severe disruption on 11, 12, 13, 14, 16, 17 December, and 3, 4, 6 and 7 January.
Mr Lynch previously insisted "I'm not the Grinch" as he defended the industrial action.
Read more:
All the lines affected by train strikes over Christmas and January
How will strikes affect businesses?

The RDG said it was proposing a "fair and affordable offer in challenging times, providing a significant uplift in salary for staff" which would deliver "vital and long overdue" changes to working arrangements.
The draft framework agreement gives RMT the chance to call off its planned action and put the offer to its membership, a statement said.
"If approved by the RMT, implementation could be fast-tracked to ensure staff go into Christmas secure in the knowledge they will receive this enhanced pay award early in the New Year, alongside a guarantee of job security until April 2024," an RDG spokesperson said.
"With revenue stuck at 20% below pre-pandemic levels and many working practices unchanged in decades, taxpayers who have contributed £1,800 per household to keep the railway running in recent years will balk at continuing to pump billions of pounds a year into an industry that desperately needs to move forward with long-overdue reforms and that alienates potential customers with sustained industrial action."
The company called on the union to "move forward with us" so we can "give our people a pay rise and deliver an improved railway with a sustainable, long-term future for those who work on it."
Transport Secretary Mark Harper described the situation as "incredibly disappointing and unfair to the public, passengers and rail workforce who want a deal".
The deal will "help get trains running on time", he said.
A bleak winter of strikes
Motorists have also been warned to brace for Christmas chaos after road workers revealed they will down tools for 12 days to coincide with rail walkouts.
National Highways workers, who operate and maintain roads in England, will take part in a series of staggered strikes from 16 December to 7 January, the PCS union said.
A growing list of unions are threatening to grind the country to a halt, putting pressure on Prime Minister Rishi Sunak.
He is attempting a more constructive, less combative approach with the unions as the government treads a careful line between "being tough but also being human – and treating people with respect", a government source told Sky News.
Military could 'drive ambulances' during strikes

Some 10,000 paramedics voted to strike in England and Wales, the GMB union announced this week.
They join up to 100,000 nurses set to walk out in the biggest-ever strike by the Royal College of Nursing (RCN) in England, Wales, and Northern Ireland on 15 and 20 December.
On Sunday morning, Conservative Party Chairman Nadhim Zahawi told Sky News' Sophie Ridge on Sunday the army could be deployed to help ease possible strike disruption over Christmas.
Morrisons owner paves way for departure of veteran CEO Potts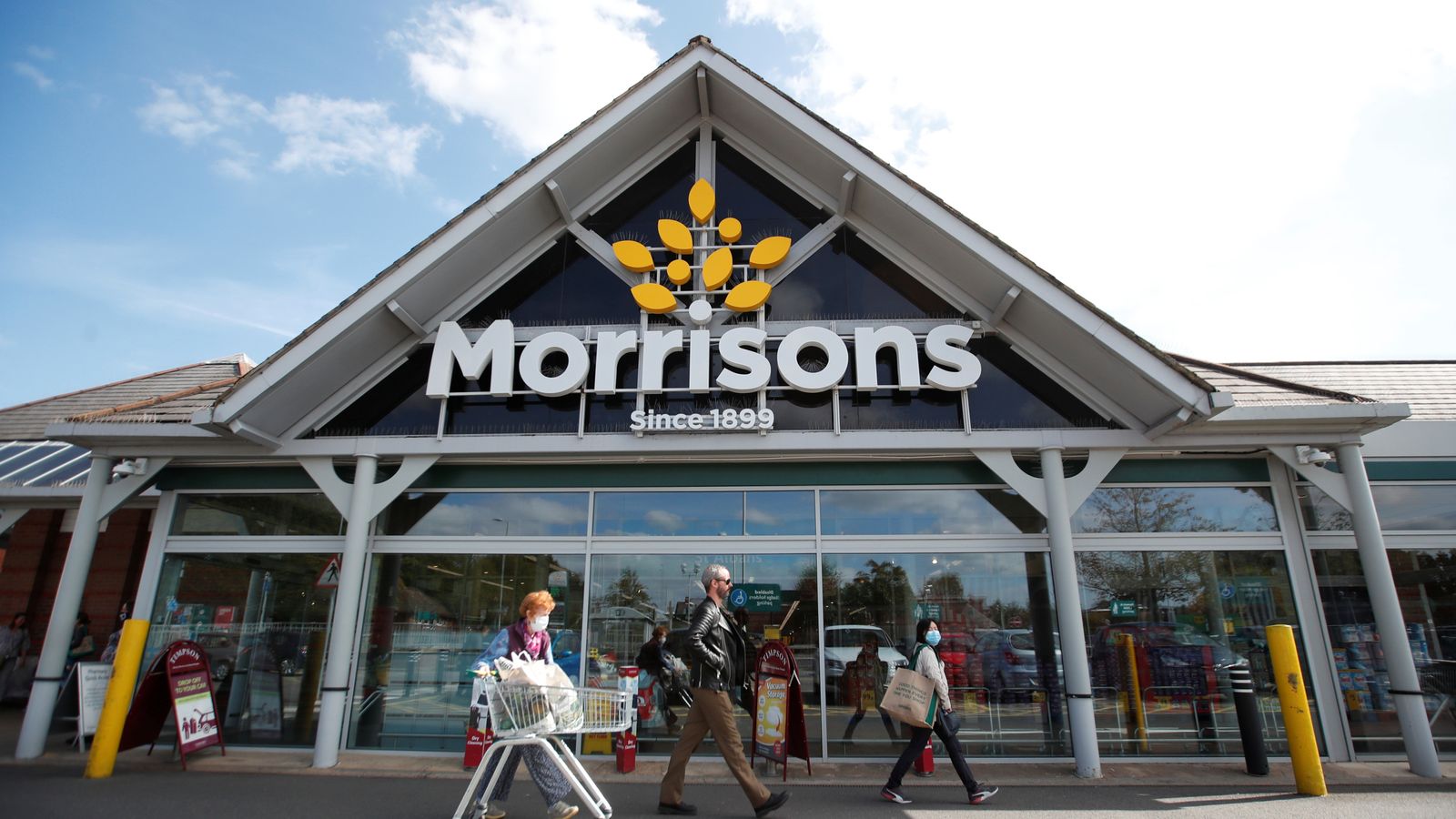 The owners of Britain's fourth-biggest supermarket chain are drawing up plans to identify a new chief executive a year after acquiring it in a £7bn deal.
Sky News has learnt that Morrisons' controlling shareholder, the US-based private equity firm Clayton Dubilier & Rice (CD&R), has retained Egon Zehnder International to strengthen the grocer's executive ranks.
Retail industry sources said this weekend that Egon Zehnder had been approaching potential recruits "with one eye" on finding a successor to David Potts, who has run Morrisons since 2015.
Mr Potts is not expected to leave until at least 2024, and is focused on improving the Bradford-based company's performance after it was recently displaced as Britain's third-biggest supermarket chain by the German discounter Aldi.
A number of internal candidates are expected to vie for the opportunity of replacing Mr Potts, according to insiders.
One said that CD&R was "continuously" working on succession planning at Morrisons and its other portfolio companies.
Sir Terry Leahy, the former Tesco chief executive who has a long-standing relationship with CD&R, will play a key role in the succession planning process as Morrisons' chairman.
Earlier this year, Trevor Strain, Morrisons' chief operating officer and previously its finance chief, left the company, having long been regarded as Mr Potts' inevitable successor.
Morrisons delisted from the London Stock Exchange last year, ending a 54-year run as a publicly traded company.
Recent industry data showed that Morrisons had been usurped by Aldi in market share terms – a milestone in a sector which rarely demonstrates change in the membership of its top ranks.
Morrisons struck a deal earlier this year to rescue the convenience chain McColl's, the market share of which was not included in that data.
CD&R and Morrisons declined to comment.
OPEC oil cartel holds production steady in face of Russia sanctions uncertainty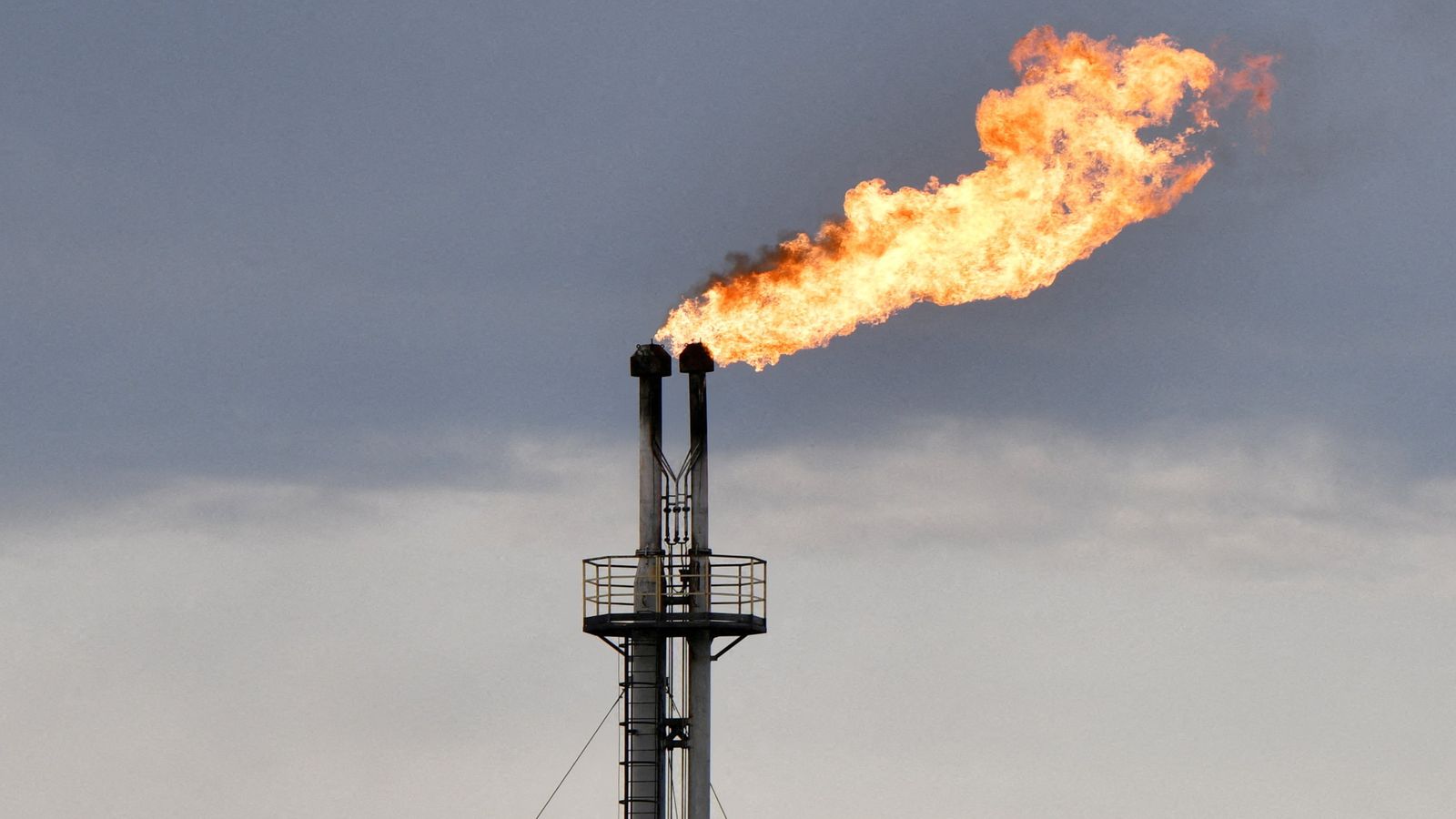 The Saudi-led OPEC oil cartel and allied producers including Russia have stuck to their output targets, despite uncertainty over the impact of fresh Western sanctions against Moscow.
The decision to maintain the status quo at a meeting of oil ministers on Sunday came ahead of the planned start of two measures aimed at hitting Russia's oil earnings following its invasion of Ukraine.
These are a boycott by the EU of most Russian oil, and a price cap of $60 (£49) on every barrel of its crude imposed by the G7 coalition of leading world economies.
Russia 'significantly' losing public support for invasion – live updates
OPEC+, which is made up of the Organisation of the Petroleum Exporting Countries (OPEC) and allies including Russia, angered the US and other Western nations in October when it agreed to cut output by two million barrels per day, about 2% of world demand, from November until the end of 2023.
The move, which would lead to increased prices at a time of already soaring energy costs, led Washington to accuse the group of siding with Russia despite Moscow's assault on Ukraine.
OPEC+ argued it had cut output because of a weaker economic outlook.
Oil prices have declined since October due to slower Chinese and global growth and higher interest rates, prompting market speculation the group could cut output again.
However, the group of oil producers has now decided to keep the policy unchanged.
Its key ministers will next meet at the start of February for a monitoring committee, while a full meeting is scheduled for 3-4 June.
Click to subscribe to The Ian King Business Podcast wherever you get your podcasts
The price cap was agreed on Friday by G7 nations and Australia to deprive Russia's leader Vladimir Putin of revenue while keeping Russian oil flowing to global markets.
Moscow has said it would not sell its oil under the cap and was considering how to respond.
Many analysts and OPEC ministers have said the price cap is confusing and probably ineffective, as Moscow has been selling most of its oil to countries like China and India, which have refused to condemn the war in Ukraine.
The price cap was not discussed at Sunday's OPEC+ meeting, according to sources.
Russia's deputy prime minister Alexander Novak said his country would rather cut production than supply oil under the price cap, and pointed out the limit may affect other producers.
Several OPEC+ members are understood to have expressed frustration at the cap, saying the measure could ultimately be used by the West against any producer.
Washington has said the measure was not aimed at OPEC.