Mexico's men's national team will play its next two home games behind closed doors due to a recurrence of an anti-gay chant during the CONCACAF pre-Olympic qualifying tournament, FIFA announced Friday. A fine of roughly $65,000 was also attached to the ruling, and further sanctions were threatened, including a points reduction.
– U.S.-Mexico halted by anti-gay chants, thrown objects
– Stream ESPN FC Daily on ESPN+ (U.S. only)
"The FIFA Disciplinary Committee has sanctioned the Mexican Federation with a fine of 60,000 Swiss francs and the condition that they play their next two official home games behind closed doors as a consequence of the anti-gay chants heard in the matches against the Dominican Republic and the United States, played in Guadalajara on March 18 and 24, respectively," the FIFA statement said.
Mexico's next two official home games are World Cup qualifiers against Jamaica on Sept. 2 and Canada on Oct. 7.
According to FIFA's statutes on discrimination, more severe punishments may be given for future breaches in order to stamp out the behavior. Those include a reduction in points in official tournaments including World Cup qualifiers, or Mexico being banned entirely from any tournament under FIFA's purview, including the World Cup itself.
"Additionally, the committee has opened a second disciplinary dossier in relation to the anti-gay chants heard from Mexican fans in a friendly played against Iceland in Arlington, Texas on May 29," the statement continued.
Alejandro Moreno says the good and bad of the USA's win over Mexico combined to create a memorable spectacle.
No announcement was made over further investigations into similar behavior at El Tri's most recent matches, including the CONCACAF Nations League semifinal and final against Costa Rica and the United States, respectively. In both games, referees were forced to stop the action in order to ask fans at Empower Field in Denver to stop the behavior. Additionally, several public-address announcements were made before and during the match, aimed at informing fans about consequences from yelling the chant.
"This campaign is a very important step in our efforts to eradicate the goalkeeper chant, and to make it absolutely clear that we oppose all forms of discrimination in football," said Victor Montagliani, CONCACAF president, ahead of the Nations League semifinal.
Speaking at a news conference on Friday, Mexico FA president Yon de Luisa emphasized that the federation rejected "any type of discrimination at Mexico national team games."
El Tri manager Gerardo Martino expressed concern about the ramifications if the chant continued.
"I want to call on our fans to reflect on what these attitudes create for us. It pulls our team away from its fans. It means we play in empty stadiums and even that we could miss out on an international competition," Martino said.
"We're very worried. We're worried about what's coming, about the sanctions that could possibly be next, and because we don't want to be pulled away from our fans. Any national team that wants to accomplish important things depends on its players and its fans."
Sources: Phils add RHP Walker for 4 years, $72M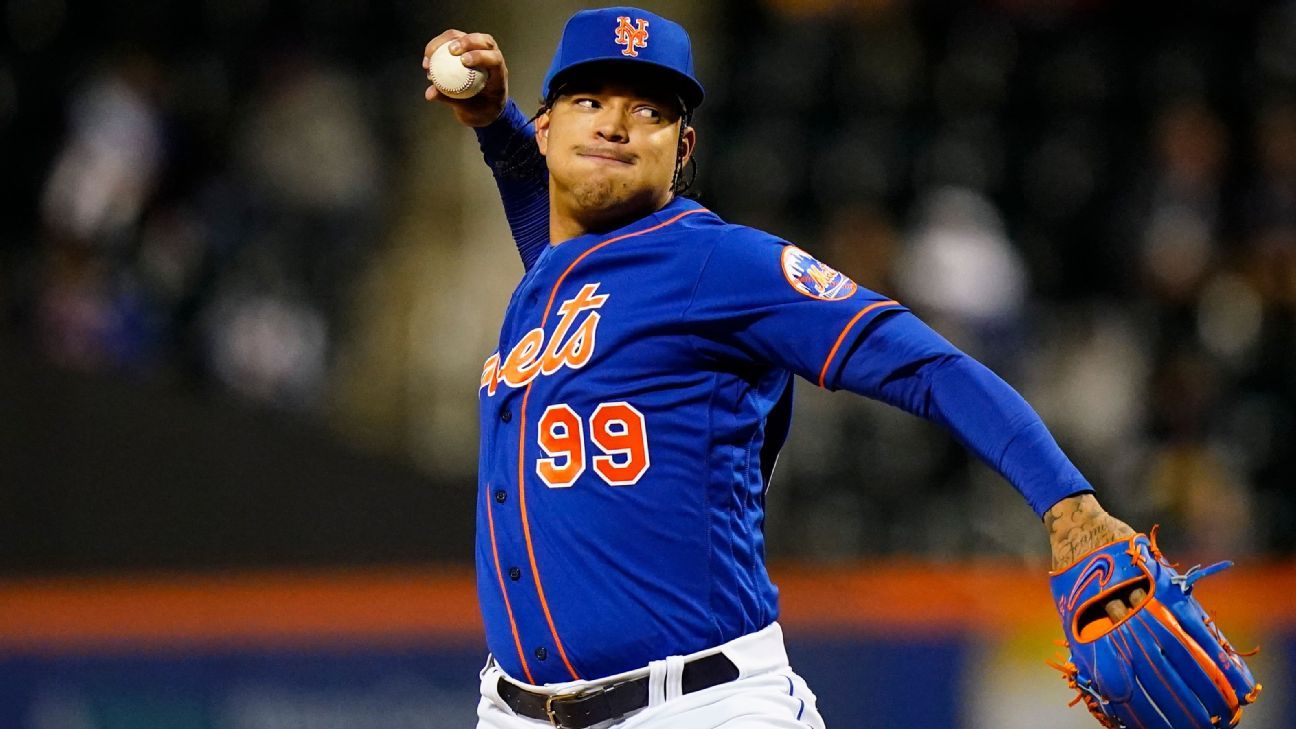 The Philadelphia Phillies and right-handed pitcher Taijuan Walker have reached agreement on a four-year, $72 million contract, sources told ESPN's Jeff Passan on Tuesday.
A day after reaching a blockbuster deal with shortstop Trea Turner, the Phillies add to their rotation with one of the top pitchers left on the free agent market.
Walker joins Philadelphia after one of the strongest seasons of his career in 2022, when he started 29 games for the New York Mets and posted a 3.49 ERA, 2.6 bWAR and a 1.19 WHIP in 157 innings pitched, striking out 132 batters while walking 45.
The Phillies mark the fifth team of Walker's major league career, including the Seattle Mariners, Arizona Diamondbacks, Toronto Blue Jays and Mets.
The 30-year-old righty served as a dependable back-of-the-rotation starter for the Mets throughout the course of the season before declining his $7.5 million player option for 2023, taking a $3 million buyout to explore free agency. The Mets declined to offer a qualifying offer to Walker.
Walker previously underwent Tommy John surgery in 2018 and missed the entire 2019 season. His 2022 campaign marked his most successful on the mound since undergoing treatment on a partial tear of a UCL in his right elbow.
Walker is the second pitcher to leave the Mets' rotation, after Jacob deGrom signed with the Texas Rangers. New York subsequently responded by signing Justin Verlander to a two-year, $86 million deal.
Pirates win 1st MLB draft lottery, right to pick first
The Pittsburgh Pirates secured the No. 1 overall pick in next year's draft on Tuesday, during Major League Baseball's first ever draft lottery. The next five picks, respectively, went to the Washington Nationals, Detroit Tigers, Texas Rangers, Minnesota Twins and Oakland Athletics.
MLB and the MLB Players' Association agreed to a draft lottery in the new collective bargaining agreement, whereby the 18 teams that did not reach the postseason would vie for the first six selections. Odds, based on 2022 winning percentage, ranged from 16.5% (for the Pirates, Nationals and A's) to 0.2% (Milwaukee Brewers).
The A's went in tied for the best chance at the No. 1 overall pick and finished with the No. 6 selection. The Twins took an even bigger step in the other direction, starting with the 13th-best odds and ultimately picking fifth.
The Nos. 7 to 18 picks in next year's draft – slated for July from Seattle, site of the next All-Star Game – will be slotted by reverse winning percentage, followed by how teams finished in the postseason (the World Series-champion Houston Astros, for example, will pick 30th). Rounds 2 through 20 will navigate entirely in reverse order of winning percentage and postseason finish.
We will select 1st overall in the 2023 MLB Draft! pic.twitter.com/fHNpobdFGM

— Pittsburgh Pirates (@Pirates) December 7, 2022
MLB placed more picks up for grabs than any other major spot in its first draft lottery. Only the first four picks of the NBA's draft are attained through the draft lottery. In the NHL, it's just the first two. The bottom three teams were all given the same odds for the No. 1 overall pick in an effort to disincentivize tanking for the worst record. Large-market teams (defined as those who do not receive revenue sharing) are prohibited from entering the draft lottery in back-to-back years; small-market teams can't enter it three straight years.
MLB Network announced the results of the lottery inside a ballroom from the Hyatt hotel that is staging this year's Winter Meetings, with executives from the 18 eligible clubs sitting at nearby tables and outfielder-turned-MLB-executive Raul Ibanez reading the results. But the process took place hours later, when a collection of sealed balls arrived in a suitcase and 1,000 four-number combinations were assigned to the 18 teams (the higher the odds for the No. 1 overall pick, the more combinations assigned to the team). Bill Francis, who helps run the MLB Draft, selected the six four-number combinations that determined the order. PricewaterhouseCoopers oversaw the process.
The top three players in next year's draft, based on rankings from ESPN's Kiley McDaniel in July, are: Wyatt Langford, a center fielder from Florida; Jacob Wilson, a shortstop from Grand Canyon; and Max Clark, a center fielder from Franklin Community High School in Indiana. This will mark the sixth time the Pirates select first overall. They did so as recently as 2021, selecting catcher Henry Davis out of Louisville.
Haniger to Giants; 3 years, $43.5M, sources say
The San Francisco Giants agreed to terms with outfielder Mitch Haniger, the team announced Tuesday, filling a hole in the Giants' outfield as they continue their free agent pursuit of American League MVP Aaron Judge.
The deal is for three years and $43.5 million and includes a player opt-out after the second year, sources told ESPN's Jeff Passan.
Haniger, who turns 32 later this month, has posted star-caliber numbers in the two seasons he has been healthy, but has struggled with injuries throughout his major league career, most of which he spent in Seattle. With the Mariners last season, he hit .246/.308/.429 with 11 home runs and 34 RBIs in 57 games, helping propel the team to its first playoff berth in two decades.
One season earlier, Haniger showed the sort of talent that led the Giants to consider a multiyear deal at $14.5 million a season. He hit 39 home runs, good for fifth in the AL, and drove in 100 runs while posting 3.9 Wins Above Replacement over 157 games, according to Baseball-Reference.
The Giants' offseason began with outfielder Joc Pederson accepting a $19.65 million qualifying offer. It continues with Haniger and could include Judge, who last year spent a majority of his time in center field but has played most of his career in right. Along with Haniger and Mike Yastrzemski, Judge could be part of the outfield while Pederson spends most of his time at designated hitter.
Long a fan favorite and leader in Seattle, Haniger joined the Mariners in November 2016, when Arizona — which drafted him in the first round of the 2012 draft — traded him along with Jean Segura for infielder/outfielder Ketel Marte and pitcher Taijuan Walker.
Haniger immediately produced for Seattle, putting up an OPS of .843 in his first season. His best year came in 2018, when he played 157 games and hit .285/.366/.493 with 26 home runs and played well above-average defense in right field.
The next season, in 2019, Haniger suffered a ruptured testicle after a foul ball took an unfortunate carom. The injury kept him out for the remainder of the season, and he missed significant time with back and core injuries, not playing in 2020.
His 2021 return was hailed in Seattle, where Haniger helped steer the Mariners to the cusp of the postseason with a bevy of clutch hits. He'll now slot into the middle of a Giants lineup that ranked 11th in baseball in runs scored but lost three-quarters of its infield — first baseman Brandon Belt, shortstop Brandon Crawford and third baseman Evan Longoria — to free agency.