If Dolly Parton wants to take part in a Playboy photo shoot, she's not going to let a little thing like the magazine no longer being in print get in her way.
The country music legend decided to make her own cover, recreating one she did for the publication back in 1978, to surprise her husband Carl Dean for his 79th birthday on Tuesday.
Donning an iconic Playboy bunny suit with the famous ears, Parton posted a video sharing her surprise on social media.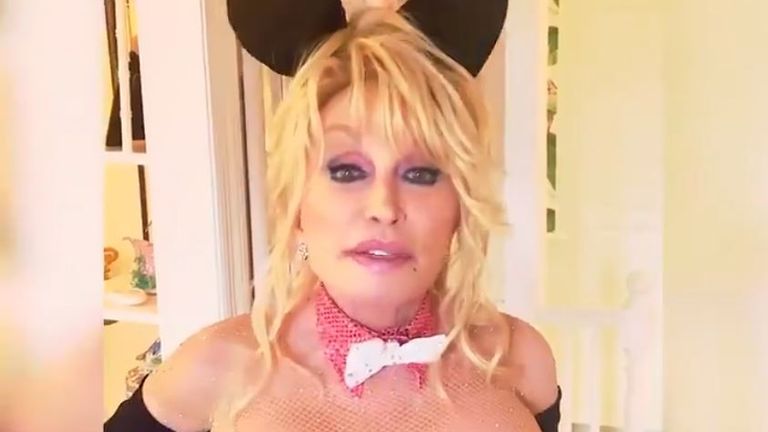 The 75-year-old said her husband of more than 50 years had always been fond of her cover and she had been hoping to recreate the look officially this year to celebrate her own landmark birthday. However, the famous men's magazine stopped its print edition in March 2020.
So, Parton did the next best thing and created a homemade version.
"Remember some time back I said I was going to pose on Playboy magazine when I'm 75?" the singer said in her video. "Well, I'm 75 and they don't have a magazine anymore, but my husband always loved the original cover of Playboy.
"So I was trying to think of something to do to make him happy. He still thinks I'm a hot chick after 57 years and I'm not going to try to talk him out of that."
Parton sat for a photoshoot and had a new cover made to go alongside the original.
Comparing the two, she said with a wink: "I was kind of a little butterball in that one, well I'm string cheese now. But he'll probably think I'm cream cheese – I hope!"
The star also included a picture of her surprising Dean in the video, but only showed the back of his head – a small nod to their famously private marriage.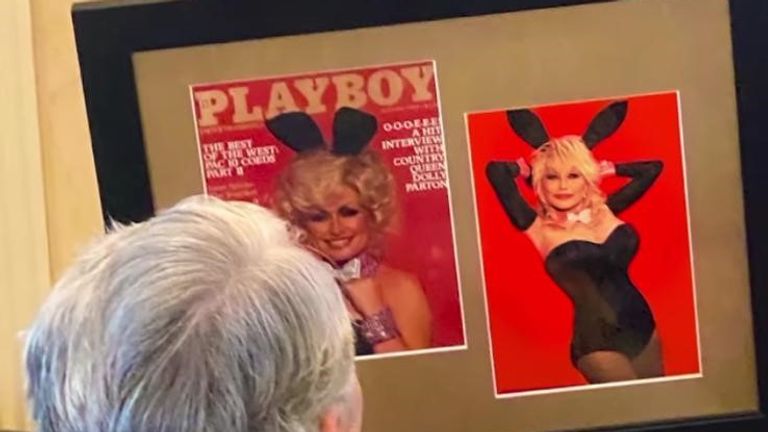 "It's always #HotGirlSummer for my husband, Carl," she captioned the post. "Happy birthday my love!"
Established by the late Hugh Hefner in 1953, Playboy's bowtie-wearing bunny mascot became one of the most recognisable American brands in history.
The first issue of the magazine in 1953 featured nude photographs of Marilyn Monroe and sold more than 50,000 copies.
Subscribe to Storycast 21 now on Apple Podcasts, Spotify, Google Podcasts, Spreaker
Parton has recreated her cover following a year in which she has also been praised for "curing coronavirus" after donating $1m (£814,000) to the Vanderbilt University Medical Center – a partner of the US company Moderna that developed one of the COVID-19 vaccines.
She even reworked her famous hit Jolene "to fit the occasion" when she got her own jab, singing: "Vaccine, vaccine, vaccine, vaccine – I'm begging of you, please don't hesitate. Vaccine, vaccine, vaccine, vaccine – because once you're dead, then that's a bit too late."
Playboy bunny, vaccine funder and a country superstar – is there nothing Dolly Parton can't do?
Gail Porter opens up about being homeless: 'Don't be proud – keep asking for help'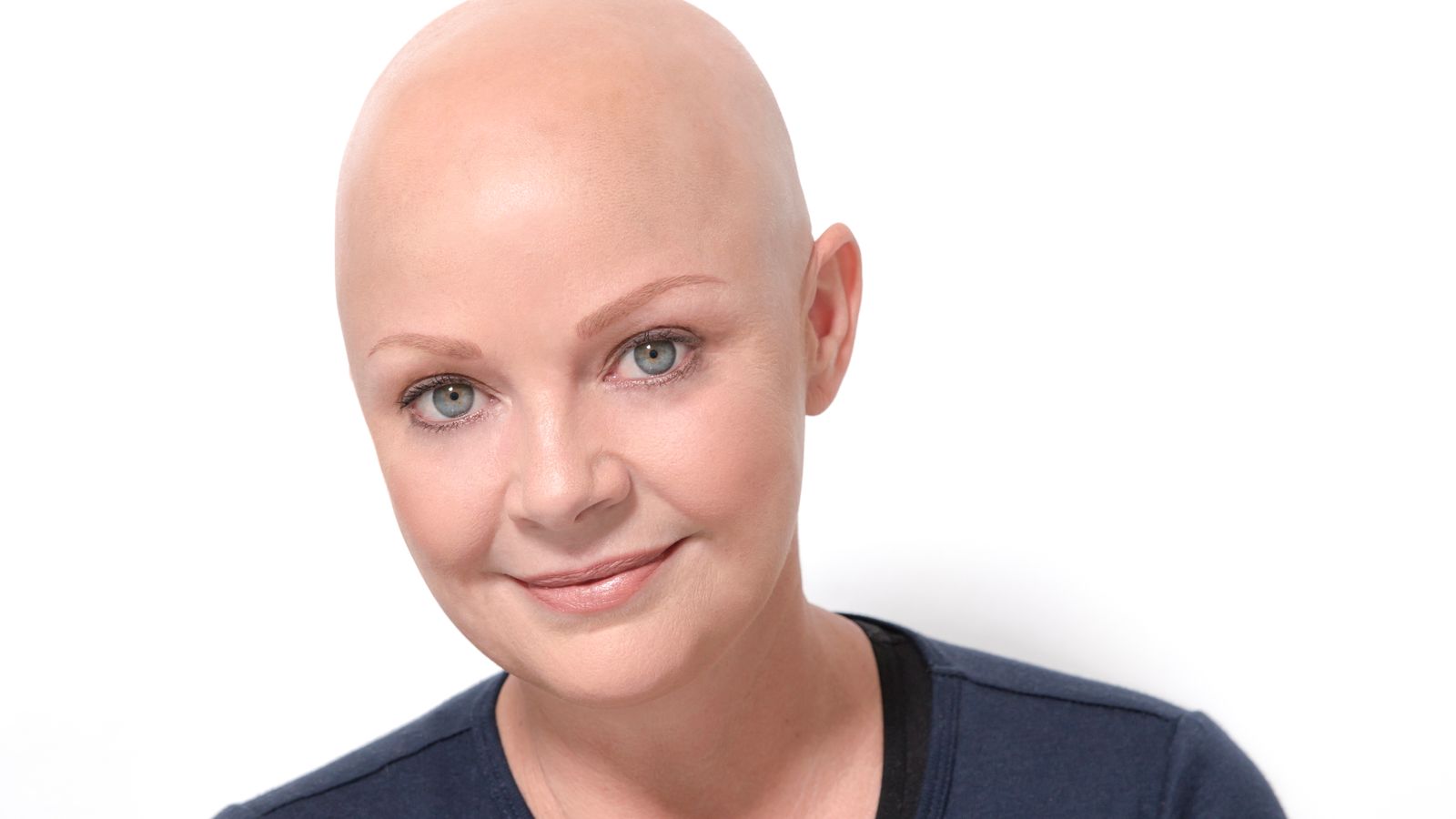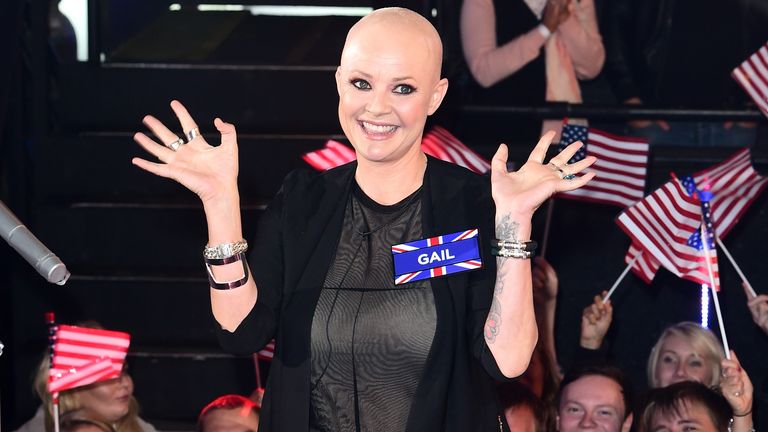 Gail Porter was someone you would see regularly on big TV shows such as Top Of The Pops and Live & Kicking in the 1990s and 2000s, as well as on the cover of lads mags – famously the FHM cover that saw her naked image projected, without her prior knowledge, on to the Houses of Parliament.
But when she was diagnosed with alopecia in the mid-2000s, after already suffering with mental health problems, her TV work dried up.
"My hair fell out, nobody wanted to touch me with a barge pole," she tells Sky News. "I didn't want to wear a wig because I find them uncomfortable. And then suddenly the only jobs you're getting offered are to go on and talk about being bald."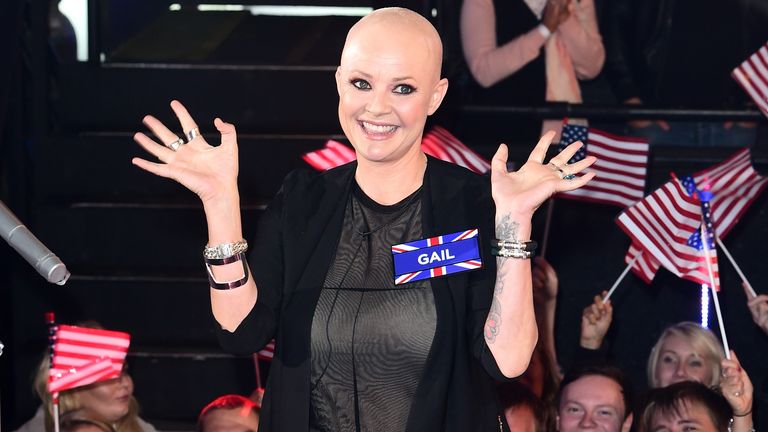 After bouts of depression, self-harm, anorexia and a breakdown – and at one point being sectioned – the star found herself with nowhere to go about eight years ago. She had no work, and an unexpected tax bill "completely scuppered me. I was done".
Porter, 52, says she spent time moving between friends' spare bedrooms and sofas. "And there were a couple of nights on Hampstead Heath, just sitting, thinking: 'I've got no idea where to go'. It was a very long six months, but I managed to get back on my feet again."
Porter entered the Celebrity Big Brother house in August 2015, appearing alongside stars including Janice Dickinson, Bobby Davro and Natasha Hamilton, and was able to rent the flat in London she is living in today. "I'm happy to have a roof over my head," she says.
In recent years, the star has campaigned to raise awareness of those facing homelessness and is now working with the Good Things Foundation, a digital charity, and Virgin Media O2 to highlight The National Databank – described as similar to a foodbank, but for free mobile data, texts, and calls.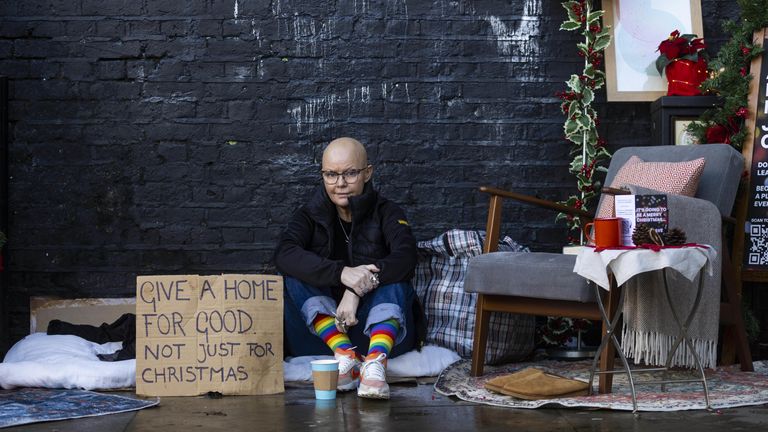 'I never thought in a million years it would get this bad'
The charity says demand for the National Databank is increasing, with its website already receiving almost double the number of visits in 2023 compared to the same period in 2022, as the cost of living crisis continues.
Virgin Media O2 surveyed 2,000 adults in the UK, and say more than a third (35%) believe they are only one pay slip away from finding themselves in extremely difficult financial hardship.
"That is such a frightening statistic," says Porter. "I never thought in a million years it would get to this bad with me. And then it was just spiralling out of control.
"I was trying to apply for jobs, but without my phone or a laptop… I was walking round with a black bin liner with my clothes. 'Excuse me! You got any jobs going in the bookshop? Or you got any jobs going in the library?' I just want to work anywhere, I don't care. It was very difficult for me, traipsing around everywhere with a bag, just trying to get myself back on my feet."
Read more:
Millions of mobile phone users face higher bills
Dates revealed for when millions will receive cost of living payments
Porter found herself struggling to access some of the everyday services most take for granted. "I did have a little bit of data on my phone… then when that ran out, suddenly I thought, my gosh, can someone help me get somewhere to stay? Can I go to the doctor's to talk to somebody about how I'm feeling mentally? Can I contact a friend?"
Because of her fame, the assumption by those around her was that she would be okay.
"All those magazines I did, I never got a penny… not everything is as lucrative as it seems."
Porter says she appeared on shows for minimum pay and even without payment. "So you'd see me doing lots and lots of things… that kind of went on for quite a long time. You can't really work for free all the time."
Moving to stand-up comedy
Life is great now, she says, and there's a new challenge on the cards – Porter, who is Scottish, is due to launch her stand-up comedy career at the Edinburgh Fringe Festival later this year.
"I have good days and bad days," she says when I ask if she's feeling nervous. "Sometimes I think, this is going to be great, what could possibly go wrong? And then sometimes I wake up in the middle of the night with the sweats. What was I thinking of? And it's my hometown so my friends have said they'll come."
Read more on Sky News:
Nearly 100,000 prepayment energy meters forcibly installed last year
Grocery inflation hits new record high – and worse is to come
Porter says she doesn't want to give too much away, but the show will draw on her personal experiences of mental health struggles and her homelessness.
"Now that I'm on my feet again, I can laugh about certain things," she says. "So, lots of little stories about losing my hair, being sectioned, all sorts of little funny things. Hopefully people will enjoy it."
Before she goes, Porter offers advice to anyone who is going through similar experiences to hers – and urges people in need to find their local databank.
"You're not on your own," she says. "Don't be proud. You just have to swallow that and say, you know what? It's happened. The best thing I can do is go onwards and upwards – and keep asking for help."
'Split-screening' and other phone habits reveal how children are watching even more videos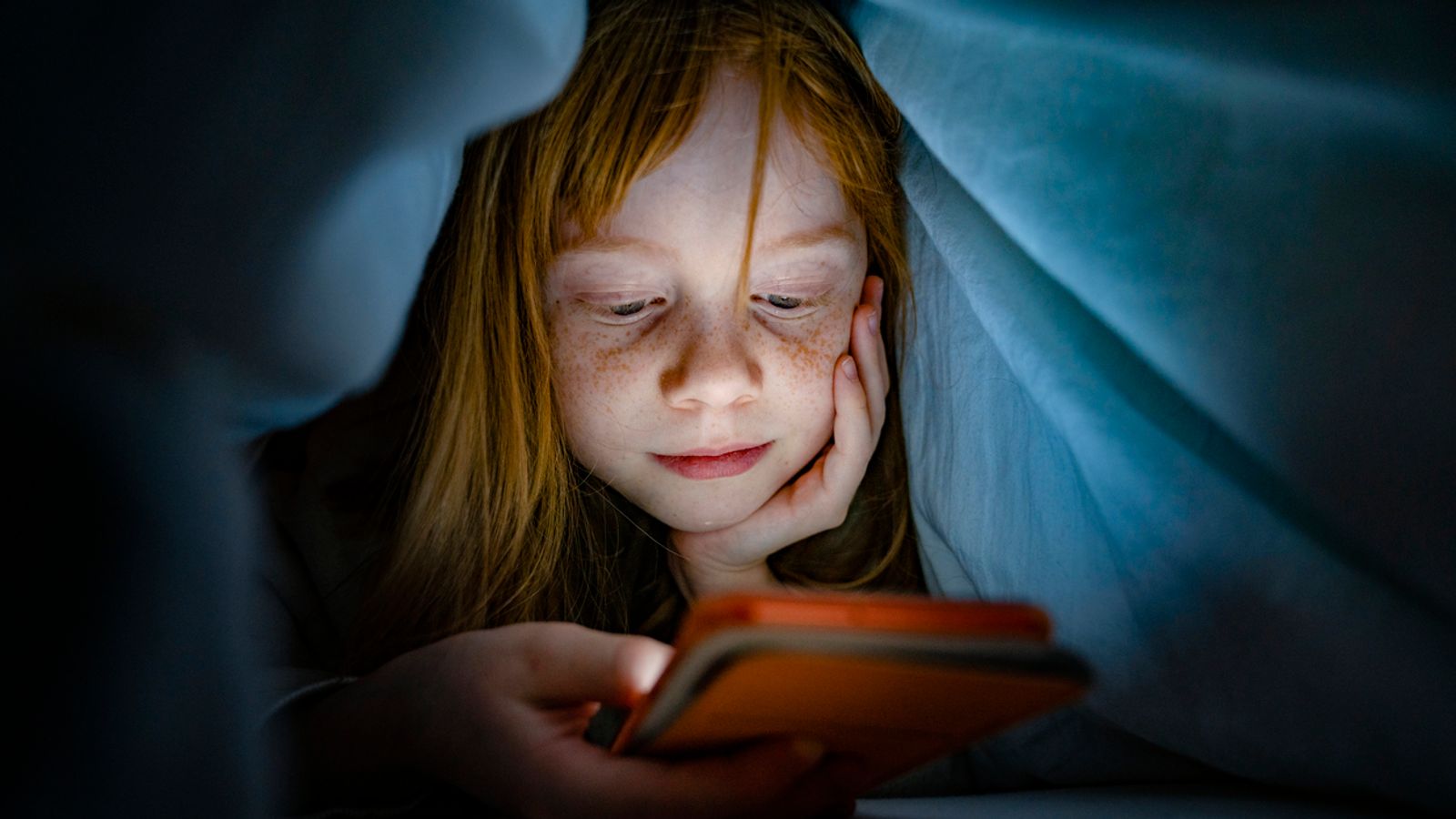 Increasing numbers of children are "split-screening" so that they can watch multiple social media videos at a time, new research suggests.
Not content with their endless feeds of single attention-sapping clips on apps like TikTok and Instagram, many youngsters are now dividing their smartphone screens to see two or more simultaneously.
Some even stack videos on top of one another, according to Ofcom's report into children's relationship with media.
In some cases, the clips they watch simultaneously do not even have an obvious connection.
The regulator said the habit appears to be an evolution of "multi-screening" behaviour seen in its previous research, where children reported difficulties in focusing on one screen-based activity at a time.
Ofcom's report found that 96% of children aged three to 17 watch online videos.
More than half (58%) watch livestreamed content, rising to 80% among 16 and 17-year-olds.
Short-form videos growing in popularity
While nine in 10 children watch YouTube, increasing numbers are now turning to platforms dedicated to short-form videos like TikTok (53%) and Snapchat (46%).
Both apps have introduced features to restrict how much children use the apps in the face of concerns about the impact excessive social media can have, with Snapchat giving parents access to their accounts.
TikTok has also been keen to promote its safety features, such as screen time limits, as it faces growing scrutiny across the Western world over data and privacy fears.
Ofcom said the most popular videos with children are engineered to grab attention with minimal effort, such as those which promise "commentary" or "reaction" to other content.
Less than a third of children post their own videos online, though, according to the report.
As social media content becomes increasingly well produced, with influencers kitting out their home studios with expensive equipment and software, youngsters are becoming more self-conscious about their online image.
Previous research has warned that children were over-dependent on "likes" to boost self-esteem.
Read more:
Kate Winslet on why social media worries her
These were the UK's favourite TikTok videos of 2022
Why is TikTok getting banned?

Older teens taking notice of screen time
But older teenagers and young adults are starting to take more notice of how much time they spend online.
Just over half of users aged 16 to 24 thought they spent too much time on social media, up from 42% in 2021.
They were also more likely to take deliberate breaks from certain apps or delete them altogether, Ofcom said.
The report comes as the government's divisive Online Safety Bill makes its way through Westminster.
The wide-ranging legislation would give Ofcom the power to regulate internet content to keep people safe, including making companies liable for the content on their platforms.
Gary Lineker wins £4.9m tax appeal against HMRC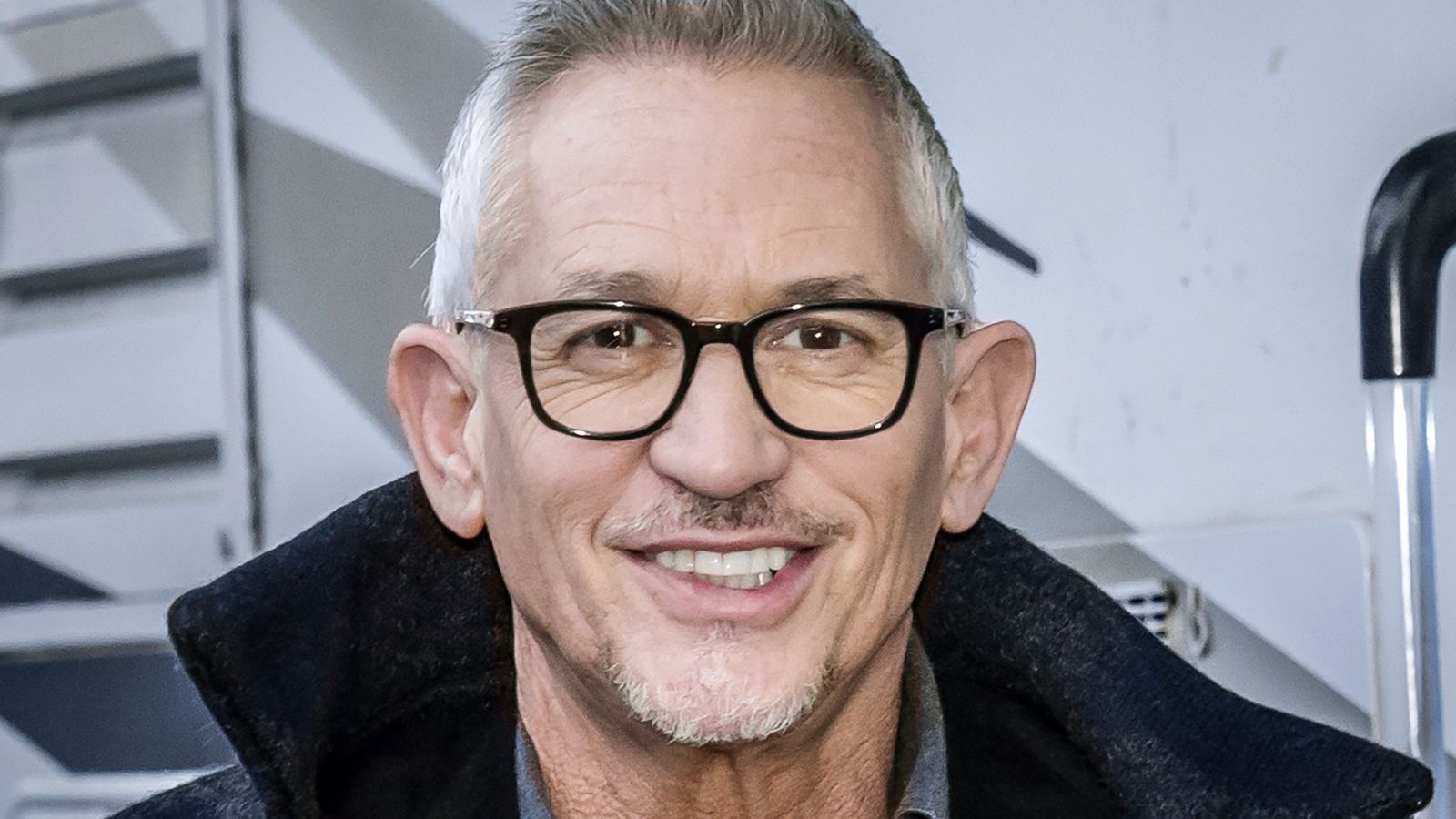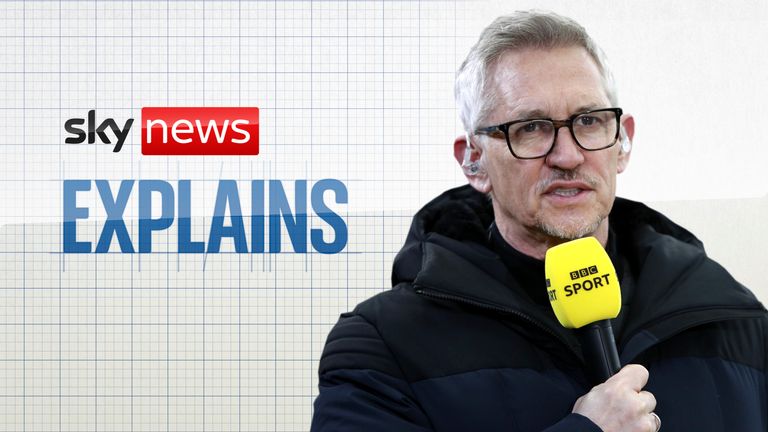 Gary Lineker has won his £4.9m tax appeal against HMRC.
The Match Of The Day host was pursued for the cash by tax authorities, who said it should have been paid on income received between 2013 and 2018.
HMRC said Lineker, 62, should have been classed as an employee of the BBC and BT Sport for his presenting duties, rather than as a freelancer.
The bill came as part of legislation known as IR35, designed to crack down on tax avoidance by so-called disguised employees, who charge for their services via limited companies. The aim is for contractors or freelancers to pay broadly the same income tax and national insurance as an employee.
Lineker had maintained that all taxes were paid on his income via a partnership, Gary Lineker Media (GLM), set up with his ex-wife Danielle Bux in 2012.
His lawyer James Rivett KC told a preliminary hearing in London in February that the star had been "dragged through the papers accused of not paying income tax which has been paid", and claimed there was a political element to the investigations.
Tribunal judge John Brooks has now found that while GLM was a partnership to which IR35 legislation applies, the appeal should be granted because contracts existed between the presenter and both the BBC and BT Sport.
The judge said: "As a matter of law, when Mr Lineker signed the 2013 BBC contract, the 2015 BBC contract and the BT Sport contract for the provision of his services, he did so as principal thereby contracting directly with the BBC and BT Sport.
"As such, the intermediaries legislation cannot apply – it is only applicable 'where services are provided not under a contract directly between client and the worker'.
"In this case Mr Lineker's services were provided under direct contracts with the BBC and BT Sport.
"Although such a conclusion might appear inconsistent with my conclusions that the intermediaries legislation can apply to partnerships… that is not the case."
He added that he could "dispose of the entire appeal in the appellants' favour and the appeal is therefore allowed".
Following the decision, Lineker tweeted: "Thanks for all the congratulatory messages. I am pleased that the Tribunal has endorsed my contention that I have not failed to pay any taxes or National Insurance by reason of the IR35 rules."
HMRC is considering appealing.
"The tribunal has confirmed the off-payroll rules apply to partnerships, as we have always said," a spokesperson said. "However, we do not agree with its decision that the rules cannot apply in this case and we're considering an appeal."
Click to subscribe to the Sky News Daily wherever you get your podcasts
The HMRC spokesperson added: "It is our duty to ensure everyone pays the right tax under the law, regardless of wealth or status."
The Lineker-BBC row
Lineker is Match Of The Day's longest-serving presenter and has been on the football show since the 1990s following a successful football career for clubs including Leicester City, Tottenham and Barcelona, as well as for England.
Earlier in March, the star was forced off air in a row over a tweet criticising the government's migration policy, with his co-presenters standing down from the show in solidarity.
He returned the following week following talks with the BBC, which has announced a review, led by an independent expert, on its social media guidance – with a focus on how it applies to freelancers outside news and current affairs.
What are the BBC impartiality rules?

The football pundit topped the BBC's highest paid star list in 2022, earning between £1,350,000 and £1,354,999 for his work on Match Of The Day, Sports Personality Of The Year, and other programmes.
Lineker's tax case follows similar attempts by HMRC to target other broadcasters including Lorraine Kelly and Kaye Adams.
As the decision on the presenter's appeal was announced, former BBC director-general Lord Birt appeared before the digital, culture, media and sport committee (DCMS) as part of a session in the wake of his three-day Match Of The Day suspension.
He told the hearing that presenters such as Lineker who are "inextricably bound up with an important BBC programme" should have to abide by impartiality rules.
Asked whether he thought viewers appreciated the difference between news staff and freelancers, Lord Birt said: "I am sure the public doesn't even think about it.
"What it knows is that this (Match Of The Day) is one of the most important BBC programmes and this is a well established presenter.
"And yes, he was one of England's great centre-forwards but let's not kid ourselves. His status, his standing and his power arises above all else from presenting this extremely important programme."
Acknowledging public opinion over Lineker's tweet was split, Lord Birt added: "I don't ever think the damage in respect to the BBC is terminal because it has got too much credit in the bank."