Originally published at ILSR.org
Electricity customers are lining up to generate their own clean, affordable solar energy, but to get it to them, solar developers must navigate the impediments of a congested and outdated electricity grid.
For this episode of the Local Energy Rules podcast, host John Farrell speaks with Yochi Zakai, attorney with Shute, Mahaly, and Weinberger representing Interstate Renewable Energy Council (IREC). The two discuss hosting capacity analysis and how publicly shared grid information can help solar developers, electric customers, and others make more informed decisions.
Listen to the full episode and explore more resources below — including a transcript and summary of the conversation.
Episode Transcript
---
Expensive Electric Accommodations
Electric distribution grids were built as top-down avenues for delivering electricity from large, centralized power plants. Now, as distributed generation and energy storage become more popular, utilities are having to accommodate the two-way flow of electricity. To do so, the utility often needs to upgrade the distribution system. This is especially true in areas where there is a lot of distributed energy development.
"The grid was built for this one way flow of electricity. But as more customers decide to install generation in their homes, the way that the distribution grid operates is also going to change."
Solar developers looking to connect their new generation source to the grid may trigger the need for a system upgrade. In most cases, whoever triggers a grid upgrade must pay the upgrade costs — which can be severe. Larger solar gardens are more likely to trigger upgrades. If a developer is surprised by these costs, and building their solar garden is no longer feasible, they may be forced to drop their plans entirely. Hosting capacity analysis can provide key grid information proactively for individuals hoping to plug in.
Hosting Capacity Analysis
In a hosting capacity analysis, utilities compile information about the electric grid and publish it online for the use of developers and other stakeholders. The resulting map has pop-ups with data on various localized grid conditions: how much generating capacity that section of the grid can still handle, the voltage of the line, and the existing generation on that part of the grid.
This information, which Zakai calls "geeky grid data," helps customers and solar developers make decisions.
"The studies produce a wealth of information that developers can use to cite and design the systems so they don't trigger upgrades. And in some cases they can even make the grid more reliable."
Utilities in seven states are required to publish hosting capacity maps. Some utilities even publish this information voluntarily. Zakai says that generally, hosting capacity analysis is most common in states with robust distributed energy development, including Hawaii, Massachusetts, and New York.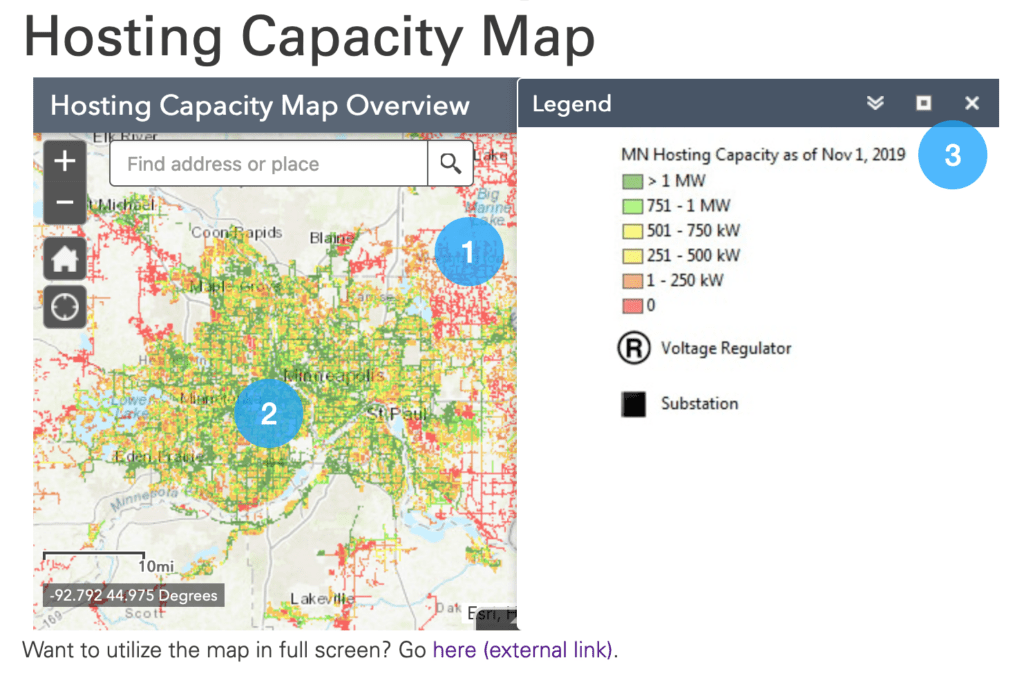 Some Truth to California Exceptionalism
California's hosting capacity analysis process, called integration capacity analysis, provides more useful information than the hosting capacity maps published in other states. This is thanks, in part, to a petition from Zakai and the Interstate Renewable Energy Council (IREC). IREC asked the state of California to consider all kinds of interconnecting loads, including electric vehicle chargers, electric heat, and solar generating power, when implementing its integration capacity analysis. In January 2021, the California commission filed its petition to make changes to the analysis and its resulting map.
In California, grid users also uniquely share the cost of grid upgrades, rather than the typical 'cost-causer pays' model used in other states.
Automating & Simplifying the Interconnection Process
It is not possible to automate all new grid interconnections, says Zakai. Still, hosting capacity analysis could simplify many of the steps within this process. California is the first state in the country to try using hosting capacity analysis to reduce the complexity of the interconnection process.
"Hosting capacity analysis can be used to automate and increase the precision of some of the most problematic technical review processes that the utilities use when they evaluate new grid connections. Last fall, California became the first state in the country to make a final decision to use the hosting capacity analysis to automate some of these processes."
Thanks to new rules adopted by the California Public Utilities Commission, solar developers can use the public hosting capacity maps to design and site projects with more certainty. As developers make more informed proposals, utilities will not waste resources reviewing projects that will never get built.
---
Read ILSR's comments to the Minnesota Public Utilities Commission detailing how Hosting Capacity Analysis Could Simplify Grid Interconnection for Distributed Energy Resources.
---
Episode Notes
See these resources for more behind the story:
For concrete examples of how cities can take action toward gaining more control over their clean energy future, explore ILSR's Community Power Toolkit.
Explore local and state policies and programs that help advance clean energy goals across the country, using ILSR's interactive Community Power Map.
---
This is episode 135 of Local Energy Rules, an ILSR podcast with Energy Democracy Director John Farrell, which shares powerful stories of successful local renewable energy and exposes the policy and practical barriers to its expansion.
Local Energy Rules is Produced by ILSR's John Farrell and Maria McCoy. Audio engineering for this episode is by Drew Birschbach.
This article originally posted at ilsr.org. For timely updates, follow John Farrell on Twitter, our energy work on Facebook, or sign up to get the Energy Democracy weekly update.
---
---
Have a tip for CleanTechnica, want to advertise, or want to suggest a guest for our CleanTech Talk podcast? Contact us here.
---
Elon Musk says Tesla has a 'performance Cybertruck'
Elon Musk reveals that Tesla has a 'performance Cybertruck' – indicating that it could be one of the first versions of the electric pickup truck.
Tesla is on the verge of delivering the first Cybertruck.
Despite the automaker having produced likely hundreds of trucks and being about to start deliveries, there's still a lot we don't know about the electric pickup truck.
Tesla first unveiled the Cybertruck in 2019 and announced specs and pricing at the time, but the automaker is known to update its vehicles significantly from prototype to production. On top of it, the auto market has changed a lot since then, and that is expected to completely change the prices that Tesla announced for the Cybertruck.
Those expected changes have led to speculation about which Cybertruck models are going to be available, when, and at what prices.
We have recently seen evidence that at least some of Tesla's Cybertruck release candidates are dual-motor powertrain trucks, which is leading people to believe that it might likely be the first
Now CEO Elon Musk is now adding some information into the mix by saying on X that he recently drove a "performance Cybertruck":
I just drove the performance Cybertruck today and it kicks ass next-level.
This means that Tesla currently has a "performance" version of the Cybertruck, which could mean it could be amongst the first versions to come to market.
Tesla has previously announced a tri-motor version of the Cybertruck with the following specs:
Tri Motor AWD with 500+ miles of range, 0-60 mph in 2.9 seconds, top speed of 130 mph, and starting price of $69,900
That could certainly qualify as a "performance version", but there have also been rumors of Tesla offering a potential quad-motor version of the Cybertruck, which could have even higher performance.
Tesla is expected to announce all the details of the Cybertruck at a delivery event, which could come within the next few weeks.
This 100 MPH 'street legal' 2-seater electric race car from China looks pretty legit
Most of the fun and funky vehicles I manage to dredge up for the Awesomely Weird Alibaba Electric Vehicle of the Week are big on weirdness but short on power. This time that seems to be reversed, as this electric race car is more wild than weird and comes with some seriously impressive performance.
This isn't some slow crawling electric battle tank or ice-cream truck shaped like a VW bus. Those are more typical of this series on odd Chinese EVs, but this time we're going all-in for extreme performance.
That means you'd better be ready to buckle in for speeds of up to 160 km/h (100 mph)! And based on some of these product photos, I wouldn't mind buckling into the passenger seat for the first few rides.
Powering this little racer's rear wheels is a 10 kW (13.5 hp) electric motor, which might not sound that powerful, but remember just how potent the low end torque from an electric motor is for rocketing off the line.
And since the entire vehicle only weighs 650 kg (1,433 lb), not to mention an extra 45 kg (100 lb) of cover girl model, there just isn't that much mass here to be accelerated.
Plus the Chinese tend to rate motors with continuous power, not peak power. So there's probably more kilowatts under the hood than we're expecting. There's no information on what kind of controller is powering that motor, but I'd wager that the peak power could be closer to 20 kW (27 hp).
There's also a surprisingly large battery in this little racer, to the tune of 14.4 kWh. It's a 96V pack built from LG lithium-ion cells and would give several American electric motorcycles a run for their money.
According to the vendor, it should be enough for 150 km (96 miles) of range per charge, though there's no mention if that's on a city street track or the Indianapolis Motor Speedway.
Speaking of city streets, the company says that the vehicle is ECE certified and "can be legally driven on European streets". I guess we'll just have to take their word on that, unless someone wants to buy one of these and try it out themselves.
There's no word on DOT-certification and so it's likely not street legal in the US. But that might not stop someone from going full-'Murica doing donuts in the local Krogers parking lot with their bald eagle riding shotgun.
If you want to get some skin in the game (eagle not included), it's going to cost you a cool US $28,000. Or at least that would be the first payment. There's no telling how much you'd have to fork over afterwards for ocean freight, import charges, taxes, and other add-on charges along the way.
But for anyone hoping to try their luck with the local European cops, it's at least comforting to see that these vehicles seem to actually be in real production.
The vendor shared several images of what look like a sea of frames alongside several partially assembled race cars.
I'm not recommending anyone actually try to buy one of these from Alibaba. In fact, I'd probably recommend the opposite. Let's just treat this as a fun window-shopping exercise.
But for the person who inevitably ignores my warnings (as many of my readers have been known to do) and plunks down some serious cash for one of these, let me know if and when it arrives. I will be there in a second to go for a ride with you!
This EV fast charging station tells you when its power is at its cheapest and greenest
This DC fast charging station tells EV drivers when renewable energy is at its peak in the grid – and thus when charging prices are cheapest. 
The "Better Energy Charge" station in Sønderborg, Denmark, is owned by renewable energy company Better Energy. (It sits next to the company's R&D solar park.)
What makes this charging station unique is its dynamic pricing model. It differs from traditional fixed pricing schemes because it incentivizes EV drivers with lower charging prices when renewable energy is at its peak on the grid.
The charging price, which is available the day before, follows the Danish energy spot prices. Similar to a gas station's pricing signs, the EV charging station's price board is visible from the road. (Why don't all EV charging stations do this?)
"We want to encourage people to charge their cars when there is a lot of renewable electricity in the grid by making it cheaper when the sun is shining and the wind is blowing," said Peter Munck Søe-Jensen, EVP of power solutions at Better Energy.
The Danish company feels its model helps drivers plan in advance to charge their EVs when energy is at its cheapest. And by charging EVs when solar and wind energy production is high, consumers can also increase the probability that it's renewable, not fossil fuel-powered, energy.
What do you think of this model? Have you seen anything similar? Let us know in the comments below.
Read more: Electrify America, Blink to add Tesla's NACS connector to their EV chargers
---
To limit power outages and make your home more resilient, consider going solar with a battery storage system. In order to find a trusted, reliable solar installer near you that offers competitive pricing, check out EnergySage, a free service that makes it easy for you to go solar. They have hundreds of pre-vetted solar installers competing for your business, ensuring you get high quality solutions and save 20-30% compared to going it alone. Plus, it's free to use and you won't get sales calls until you select an installer and you share your phone number with them.
Your personalized solar quotes are easy to compare online and you'll get access to unbiased Energy Advisers to help you every step of the way. Get started here.