Originally published at ILSR.org
Electricity customers are lining up to generate their own clean, affordable solar energy, but to get it to them, solar developers must navigate the impediments of a congested and outdated electricity grid.
For this episode of the Local Energy Rules podcast, host John Farrell speaks with Yochi Zakai, attorney with Shute, Mahaly, and Weinberger representing Interstate Renewable Energy Council (IREC). The two discuss hosting capacity analysis and how publicly shared grid information can help solar developers, electric customers, and others make more informed decisions.
Listen to the full episode and explore more resources below — including a transcript and summary of the conversation.
Episode Transcript
---
Expensive Electric Accommodations
Electric distribution grids were built as top-down avenues for delivering electricity from large, centralized power plants. Now, as distributed generation and energy storage become more popular, utilities are having to accommodate the two-way flow of electricity. To do so, the utility often needs to upgrade the distribution system. This is especially true in areas where there is a lot of distributed energy development.
"The grid was built for this one way flow of electricity. But as more customers decide to install generation in their homes, the way that the distribution grid operates is also going to change."
Solar developers looking to connect their new generation source to the grid may trigger the need for a system upgrade. In most cases, whoever triggers a grid upgrade must pay the upgrade costs — which can be severe. Larger solar gardens are more likely to trigger upgrades. If a developer is surprised by these costs, and building their solar garden is no longer feasible, they may be forced to drop their plans entirely. Hosting capacity analysis can provide key grid information proactively for individuals hoping to plug in.
Hosting Capacity Analysis
In a hosting capacity analysis, utilities compile information about the electric grid and publish it online for the use of developers and other stakeholders. The resulting map has pop-ups with data on various localized grid conditions: how much generating capacity that section of the grid can still handle, the voltage of the line, and the existing generation on that part of the grid.
This information, which Zakai calls "geeky grid data," helps customers and solar developers make decisions.
"The studies produce a wealth of information that developers can use to cite and design the systems so they don't trigger upgrades. And in some cases they can even make the grid more reliable."
Utilities in seven states are required to publish hosting capacity maps. Some utilities even publish this information voluntarily. Zakai says that generally, hosting capacity analysis is most common in states with robust distributed energy development, including Hawaii, Massachusetts, and New York.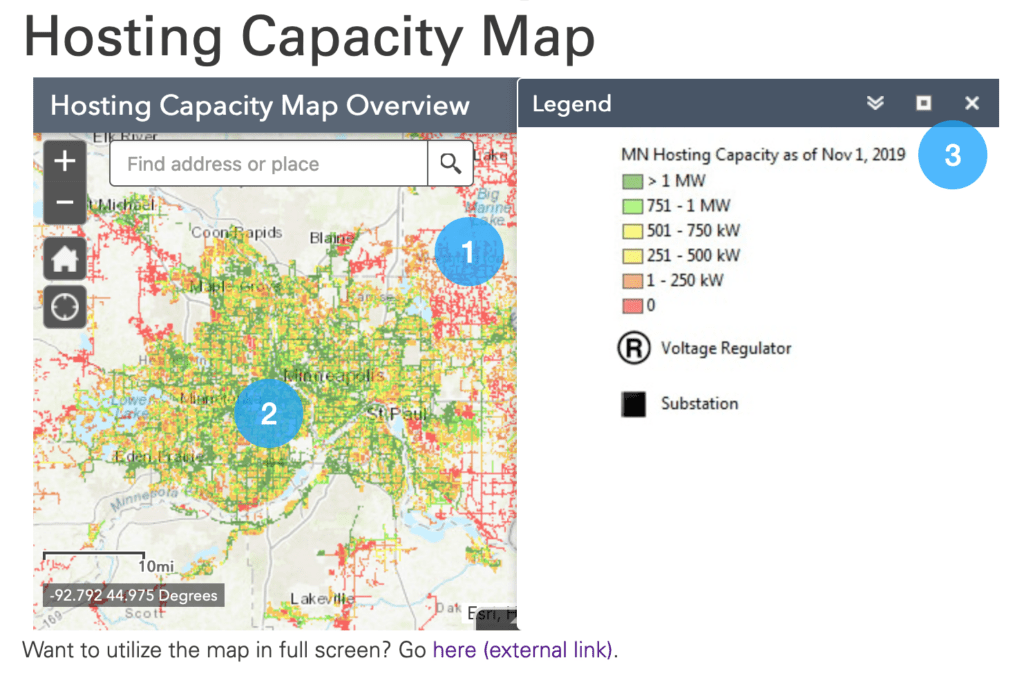 Some Truth to California Exceptionalism
California's hosting capacity analysis process, called integration capacity analysis, provides more useful information than the hosting capacity maps published in other states. This is thanks, in part, to a petition from Zakai and the Interstate Renewable Energy Council (IREC). IREC asked the state of California to consider all kinds of interconnecting loads, including electric vehicle chargers, electric heat, and solar generating power, when implementing its integration capacity analysis. In January 2021, the California commission filed its petition to make changes to the analysis and its resulting map.
In California, grid users also uniquely share the cost of grid upgrades, rather than the typical 'cost-causer pays' model used in other states.
Automating & Simplifying the Interconnection Process
It is not possible to automate all new grid interconnections, says Zakai. Still, hosting capacity analysis could simplify many of the steps within this process. California is the first state in the country to try using hosting capacity analysis to reduce the complexity of the interconnection process.
"Hosting capacity analysis can be used to automate and increase the precision of some of the most problematic technical review processes that the utilities use when they evaluate new grid connections. Last fall, California became the first state in the country to make a final decision to use the hosting capacity analysis to automate some of these processes."
Thanks to new rules adopted by the California Public Utilities Commission, solar developers can use the public hosting capacity maps to design and site projects with more certainty. As developers make more informed proposals, utilities will not waste resources reviewing projects that will never get built.
---
Read ILSR's comments to the Minnesota Public Utilities Commission detailing how Hosting Capacity Analysis Could Simplify Grid Interconnection for Distributed Energy Resources.
---
Episode Notes
See these resources for more behind the story:
For concrete examples of how cities can take action toward gaining more control over their clean energy future, explore ILSR's Community Power Toolkit.
Explore local and state policies and programs that help advance clean energy goals across the country, using ILSR's interactive Community Power Map.
---
This is episode 135 of Local Energy Rules, an ILSR podcast with Energy Democracy Director John Farrell, which shares powerful stories of successful local renewable energy and exposes the policy and practical barriers to its expansion.
Local Energy Rules is Produced by ILSR's John Farrell and Maria McCoy. Audio engineering for this episode is by Drew Birschbach.
This article originally posted at ilsr.org. For timely updates, follow John Farrell on Twitter, our energy work on Facebook, or sign up to get the Energy Democracy weekly update.
---
---
Have a tip for CleanTechnica, want to advertise, or want to suggest a guest for our CleanTech Talk podcast? Contact us here.
---
Here are 5 vital things you need to know about heat pumps
Electrek spoke with Heidi Gehring, associate director, cooling product marketing at Carrier HVAC, about the five essential things to know about this energy-efficient, cost-effective way to heat and cool a home.
Electrek: What's a heat pump and how does it work?
Heidi Gehring: A heat pump is often mistaken for an air conditioner at first glance. What makes it different from an air conditioner is that it can both heat and cool your home using electricity and refrigerant.
In cooler months, heat is pulled from the outdoor air and transferred indoors; in warmer months, the system pulls heat out of the indoor air. Heat pumps have both an indoor and outdoor component. Each unit contains a fan and coil that operates either as a condenser (in cooling mode) or an evaporator (in heating mode). The fan moves the air across the coil and throughout the ducts in the home.
Electrek: Do heat pumps save you money, and what kinds of cost savings can be expected?
Heidi Gehring: Because heat pumps are more energy efficient, they can save you money on your heating and cooling bills. Your savings will vary based on the model you select.
Heat pumps are rated by their Heating Seasonal Performance Factor (HSPF2) – which is a measure of a heat pump's overall energy efficiency during the heating season – their Seasonal Energy Efficiency Ratio (SEER2), and their Energy Efficiency Ratio (EER2). The higher the rating, the more energy-efficient the system. 
Additionally, the US government's Inflation Reduction Act of 2022 includes incentives for the installation of high-efficiency home heating and cooling products, including up to a $2,000 tax credit for high-efficiency heat pumps and up to 30% for geothermal heat pump systems placed in service between 2022 and 2032. Look into local and state programs, too, as many utilities and local governments offer heat pump rebates.
Electrek: Why is a heat pump better for the environment?
Heidi Gehring: Heat pumps rely on electricity rather than fossil fuels, making them a much greener choice. Improvements in technology in recent years also mean that heat pumps are more efficient than ever, requiring less electricity than older heaters, furnaces, and air conditioners.
Geothermal heat pumps are also available – they pull energy directly from the earth to heat or cool your home and can result in up to 70% savings on your energy bill.
Electrek: What features should you consider when comparing different models?
Heidi Gehring: Heat pumps vary in the number of stages or speeds they offer. Different speeds or stages can affect your comfort and the consistency of indoor temperature. Humidity plays a major role but is often overlooked. Two-stage and variable-speed offer better control because they operate for a longer period of time at lower speeds and use less energy. These pull more humidity out of the air than models with a single-stage compressor.
Variable-speed and two-stage models are generally quieter than single-stage models, and because they run longer, that means the air is run through the filter more, so it has less chance of becoming stagnant.
Electrek: When is the best time of year to install a heat pump?
Heidi Gehring: Usually in the spring or fall. During the coldest winter months and hottest summer months, demand for systems and technicians increases, so you may experience longer wait times and higher prices. Make sure you hire a professional. HVAC systems of any kind require expert knowledge for installation and are not a good DIY project.
If you're switching from a traditional HVAC system to a heat pump, you may also need electrical upgrades. A professional HVAC installer can help you with that as well.
Read more: This award-winning apartment heat pump can fit under a kitchen sink
Photo: Carrier HVAC
---
Heidi Gehring is the associate director, cooling product marketing at Carrier HVAC. She joined Bryant in 2017 as the quality manager for warranty, data analytics, and field service technology. In 2019, she moved into product marketing. She holds a bachelor's degree in industrial and systems engineering from the University of Wisconsin Madison and an MBA from Purdue Global.
---
UnderstandSolar is a free service that links you to top-rated solar installers in your region for personalized solar estimates. Tesla now offers price matching, so it's important to shop for the best quotes. Click here to learn more and get your quotes. — *ad. 
Kia officially premieres EV9 SUV with 336-mile range, vehicle-to-grid capabilities, plus GT version
As promised, following our first glimpse at official images last week, Kia has fully launched its long-anticipated EV9 SUV ahead of pre-orders next quarter. In addition to further details regarding some of the technology we've already seen in Kia's first third-row EV, the automaker shared exciting news regarding sustainability, autonomy, over-the-air updates, and vehicle-to-grid capabilities.
Table of contents
Quick recap on Kia's first three-row electric SUV
The Kia EV9 debuts as the second all-electric model donning the Korean automaker's new "EV" series nomenclature. Like the EV6 crossover that proceeded it, the EV9 sits atop Hyundai Motor Group's 800V E-GMP platform, offering ultrafast charging speeds in addition to capabilities for vehicle-to-load (V2L) power and the potential for greater uses. (More on that below.)
We've been anticipating today's official debut since Kia first teased the SUV concept in November 2021. That was soon followed by a working prototype last summer that closely resembled its originally dreamed design form. In mid-March, Kia shared the first full images of the EV9, inside and out, relaying some of the design elements reiterated during the recent presentation.
This includes the SUV's unique digital spin on Kia's signature "tiger face" front end, as well as multiple seating options in the cabin, including second-row swivel seats that turn 180 degrees. While that was certainly enough to briefly pique our interest, we were quickly anticipating the full EV9 debut from Korea, which was promised before the end of the month.
Following the full presentation from Kia (you can view that for yourself below), we have learned a ton more about this all-electric SUV, and there's a lot for future customers to get excited about.
Kia EV9 SUV specs and key features
All right, let's dig right in because there's a lot to unfold here. The Kia EV9 SUV will come available in two different battery size options – a 76.1 kWh pack in the Standard RWD option or a Long Range 99.8 kWh battery available in both RWD and AWD configurations.
When asked, the Kia team confirmed that both the Standard and Long Range variants of the RWD EV9 will be sold in North America. The automaker is not sharing detailed performance specs for each trim level just yet, but it did share a few:
RWD Long Range

One single 150 kW (350 Nm) electric motor
Estimated 0-100 km/h (0-62 mph) acceleration in 9.4 seconds

RWD Standard Range

One single 160 kW (350 Nm) electric motor
Estimated 0-100 km/h (0-62 mph) acceleration in 8.2 seconds

AWD variant

Two electric motors that combine for 282 kW (600 Nm torque)
Estimated 0-100 km/h (0-62 mph) acceleration in 6 seconds
Right now, Kia is estimating its Long Range RWD version of the EV9 will be able to deliver 541 km (336 miles) of range on a single charge. Since its estimates were calculated using the more generous WLTP standard, we'd expect the official EPA estimated range to land between 300-310 miles.
Kia also said it will eventually introduce a "Boost" option that will increase the torque of the AWD SUV's front motor to a total of 700 Nm. That add-on will be available for purchase at a later date using a new tool debuting on the EV9 – the Kia Connect Store.
According to Kia, the Connect store will enable future drivers to purchase digital features and other services at their leisure, all installed over the air without any need for a dealership visit. When asked by the media during the debut presentation, Kia shared that the Connect Store will offer features as either a one-time purchase or subscription option.
Vehicle-to-… everything!
One of the huge selling points of EVs built upon Hyundai Motor Group's 800V E-GMP platform is the charging performance it can deliver. The super fast charge rates of the Hyundai IONIQ 5 and Kia EV6 have already gone over really well with consumers and should be no different when the EV9 SUV arrives.
Kia states that the 800V platform will be able to garner an estimated 239 km (approximately 149 miles) of range in just 15 minutes of DC fast charging, which could be perfect for future road trips in the family-sized electric SUV.
Another huge perk enabled by the E-GMP platform is its Integrated Charging Control Unit (ICCU), allowing for the discharging of energy from the EV's battery to power other devices. This is better known as vehicle-to-load, or V2L. Kia states the EV9 will be able to deliver 3.68 kW of power to other devices, whether it's a laptop, mini fridge, or charging another EV.
We've explored the function ourselves with the Hyundai IONIQ 5 and IONIQ 6, but Kia is taking things a step further in the EV9 with another first. Kia's all-electric SUV will come equipped with the technology to support vehicle-to-home (V2H), allowing future owners to use the EV9 has a backup power source during emergencies or power outages.
Furthermore, Kia said its EV9 customers will eventually be able to add a vehicle-to-grid (V2G) function in the future, allowing them to actually supply surplus energy back to their local energy grid for profit. There will be a lot of red tape to cut through to get this feature implemented, but if successful, it could be an absolute game changer.
Kia debuts a GT-Line, but what about a performance GT?
During its recent presentation, Kia also introduced a new GT-line that will emerge in select markets later this year. Per Kia:
In addition to the standard model, Kia has unveiled the GT-Line model design, which features a unique aesthetic that distinguishes it from the standard model. The front and rear bumpers, wheels, and roof rack have undergone a transformation, donning a distinctive black color palette that exudes a strong and assertive presence, setting it apart from its standard counterpart. Notably, the GT-Line features an exclusive digital pattern lighting grill that adds an element of dynamism and sophistication to its already impressive design. 
All that said, this trim variant is aesthetic in nature and should not be confused with a performance GT version of the SUV, similar to what Kia did with the aforementioned EV6. That would be sweet, though, wouldn't it?
Well, to our surprise, Kia president and CEO Ho-Sung Song said the automaker is, in fact, in the process of developing an EV9 performance GT SUV, stating further that it will "redefine what performance means to an EV." Exciting news, but Song followed by saying we won't see that version until early 2025.
ADAS and sustainability get a chance to shine in the EV9
For years now, Kia has been one of the global automakers truly embracing electrification and striving toward true carbon neutrality throughout its business by 2045, but during the EV9 SUV presentation, we learned it is again pushing the boundaries of sustainable styling.
The EV9 will be the first Kia model to showcase the automaker's three-step Design Sustainability Strategy, which includes the phasing out of leathers, increasing the use of bio-based materials, and applying 10 "must-have" sustainable items to every model, from its standard trim all the way to the top tier option. Here are some examples present in Kia's electric SUV:
Recycled polyethylene terephthalate (PET)
Recycled suede and recycled thermoplastic olefin (TPO) in the dashboard, door, and pillar trim
Recycled fishing nets used in the floor carpets
BIO PU (Bio-Polyurethane), derived from corn and eucalyptus, is used to replace leather and PVC
In terms of advanced driver assistance systems (ADAS), Kia is striving toward reaching SAE Level 3 autonomy, and the EV9 will arrive with the necessary components to eventually allow for hands-free driving under certain driving conditions as the SUV follows the car in front of it while maintaining a safe distance.
Its current iteration will feature remote smart parking assist, rear cross-traffic collision-avoidance assist, blind spot detection, lane-keeping assist, and smart cruise control. Highway driving assist 2 allows for lane changes and uses hands-on detection to confirm its driver's attention.
Lastly, Digital Key 2 will allow future EV9 owners to open and start their car using just their smartphone – another first for Kia.
Kia EV9 pricing and availability
All right, let's start with pricing. There is none, sorry. According to Kia, its team is "monitoring several factors to determine optimal pricing for its customers." We're not sure where it will land, but this SUV is very likely going to be Kia's most expensive model to date.
The first versions will be produced in Korea, but Kia intends to share global production plans for the EV9 in the near future. Pre-orders for the electric SUV will begin in Korea in Q2 2023, followed by other global markets in the second half of this year, including Europe, North and South America, and the Middle East.
We are sure to learn more as we approach pre-orders in Korea and will at least be able to ballpark where pricing and performance specs may land for the North American market. In the meantime, check out the full EV9 SUV world premiere from Kia below.
Meet Hawaii's first solar and wind-powered electric catamaran charter
Kohala Blue, a boat tour operator in Kawaihae on the Big Island of Hawaii, has introduced what it calls the first renewable electric catamaran charter in Hawaii. The Dolce Vita is powered by an electric propulsion system that is charged by solar panels, wind turbines, and propeller regeneration.
Kohala Blue's solar and wind-powered electric catamaran
When Kohala Blue's 34-foot Gemini sailing charter broke down last year with a damaged diesel engine, the company was caught in a tight spot with few options.
Rather than trying to replace the parts, which would have been really costly, Kohala Blue's owner, Shaun Barnes, made the decision to go electric.
Kohala Blue issued a news release last week, stating, "The company recently upgraded its 34-foot Gemini sailing catamaran with two electric propulsion motors, powered with sun and wind, that run silently and peacefully while underway." The press release added:
What this means for passengers is a sailing experience like no other in the islands: no engine noise, vibration, air or water pollution and no fumes associated with gas or diesel power. Guests are confident their choice to snorkel, sail and observe marine life from the spacious decks of the Dolce Vita is the best for the marine environment.
The company says the conversion has completely transformed the experience for guests, creating a nearly silent, peaceful ride while minimizing the impact on marine animals.
In particular, electric propulsion has much less impact on whales than loud gas engines because they rely on ultrasonic hearing to navigate and find food.
The 34-foot Gemini 105MC sailing catamaran is Hawaii's first renewable electric charter, according to Kohala Blue. Solar panels fitted on the dodger combined with wind turbines and propeller regeneration allow for a completely renewable energy-powered eco-friendly experience.
Barnes says she has noticed clear benefits from the electric conversion, telling West Hawaii Today:
The best part of it is the peace and quiet. When we're moving, people can't even tell whether we're under motor or under sail. We have a hydrophone — an underwater microphone — and you can hear other boats coming from very far away.
She added that although the electric sailboat has roughly 19.8 hp, less than the 27 hp with the diesel engine, the electric engine's instant torque offsets the speed reduction with a max speed under motor of about 6.5 knots.
Kohala Blue offers private charters for up to six guests with morning, afternoon, and sunset sails. You can book tours on the company's website.
Electrek's Take
Kohala Blue is paving the way for an eco-friendly sailing experience with its new solar- and wind-powered electric-powered catamaran.
Nobody wants to travel on the water with a loud diesel engine blocking out all the sounds and smells of nature and, more importantly, destroying the environment and its inhabitants.
The company may need to start another business in converting sailboats to solar, wind, and electric power because these could revolutionize the charter industry while saving the oceans and the creatures living in them.