Originally published at ILSR.org
Electricity customers are lining up to generate their own clean, affordable solar energy, but to get it to them, solar developers must navigate the impediments of a congested and outdated electricity grid.
For this episode of the Local Energy Rules podcast, host John Farrell speaks with Yochi Zakai, attorney with Shute, Mahaly, and Weinberger representing Interstate Renewable Energy Council (IREC). The two discuss hosting capacity analysis and how publicly shared grid information can help solar developers, electric customers, and others make more informed decisions.
Listen to the full episode and explore more resources below — including a transcript and summary of the conversation.
Episode Transcript
---
Expensive Electric Accommodations
Electric distribution grids were built as top-down avenues for delivering electricity from large, centralized power plants. Now, as distributed generation and energy storage become more popular, utilities are having to accommodate the two-way flow of electricity. To do so, the utility often needs to upgrade the distribution system. This is especially true in areas where there is a lot of distributed energy development.
"The grid was built for this one way flow of electricity. But as more customers decide to install generation in their homes, the way that the distribution grid operates is also going to change."
Solar developers looking to connect their new generation source to the grid may trigger the need for a system upgrade. In most cases, whoever triggers a grid upgrade must pay the upgrade costs — which can be severe. Larger solar gardens are more likely to trigger upgrades. If a developer is surprised by these costs, and building their solar garden is no longer feasible, they may be forced to drop their plans entirely. Hosting capacity analysis can provide key grid information proactively for individuals hoping to plug in.
Hosting Capacity Analysis
In a hosting capacity analysis, utilities compile information about the electric grid and publish it online for the use of developers and other stakeholders. The resulting map has pop-ups with data on various localized grid conditions: how much generating capacity that section of the grid can still handle, the voltage of the line, and the existing generation on that part of the grid.
This information, which Zakai calls "geeky grid data," helps customers and solar developers make decisions.
"The studies produce a wealth of information that developers can use to cite and design the systems so they don't trigger upgrades. And in some cases they can even make the grid more reliable."
Utilities in seven states are required to publish hosting capacity maps. Some utilities even publish this information voluntarily. Zakai says that generally, hosting capacity analysis is most common in states with robust distributed energy development, including Hawaii, Massachusetts, and New York.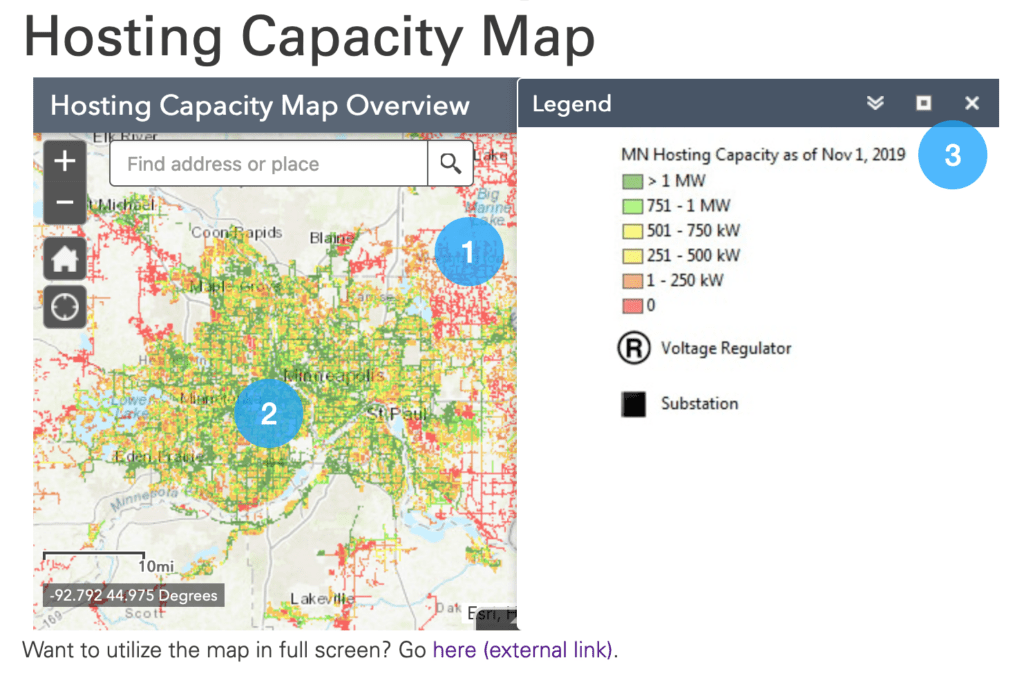 Some Truth to California Exceptionalism
California's hosting capacity analysis process, called integration capacity analysis, provides more useful information than the hosting capacity maps published in other states. This is thanks, in part, to a petition from Zakai and the Interstate Renewable Energy Council (IREC). IREC asked the state of California to consider all kinds of interconnecting loads, including electric vehicle chargers, electric heat, and solar generating power, when implementing its integration capacity analysis. In January 2021, the California commission filed its petition to make changes to the analysis and its resulting map.
In California, grid users also uniquely share the cost of grid upgrades, rather than the typical 'cost-causer pays' model used in other states.
Automating & Simplifying the Interconnection Process
It is not possible to automate all new grid interconnections, says Zakai. Still, hosting capacity analysis could simplify many of the steps within this process. California is the first state in the country to try using hosting capacity analysis to reduce the complexity of the interconnection process.
"Hosting capacity analysis can be used to automate and increase the precision of some of the most problematic technical review processes that the utilities use when they evaluate new grid connections. Last fall, California became the first state in the country to make a final decision to use the hosting capacity analysis to automate some of these processes."
Thanks to new rules adopted by the California Public Utilities Commission, solar developers can use the public hosting capacity maps to design and site projects with more certainty. As developers make more informed proposals, utilities will not waste resources reviewing projects that will never get built.
---
Read ILSR's comments to the Minnesota Public Utilities Commission detailing how Hosting Capacity Analysis Could Simplify Grid Interconnection for Distributed Energy Resources.
---
Episode Notes
See these resources for more behind the story:
For concrete examples of how cities can take action toward gaining more control over their clean energy future, explore ILSR's Community Power Toolkit.
Explore local and state policies and programs that help advance clean energy goals across the country, using ILSR's interactive Community Power Map.
---
This is episode 135 of Local Energy Rules, an ILSR podcast with Energy Democracy Director John Farrell, which shares powerful stories of successful local renewable energy and exposes the policy and practical barriers to its expansion.
Local Energy Rules is Produced by ILSR's John Farrell and Maria McCoy. Audio engineering for this episode is by Drew Birschbach.
This article originally posted at ilsr.org. For timely updates, follow John Farrell on Twitter, our energy work on Facebook, or sign up to get the Energy Democracy weekly update.
---
---
Have a tip for CleanTechnica, want to advertise, or want to suggest a guest for our CleanTech Talk podcast? Contact us here.
---
California-based startup unveils 58 MPH electric jet ski on hydrofoils
It's an exciting time for personal watercraft enthusiasts that want to swap a roaring engine for the instantaneous (and silent) power of electric motors. The latest electric jet ski making a splash is the Valo Hyperfoil.
Technically speaking, it's not actually a jet ski, nor is it making that much of a splash. "Jet Ski" is a brand name owned by Kawasaki, and the Valo Hyperfoil isn't really making a splash because it's actually flying above the waves on hydrofoils.
But whatever you call it and whichever hydro-based pun you shoehorn into an electric watercraft article, the Valo Hyperfoil is certainly an impressive machine.
Unveiled today by California-based startup Boundary Layer Technologies, the Valo Hyperfoil is one of the most advanced personal electric watercraft we've ever seen.
Not only is it quite powerful, packing in a 108 hp (80 kW) motor, but it can reach a maximum speed of 50 knots (58 mph or 93 km/h).
And it will do so while flying a full 2 feet (60 cm) above the surface of the water.
As founder and CEO of Boundary Layer Technologies Ed Kearny explained in a statement provided to Electrek:
"Valo will be a complete revolution to personal watercraft. The first Jetski was on the market 50 years ago this year, and it's time for a major upgrade. Valo will be fast, agile, and tremendously exhilarating, all while being near silent and leaving zero wake. It will be like flying a stunt plane but on water. We see this a completely new form of water based mobility"
The secret to the flying nature of the Valo is its hydrofoils, which function like a set of airplane wings under water.
They lift the watercraft out of the dense water, helping it to save energy by flying through the air. That makes the ride smoother, faster and more efficient. It also means that the Valo can get by with fewer of those heavy and expensive batteries.
The company has spent the last four years developing hydrofoil technology for commercial purposes, such as passenger ferries and container ships. Now the company is hoping to apply that technology to the recreational market with a personal electric watercraft.
As Kearny continued:
"We are passionate about bringing foiling technology and its huge benefits to ships big and small. We simply shifted from 'big first', to 'fast first'.  What we love about Valo is how fast we can get to market. We are bringing all the technology we were developing for massive container ships and ferries and using it to deliver one hell of a recreational product."
Hydrofoiling boats have been made famous by the Swedish company Candela, who is already building and delivering electric speedboats with impressive hydrofoiling performance. The company is also working on passenger ferries and water taxis for commercial use, but hasn't shown off a personal electric watercraft like the Valo.
Other companies like Taiga have leveraged their electric snowmobile technology to demonstrate personal electric watercraft. But their planing hulls will have a hard time matching the efficiency of hydrofoils like those displayed on the Valo.
Boundary Layer Technologies expects to have a small number of limited edition Founders Edition Valos by the summer of 2023 Full production vehicles aren't expected to hit the water before 2024. The anticipated price for the production vehicles is $59,000, though we don't yet know what price tag those first run Founders Edition vehicles will carry.
Until then, we can at least look at these pretty renders.
Quick Charge Podcast: November 30, 2022
Listen to a recap of the top stories of the day from Electrek. Quick Charge is available now on Apple Podcasts, Spotify, TuneIn and our RSS feed for Overcast and other podcast players.
New episodes of Quick Charge are recorded Monday through Thursday and again on Saturday. Subscribe to our podcast in Apple Podcast or your favorite podcast player to guarantee new episodes are delivered as soon as they're available.
Stories we discuss in this episode (with links):
Subscribe to the Electrek Daily Channel on Youtube so you never miss a day of news
Follow Mikey:
Listen & Subscribe:
Share your thoughts!
Drop us a line at tips@electrek.co. You can also rate us in Apple Podcasts or recommend us in Overcast to help more people discover the show!
Hitachi Energy debuts wireless grid tech that prevents wildfires
Hitachi Energy just launched wireless Spark Prevention Unit indicators that help prevent wildfires by enabling remote monitoring.
According to the US Department of Energy, approximately 10% of wildfire ignitions are sparked by faults on electrical infrastructure or electric equipment failure. Hitachi Energy's new Wireless SPU Indicators allow utilities to monitor the grid remotely, in real time, with automated visual inspection rounds.
The SPU monitors the current and thermal load of surge arresters – which protect equipment from surges in the power system – installed in wildfire risk areas.
If there's a thermal overload in the grid, the SPU interrupts the current flow and disconnects the surge arrester, thus preventing any arcing – which is when a circuit becomes overloaded and overheats – sparking, or ejection of hot particles that could potentially start a wildfire.
A visual indicator on the SPU lets the utility field crew know that it needs to be replaced. Hundreds of thousands of SPUs installed in some of the world's most wildfire-prone areas, such as in the United States and Australia, have had a real impact in preventing wildfires. Being able to monitor them remotely is only going to improve wildfire prevention.
Read more: How the US can achieve resilient power grids and support EV deployment
Photo: Pok Rie on Pexels.com
---
UnderstandSolar is a free service that links you to top-rated solar installers in your region for personalized solar estimates. Tesla now offers price matching, so it's important to shop for the best quotes. Click here to learn more and get your quotes. — *ad.