Hank Goldberg, who worked at ESPN as an NFL reporter and handicapping expert for two decades, died Monday on his 82nd birthday, his family confirmed.
Goldberg had been in treatment for chronic kidney disease in recent years.
Known as Hammering Hank, Goldberg was .500 or better in 15 of 17 NFL seasons while predicting games at ESPN. He made appearances on NFL Countdown and ESPN Radio and contributed to the network's thoroughbred racing coverage.
Goldberg had also been a contributor on ESPN's Daily Wager throughout the sports betting show's existence, doing weekly hits during the NFL season and occasional appearances around the Triple Crown races. His last appearance on ESPN was in May, when he did a phone interview from the Kentucky Derby.
"Hank was a bigger part of ESPN's soul than anyone will ever know," said longtime ESPN anchor Chris Berman. "His information made us smarter. His insight made us wiser. His friendship made us better people. Rest in peace Hammer, and thank you from all of us."
Art Manteris, a recently retired, longtime Las Vegas bookmaker, spent his 40-year career trying to fight off wise guys, but quickly learned to respect Goldberg. The two struck up a friendship that lasted over three decades.
They enjoyed a meal together last week, a pastrami on rye from Weiss Deli, one of Goldberg's favorite Las Vegas spots, Manteris said.
"I can assure you, he was no phony," Manteris told ESPN of Goldberg's handicapping prowess. "The Hammer always put his money where his mouth was, and that immediately earned him a high level of respect with me. As a longtime Las Vegas bookmaker, there were few opinions I valued more than Hank's on the NFL."
Goldberg was also a longtime fixture in Miami, serving as a local radio and TV host for more than 25 years and working as a Dolphins radio analyst. He began his career in the 1970s as an assistant to handicapper Jimmy "The Greek" Snyder.
ESPN's David Purdum contributed to this report.
Georgia's Bennett arrested for public intoxication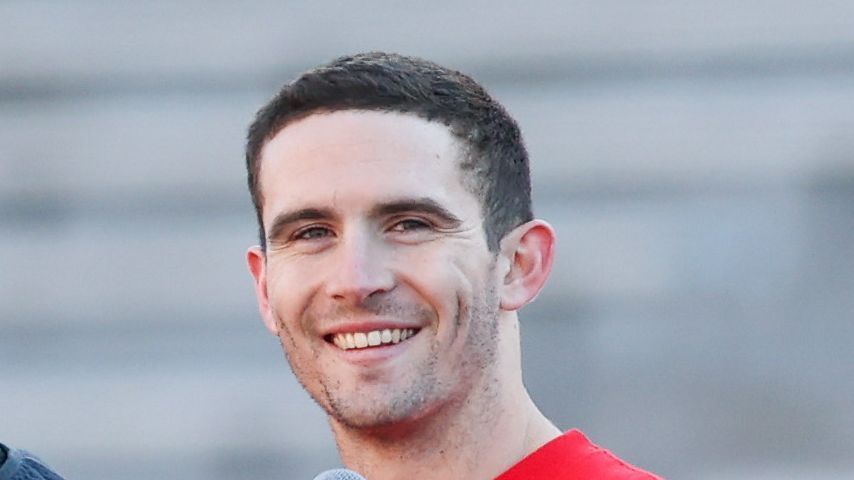 Former Georgia quarterback Stetson Bennett, who led the Bulldogs to their second straight CFP National Championship earlier this month, was arrested on a misdemeanor public intoxication charge in Dallas on Sunday morning.
In a statement to ESPN, a Dallas Police Department spokesperson said officers responded to a report of a man banging on doors in the 1600 block of Tribeca Way at 7:10 a.m. ET on Sunday.
"The preliminary investigation found when officers arrived, they located the man, Stetson Bennett, 25, and determined he was intoxicated," the police statement read. "Bennett was taken into custody, transported to the City Detention Center and charged with public intoxication."
Bennett left the detention center Sunday morning, but he could not be reached for comment.
Bennett, who started his college career as a walk-on, was a Heisman Trophy finalist this past season, after leading the Bulldogs to a 15-0 record and SEC championship. He passed for 4,127 yards with 27 touchdowns and seven interceptions, while rushing for another 10 scores.
Bennett was named the offensive MVP in both of Georgia's victories in the CFP, a 42-41 comeback win against Ohio State in the Chick-fil-A Peach Bowl and a 65-7 rout of TCU in the CFP National Championship presented by AT&T.
Bennett, who is listed at 5-foot-11 and 190 pounds, is considered a potential selection in April's NFL draft. He recently won the Manning Award, which is given to the top quarterback in the FBS by the Allstate Sugar Bowl.
Sources: Ex-Buffs QB Shrout picks Arkansas St.
Former Tennessee and Colorado quarterback J.T. Shrout is transferring to Arkansas State, sources told ESPN.
Shrout visited Arkansas State over the weekend and his commitment looms as a significant win for Butch Jones, who is entering his third season as Arkansas State's head coach.
Shrout will graduate from Colorado this spring and plans to enroll at Arkansas State in May, according to sources. He has one year of eligibility remaining and potentially a second if he gets a medical redshirt after missing the entire 2021 season with a torn ACL.
Shrout most recently played at Colorado in 2022, where he threw for 1,220 yards, seven touchdowns and eight interceptions and delivered the game-winning touchdown pass against Cal in overtime in Colorado's lone victory of the season. He started seven games at Colorado and had one start during his three seasons at Tennessee (2018-2020).
Shrout is one of three Buffaloes quarterbacks who have entered the NCAA transfer portal since the school hired Deion Sanders as head coach. Sanders has made it clear that his son, Shedeur, will be the starter next season. He introduced him at his opening news conference by saying, "This is your quarterback."
According to sources, Shrout was attracted to the potential opportunity at Arkansas State, including playing in offensive coordinator Keith Heckendorf's West Coast-style offense. Shrout also had some teammates at Tennessee who played for Jones, and sources said the former teammates endorsed Jones both as a person and a coach.
Arkansas State (3-9) ranked No. 118 in total offense last season and No. 85 in scoring offense. The Red Wolves open the 2023 season at Oklahoma on Sept. 2.
Sources: Harbaugh, Broncos meet but no deal
Broncos owner Greg Penner and University of Michigan football coach Jim Harbaugh met last week in Ann Arbor to discuss Denver's head-coaching position without any deal materializing, league sources told ESPN.
Although Harbaugh two weeks ago announced he was staying at Michigan, Penner did his due diligence and still traveled to Ann Arbor to meet with the coach in person, like he's done with seven other candidates during the Broncos' head-coaching search.
The follow-up conversations were part of the process for both Denver — led by Penner with general manager George Paton — and Harbaugh. The face-to-face meeting came after Harbaugh's initial video interview with Denver, after which he pulled his name out of contention and reaffirmed his commitment to Michigan.
"I love the relationships that I have at Michigan — coaches, staff, families, administration, president Santa Ono and especially the players and their families," Harbaugh said in his statement Jan. 16. "My heart is at the University of Michigan. I once heard a wise man say, 'Don't try to out-happy, happy.' Go Blue!"
The Broncos moved on as well, continuing their discussions with several other candidates. Denver has interviewed former Saints coach Sean Payton, former Colts and Lions coach Jim Caldwell, former Stanford coach David Shaw, Rams defensive coordinator Raheem Morris, Cowboys defensive coordinator Dan Quinn, 49ers defensive coordinator DeMeco Ryans and their own defensive coordinator, Ejiro Evero.
Harbaugh now has met with the Vikings and Broncos in back-to-back years. While one source wondered how many more chances Harbaugh would get, another league source said "The league is likely to be interested in Jim as long as he is successfully coaching. He's proven at every level including the NFL. That's a hard resume to match."