This week could turn out to be a major turning point in Diamond Sports Group's bankruptcy proceedings, one that could significantly influence how baseball games are broadcast — not just now, but well into the future.
Diamond failed to pay the San Diego Padres before the end of its grace period Tuesday, a monumental development that will prompt Major League Baseball to take over the team's broadcasts moving forward.
Soon, more teams could find the same fate.
On Wednesday in Houston, a bankruptcy judge will preside over Diamond's claims that it should essentially pay lesser rights fees to the Cincinnati Reds, Texas Rangers, Arizona Diamondbacks and Cleveland Guardians to account for market forces that have greatly diminished the traditional cable model in recent years. (Diamond initially missed its rights payments to those four teams and was ultimately forced to pay 50% of what it owes them in the weeks leading up to the hearing.)
The judge's ruling, which should come by Thursday night at the latest, will play a big role in determining which other contracts Diamond sheds, if any. MLB commissioner Rob Manfred will be among those testifying. With that milestone ahead, here's a look at the current regional sports networks (RSN) situation of a few other teams across sports.
---
Why the Padres takeover happened so fast
Diamond, which airs broadcasts under the name Bally Sports, owns the rights to 14 major league teams. Eight of them are included as part of the company's bankruptcy filing, so their unraveling would likely require weeks in the courts. The six that aren't — partly because the teams own an equity stake, making them joint ventures that operate as separate legal entities — are the Padres, Reds, St. Louis Cardinals, Los Angeles Angels, Miami Marlins and Kansas City Royals.
Those teams operate outside of the bankruptcy proceedings, so their paths are relatively straightforward — if Diamond misses a rights payment, a contractually agreed-upon grace period is triggered, usually between seven and 15 days. If the grace period expires without a payment being made, those teams can break from their contracts, at which point MLB is expected to take over broadcasts, as they will with the Padres beginning Wednesday.
MLB has taken issue with the delay tactics that have been used throughout this process, alleging that Diamond is capitalizing off teams' intellectual property — particularly regarding the Reds, Rangers, D-backs and Guardians — without abiding by their contractual obligations. Diamond counters that it is trying to keep all of its options open while the dust settles on bankruptcy proceedings and it gets a better handle on what it will owe and which additional streaming rights, if any, it will acquire. Some much-needed clarity on that front could come real soon.
Separately, Diamond has offered to pay all rights fees moving forward in exchange for the remaining streaming rights, sources with knowledge of the situation said. MLB, leery of giving more rights to a company that was forced into bankruptcy, has not engaged, sources said. Diamond only has the streaming rights to five of its 14 teams — the Kansas City Royals, Milwaukee Brewers, Tampa Bay Rays, Detroit Tigers and Marlins. — Alden Gonzalez
---
MLB's New Age of Streaming depends on … the Yankees and Red Sox?
Amid the uncertainty foisted on baseball's entire economic landscape, the game's haves — big-marketed and healthy RSN'd — surveyed the fallout and understood that others' pain could significantly benefit them. The New York Yankees, Boston Red Sox, New York Mets, Chicago Cubs and Los Angeles Dodgers either own their RSNs or receive massive annual payments from them, and as MLB surveys its options going forward, it's aware that a handful of teams hold a disproportionate amount of power.
MLB's desire to turn the failure of the RSN model into an opportunity to nationalize a streaming package with all 30 teams hinges on the willingness of all 30 teams to participate. And as one high-ranking official for a large-market team said: "Without us, there's nobody buying the package."
What might sound like big-market arrogance is instead a truth that smaller-market owners acknowledge — and fear. An MLB streaming package without the game's most popular teams isn't much of a streaming package at all. The larger markets know this, and they are ready to leverage it, with one official saying: "We'll never give up our rights."
While that's the public posture, the reality is that there's a price on everything — and the Yankees and Red Sox have established that with their own direct-to-consumer streaming services. New York's YES Network is charging $24.99 a month or $239.99 annually, while Boston's NESN 360 costs $29.99 and $329.99, respectively. The teams are targeting customers who are blacked out from watching games, and the success will offer a sense of fans' willingness to stomach a price point higher than almost every streaming service, including those beyond sports.
Successful launches by the Yankees and Red Sox would make the difficulty for MLB — which is seeking streaming rights for all 30 teams so it can offer a blackout-free package — that much greater. As long as the 30-team package is MLB's goal, the big-market teams will maintain their posture, the small-market teams will brim with frustration that the game's already hefty financial chasm may yet grow and the league will grapple with the herculean task of trying to satisfy everyone. — Jeff Passan
---
Heaven is the end of blackouts in Iowa
"Is this purgatory?"
"No, it's Iowa."
Doesn't have the same ring to it, does it? Yet that was the analogy made by a friend from my hometown in Iowa when we got together after a recent Chicago Cubs game. He was in Chicago with his daughter to see the club their family has worshiped for generations. This club, incidentally, can rarely be watched back in southwest Iowa since the Cubs brought their television production in-house three years ago.
During the years in which we grew up, the Cubs were omnipresent via WGN on basic cable in Red Oak. Now, in order to get the Cubs there, you have to buy an expensive satellite service and add the option that includes the Cubs' network. For many baseball fans living in rural areas, it's not a viable path.
The thing is, with six MLB teams bordering the state, Iowa should be a baseball heaven, in reality and not just fiction. That should be true whether you live in northern Iowa and root for the Minnesota Twins, in southwest Iowa and like the Kansas City Royals, live on the Mississippi River in Keokuk and love the St. Louis Cardinals or perhaps live in the northeastern part of the state and have thrown in with the Milwaukee Brewers, Cubs or Chicago White Sox.
Instead, most sports fans in Iowa can find Royals — three hours from Red Oak — and Cardinals — 315 miles away — games on basic cable. But if a baseball enthusiast is looking for others — including games at Wrigley Field, 400 miles away — good luck.
All six MLB teams in the states bordering Iowa have long been blacked out in the Hawkeye State. It's enough to wonder how anyone could possibly be a baseball fan and live in Iowa.
Despite it all, there are plenty of baseball fans back in Iowa, and they would love to see more. And thus my friend made another analogy when asked about the RSN crisis possibly hastening the demise of baseball's blackout guidelines, finally making all teams available to stream. He described it as like being in East Germany, circa 1989, with the wall about to go down. — Bradford Doolittle
---
Will the Suns set the standard for local TV — and could anyone else follow?
The Phoenix Suns announced in late April that their games will be broadcast for free on over-the-air channels and streamed online on a new direct-to-consumer service for in-market fans, prompting speculation about whether other Diamond-owned teams could follow a similar path.
At the moment, though, they seem to be an outlier.
First, it's important to note that the plan might not even get off the ground. Earlier this month, a U.S. bankruptcy judge blocked Phoenix's attempt to move ahead with the deal, saying the team couldn't yet move on from its existing agreement with Diamond.
The judge, Christopher Lopez, ruled that the new deal was void because it interfered with Diamond's contractual right to negotiate an extension to its current deal. The Suns, on the other hand, argued that their deal expiring after the 2022-23 season meant that they could go ahead with the agreement now.
Recently hired Suns CEO Josh Bartelstein told reporters after the hearing that the Suns would work toward a way of resolving the dispute "that will be in the best interest of our fans, our community and our players."
In the NBA and elsewhere, it's important to understand the uniqueness of the Suns' situation — on an expiring contract, with a relatively small RSN deal that paid them about $40 million a year, and a new, aggressive owner, Mat Ishbia, with enough liquidity to absorb financial losses in an effort to expand his team's brand. This model, if it ultimately comes to fruition, can increase the Suns' reach from 800,000 viewers to 2.8 million. But it is unclear how Ishbia — also owner of the WNBA's Phoenix Mercury, who are also part of this venture — will ultimately make money.
What this whole situation says about the state of these discussions across the NBA is that the next few months should be awfully interesting, as the league continues to try to navigate what to do with the 16 teams broadcast by Diamond last season.
MLB, meanwhile, is navigating through this in the thick of its season and holds the long-term goal of fitting streaming and broadcasting rights under one umbrella, seeing that as the best way to eventually maximize revenue.
Though they've kept an eye on the Suns deal, major league teams for the most part would prefer to stay with their lucrative RSN contracts for now. Even a team like the Marlins, who consistently field some of the lowest payrolls in the industry, is believed to make more on an annual basis than the Suns did.
Even once some of those RSN contracts are shed, the understanding is that they have a better chance at generating revenue by falling under the scope of MLB than they would by venturing out on their own and incurring the overhead that comes with it. Ishbia's approach might be attempted by some major league owners — perhaps the higher-revenue Bally-operated teams — but it is not necessarily being viewed as a template. — Tim Bontemps and Alden Gonzalez
---
What happens in Vegas … won't just stay in Vegas anymore
In the NHL, like in the NBA, most of the uncertainty around RSN television deals is being put off until the fall. But the Vegas Golden Knights, looking to win their first Stanley Cup, aren't waiting until then to find out. The Golden Knights, whose deal with AT&T SportsNet ended this season, signed a multiyear deal earlier this month with Scripps Sports that will air all Vegas' games in Nevada and four nearby states. Not included in the package are Golden Knights' games broadcast nationally on ESPN or TNT.
That agreement, which includes a direct-to-consumer offer, kicks in for the 2023-24 season. Games will be distributed on cable, satellite and local over-the-air channels in the team's territory.
This is the first deal Scripps Sports has made with a professional franchise since launching in December; it also launched a multi-year partnership with the WNBA in April.
The Golden Knights previously had an RSN agreement with AT&T SportsNet, owned by Warner Bros. Discovery, which announced months ago that it would be shutting down its local sports division. Vegas' decision to bypass the RSN route altogether could be the start of a new trend for other NHL clubs looking to get their product in front of viewers for free. Broadcasting over local channels is more cost-effective — and could be more popular with fans — than being locked into a provider that viewers must pay separately to watch. That's particularly true for teams in markets that don't get as much national coverage.
Vegas is the perfect example. It's a popular local club that's enjoyed significant success since joining the NHL as an expansion team and beginning play in 2017. The Golden Knights can continue to boost their own profile via the Scripps contract and extend goodwill to the fanbase with a legitimate and inexpensive way to keep up with the action. — Kristen Shilton
---
… but another Finals team is still in the dark
The Denver Nuggets will play in their first NBA Finals beginning Thursday against the Miami Heat (8:30 p.m. ET on ABC). And the team's arrival on the sport's biggest stage will also shine a spotlight on the fact that fans within the team's home market have struggled to watch them for years.
For the past four years, Altitude Sports — which is owned by Stan Kroenke, the owner of the Nuggets and Colorado Avalanche, among several other teams — has been locked in a bitter dispute with Comcast, the largest cable provider in the state.
So while Nikola Jokic has grown into arguably the best basketball player on the planet, he remains hard to find on TV in Denver, where 2019 court filings state 92% of cable subscribers use Comcast. Since Altitude's deal expired with the provider in 2019, Jokic has won two MVP Awards — and come close to a third — while the Nuggets are tied with the Suns for the most wins in the NBA over the past four years (194). They are one of five teams — along with the Milwaukee Bucks, Philadelphia 76ers, the Suns and the Boston Celtics — to have won more than 60% of their games over that stretch.
Though the playoffs mostly air on national television, even this postseason saw a dustup when Altitude had to lift a local blackout for a game against the Timberwolves airing on NBATV. While the two sides settled an antitrust lawsuit back in March, there still isn't an agreement in place to air the games on Comcast, and it's unclear if one will happen before the start of the 2023-24 season. — Tim Bontemps
The Pac-12 leftovers: What will be Washington State's and Oregon State's ultimate fate?
PULLMAN, Wash. — Nothing about Saturday's game between Oregon State and Washington State should have felt unusual. There is a familiarity that comes with having played 106 times over the past 120 years.
It's a rivalry game in that sense. A reliable way to mark the passage of time. But this version — the first time the matchup featured both teams in the AP top 25 — might have had the friendliest lead-up to a high-stakes college football game on record.
The pregame festivities were highlighted by the schools' mascots — Benny Beaver and Butch T. Cougar — being driven onto the field in a cart, waving each other's flag, before sharing a dance at midfield. The WSU Cougar Marching Band played Oregon State's fight song. Two days earlier, the schools' presidents and athletic directors conducted a joint online press conference with a custom background of alternating OSU and WSU logos, during which WSU president Kirk Schulz proclaimed, "Go Cougs and go Beavs."
"Just to be clear, this partnership has been super strong, but it's on pause come kickoff for just a little while and then we'll get back to it," OSU athletic director Scott Barnes clarified, lightheartedly.
Following UCLA's and USC's decision last year to join the Big Ten, eight of the ten remaining schools have followed suit, scattering to the Big 12 (Arizona, Arizona State, Colorado, Utah), Big Ten (Oregon, Washington) and ACC (Cal, Stanford) beginning in summer 2024.
The collapse left Oregon State and Washington State without a major conference suitor and in limbo to chart their futures together.
"Fans need to know that we are leaving no stone unturned together," Schulz said. "WSU and OSU are aggressively pursuing all options. Staff from our two schools are meeting daily to explore alternatives and determine the best path forward. Let's be clear, WSU and OSU are in this situation not because of the quality of our athletic programs, but because of the size of our media markets."
For many students and alumni of both universities, it's the college town atmospheres in Corvallis (population 60,956) and Pullman (population 32,508) that attracted them in the first place. Nowhere else on the West Coast offers a chance to escape major population centers to attend school at a place with major college athletics. In the past several weeks, that small-town dynamic — and major source of pride — has become a threat to the futures of both towns and universities.
"Clearly, us being in the news has generated a lot of angst though within the community, within our faculty staff and students," Schulz said. "It's just, 'Hey, what's next? What is it going to look like? Are we going to lose part of our identity because of where we'll land next year?'"
For a few hours Saturday night, those thoughts were on hold as Wazzu roared to a comfortable lead before a sold-out crowd, eventually hanging on to beat the Beavers, 38-35. With the game behind them, though, their shared future is back in focus.
---
PULLMAN MAYOR GLENN Johnson will finish his fifth and final term later this year. He moved to town from Sacramento in 1979, when he took a job teaching broadcasting at WSU's Edward R. Murrow School of Communication. Since 1980, he has been the voice of the Cougars, serving as the public address announcer at WSU football and basketball games.
When Johnson arrived, the Cougars did not play all their football games in town, opting to play some games — notably several Apple Cups against Washington — 90 miles up the road at Joe Albi Stadium in Spokane.
It was a practice he recalled then-coach Jim Walden did not like.
"I remember [Walden] said, 'Hey, it's like preparing for an away game. We should have all these games down here [in Pullman],'" Johnson said.
Walden got his way in 1983, when WSU played its final game in Spokane. Even if the sentiment was rooted in gaining a competitive advantage, the decision had a wider-ranging impact.
"Wow, you're transforming your downtown," Johnson said. "People saw all the restaurants get busy with all the visitors and all the fans. They loved coming back. We weren't getting that when I first got here. And that's one of the important things."
The impact WSU athletics has on the local economy is difficult to quantify, but even anecdotally the importance is easy to notice. Take the locally owned American Travel Inn, a 1-star, bring-your-own-shampoo motel less than a mile from campus. WSU logos are painted all over the motel, which is adorned with signs welcoming Cougars fans. Rooms are usually less than $99 a night, but on the night before the OSU game, that number climbed closer to $500.
In the adjoining parking lot sits the Old European, a beloved breakfast spot that has been in business since 1989 and still uses family recipes that date back more than a century. On a typical morning, it's easy to walk in, grab a booth and drink the famous fresh-squeezed orange juice almost immediately. On the Sunday following a football game, it transforms into a bustling madhouse with a line out the door.
Earlier this year, Pullman discussed plans to rebuild parts of its downtown, but had to put things on hold.
"We found out, well, by the time they could finally get all the construction done, you're going to impact at least five home games," Johnson said. "We as a city, city council, mayor, all of us said that we can't do that. I mean, here are restaurants — our businesses are fully recovered from COVID and you can't do that to 'em like that. So, we delayed the entire process until next year so we can get the thing done in time for next season. Home football games are a big economic driver for the community, and that's far more than it used to be over the years."
Even though there is no thought to the possibility of football going away, there is concern in Pullman and within the WSU athletic department about the long-term repercussions of the Cougars not being in a conference considered to be at the top level of college football.
"To ultimately be on the outside looking in a grouping of schools that this university has been a part of for over a century, that's a painful moment for Washington State," WSU athletic director Pat Chun said. "Then there's the reality for people inside the athletic department. There's uncertainty because everyone recognizes we're going to reorganize our budget some way, somehow. The $35 million we got from the Pac-12 is not going to be there anymore."
On top of the looming financial impact is the hit to civic pride.
"I think you always mentioned, 'You're Washington State University, a Pac-12 institution,'" Johnson said. "They also mentioned the research too, but from a general acceptance standpoint, people understand the Pac-12, especially here on the West Coast.
"Being part of the Pac-12 always has meant a lot and, well, I'll tell you, seeing the Pac-12 basically implode, this has been tough to see."
---
EARLIER THIS MONTH, a judge in Washington granted a temporary restraining order sought by OSU and WSU to prevent the Pac-12 from holding a board meeting. There was concern from the two remaining schools that the exiting members could attempt to dissolve the conference to force an equal split of the conference's remaining assets.
OSU and WSU successfully argued that when UCLA and USC were barred from the conference board after announcing their departures for the Big Ten in 2022, it set a precedent that they did not have board or voting rights. The same approach was applied when Colorado announced it was headed to the Big 12 earlier this summer.
When Pac-12 commissioner George Kliavkoff scheduled a board meeting for earlier this month that included all 12 schools — 10 of which will no longer be in the conference next year — OSU and WSU initiated legal action.
"The meaning of the bylaws hasn't changed just because more members have decided to leave," lawyer Eric MacMichael argued for OSU and WSU in court.
A preliminary injunction hearing is expected to be held in October to determine who will have voting rights on the Pac-12 board.
In the meantime, OSU and WSU have been trying to assess the value of the conference's remaining assets and compare them with existing liabilities. It has been a slower than expected process that will ultimately determine how the schools proceed.
"We understand some of the assets that the Pac-12 has — certainly the media payments, the NCAA tournament credits, CFP — some things we understand pretty well," Oregon State president Jayathi Murthy said. "Some things we don't understand — even about the assets in terms of who the payments go to, who controls them, etcetera. And then there are liabilities. There are the public legal cases that are going on, so we're trying to figure out how those are going to shape our view. There's lots and lots of fine print and lots of other contractual obligations that the conference has. The balance of these will tell us what net assets actually exist in the conference and we've got to understand that before we can chart out the path forward."
The schools expect to have some sort of clarity in the next month. In the end, the decision figures to be somewhat simple: If the assets outweigh the liabilities, the schools will likely attempt to maintain control and attempt some kind of rebuild. If the liabilities are determined to be too great, then they would likely be forced to walk away.
With either scenario, the most likely result is a future intertwined with schools from the Mountain West Conference. Whether that's a reverse merger with the Mountain West schools moving to the Pac-12 as a block to benefit from the brand value or WSU and OSU going the opposite direction remains to be seen. For fans, any difference would be mostly semantics.
The current Mountain West media rights deal pays its member schools roughly $6 million annually; however, there figures to be an increase should OSU and WSU factor in.
It's still theoretically possible, too, that OSU and WSU could operate the Pac-12 as a two-team conference the next two years — essentially acting as independents — but that option is viewed as a last resort, sources told ESPN. (The NCAA gives conferences a two-year grace period to reach designated minimums for member schools should they fall below the required thresholds.)
"The fact that we are waiting for some additional information does not mean that we haven't been focused every day on what that scheduling scenario might look like and engaged in the proper conversations to make sure that when we do have that information we're pressing go," Barnes said.
At WSU, one of the most confounding parts of the conference realignment game has been the criteria for evaluation. If everything is being driven by TV media value, why is WSU being penalized for the size of Pullman when the Cougars have consistently been one of the biggest TV draws in the Pac-12 for several years?
"Depending on the metric you look at, we're either in the top fourth, top third or top half [of the Pac-12] consistently over five, 10 years," Chun said.
In an era where nearly all games are either broadcast on national TV or streamed, individual market size does not translate to larger audiences in the way it did when football was broadcast regionally. Where is the logic in the idea a school is more valuable from a TV standpoint because it's located in a larger media market if there are years of evidence showing that school doesn't translate to TV viewers? Rutgers, for example, is in the largest media market in the country, yet the Scarlet Knights were among the least-watched Power 5 programs in the country last season.
These are questions WSU has been left unable to sufficiently answer.
---
SINCE ARRIVING IN Pullman as the defensive coordinator prior to the 2020 season, Jake Dickert has consistently had to navigate through murky waters.
In 2020, it was the COVID season. In 2021, he took over as interim coach after Nick Rolovich and several assistants were fired for refusing to take the COVID vaccine. Now in 2023, there's the uncertainty about his program's standing within major college football.
"My number one job is the focus of seeing through the fog and understanding what's on the grass matters," Dickert told ESPN.
Through it all, Dickert has methodically taken the team in the right direction. Following the win against Oregon State, WSU jumped to No. 16 in the AP poll. It's the Cougars' highest ranking since 2018, when they reached as high as No. 7, and just the fifth time they've been ranked this high in September over the past 40 years.
"I said this summer I felt confident that we put together a really good team and no one was talking about it and we can do it in our own way," Dickert said. "Our team is greater than the sum of its parts. … We got zero five star [recruits], zero four stars. We got zero. But we're greater than the sum of our parts because of our connection and how we play and the buy-in that they have to their job."
That track record with recruiting gives Dickert confidence that regardless of how the conference situation plays out, they'll still be able to maintain a standard that fans can be excited about. It almost goes without saying that the Cougars have historically benefitted from being in the Pac-12 from a recruiting standpoint, but there has never been a time when they were consistently recruiting peers with the more high-profile brands in the conference. From that standpoint, their place in the college football ecosystem would remain very similar, though it remains to be seen how susceptible they would be to raids for top players through the transfer portal or how appealing a destination WSU would be for players looking to prove themselves at a higher level.
Take Saturday's win against Oregon State, for example. Quarterback Cam Ward, a transfer from FCS Incarnate Word, put on a show while connecting on a combined 15 passes for 333 yards and four touchdowns just to Kyle Williams and Josh Kelly, both of whom transferred from Mountain West schools in the offseason. Some players of that caliber will inevitably not consider WSU if its not in a major conference.
"I always look at the positive side," Johnson said. "It's only the way it can be as a mayor. There's enough people saying, 'Oh, woe is us,' and that kind of thing. But you've got to sit back and say, 'Okay, what can we make out of this?'"
The most obvious answer is this: As college football's postseason system evolves, WSU's access to an expanded playoff will likely be easier from outside one of the expanded power conferences than from within. Assuming there remains a designated slot for a non-power conference team, the Cougars would be much better positioned for that than a team like, say, UCLA, which doesn't have a track record to indicate it will compete at the highest level in the Big Ten.
So while there are serious budget concerns on the horizon that will have a negative impact on the athletic department and community, WSU — and Oregon State — remains intent on doing whatever it takes to stay relevant in major football.
Dickert summed it up succinctly: "We belong."
'Give me the ball': Inside Justin Steele's long climb to the top of the Cubs' rotation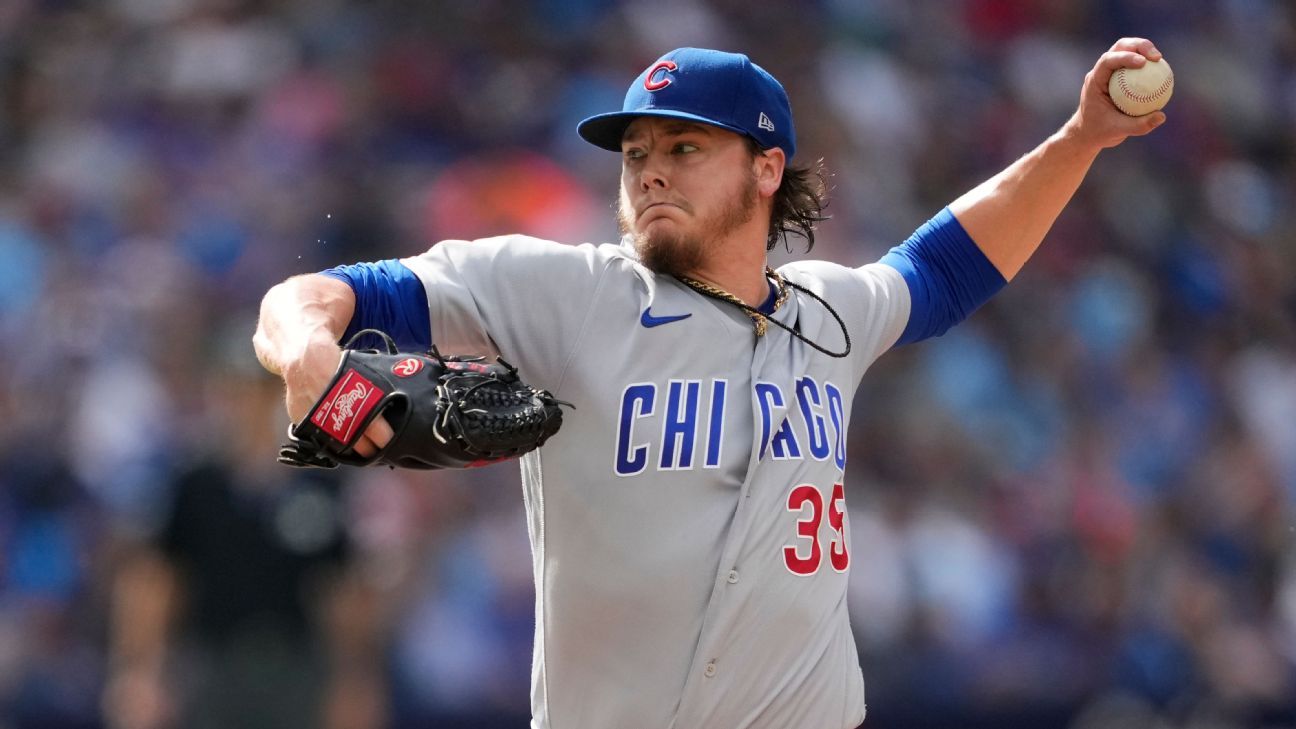 The National League Cy Young award likely slipped from his reach over his past two outings, but Justin Steele has plenty to pitch for in the final week of the MLB regular season.
With the Chicago Cubs holding a one-game lead for the National League's final wild-card spot, the biggest two-start stretch of their new ace's career will begin when Steele takes the mound against the potent Atlanta Braves on Tuesday night. His final start is scheduled to come on the season's final day, against another division winner, the Milwaukee Brewers, in what could be an all-or-nothing conclusion to the Cubs' playoff chase.
"That's what it's all about," Steele told ESPN recently. "I love pitching in big games. Give me the ball."
The 28 year-old's career arc from being selected in the fifth round of the 2014 MLB draft to becoming the pitcher Chicago trusts most with its season on the line has been a slow progression — and that kind of declaration didn't seem likely just a few years ago, when Steele finished the 2019 season with an 0-6 record and 5.59 ERA for Double-A Tennessee.
After three promising seasons in the low minors to start his career, Steele's 2017 season was interrupted by Tommy John surgery, and like many pitchers coming back from the procedure, he struggled to find his command when he returned. The Cubs showed faith by sticking with Steele despite that ugly stat line, and things finally began to click in 2020 at the team's alternate site for minor league players during MLB's pandemic-shortened season.
The secret to Steele's breakthrough? He perfected his now-signature pitch, a four-seam fastball that has baffled hitters unable to lay off its unique movement.
"Everyone says he throws two pitches, but those two pitches are like five pitches," Cubs closer Adbert Alzolay said. "That's why hitters are so confused when they go up to the plate."
Steele technically possesses a five-pitch arsenal, but his success has come by throwing two of those pitches more than 96% of the time. Paired with a slider he uses to keep hitters guessing, Steele goes to his four-seam fastball 62.7% of the time. According to ESPN Stats & Information, Steele's fastball usage increased from 52 percent to 62 percent in the second half of 2022. His slider from 24 percent to 34 percent. It doesn't leave much room for other pitches.
Any fear of his approach becoming too predictable and allowing hitters to sit on his four-seamer is quickly alleviated with a look at the results: Steele's fastball ranks first in home run percentage (1.5%), second in barrel percentage (13%) and third in average exit velocity (86.9%).
"It's rare in this game to see a guy simplify," Cubs pitching coach Tommy Hottovy said. "It's so refreshing to see a young guy go that way. So many guys come up and think, 'I have to add a cutter, I have to add another pitch.' He's gone the other way."
It's not just that MLB-leading usage rate that makes his four-seamer stand out: In a time when a record number of pitchers are lighting up the radar gun with triple-digit heat, Steele's best pitch averages just 91.8 mph.
"He's got a short arm and hides it with a cross body delivery," Pirates outfielder Jack Suwinski said after striking out against Steele. "It'll have some different shape to it. Some cut. Some sink. Some life at the top as well. It's harder than it [the radar gun] says it is."
---
After declining a commitment to his home state school of Southern Miss., Steele signed as the 139th overall pick in the 2014 draft. Among current Cubs, only fellow pitchers Kyle Hendricks and Azolay have been in the organization longer than Steele.
While Hendricks was already pitching in the majors, Steele and Alzolay became close friends in the low minors as they watched Chicago go from rebuilding to winning a World Series from afar years before getting their chance to pitch for a playoff-contending Cubs team.
"There's nothing that fires me up more than closing a game that Justin Steele has started," Alzolay said.
The bond between the two pitchers strengthened even more during their time together at Chicago's alt site in 2020, when Alzolay was often the encouraging voice Steele needed as he tried to remake his career.
"All you need to do is throw strikes," Alzolay recalls telling Steele. "They don't know where the ball is going to go. They don't know if it's going to sink, cut or go up."
During his rise from an afterthought in the Cubs' plans to pitching at the top of the rotation, Steele has had a chance to receive advice from the man whose footsteps he's trying to follow as the team's written-in-pen Game 1 playoff series starter. After watching one of Steele's starts on TV midway through last season, former Cub Jon Lester jumped on his phone to offer advice to Steele through manager and former catcher David Ross.
Not long after receiving Lester's advice, Steele's career took off. Since July 22, 2022, he's 17-7 with a 2.64 ERA, second lowest in baseball during that time frame.
"One of the main things [Lester emphasized] was establishing the four-seam command, down-and-in to righties on that inner third," Steele said. "Very helpful advice. I watched a ton of Cubs games and always watched him pitch. I learned a lot."
Steele has already thrown 49 more innings than his previous season high, but he has allowed six runs in each of his past two starts, losses to the Arizona Diamondbacks and Pittsburgh Pirates during the Cubs' 1-7 stretch in mid-September that denied them the chance to break away in the race for the final postseason spot. Could fatigue be setting in at the most inopportune time?
"I don't think so," Steel said. "I feel great. My body feels great. I feel the way I'm supposed to feel."
Next, his greatest test will come under the bright lights of a playoff race against two squads already assured of doing what the Cubs are still striving for: reaching October.
"It's what I want," Steele said. "The ball in the biggest moments."
Racing groups introduce safety legislation
New legislation set to be introduced in Congress would dismantle the year-old national authority in charge of regulating safety and medication in horse racing and replace it with an organization backers say would allow for the safe treatment of horses and address concerns about doping.
The Racehorse Health and Safety Act, proposed by the North American Association of Racetrack Veterinarians and several horsemen's associations, would include a national umbrella of rules for states to follow but give individual racing commissions more authority to enforce them. The bill was introduced Tuesday by Louisiana Republican Rep. Clay Higgins.
"While the federal government may have had good intentions in passing [the Horseracing Integrity and Safety Act], in practice it ended up obstructing best practices in the horse business," Higgins said. "I will not sit by and allow horses to be harmed while government crushes the families that have built their lives around the horse racing industry."
The plan would essentially move oversight of the sport back to life before the Horseracing Integrity and Safety Authority was established. Critics say HISA goes too far with arbitrary medication rules and creating a Racehorse Health and Safety Organization would be a better way of regulating an industry that in recent years has largely acknowledged the need for reform.
"It takes into account horsemen's input [and] veterinary science," said Eric Hamelback, CEO of the National Horsemen's Benevolent and Protective Association. "It allows for horses to be given proper care in the best interest of equine health and welfare. And it's constitutional."
HISA was the result of concerns over doping in the sport of kings, and the new rules replaced a patchwork system of standards in the 38 U.S. racing states that can vary by track and location. It was signed into law late in 2020 by then-President Donald Trump and began regulating safety measures last year and medication and anti-doping rules in May. Safety has been at the forefront for months after high-profile horse deaths at Churchill Downs and Saratoga Race Course.
HISA faced a series of legal challenges before going into place. Texas remains opposed and has for a year not been able to simulcast its races out of state as a result.
Hamelback and other stakeholders agree that there was change needed from the status quo but have criticized HISA and the Horseracing Integrity and Welfare Unit — its independent enforcement agency — for banning or limiting the withdrawal times for substances that they say have little or no impact on performance.
Russell Williams, president of the board of the U.S. Trotting Association that governs harness racing of standardbreds, said one faction of the industry favors no medication in horse racing — "basically have hay, oats and water."
"The purpose of that is to prove to the public that there's no doping going on," Williams said. "The other side of that debate is science, sports medicine."
Williams said the new proposal was put together by racetrack veterinarians before being reviewed by officials in thoroughbred, standardbred and quarter horse racing.
Hamelback of the NHBPA pointed to a recent provisional suspension of a trainer for the presence of an estrogen suppressant in a male gelding as an example of where the current rules go too far, noting medication makes horses less aggressive but doesn't help them run faster.
"We agree with the premise of developing national uniform rules, national uniform laboratory procedures, testing, but our (set of rules) is going to be based on veterinary science, and veterinary research that leads to actual betterment of equine health and welfare," he said.
Hamelback and Williams think there's a better than 50/50 shot of the legislation becoming the new law of the land.
"I firmly believe that there are members of Congress who were instrumental in bringing HISA about, who are seeing all the trouble that HISA is causing, and they're looking for a good way out," Williams said. "And if we can convince them that RHSA is a better way — and that's our whole mission — then I think it gets passed."