Bill Clinton turned down tea with the Queen: Five things we learned from newly declassified papers
Bill Clinton turned down an invitation to have tea with the Queen because he "wanted to be a tourist" in London, newly released official papers show.
The US president was visiting the UK in 1997 – four weeks after Tony Blair came to power – and said he wanted to hit the shops and eat Indian food.
Previously classified documents show Mr Clinton, Mr Blair and their wives Hillary and Cherie ended up dining at a French restaurant in London Bridge – complete with beer and fine wine.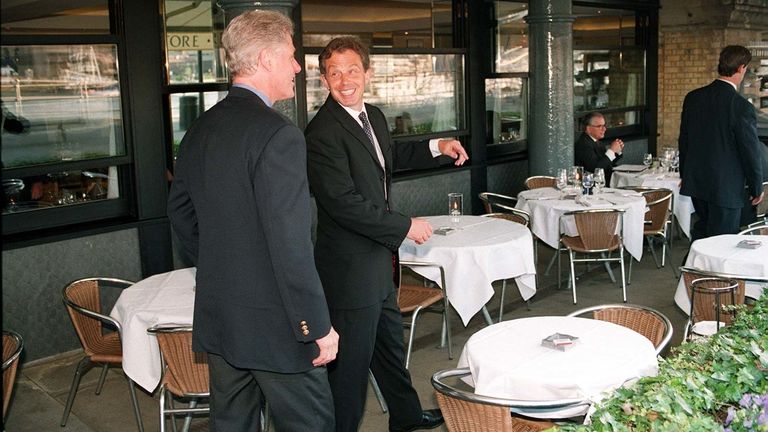 Memos between Whitehall aides show Mr Clinton was invited to Buckingham Palace to 5pm tea.
But a letter written by Downing Street private secretary Philip Barton said: "The Americans said that the president and Mrs Clinton were very grateful for HM The Queen's invitation to tea at the palace, but would wish to decline politely."
The restaurant bill racked up by the Blairs and Clintons is also among the series of files released by the National Archives in Kew, dating back to Mr Blair's first few months in government.
They spent a total of £298.86 at Le Pont de La Tour – and the bill featured £20 wild salmon, £19.50 grilled sole, £18 halibut, a £2.95 Budvar beer, and a bottle of Mas de Duamas 1995 wine priced at £34.75.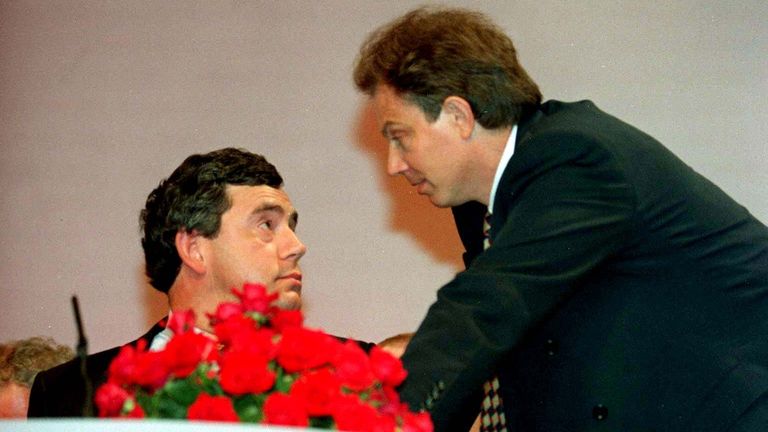 Blair and Brown tensions
The latest tranche of official papers from 1997 also shows that Mr Blair's aides wanted Gordon Brown's spin doctor "out on his ear" amid fears that unauthorised briefings were damaging the new Labour government.
Files suggest officials struggled to manage tensions between the administration's two most dominant figures right from their early days in office.
Peter Mandelson – one of Mr Blair's ministers – repeatedly complained about the actions of Charles Whelan, who served as Mr Brown's press secretary.
Mr Whelan was accused of planting a series of hostile stories about Mr Mandelson that were making the government "look foolish, and worse".
A frank note written to Mr Blair also suggested that Mr Brown was using his chairmanship of cabinet committees to "bludgeon through" his own policies.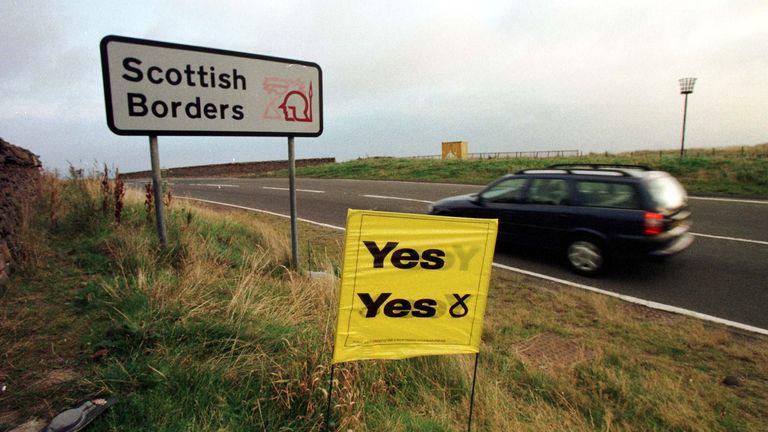 Scottish independence worries
The now-unclassified documents from 1997 also show that Downing Street advisers had conceded that Scotland could have a referendum on "anything it wants" without Westminster's consent.
Even back then, key aides to the prime minister said "a couple of very worried Scottish MPs" were concerned about "the slippery slope to independence".
Scotland voted in favour of devolution in September 1997, with Labour pledging that the country would be able to set up its own parliament responsible for education, health, transport and other matters.
It was not until 2014 that an independence referendum was held, with 55% voting against proposals for Scotland to break away from the rest of the UK.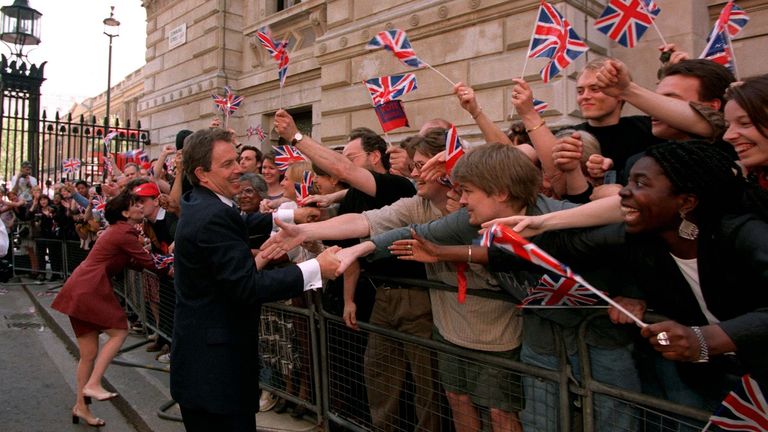 Blair's Irish famine message 'written by aides'
The documents also reveal that Mr Blair's headline-grabbing admission that the British government was culpable for the Irish Famine was actually hastily ghost-written by his aides.
At the 150th anniversary commemoration in Cork, a message was read on the prime minister's behalf that said: "That one million people should have died in what was then part of the richest and most powerful nation in the world is something that still causes pain as we reflect on it today.
"Those who governed in London at the time failed their people through standing by while a crop failure turned into a massive human tragedy."
A request from remarks from Mr Blair was made at the last minute, and they were approved by his private secretary because the prime minister was "not around at the time".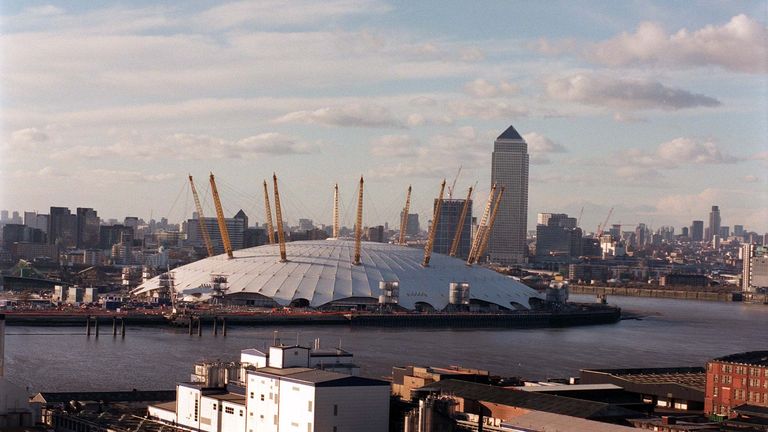 Millennium Dome could have been tribute to Diana
Records also reveal that plans had been considered to make the Millennium Dome a tribute to Diana, Princess of Wales – and also faced the prospect of being scrapped altogether.
According to the PM's director of communications Alastair Campbell, a member of the Dome's board had proposed that the "Millennium project be completely refashioned, the site extended, to accommodate, for example, a hospital, businesses, charities, private residences, and the whole thing named 'the Princess Diana Centre'."
Separately, one of Mr Blair's aides said: "Diana's death could give us a semi-plausible excuse to cancel."
The attraction cost £758m and opened on 31 December 1999, but it only drew 6.5 million visitors in 2000 – far fewer than the 12 million that had been budgeted for.
It was later closed and replaced with The O2, which has hosted concerts, sporting events and other entertainment since 2007.
Yvette Cooper promoted and Lisa Nandy to shadow Gove on levelling up brief in Labour reshuffle
Yvette Cooper is elevated to shadow home secretary while Lisa Nandy will move from shadow foreign secretary to the levelling up brief as Labour leader Sir Keir Starmer reshuffles his cabinet.
Ms Cooper, who held the home affairs brief previously from 2011 to 2015 under former Labour leader Ed Miliband, will depart her current role as chair of the influential Commons home affairs select committee in returning to the shadow cabinet.
Ms Nandy will now shadow Levelling Up Secretary Michael Gove, while David Lammy has been promoted into her former shadow foreign secretary role from the justice brief.
New shadow cabinet roles revealed in Starmer's surprise Labour shake-up – live updates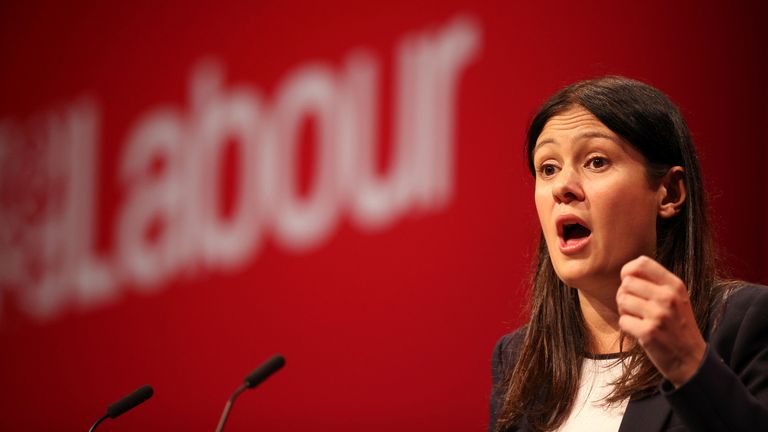 Others who have been boosted to more prominent positions in Sir Keir's top team include Wes Streeting who moves to shadow health secretary and Bridget Phillipson who will transfer from shadow chief secretary to the Treasury to shadow education secretary.
Meanwhile, Jonathan Ashworth, who has had the health brief through the pandemic, moves to shadow work and pensions secretary and said he was "excited" for the new role.
Former holder of the education brief Kate Green has been removed from the shadow cabinet alongside the previous shadow Wales secretary Nia Griffith and former environment secretary Luke Pollard.
Earlier on Monday, former shadow minister for young people and democracy Cat Smith and former shadow attorney general Lord Falconer said announced that they were also stepping down from Labour's frontbench.
Sir Keir's top team now includes:
• Angela Rayner as deputy leader, shadow first secretary of state, shadow chancellor of the duchy of Lancaster and shadow secretary of state for the future of work
• Rachel Reeves as shadow chancellor
• David Lammy as shadow foreign secretary
• Yvette Cooper as shadow home secretary
• Wes Streeting as shadow health secretary
• Lisa Nandy as shadow levelling up, housing, communities and local government secretary
• Jonathan Reynolds as shadow business secretary
• Ed Miliband as shadow climate change and net zero secretary
• John Healey as shadow defence secretary
• Lucy Powell as shadow digital, culture, media and sport secretary
• Bridget Phillipson as shadow education secretary
• Jim McMahon as shadow environment secretary
• Nick Thomas-Symonds as shadow international trade secretary
• Steve Reed as shadow justice secretary
• Louise Haigh as shadow transport secretary
• Jenny Chapman as shadow cabinet office minister
• Louise Haigh as shadow transport secretary
• Anneliese Dodds as women and equalities secretary and Labour Party chair
• Jonathan Ashworth as shadow work and pensions secretary
• Emily Thornberry as shadow attorney general
• Jo Stevens as shadow Wales secretary
• Ian Murray as shadow Scotland secretary
• Peter Kyle as shadow Northern Ireland secretary
• Thangam Debbonaire as shadow Commons leader
• Dr Rosena Allin-Khan as shadow mental health minister
• Preet Gill as shadow international development minister
• Pat McFadden as chief secretary to the Treasury
• Alan Campbell as shadow chief whip
• Angela Smith as shadow leader of the House of Lords
In a statement, Sir Keir said: "With this reshuffle, we are a smaller, more focused shadow cabinet that mirrors the shape of the government we are shadowing.
"We must hold the Conservative government to account on behalf of the public and demonstrate that we are the right choice to form the next government."
The Labour leader said he is "delighted" to have appointed Ms Nandy to the foreign affairs brief, adding that "there will be nobody better than Lisa to lead this work".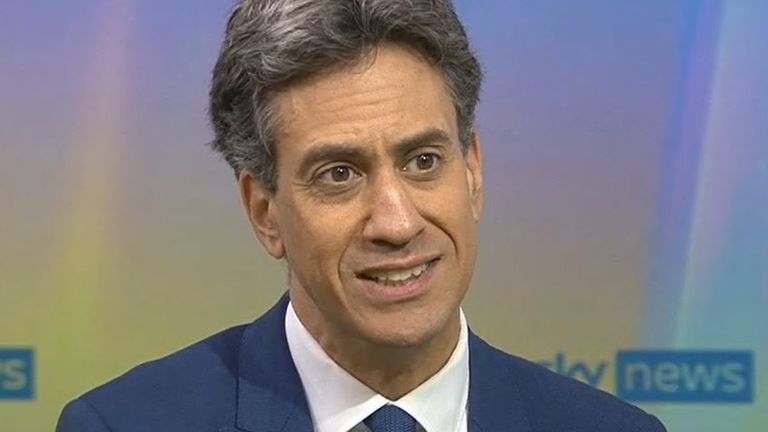 Meanwhile, Mr Miliband "will lead in the shadow cabinet to develop Labour's extensive plans for net zero in a first term Labour government, and hold the government to account for its failure to take action", Sir Keir said.
The reshuffle comes six months after Sir Keir's last refresh of his shadow cabinet, in the wake of a mixed night for Labour in May's elections across the UK.
Posting on social media, Mr Lammy said he was "honoured" to be appointed shadow foreign secretary and praised his predecessor Ms Nandy for "holding the Tories' feet to the fire".
"Honoured to be appointed shadow secretary of state for foreign, commonwealth & development affairs. At a time when Britain is recasting itself on the world stage, I look forward to setting out Labour's vision for a values-led foreign policy based on cooperation & internationalism," Mr Lammy said.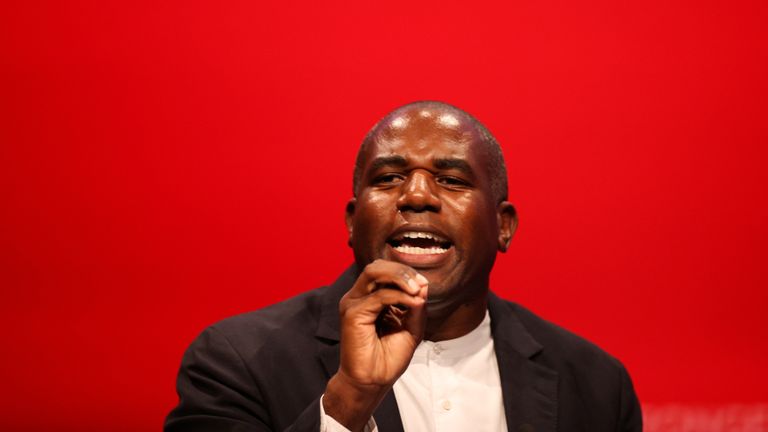 Newly-appointed shadow health secretary Mr Streeting tweeted: "Delighted to have been appointed as shadow health and social care secretary.
"This year the NHS saved my life and staff across health and social care are getting us through the worst pandemic in living memory. Labour created the NHS. We'll make it fit for the future."
Earlier this year, Mr Streeting was diagnosed with kidney cancer and had a kidney removed.
Some have suggested the shake-up came about quite abruptly.
Speaking earlier on Monday morning at an event in Westminster amid swirling reshuffle rumours, Labour deputy leader Angela Rayner said: "I don't know the details of the reshuffle or the timing of it, I've been here concentrating on my role now.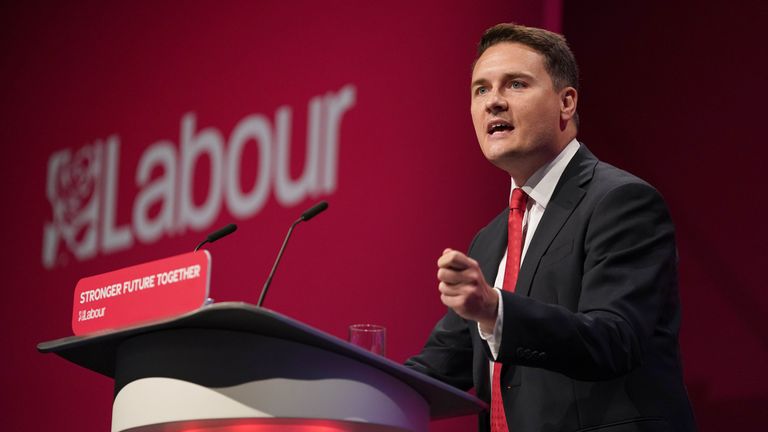 "But six months ago I said again we need some consistency in how we're approaching things as an opposition. I want us to see us as a government in waiting, I want us to do that job."
Sky's political correspondent Kate McCann reported that Ms Rayner did get a call from Sir Keir on Monday morning to say she would keep her role, but was not given any detail or consulted about the reshuffle itself.
Posting on social media, Mr Lammy said he was "honoured" to be appointed shadow foreign secretary and praised his predecessor Ms Nandy for "holding the Tories' feet to the fire".
"Honoured to be appointed shadow secretary of state for foreign, commonwealth & development affairs. At a time when Britain is recasting itself on the world stage, I look forward to setting out Labour's vision for a values-led foreign policy based on cooperation & internationalism," Mr Lammy said.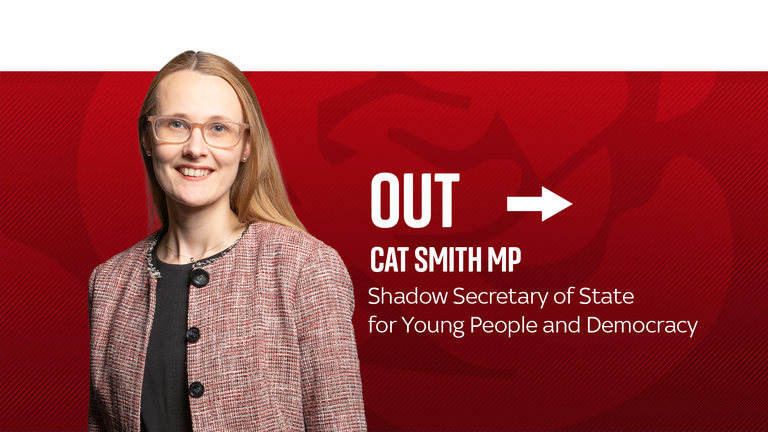 While announcing her departure from Sir Keir's shadow cabinet, Ms Smith tweeted out a copy of a letter she had sent to the Labour leader, warning Sir Keir of the "damage" being done by Jeremy Corbyn remaining suspended from the Parliamentary Labour Party.
Sir Keir's previous reshuffle provoked controversy within the party when he sacked Ms Rayner as Labour Party chair.
Have the last few wobbly weeks seen a turning point for Johnson as PM?
Have the last few weeks seen a turning point in Boris Johnson's premiership? 
Dozens of Tories have refused to follow the prime minister's orders in the voting lobbies on issues as diverse as sleaze and social care.
Meanwhile a handful of Tory MPs have gone public with demands for change, with many more complaining in Westminster's cafes and bars. At times, it has felt like Mr Johnson was losing his political agility.
"There are too many issues at the moment in which the government is shooting itself in the foot with issues and problems which as I say colleagues are warning and warning and warning about and that are visible from Venus, Mars even maybe visible from Pluto," northern Tory and ex minister Andrew Percy told Sky News.
"And that has got to stop because we owe the people of this country better than that."
Is PM losing Tory support?

Mr Percy hasn't always been a rebel, though he accepts that description now.
Not that long ago he occupied the high profile portfolio of Northern Powerhouse minister until 2017 and was an early backer of Mr Johnson's leadership in the summer of 2019.
Nor can he just be dismissed as one of a small number of irreconcilables.
Almost one in seven Tory MPs – 52 of them – have rebelled more often than Mr Percy, according to the Public Whip website which provides a crude tally of how many times he and his colleagues have voted against their party.
Yet he is one of the few prepared to go on the record in a television interview quite so expansively with their concerns, and as he sits in his office next to a full size Yorkshire flag, he worries, the government's political antennae is wonky.
"Those are questions that people around the prime minister and then the senior levels of government have to ask themselves.
"They have to look and see if the setup of this government is broad enough, if it is drawn wide enough from the party if it is reflective of our new voter base, if it's reflective even of our new base on the back benches."
PM asked 'is everything okay?' after speech

Last week, he voted like many others against the government's social care plans because they will mean the less well off having to pay more than affluent voters before the state steps in and picks up care home bills.
Tory rebels cut the government majority from 80 to 26, setting off alarm bells across the party.
Mr Percy blasts Rishi Sunak's department, saying their focus on keeping control of public spending is getting in the way of the party meeting its promises.
He said: "The Treasury has to be cognizant of what we promised people, what we told people, and I understand absolutely, you know, public spending is at record levels, you know, the amount of debt we are facing following COVID and all the rest of it is really, really very challenging.
"And these same conversations are happening in governments all across the world. I totally appreciate the challenge, but commitments were made, be that on rail, they were made on social care, they were put into our manifesto, people voted for us on the basis of those and therefore, you know, we need to ensure that we are making good on those promises."
PM loses place in speech, uses Peppa Pig joke

Beneath the surface this argument, between Tories who want to spend whatever it takes to deliver for voters, and those who think strong public finances are the bedrock of the Tory claim to competence.
Not all promises cost money, however, and Tories across the party are worried one of their biggest weaknesses stems from making offers that never materialise.
Ex-minister Tim Loughton, now a Tory on the home affairs select committee, points the finger firmly at France for the migrant crisis.
However he worries that the government has talked up its ability to find a quick fix too often when it is unable to find an easy solution.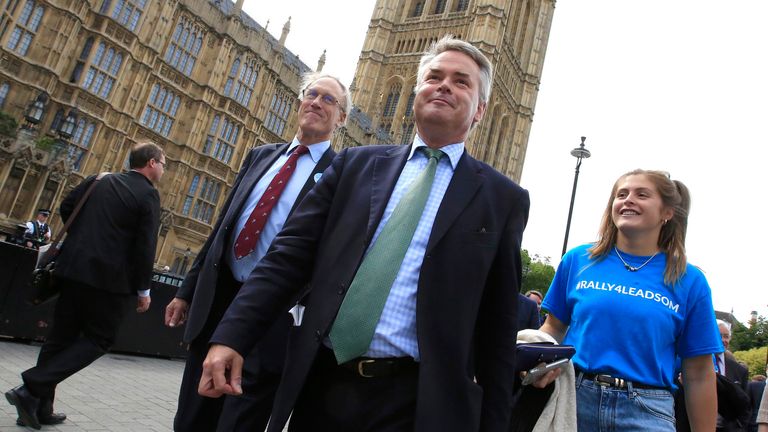 "There is a genuine concern that the government has talked tough," he told me. "The government genuinely wants this trade to end, as we all do, but we haven't been able to achieve that on our own because most of the cards are in the hands of French.
"And perhaps it wasn't wise to overpromise when we couldn't rely on the partnership we need to solve this."
Soon there will be two opportunities for voters to pass their verdict, with two traditionally safe Tory seats heading to the polls for a byelection.
PM's letter stirs controversy

This Thursday will see the vote in Bexley and Old Sidcup where the south London voters will choose a successor to popular minister James Brokenshire, who died of cancer in October.
Two weeks later, voters in North Shropshire will elect a successor to disgraced ex-minister Owen Paterson. Few expect an upset in Bexley, although some Liberal Democrats say they are putting in a concerted effort in Shropshire.
On the streets of Bexley, however, there was little sign of danger for Mr Johnson, where at times voters appeared more forgiving than his own MPs.
Tory voters there talk of Mr Johnson going "off the boil" and "fumbling" and doing things that mean they "lack confidence".
PM 'deeply saddened' by migrant deaths in Channel

Asked if that means they will take their vote elsewhere, most said not, often arguing he had been dealt an unprecedented bad hand.
This could be dismissed as an outlier result in a safe Tory seat, but the national opinion polls suggest that even after the most recent few weeks, Mr Johnson's party enjoys an advantage.
The most recent YouGov survey from last week puts the Tories on 36% and Labour on 35%.
'It's corrupt – there's no other word for it'

Older voters in the 65 and above category are twice as likely to vote Tory than Labour, an advantage Labour has not yet begun to directly tackle.
Meanwhile there is little sign Keir Starmer's Labour is winning over Tory votes directly. Amongst those who voted Tory in 2019, 6% would now choose to vote for Labour but twice as many, 11%, would go for the little known Brexit Party successor, Reform UK.
The last three weeks have seen doubts about Mr Johnson in Westminster unthinkable even during Tory conference in early October, as well as calls for him to shake up his team and signs of fissures in government.
It is not yet clear those doubts in Westminster have filtered through and changed the voting habits in the country.
Dutch and UK govts agree migrants need to be returned to first country ahead of meeting UK excluded from
The government is hoping the French will work with the UK on halting migrant crossings despite being disinvited from talks.
Health Secretary Sajid Javid defended Boris Johnson after the prime minister tweeted out a letter he sent to French President Emmanuel Macron, which angered Paris and got Home Secretary Priti Patel disinvited from a meeting on the crossings today.
He told Sky News' Trevor Phillips On Sunday: "We can't just do it on our own, we do need the co-operation of the French and again, you asked me about the prime minister's letter and I think what the prime minister has set out, those are exactly the kind of things that we need to do and I hope that the French will take that and work with us."
The meeting, organised after 27 people died trying to cross the Channel on Wednesday, will go ahead without Ms Patel today. Interior ministers from France, the Netherlands, Belgium, Germany and the European Commission will attend.
Mr Javid called France "our friend" and said he thinks the five points Mr Johnson set out to tackle the issue of people crossing the Channel in small boats "are all the right issues".
"We should be working together on them," he added.
One of the points called for asylum seekers arriving in the UK in boats to be returned to France as the government says they should claim asylum in the first safe country they get to.
This is also said to have angered the French government.
PM 'not serious' over channel crossings

Mr Javid said: "Whatever we can do, we still need to have co-operation with our French friends.
"I think reaching out to them and suggesting, making proactive suggestions, whether it is joint patrolling, whether it is a terms agreement, I think these are all the right things to do."
Labour criticised both the UK and French governments, with shadow foreign secretary Lisa Nandy saying they are "engaging in a blame game while children drown off our coastline".
She told Phillips: "It's just simply unconscionable and any responsible government on either side of the Channel would set aside those differences and work together to deal with what is a collective shared problem that will only be solved together."
Follow the Daily podcast on Apple Podcasts, Google Podcasts, Spotify, Spreaker
Ms Nandy added that legitimate routes to the UK to help people fleeing war and persecution need to be developed.
"These routes simply don't exist, and they won't exist as long as the government continues to engage in a blame game with others and doesn't do the hard yards of sitting down around the table and agreeing how we're going to tackle this together," she said.
It has been a tough month for the prime minister, who has faced sleaze accusations over now-ex Conservative MP Owen Paterson's lobbying breaches, saw his majority slashed over social care changes, praised Peppa Pig World in a speech, had a diplomatic argument with France over migrant crossings and now a new variant.
Backbench MPs have heavily criticised the prime minister on all accounts but asked whether Mr Johnson could still win an election, Mr Javid said: "Yes, absolutely.
"This is a government that delivers on its promises and deals with the challenges they face."