Bill Clinton turned down tea with the Queen: Five things we learned from newly declassified papers
Bill Clinton turned down an invitation to have tea with the Queen because he "wanted to be a tourist" in London, newly released official papers show.
The US president was visiting the UK in 1997 – four weeks after Tony Blair came to power – and said he wanted to hit the shops and eat Indian food.
Previously classified documents show Mr Clinton, Mr Blair and their wives Hillary and Cherie ended up dining at a French restaurant in London Bridge – complete with beer and fine wine.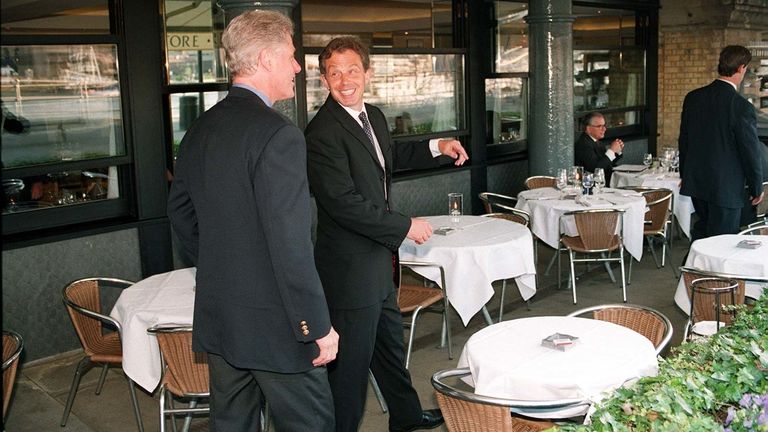 Memos between Whitehall aides show Mr Clinton was invited to Buckingham Palace to 5pm tea.
But a letter written by Downing Street private secretary Philip Barton said: "The Americans said that the president and Mrs Clinton were very grateful for HM The Queen's invitation to tea at the palace, but would wish to decline politely."
The restaurant bill racked up by the Blairs and Clintons is also among the series of files released by the National Archives in Kew, dating back to Mr Blair's first few months in government.
They spent a total of £298.86 at Le Pont de La Tour – and the bill featured £20 wild salmon, £19.50 grilled sole, £18 halibut, a £2.95 Budvar beer, and a bottle of Mas de Duamas 1995 wine priced at £34.75.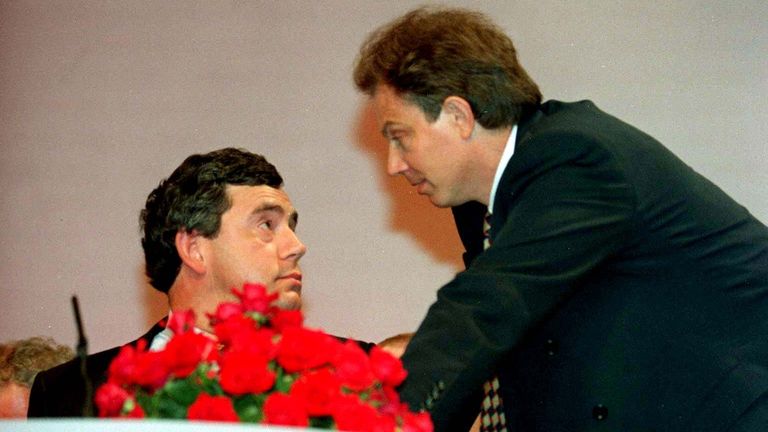 Blair and Brown tensions
The latest tranche of official papers from 1997 also shows that Mr Blair's aides wanted Gordon Brown's spin doctor "out on his ear" amid fears that unauthorised briefings were damaging the new Labour government.
Files suggest officials struggled to manage tensions between the administration's two most dominant figures right from their early days in office.
Peter Mandelson – one of Mr Blair's ministers – repeatedly complained about the actions of Charles Whelan, who served as Mr Brown's press secretary.
Mr Whelan was accused of planting a series of hostile stories about Mr Mandelson that were making the government "look foolish, and worse".
A frank note written to Mr Blair also suggested that Mr Brown was using his chairmanship of cabinet committees to "bludgeon through" his own policies.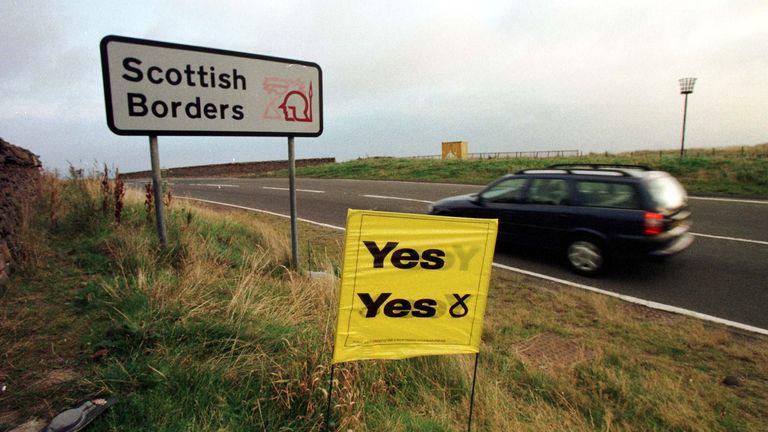 Scottish independence worries
The now-unclassified documents from 1997 also show that Downing Street advisers had conceded that Scotland could have a referendum on "anything it wants" without Westminster's consent.
Even back then, key aides to the prime minister said "a couple of very worried Scottish MPs" were concerned about "the slippery slope to independence".
Scotland voted in favour of devolution in September 1997, with Labour pledging that the country would be able to set up its own parliament responsible for education, health, transport and other matters.
It was not until 2014 that an independence referendum was held, with 55% voting against proposals for Scotland to break away from the rest of the UK.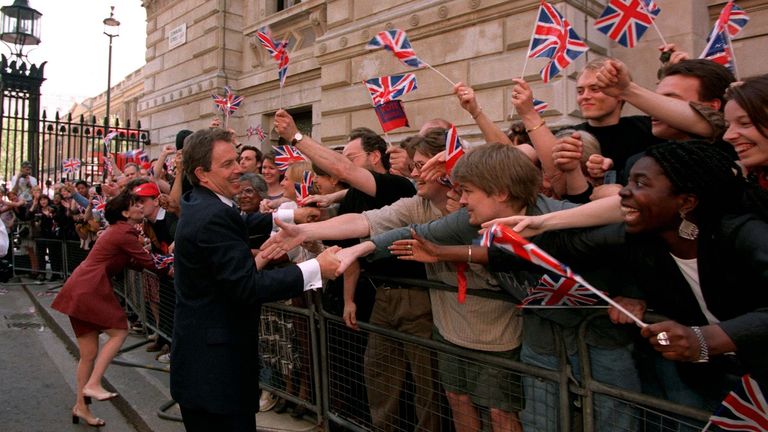 Blair's Irish famine message 'written by aides'
The documents also reveal that Mr Blair's headline-grabbing admission that the British government was culpable for the Irish Famine was actually hastily ghost-written by his aides.
At the 150th anniversary commemoration in Cork, a message was read on the prime minister's behalf that said: "That one million people should have died in what was then part of the richest and most powerful nation in the world is something that still causes pain as we reflect on it today.
"Those who governed in London at the time failed their people through standing by while a crop failure turned into a massive human tragedy."
A request from remarks from Mr Blair was made at the last minute, and they were approved by his private secretary because the prime minister was "not around at the time".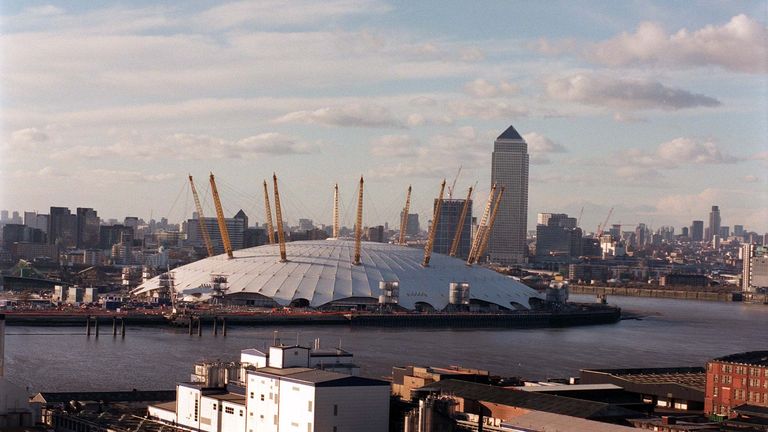 Millennium Dome could have been tribute to Diana
Records also reveal that plans had been considered to make the Millennium Dome a tribute to Diana, Princess of Wales – and also faced the prospect of being scrapped altogether.
According to the PM's director of communications Alastair Campbell, a member of the Dome's board had proposed that the "Millennium project be completely refashioned, the site extended, to accommodate, for example, a hospital, businesses, charities, private residences, and the whole thing named 'the Princess Diana Centre'."
Separately, one of Mr Blair's aides said: "Diana's death could give us a semi-plausible excuse to cancel."
The attraction cost £758m and opened on 31 December 1999, but it only drew 6.5 million visitors in 2000 – far fewer than the 12 million that had been budgeted for.
It was later closed and replaced with The O2, which has hosted concerts, sporting events and other entertainment since 2007.
Rishi Sunak to pitch himself as prime minister to 'fundamentally change the country'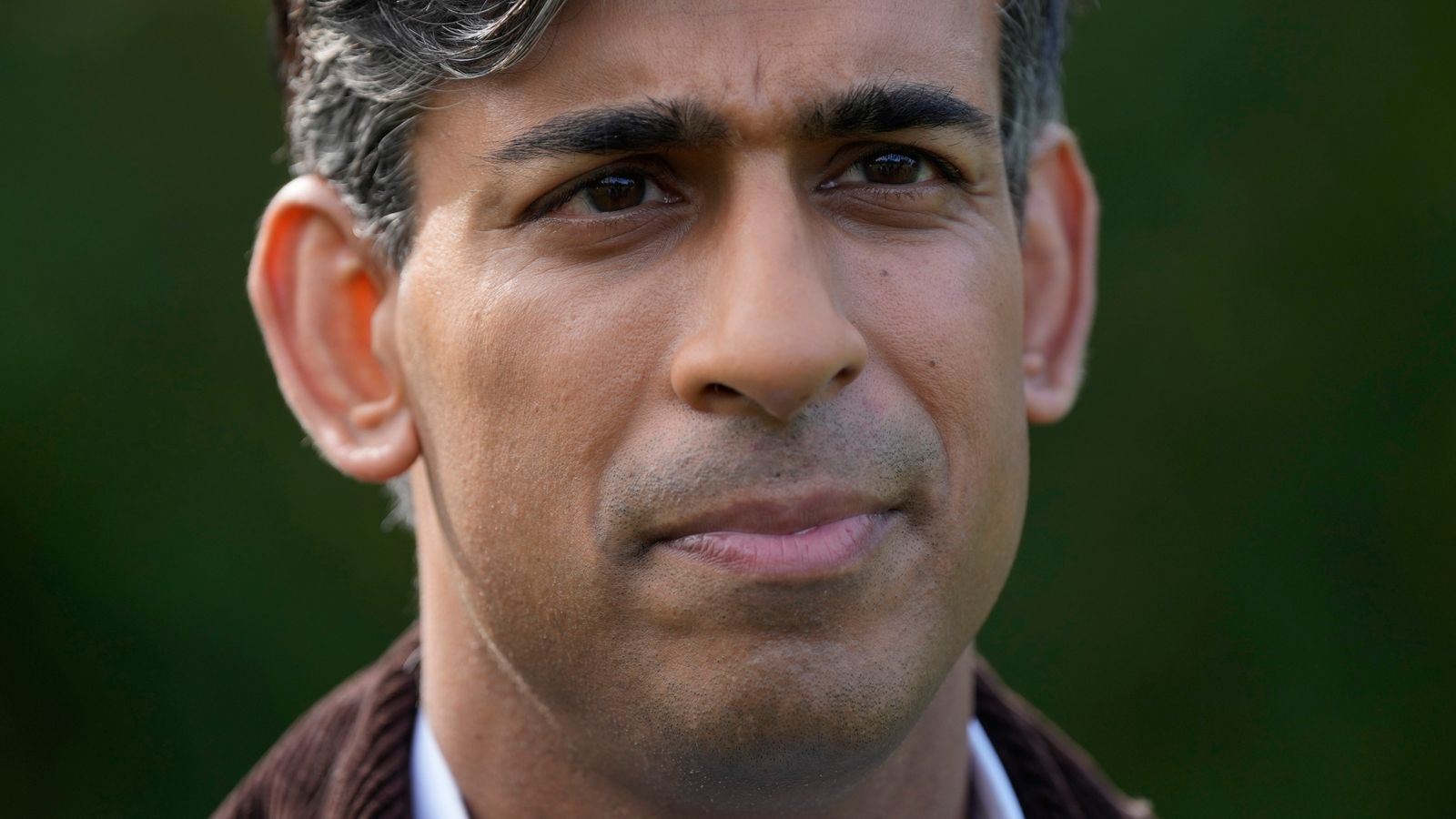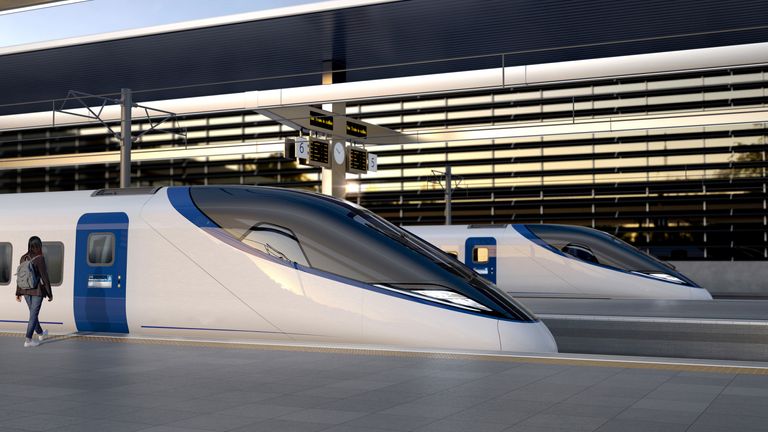 Rishi Sunak will try to convince the public he is the person to "fundamentally change the country" and fix Westminster's "broken system" – despite the fact his party has been in government for 13 years.
In his speech to the Tory Party conference, the prime minister will present himself as a reformer who is prepared to take difficult decisions, unlike opponents, who take "the easy decision, not the right one".
Mr Sunak will tell the conference hall that politics "doesn't work the way it should" and that his Labour opponent, Sir Keir Starmer, is "betting on voters' apathy."
The speech will round off what has been a chaotic four days at the party's annual conference in Manchester – an event that has been overshadowed by the announcement that the northern leg of HS2 will not go ahead as originally envisioned.
Instead, services will run between Birmingham and Manchester but they will not be high speed and they will use the existing West Coast Mainline track.
The development prompted Greater Manchester mayor Andy Burnham to accuse the government of treating people in the north as "second-class citizens".
Election would be 'massive distraction' – Tory conference latest
He warned the government: "To pull that plug here in Manchester would show complete contempt to the city region and to the north of England as a whole."
The Tory mayor for the West Midlands, Andy Street, also warned it would be "an incredible political gaffe" allowing opponents to accuse Mr Sunak of having decided to "shaft the north".
In his speech, Mr Sunak will rail against "30 years of a political system which incentivises the easy decision, not the right one – 30 years of vested interests standing in the way of change".
He will reflect on his first year in Number 10 and acknowledge a "feeling that Westminster is a broken system".
No high speed link north of Birmingham


"It isn't anger, it is an exhaustion with politics," he will say.
"In particular, politicians saying things, and then nothing ever changing.
"And you know what? People are right. Politics doesn't work the way it should."
Sunak: 'No one wants an election'

Poll shows most voters think Sunak is doing a bad job
A new poll of 1,000 people from Ipsos UK suggests most voters think Rishi Sunak is doing a bad job when it comes to hitting his goals.
On inflation, 57% said Mr Sunak was doing a bad job, up from 55% in May.
Some 54% said he was doing a bad job on growing the economy, up from 50% in May.
And 54% of people said he was doing a bad job on reducing national debt – up from 49%.
On cutting NHS waiting lists, dissatisfaction sits at 71%, compared to 62% in May.
On 'stopping the boats', two-thirds of people said he was doing a bad job.
The poll was carried out just before the Conservative party conference.
And he will say: "Politicians spent more time campaigning for change than actually delivering it.
"Our mission is to fundamentally change our country."
Read more:
Sunak to announce £30bn of transport spending in conference speech
Braverman says Andrew Boff should be allowed back into conference
As well as the HS2 announcement, Mr Sunak has also been undermined by his predecessor Liz Truss, who drew big conference crowds as she demanded immediate tax cuts to "make Britain grow again".
Mr Sunak has instead compared himself to the late Baroness Thatcher, who tackled inflation before cutting taxes during her premiership between 1979 and 1990.
While Mr Sunak has repeatedly sought to dodge questions over HS2, he did say on Tuesday that the costs of the project had gone "far beyond" what had been predicted, and the sums involved were "enormous".
The HS2 scheme was given a budget of £55.7bn in 2015 but costs have ballooned, with an estimate of up to £98bn – in 2019 prices – in 2020.
SEC asks judge to reject Coinbase's motion to dismiss lawsuit
The United States Securities and Exchange Commission has asked a federal judge to deny Coinbase's motion to dismiss a lawsuit by the regulator.
In an Oct. 3 filing in a New York District Court, the SEC hit back at claims in Coinbase's dismissal motion and reiterated its belief that some of the cryptocurrencies listed on its platform were investment contracts under the Howey Test subject to SEC registration.
"Each crypto asset issuer invited investors — including purchasers on Coinbase's platform — reasonably to expect the value of their investment to increase based on the issuer's broadly-disseminated plan to develop and maintain the asset's value," the SEC wrote.
The SEC asserted Coinbase has "known all along" that cryptocurrencies it sells are securities if they meet the Howey Test and alleged the exchange recognized this in its filings with the SEC.
The regulator also scrubbed Coinbase's argument invoking the "major questions doctrine" which claimed the SEC has no authority over the crypto market until Congress says so.
"The SEC has not assumed for itself any new power to do what the federal securities laws do not already expressly authorize it to do," the SEC said.
In an Oct. 3 X (Twitter) post, Coinbase legal chief Paul Grewal said the SEC's arguments were "more of the same old same old" and asserted the assets it lists "are not securities and are not within the SEC's jurisdiction."
The @SECgov just filed its opposition to our motion to dismiss their case against @Coinbase. It's more of the same old same old. But don't just take my word for it – take a look for yourself. 1/7 https://t.co/QMdkRoiq0V

— paulgrewal.eth (@iampaulgrewal) October 3, 2023
Grewal claimed the SEC's arguments in its response would mean "everything from Pokemon cards to stamps to Swiftie bracelets are also securities."
Related: SEC initiates legal action against FTX's auditor
Miles Jennings, a16z crypto' general counsel, claimed in an X post that the SEC's motion "has a lot of holes."
The SEC's opposition to @coinbase's motion has a lot of holes. Even if the court were to agree with the SEC's main contention (that investment contracts don't require legal contracts), the SEC's case should still fail.

As we discussed in our brief in August, the SEC's theory of… https://t.co/RTzlutSM9t

— miles jennings (@milesjennings) October 3, 2023
Jennings added even if the court were to agree with the regulators main argument around investment contracts then the case "should still fail" as he believes the SEC's definition of an investment contract has "endless breadth."
Magazine: Are DAOs overhyped and unworkable? Lessons from the front lines
FTX execs who pleaded guilty are potential witnesses in Sam Bankman-Fried's criminal case
Many former executives with cryptocurrency exchange FTX or its sister companies are on the list to testify in the United States Justice Department's criminal case against Sam "SBF" Bankman-Fried.
During jury selection for SBF's trial on Oct. 3, Assistant U.S. Attorney Danielle Sassoon said former Alameda Research CEO Caroline Ellison, FTX co-founder Gary Wang, former FTX engineering director Nishad Singh and former FTX chief operating officer Constance Wang were among the names of witnesses who may testify against Bankman-Fried. Ellison, Gary Wang and Singh have already pleaded guilty to charges related to their roles in the collapse of FTX, while Ryan Salame — the former co-CEO of FTX Digital Markets and the fifth person directly connected to the criminal case — will not testify.
Other names floated by Sassoon included SkyBridge Capital co-founder Anthony Scaramucci, who has previously criticized SBF's alleged role in the crypto market downturn of 2022. Judge Lewis Kaplan started proceedings in the SBF criminal trial by asking prospective jurors questions related to the case.
According to multiple reports from the courthouse, Bankman-Fried appeared for the first time without his signature messy hair, which appeared to have been cut for the first week of the trial. Kaplan confirmed that prosecutors had not offered the former FTX CEO a plea deal in the case and questioned prospective jurors on scheduling, hardships and conflicts of interest. He also issued a warning about avoiding the consumption of media related to the trial. 
"This case has generated publicity," said Kaplan, according to reports. "You're to stay away from it — podcasts, anything. Did any of you watch 60 Minutes on Sunday?" [This likely refers to Michael Lewis' interview on Bankman-Fried.]
i am standing outside of SDNY for SBF's trial pic.twitter.com/WDGd8kVqdQ

— Tiffany Fong (@TiffanyFong_) October 3, 2023
Related: What has Sam Bankman-Fried been up to in jail?
At the time of publication, Kaplan had dismissed four out of 12 prospective jurors in the court and said selection would continue the morning of Oct. 4. The trial is expected to last through November, though the judge reportedly said that his cases "rarely take as long as the lawyers think."
Opening arguments in the criminal trial are expected to begin on Oct. 4, during which the defense and prosecutors will each take roughly 25 to 40 minutes to address the jury. Bankman-Fried faces seven criminal counts in his first trial, with another five charges to be addressed in a second trial starting in March 2024.
Magazine: Can you trust crypto exchanges after the collapse of FTX?