HUNTERSVILLE, N.C. — Denny Hamlin is still sore from last week's late wreck at Daytona and won't race, as had been planned, in the Xfinity Series event at Darlington Raceway on Saturday.
Hamlin will be full go for the Southern 500 on Sunday, the start of the NASCAR Cup Series playoffs.
Joe Gibbs Racing announced Hamlin's status Wednesday.
"I have had some soreness in my neck, back, and hips from the wreck on Sunday," said Hamlin, who has won five Xfinity races at Darlington. "I feel like the right thing for me to do is to sit out the Xfinity Series race and put 100 percent of my focus on getting ready for this weekend's Cup Series playoff race."
Hamlin's JGR teammate Christopher Bell will take his place for Saturday's race.
Hamlin was caught up in a dramatic wreck with 22 laps left last week that took him out of contention for the checkered flag.
Hamlin enters the playoff race sixth overall. He's the defending champion of the Southern 500.
Bautista (AL), Williams (NL) named top relievers
NEW YORK — Baltimore's Félix Bautista was a unanimous winner of the Mariano Rivera American League Reliever of the Year Award and Milwaukee's Devin Williams won the Trevor Hoffman National League honor on Wednesday.
Bautista, a 28-year-old right-hander, was 8-2 with a 1.48 ERA and 33 saves in 39 chances for the AL East champion Orioles. He made his final appearance on Aug. 25 and had Tommy John surgery on Oct. 9, which likely will cause him to miss the 2024 season.
Williams, a 29-year-old right-hander, was 8-3 with a 1.53 ERA and 36 saves in 40 opportunities for the NL Central champion Brewers. Williams also won the award in 2020 and joined former teammate Josh Hader, Edwin Díaz, Liam Hendriks, Kenley Jansen and Craig Kimbrel as the only multiple winners of the honor, known as the Delivery Man of the Year Award from 2005-13.
Rivera and Hoffman were among the six voters, joined by fellow Hall of Famers Dennis Eckersley and Rollie Fingers along with John Franco and Billy Wagner. Balloting was based on the regular season and used a system in which the first choice got five points, the second three and the third one.
Cleveland's Emmanuel Clase was second in the AL after winning last year and Toronto's Jordan Romano was third.
Pittsburgh's David Bednar was second in the NL and San Diego's Josh Hader third.
Sources: Severino to crosstown Mets for $13M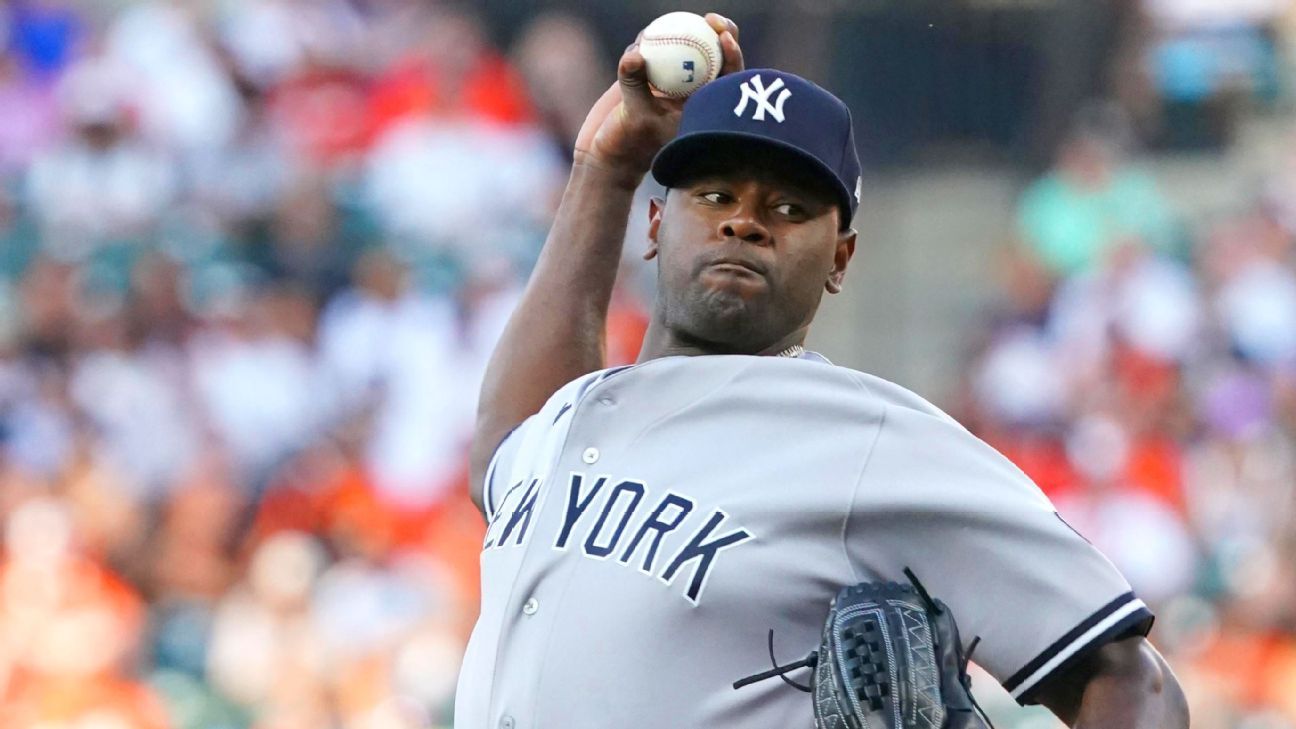 Right-hander Luis Severino and the New York Mets are finalizing a one-year, $13 million contract, sources familiar with the deal told ESPN's Jeff Passan on Wednesday.
Severino, 29, will join the Mets and a rotation in significant need of help after spending his eight-year career with the New York Yankees.
He struggled this season with a 6.65 ERA, but posted a 3.39 ERA in 638 innings over his previous seven seasons. If Severino thrives, he'll hit free agency again next year, and he can earn up to $2 million in performance bonuses from the Mets.
FBS rosters grow to 20.5% transfers in 2023
As the transfer portal has continued to grow in popularity throughout college football, the 2023 season showed just how big of an impact transfers have made on the game.
In the 2019 season, just 6.4% of FBS rosters were made up of transfers, according to data from SportSource Analytics. That number grew to 20.5% of rosters in 2023.
The transfer portal window for this offseason opens on Dec. 4, which allows student athletes to enter their name in a database to receive communication from coaches and potentially transfer without penalty.
Graduate transfers are able to enter their name in the portal at any time, and any players who have seen their head coach fired or leave for another job have an immediate 30-day window to put their name in the database, as well. Because we have already seen the coaching carousel start this offseason, there have been a number of players already looking to transfer.
Since Sunday, the end of the regular season, there has been over 170 FBS football players to enter their name in the transfer portal.
There has not been a shortage of interest from teams in those players transferring, either, as we saw Colorado coach Deion Sanders make waves in the portal after he was hired. Colorado brought in the most first-year transfer players of any FBS and had the most games played by transfers at 69.6% (54 transfers).
"You take a team that's won one game, and you fired a whole coaching staff. So who did the coaching staff recruit? The kids," Sanders said during a "60 Minutes" interview in September. "So, the kids are just as much to blame as the coaching staff. I came to the conclusion that a multitude of them couldn't help us get to where we wanted to go."
Texas State was second with 64% of games played by transfers (45), followed by Charlotte at 55.8% (46), Ole Miss at 54.5% (27) and UMass at 53.3% (27).
Conversely, outside of the military academies, Clemson had the fewest games played by starters at just 0.3%, followed by Georgia at 5%.
"It's a developmental game, it's a developmental program," Swinney told reporters in July. "That's how we've always won, that's how we'll continue to win. From time to time if there's a certain fit or need that we have to address because of a gap, we'll do that. We just haven't been in that situation, thankfully."
The biggest position group that has been impacted by the transfer portal has been at quarterback with 56 FBS teams having a transfer quarterback account for 75% or more of the team's passing yards during the 2023 season, according to SportSource Analytics. The top six quarterbacks in passing yards are all transfers, and the top 10 quarterbacks in passing touchdowns are all transfers.
This weekend, the teams in the Pac-12 and Big 12 title games will all feature transfer starting quarterbacks in Washington's Michael Penix Jr. and Oregon's Bo Nix, along with Texas' Quinn Ewers and Oklahoma State's Alan Bowman.
The ACC title game features Louisville's Jake Plummer, who followed coach Jeff Brohm from Purdue, and would have had another transfer QB on the other side had Florida State's Jordan Travis not been injured.
In the 2019 season, just 23.9% of starting quarterbacks were transfers compared to 55.7% in 2023. That has conversely affect the opportunity for freshmen quarterbacks to play. High school prospects were coming in more ready than ever and in 2019 when 10.1% of first-year quarterbacks were starters. That number has dropped to just 2.8 percent in 2023.
As the portal is about to open ahead of the 2024 season, it will be loaded with starting quarterbacks. Kansas State's Will Howard, Miami's Tyler Van Dyke, Temple's E.J. Warner, Will Rogers from Mississippi State, Tyler Shough from Texas Tech, Max Johnson from Texas A&M and a handful of other notable quarterbacks have already announced their decisions to transfer.