Several sporting events in Britain have been postponed as a mark of respect following the death of Queen Elizabeth II at the age of 96 on Thursday, with tributes made in her honour throughout the sports world.
On Friday, all football fixtures this weekend, including the Premier League, English Football League and Women's Super League, were postponed.
The DP World Tour announced the BMW PGA Championship will resume on Saturday and will now be played over 54 holes after the event was suspended on Thursday. Horse racing — a sport which the queen held close ties to — was halted on Friday but will resume Sunday.
Meanwhile, the British Board of Boxing Control announced all fights in the country this weekend have been postponed, including Saturday's undisputed middleweight title fight between Claressa Shields and Savannah Marshall.
England's cricket Test match against South Africa will resume on Saturday, the England Cricket Board have said, although it will not be extended as South Africa are due to leave the UK on Tuesday.
Premiership Rugby postponed two fixtures on Friday but will continue this weekend, the Rugby Football Union have announced, although domestic rugby fixtures in Wales have been cancelled.
Queen Elizabeth II, Britain's longest-reigning monarch and a rock of stability across much of a turbulent century, died Thursday after 70 years on the throne.
The DP World Tour said in a statement: "The Wentworth event will give players, caddies, staff, volunteers and spectators the opportunity to come together across the weekend, not only to express their condolences but also to celebrate the extraordinary life of Her Majesty.
England's Tommy Fleetwood and Andy Sullivan are tied for the lead in the BMW PGA Championship, having completed their first round at 8 under. There were 30 golfers still on the course when play was suspended.
"We are greatly saddened to learn of the passing of Her Majesty today," Peter Forster, the captain of the Royal and Ancient Golf Club, said via a statement. "Following her accession in 1952, Her late Majesty graciously accepted the Patronage of The Royal and Ancient Golf Club of St Andrews, as has been the custom of reigning Monarchs since HM King William IV in 1834.
"Although not a golfer, Her late Majesty's 70-year patronage of the club was a great honour for its members. We hold His Majesty The King and all The Royal Family in our thoughts at this time of mourning."
The Premier League is deeply saddened to hear of the passing of Her Majesty The Queen, Elizabeth II. Our thoughts and condolences are with The Royal Family and everyone around the world mourning the loss of Her Majesty. pic.twitter.com/UlaLXEOdke

— Premier League (@premierleague) September 8, 2022
Manchester United's Europa League game against Real Sociedad did take place hours after the queen's death was announced. There was a minute's silence before kickoff at Old Trafford, with both teams wearing black armbands and the flags at stadium lowered to half-staff as a sign of respect. There was no prematch music and the digital advertising hoardings around the field were switched off.
There was a minute's silence in other European games involving British teams, such as Arsenal, West Ham United and Heart of Midlothian.
"Her deeds have marked generations," Brazil football great Pele, who met the queen in person when she visited Rio de Janeiro in 1968, posted to Twitter. "This legacy will last forever."
Queen Elizabeth II long had ties to the sporting community, having knighted dozens of athletes during her reign, including tennis player Andy Murray, cyclist Bradley Wiggins and long-distance runner Mo Farah.
The US Open held a moment of silence Thursday night before the start of the women's semifinal match between Ons Jabeur and Caroline Garcia.
"We would like to pause to remember Queen Elizabeth II," the stadium announcer said. "Our thoughts are with the people today of the United Kingdom. Remember to be part of us in a second of silence."
A moment of silence also was also held before Thursday night's NFL season opener between the Los Angeles Rams and Buffalo Bills.
Queen Elizabeth II attended matches at Wimbledon in 1957, 1962, 1977 and 2010. In 1977, the championship's centenary year, she watched British player Virginia Wade win the women's singles title.
The All England Club said the queen undertook her duties "with great wisdom, dignity and charm for 70 years."
She also was a big fan of horses, owning dozens of them, and attended races regularly, including the Kentucky Derby in 2007. Horse races in at least five different countries, including the United Kingdom and the United States, are named after her.
She first rode a horse at the age of 3 — and was immediately besotted with them — and would inherit the breeding and racing stock of her father, King George VI, when she acceded to the throne in 1952.
"My philosophy about racing is simple," she said in a BBC documentary, "The Queen's Racehorses: A Personal View." "I enjoy breeding a horse that is faster than other people's.
"And to me, that is a gamble from a long way back. I enjoy going racing but I suppose, basically, I love horses, and the thoroughbred epitomises a really good horse to me."
The queen had approaching 2,000 winners as a racehorse owner, with her jockeys always wearing purple, gold and scarlet — the colours of the storied royal racing silks also used by her father and by her great-grandfather King Edward VII.
Her first winner was a horse called Monaveen, at Fontwell in 1949, and she went on to win all of the so-called "classics" in British horse racing except for The Derby, another event she attended for most of her life.
One of the queen's most famous wins came at Royal Ascot in 2013 when Estimate became the first horse owned by a reigning monarch to win the prestigious Gold Cup. It was her first win in an elite race since 1989, and she was seen clapping enthusiastically as jockey Ryan Moore powered through to finish first by a neck in front of 61,000 racegoers.
The British Horseracing Authority announced all racing would be cancelled on Thursday, Friday and Saturday, with scheduled fixtures returning on Sunday.
It said, however, that the fixture scheduled at Musselburgh, Scotland, on Sunday would be cancelled "as a mark of respect for the fact that the queen's body will be lying in rest in Edinburgh."
The queen made a personal appearance at the opening ceremony for the 2012 Olympics in London.
Less than two hours after the announcement had been made about the death of the queen, the members of Great Britain's basketball team took the court in a 90-56 loss to Italy in a EuroBasket game.
"I mean, she's the only leader of our nation that we've known," Great Britain forward Dan Clark said. "The amount of respect that she has and the way she's carried herself as a leader for so many years and in such a long reign, it's remarkable."
Organisers of cycling's Tour of Britain declared the race over after cancelling Friday's stage as well as two more over the weekend. Gonzalo Serrano, who led after Thursday's stage, was named the winner.
In a statement, Formula One sent "its deepest condolences to the Royal Family and to the people of the United Kingdom and the Commonwealth" and its drivers and teams held a minute's silence ahead of practice for the Italian Grand Prix on Friday.
With the death of the queen, her son Charles automatically becomes monarch, even though the coronation might not take place for months. Royal officials said the 73-year-old had chosen to call himself King Charles III.
The Associated Press contributed to this report.
Georgia's Bennett arrested for public intoxication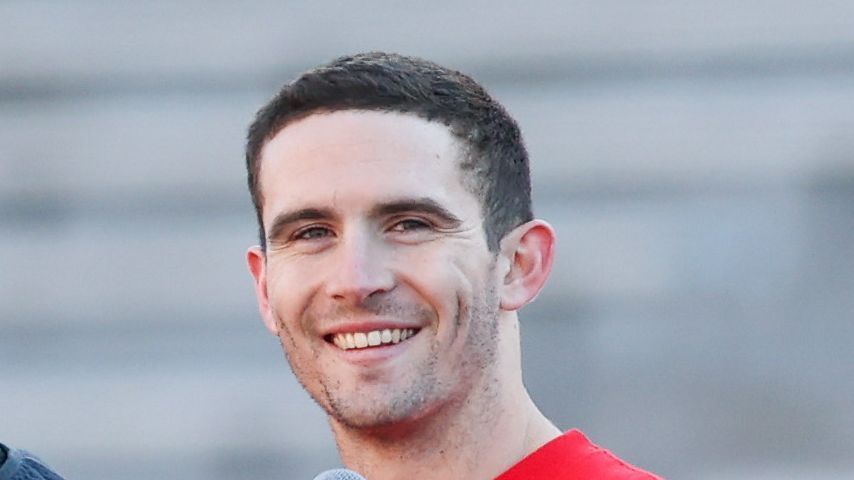 Former Georgia quarterback Stetson Bennett, who led the Bulldogs to their second straight CFP National Championship earlier this month, was arrested on a misdemeanor public intoxication charge in Dallas on Sunday morning.
In a statement to ESPN, a Dallas Police Department spokesperson said officers responded to a report of a man banging on doors in the 1600 block of Tribeca Way at 7:10 a.m. ET on Sunday.
"The preliminary investigation found when officers arrived, they located the man, Stetson Bennett, 25, and determined he was intoxicated," the police statement read. "Bennett was taken into custody, transported to the City Detention Center and charged with public intoxication."
Bennett left the detention center Sunday morning, but he could not be reached for comment.
Bennett, who started his college career as a walk-on, was a Heisman Trophy finalist this past season, after leading the Bulldogs to a 15-0 record and SEC championship. He passed for 4,127 yards with 27 touchdowns and seven interceptions, while rushing for another 10 scores.
Bennett was named the offensive MVP in both of Georgia's victories in the CFP, a 42-41 comeback win against Ohio State in the Chick-fil-A Peach Bowl and a 65-7 rout of TCU in the CFP National Championship presented by AT&T.
Bennett, who is listed at 5-foot-11 and 190 pounds, is considered a potential selection in April's NFL draft. He recently won the Manning Award, which is given to the top quarterback in the FBS by the Allstate Sugar Bowl.
Sources: Ex-Buffs QB Shrout picks Arkansas St.
Former Tennessee and Colorado quarterback J.T. Shrout is transferring to Arkansas State, sources told ESPN.
Shrout visited Arkansas State over the weekend and his commitment looms as a significant win for Butch Jones, who is entering his third season as Arkansas State's head coach.
Shrout will graduate from Colorado this spring and plans to enroll at Arkansas State in May, according to sources. He has one year of eligibility remaining and potentially a second if he gets a medical redshirt after missing the entire 2021 season with a torn ACL.
Shrout most recently played at Colorado in 2022, where he threw for 1,220 yards, seven touchdowns and eight interceptions and delivered the game-winning touchdown pass against Cal in overtime in Colorado's lone victory of the season. He started seven games at Colorado and had one start during his three seasons at Tennessee (2018-2020).
Shrout is one of three Buffaloes quarterbacks who have entered the NCAA transfer portal since the school hired Deion Sanders as head coach. Sanders has made it clear that his son, Shedeur, will be the starter next season. He introduced him at his opening news conference by saying, "This is your quarterback."
According to sources, Shrout was attracted to the potential opportunity at Arkansas State, including playing in offensive coordinator Keith Heckendorf's West Coast-style offense. Shrout also had some teammates at Tennessee who played for Jones, and sources said the former teammates endorsed Jones both as a person and a coach.
Arkansas State (3-9) ranked No. 118 in total offense last season and No. 85 in scoring offense. The Red Wolves open the 2023 season at Oklahoma on Sept. 2.
Sources: Harbaugh, Broncos meet but no deal
Broncos owner Greg Penner and University of Michigan football coach Jim Harbaugh met last week in Ann Arbor to discuss Denver's head-coaching position without any deal materializing, league sources told ESPN.
Although Harbaugh two weeks ago announced he was staying at Michigan, Penner did his due diligence and still traveled to Ann Arbor to meet with the coach in person, like he's done with seven other candidates during the Broncos' head-coaching search.
The follow-up conversations were part of the process for both Denver — led by Penner with general manager George Paton — and Harbaugh. The face-to-face meeting came after Harbaugh's initial video interview with Denver, after which he pulled his name out of contention and reaffirmed his commitment to Michigan.
"I love the relationships that I have at Michigan — coaches, staff, families, administration, president Santa Ono and especially the players and their families," Harbaugh said in his statement Jan. 16. "My heart is at the University of Michigan. I once heard a wise man say, 'Don't try to out-happy, happy.' Go Blue!"
The Broncos moved on as well, continuing their discussions with several other candidates. Denver has interviewed former Saints coach Sean Payton, former Colts and Lions coach Jim Caldwell, former Stanford coach David Shaw, Rams defensive coordinator Raheem Morris, Cowboys defensive coordinator Dan Quinn, 49ers defensive coordinator DeMeco Ryans and their own defensive coordinator, Ejiro Evero.
Harbaugh now has met with the Vikings and Broncos in back-to-back years. While one source wondered how many more chances Harbaugh would get, another league source said "The league is likely to be interested in Jim as long as he is successfully coaching. He's proven at every level including the NFL. That's a hard resume to match."