NASCAR is investigating a spate of car fires that left one championship contender fuming after his Ford erupted into an inferno during the opening playoff race.
Kevin Harvick lashed out at NASCAR and the new Next Gen car after his inexplicably caught fire at Darlington Raceway. The Next Gen debuted this season and is a spec vehicle with single-source parts that is intended to both level the playing field and cut costs.
The Next Gen has achieved some of its goals but has also raised safety concerns unrelated to the fires involving the force of impact drivers are taking in crashes. Kurt Busch has been out with a concussion since late July.
Kevin Harvick's car bursts into flames! #NASCARPlayoffs

📺 : @USA_Network pic.twitter.com/WWW53y2y3d

— NASCAR on NBC (@NASCARonNBC) September 5, 2022
Now comes a fire issue that can't be ignored any longer after Harvick's car burned Sunday night on national television. Although the Chevrolet of Alex Bowman caught fire at Darlington in May, the fire issues have predominantly plagued Fords. Chris Buescher and Joey Logano both had car fires at the Indianapolis road course, and Chase Briscoe's car caught on fire at Richmond.
"I'm sure it's just crappy parts on the race car like we've seen so many times. They haven't fixed anything. It's kind of like the safety stuff. We just let it keep going and keep going," said Harvick, who finished 33rd because of the fire.
"The car started burning and as it burned the flames started coming through the dash. I ran a couple laps and then as the flame got bigger it started burning stuff up. The fire was coming through the dash. What a disaster for no reason. We didn't touch the wall. We didn't touch a car and here we are in the pits with a burned-up car and we can't finish the race during the playoffs because of crappy-ass parts."
Harvick added that he stopped where he did on the track — bringing out a caution that some have said took NASCAR too long to call — "because the flames were coming through the dash and I couldn't make myself sit in there and burn up."
The fire dropped Harvick, winner of two races this season, to last in the 16-driver playoff field headed into Sunday's Cup Series race at Kansas Speedway. Four drivers will be eliminated from contention after next week's race at Bristol Motor Speedway.
NASCAR, which already has been looking into the rigidness of the Next Gen based on driver feedback, has acknowledged "it's unacceptable for the cars to catch on fire," and senior vice president of competition Scott Miller said series officials are investigating.
In the meantime, NASCAR ordered teams to replace a part of the polymer panel used in the passenger side door area with stainless steel. The design is intended to keep debris from the drivers. NASCAR is also permitting changes to the coating material used on the cars, and mandated a lateral seal across the engine panel.
Miller rebuked Harvick's notion that NASCAR has not addressed Next Gen issues.
"To say that NASCAR doesn't care is about as far from the truth as you could get. I think he actually does know we do care," Miller said on SiriusXM NASCAR Radio.
"We've been working on different solutions for different things along the way that seem to maybe be the trigger. Obviously, we still have work to do," Miller added.
Miller also said that NASCAR is taking a close look at Ford's exhaust clearances "because they seem to be having more trouble with this than the others.
"There's a lot of work going on, a lot of collaboration within the industry to get to the bottom of it. We have to get to the bottom of it quick, obviously," he said.
One theory is that rubber buildup on the track is getting trapped inside the cars and then igniting, which is why NASCAR has mandated the splitter seal to "reduce the migration of tire debris to the splitter area."
Georgia's Bennett arrested for public intoxication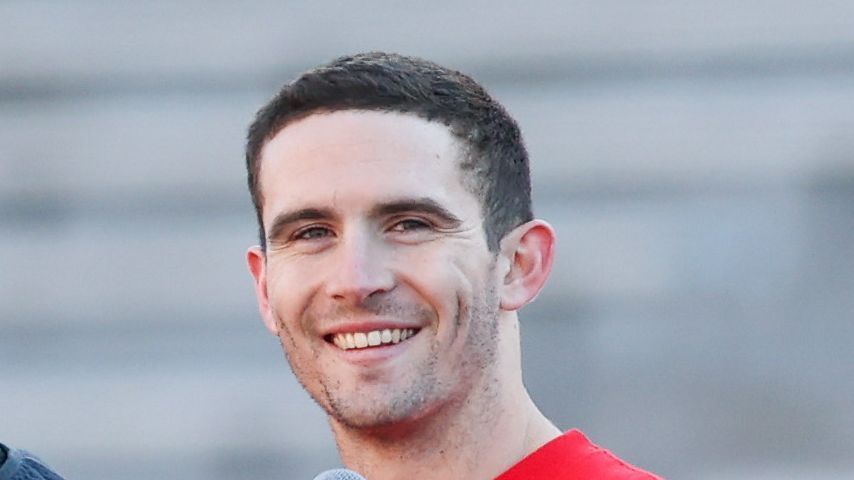 Former Georgia quarterback Stetson Bennett, who led the Bulldogs to their second straight CFP National Championship earlier this month, was arrested on a misdemeanor public intoxication charge in Dallas on Sunday morning.
In a statement to ESPN, a Dallas Police Department spokesperson said officers responded to a report of a man banging on doors in the 1600 block of Tribeca Way at 7:10 a.m. ET on Sunday.
"The preliminary investigation found when officers arrived, they located the man, Stetson Bennett, 25, and determined he was intoxicated," the police statement read. "Bennett was taken into custody, transported to the City Detention Center and charged with public intoxication."
Bennett left the detention center Sunday morning, but he could not be reached for comment.
Bennett, who started his college career as a walk-on, was a Heisman Trophy finalist this past season, after leading the Bulldogs to a 15-0 record and SEC championship. He passed for 4,127 yards with 27 touchdowns and seven interceptions, while rushing for another 10 scores.
Bennett was named the offensive MVP in both of Georgia's victories in the CFP, a 42-41 comeback win against Ohio State in the Chick-fil-A Peach Bowl and a 65-7 rout of TCU in the CFP National Championship presented by AT&T.
Bennett, who is listed at 5-foot-11 and 190 pounds, is considered a potential selection in April's NFL draft. He recently won the Manning Award, which is given to the top quarterback in the FBS by the Allstate Sugar Bowl.
Sources: Ex-Buffs QB Shrout picks Arkansas St.
Former Tennessee and Colorado quarterback J.T. Shrout is transferring to Arkansas State, sources told ESPN.
Shrout visited Arkansas State over the weekend and his commitment looms as a significant win for Butch Jones, who is entering his third season as Arkansas State's head coach.
Shrout will graduate from Colorado this spring and plans to enroll at Arkansas State in May, according to sources. He has one year of eligibility remaining and potentially a second if he gets a medical redshirt after missing the entire 2021 season with a torn ACL.
Shrout most recently played at Colorado in 2022, where he threw for 1,220 yards, seven touchdowns and eight interceptions and delivered the game-winning touchdown pass against Cal in overtime in Colorado's lone victory of the season. He started seven games at Colorado and had one start during his three seasons at Tennessee (2018-2020).
Shrout is one of three Buffaloes quarterbacks who have entered the NCAA transfer portal since the school hired Deion Sanders as head coach. Sanders has made it clear that his son, Shedeur, will be the starter next season. He introduced him at his opening news conference by saying, "This is your quarterback."
According to sources, Shrout was attracted to the potential opportunity at Arkansas State, including playing in offensive coordinator Keith Heckendorf's West Coast-style offense. Shrout also had some teammates at Tennessee who played for Jones, and sources said the former teammates endorsed Jones both as a person and a coach.
Arkansas State (3-9) ranked No. 118 in total offense last season and No. 85 in scoring offense. The Red Wolves open the 2023 season at Oklahoma on Sept. 2.
Sources: Harbaugh, Broncos meet but no deal
Broncos owner Greg Penner and University of Michigan football coach Jim Harbaugh met last week in Ann Arbor to discuss Denver's head-coaching position without any deal materializing, league sources told ESPN.
Although Harbaugh two weeks ago announced he was staying at Michigan, Penner did his due diligence and still traveled to Ann Arbor to meet with the coach in person, like he's done with seven other candidates during the Broncos' head-coaching search.
The follow-up conversations were part of the process for both Denver — led by Penner with general manager George Paton — and Harbaugh. The face-to-face meeting came after Harbaugh's initial video interview with Denver, after which he pulled his name out of contention and reaffirmed his commitment to Michigan.
"I love the relationships that I have at Michigan — coaches, staff, families, administration, president Santa Ono and especially the players and their families," Harbaugh said in his statement Jan. 16. "My heart is at the University of Michigan. I once heard a wise man say, 'Don't try to out-happy, happy.' Go Blue!"
The Broncos moved on as well, continuing their discussions with several other candidates. Denver has interviewed former Saints coach Sean Payton, former Colts and Lions coach Jim Caldwell, former Stanford coach David Shaw, Rams defensive coordinator Raheem Morris, Cowboys defensive coordinator Dan Quinn, 49ers defensive coordinator DeMeco Ryans and their own defensive coordinator, Ejiro Evero.
Harbaugh now has met with the Vikings and Broncos in back-to-back years. While one source wondered how many more chances Harbaugh would get, another league source said "The league is likely to be interested in Jim as long as he is successfully coaching. He's proven at every level including the NFL. That's a hard resume to match."