Teams at the bottom see the future as a way to climb higher than their current station. Teams in the middle see the future as a way to break through to reach the elite. Teams at the top see the future as a chance to sustain their success or stave off the inevitability of potentially returning to the bottom.
This is why the future matters. It can bring promise, it can bring results or it could bring a team to its knees if it's not careful.
With opening night of the 2022-23 NHL season approaching on Oct. 11, it's time for another edition of the Future Power Rankings.
To determine which NHL clubs are in the best shape for the next three seasons, we had a panel of writers and editors rate each team in four categories — roster (with an emphasis on players 26 and under); prospects; cap situation and contracts; and front office, ownership and coaching — using this scale:
100: A+ (Elite)

90: A (Great)

80: B (Very good)

70: C (Average)

60: D (Very bad)

50: F (Disastrous)
After averaging the results from the panelists, each of the four categories was weighted to create the overall score: roster (35%), prospects (25%), cap/contracts (20%) and owner/GM/coach (20%). The result is a comprehensive ranking based on how well each team is positioned for the future, plus insights on every team from Ryan S. Clark, Kristen Shilton and Greg Wyshynski.
Read through the entire file from No. 1 to No. 32, or jump ahead to your team by using the quick links below:
Jump to a team:
ANA | ARI | BOS | BUF
CGY | CAR | CHI | COL
CBJ | DAL | DET | EDM
FLA | LA | MIN | MTL
NSH | NJ | NYI | NYR
OTT | PHI | PIT | SJ
SEA | STL | TB | TOR
VAN | VGK | WSH | WPG
How to watch the 2022-23 NHL season on ESPN networks — including 103 exclusive games and the out-of-market package (over 1,050 games)

Why they're here: The No. 1 team in the ESPN Future Power Rankings has a championship-caliber roster, a strong pool of young reinforcements and an enviable managerial staff. The Hurricanes have the third-ranked current roster, having made the playoffs for four straight seasons and posting a points percentage above .700 in two straight. They rank ninth overall in prospects thanks to young players on the roster and others such as AHL forward Jack Drury and KHL defenseman Alexander Nikishin who are on the way. Coach Rod Brind'Amour and an analytics-driven front office ranked No. 7 overall, although the Canes' cap outlook was middle of the pack (16th). Still, it all added up to Carolina having the brightest future in the league. — Wyshynski
Points of concern: Canes GM Don Waddell and his staff have decisions to make in the next two seasons. They have eight players who are pending UFAs at the end of the 2022-23 season, which will force decisions with Max Pacioretty and Jordan Staal. Determining a plan in goal will also be a priority because Frederik Andersen and Antti Raanta are also UFAs at the end of the season. The Canes will have a projected $30.7 million next summer, yet must also remain prudent given Sebastian Aho, Brent Pesce, Brady Skjei and Teuvo Teravainen will be pending UFAs after the 2023-24 campaign. Meanwhile, Seth Jarvis will be coming off his rookie deal, whereas Martin Necas will be a pending RFA. — Clark
Reason for hope: Carolina has achieved an enviable balance — the Hurricanes are a great team now set up to be a great team later. What could be more appealing? The Hurricanes can maximize their limited cap space by drawing in players who want opportunity with a great coach, stable roster and chance to win every night. It's the core in Carolina doing the real work of holding top spots in the standings, and keeping Raleigh a desirable destination moving ahead. — Shilton
Bautista (AL), Williams (NL) named top relievers
NEW YORK — Baltimore's Félix Bautista was a unanimous winner of the Mariano Rivera American League Reliever of the Year Award and Milwaukee's Devin Williams won the Trevor Hoffman National League honor on Wednesday.
Bautista, a 28-year-old right-hander, was 8-2 with a 1.48 ERA and 33 saves in 39 chances for the AL East champion Orioles. He made his final appearance on Aug. 25 and had Tommy John surgery on Oct. 9, which likely will cause him to miss the 2024 season.
Williams, a 29-year-old right-hander, was 8-3 with a 1.53 ERA and 36 saves in 40 opportunities for the NL Central champion Brewers. Williams also won the award in 2020 and joined former teammate Josh Hader, Edwin Díaz, Liam Hendriks, Kenley Jansen and Craig Kimbrel as the only multiple winners of the honor, known as the Delivery Man of the Year Award from 2005-13.
Rivera and Hoffman were among the six voters, joined by fellow Hall of Famers Dennis Eckersley and Rollie Fingers along with John Franco and Billy Wagner. Balloting was based on the regular season and used a system in which the first choice got five points, the second three and the third one.
Cleveland's Emmanuel Clase was second in the AL after winning last year and Toronto's Jordan Romano was third.
Pittsburgh's David Bednar was second in the NL and San Diego's Josh Hader third.
Sources: Severino to crosstown Mets for $13M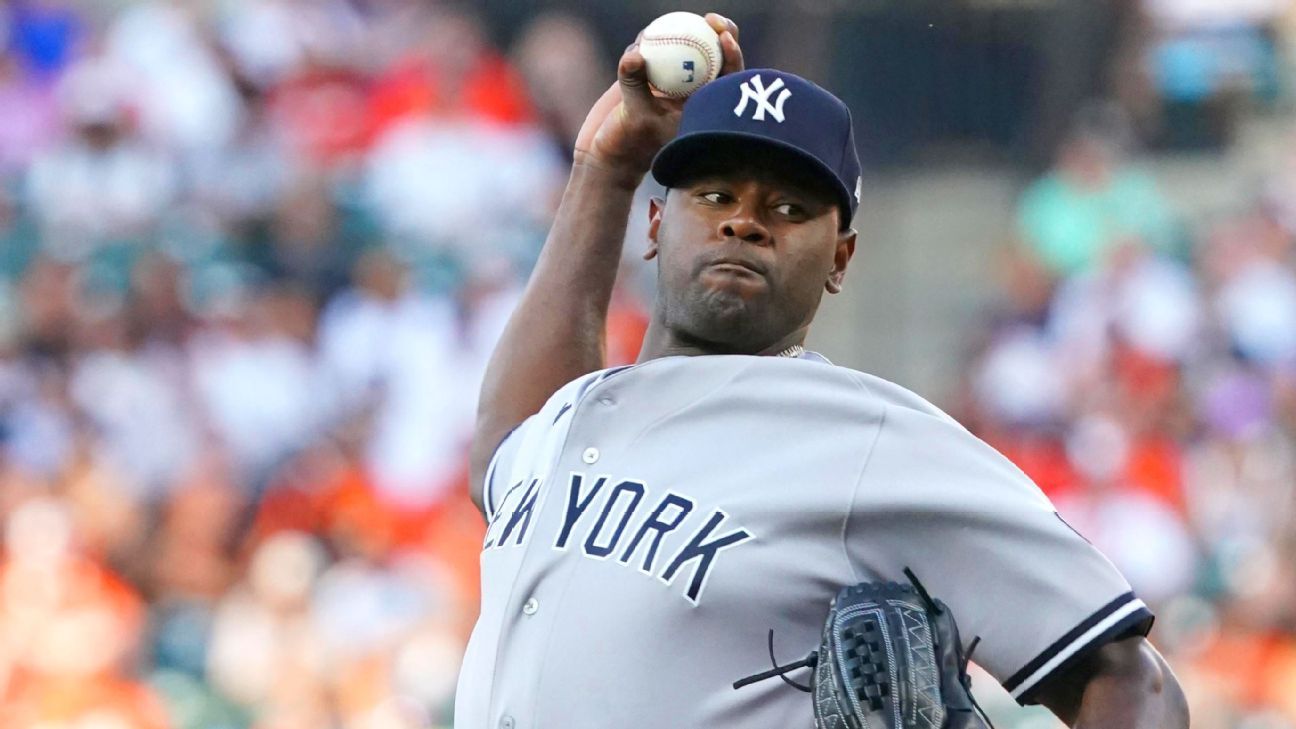 Right-hander Luis Severino and the New York Mets are finalizing a one-year, $13 million contract, sources familiar with the deal told ESPN's Jeff Passan on Wednesday.
Severino, 29, will join the Mets and a rotation in significant need of help after spending his eight-year career with the New York Yankees.
He struggled this season with a 6.65 ERA, but posted a 3.39 ERA in 638 innings over his previous seven seasons. If Severino thrives, he'll hit free agency again next year, and he can earn up to $2 million in performance bonuses from the Mets.
OC Petrino on Hogs return: Goal 'to make it right'
Only in his dreams did Bobby Petrino think he'd ever return to Arkansas to coach football. More than a decade after being fired as head coach for cause, however, he's returning as the Hogs' offensive coordinator.
"It's something I hoped would happen. Wasn't sure if it ever would, but it is a dream come true to be able to go back to the University of Arkansas and do anything I possibly can to make it right this time," Petrino told ESPN on Wednesday. "I'm grateful to coach [Sam] Pittman and [athletic director] Hunter Yurachek for making it happen."
Petrino, as Arkansas' head coach from 2008 to 2011, guided the Razorbacks to their most successful two-season stretch since the Frank Broyles days in the 1960s. The Hogs won 10 games in 2010 and 11 games in 2011 and capped that season with a Cotton Bowl victory and No. 5 ranking in the final polls.
It's the only time since Arkansas joined the SEC in 1992 that it had put together back-to-back winning records (6-2) in SEC league play.
But that next April, a motorcycle crash involving Petrino revealed an extramarital affair he was having with a female staffer that he had hired in the football office. After an investigation, Petrino was fired for cause when then-athletic director Jeff Long said Petrino lied to school officials during the process.
Petrino, who received a three-year contract and will make $1.35 million in 2024 and $1.6 million in 2025 and 2026, understands that much will be made about his ugly exit now that he's back, but he told ESPN that he sees this as a chance to help make amends to all the people he let down.
"I'm more excited than anything, just to be able to go back and give back to all the great people of Arkansas," Petrino said. "I can't do anything about the past, but I know how hard Coach Pittman and his coaches have worked. It was great to see when he first got there and the way he changed the culture and then had that good season his second year (9-4 in 2021) and won the bowl game.
"I've always been a Razorback fan and rooted for them and know how hard this last season has been for all of them, so when Coach Pittman had the idea of me coming back, I was immediately interested. Like I said, it was almost a dream."
Petrino said he's heard from several of the players he coached at Arkansas, which makes his return all the more real for him. He reiterated that, as he sets foot back on campus, his thoughts will be solely on helping Pittman return the Hogs to national relevance.
"When I think back on the great teams we had, I think about the players and the toughness and pride they displayed in being a Razorback, and I'm looking forward to helping influence our guys to play with that same kind of passion, energy and toughness," Petrino said.
"I know this will be a little different for a lot of people, but I'm grateful to Coach Pittman for giving me this chance and looking forward to getting my feet on the ground, walking into the facility and seeing everybody. It's time to get it cranked up."
Tyler Wilson played quarterback under Petrino and remains Arkansas' leader in passing yards. Wilson, who played three seasons in the NFL, said Petrino's return will energize not just the football program, but the whole state.
"There's been a lot of despair among the entire Arkansas fan base the last couple of years," Wilson said. "But as soon as it came out that Bobby Petrino was coming back, my phone immediately started blowing up. You're going to see season tickets go up, and it quickly changes the mentality of the Arkansas fan base."
Wilson said there'd be some people, inside and outside the Arkansas family, who will be critical of the hiring, but he hopes this reunion will ease some of the embarrassment, anguish and disappointment of Petrino's messy exit.
"There was so much pain after his dismissal, and it wasn't just our team, but the state in general," Wilson said. "I felt like we never fully healed after all that and it had almost been like a lingering ghost. Some may still wonder if this is the right fit structurally, and that's to be determined. But certainly there's going to be a lot of wouldas, couldas and shouldas that will be vetted out now."
Petrino, who will be the Hogs' third different full-time offensive coordinator in the past three years, will be in charge of an offense that scored 22 or fewer points in six of its last seven SEC games.
He spent this past season as the Texas A&M offensive coordinator but wasn't retained by new coach Mike Elko. Since his firing at Arkansas, he has been head coach at Western Kentucky, Louisville and at FCS Missouri State.